How to hide specific user accounts from the sign-in screen on Windows 10
When you have too many people using your PC, or you want to keep an account secret, use this guide to hide user accounts from the Windows 10 sign-in screen.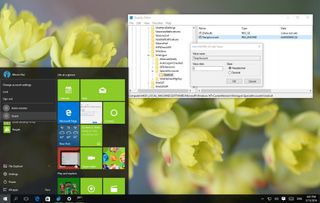 When you share your computer with family members or friends, Windows 10 by default will list every user account on the sign-in screen. However, there could be times when you may have some additional accounts that you don't want listed. For example, accounts for users who only login remotely to their PCs, or an account that you want to keep secret from regular users.
While the operating system doesn't offer an option to pick which user accounts appear on the sign-in screen, you can easily hide any user from being listed by modifying the registry.
In this Windows 10 guide, we'll walk you through the steps to hide user accounts from the sign-in screen on your computer.
Important: Before you make any changes, make sure to understand that you'll be modifying the Windows registry, which could be a dangerous game that can cause irreversible damage to your computer when changes are not done properly. It's recommended that you do a full backup of your system before proceeding. You've been warned!
How to hide user accounts from the sign-in screen
Windows 10 by default displays the full name on a user on the sign-in screen, but to make this work you'll need the name of the account. You can find this information by opening Local Users and Groups. However, this option is only available for Pro users, as such we'll be using the old User Accounts manager that is available on Windows 10 Pro as well as on Windows 10 Home.
Use the Windows key + R keyboard shortcut to open the Run command, type netplwiz, and click OK to open User Accounts.
Select the account you want to hide and click Properties.
Make note of the User name for the account.
Use the following steps to hide an account from sign-in screen on Windows 10:
Use the Windows key + R keyboard shortcut to open the Run command, type regedit, and click OK to open the Windows Registry.
Browse the following path:HKEY_LOCAL_MACHINE\SOFTWARE\Microsoft\Windows NT\CurrentVersion\Winlogon
Right-click the Winlogon, select New, and click Key.
Name the new key SpecialAccounts.
Right-click the SpecialAccounts key, select new, and click Key.
Name the new key UserList.
Inside of UserList, right-click, select New, and click DWORD (32-bit) Value.
Name the new DWORD key with the name of the account you're trying to hide.
Double-click the new DWORD key and make sure its data value is set to 0.
Sign-out and you'll now notice that the account will no longer be available on the sign-in screen. In fact by doing this, you're also hiding the account from virtually everywhere in the operating system, including the from the switch user menu in the Start menu, from Control Panel, and even from the Settings app.
In order to make a hidden account visible again, you'll have to go back to the registry UserList key using the steps mentioned above, and making sure to change the user name data key value from 0 to 1.
If you're only hiding a remote user account, you don't need to do anything else, as the user can login remotely without any issues.
Keep in mind that while this guide will help you to remove user accounts from the sign-in screen, it's not recommended to remove all the accounts, including your own, as you may find tough to get back in.
These steps work on Windows 10, and it should also work on Windows 8.1 and Windows 7.
More Windows 10 resources
For more help articles, coverage, and answers on Windows 10, you can visit the following resources:
Windows 10 help, tips, and tricks
Windows Central Newsletter
Get the best of Windows Central in your inbox, every day!
Mauro Huculak is technical writer for WindowsCentral.com. His primary focus is to write comprehensive how-tos to help users get the most out of Windows 10 and its many related technologies. He has an IT background with professional certifications from Microsoft, Cisco, and CompTIA, and he's a recognized member of the Microsoft MVP community.
Hope we can actually hide our email id in login screen which isn't possible

not possible, I think it shouldn't be a problem unless you are using laptop/tablet

This
http://cnedelcu.blogspot.com/2011/10/windows-7-restoring-old-style-logon...

It will be possible in the upcoming Anniversary update

That's possible in Redstone builds!

That's default on insider now

On Redstone, it's hidden by default, and there's an option to show it.

Or you can go to cmd (run as admin) and type in net user [USERNAME] /active:no but if you want to login, you have to do net user [USERNAME] /active:yes to hide the specific user folder (in C:\Users\[USERNAME]) type in: cd C:\Users\ attrib -h -i -s [USERNAME]

Hmm, I vonder where the good old login box from XP vendt?

http://www.troublefixers.org/windows/fix-windows-108-dont-show-last-logg... & for those without pro http://cnedelcu.blogspot.com/2011/10/windows-7-restoring-old-style-logon...

Pretty cool! Posted via the Windows Central App for Android

I have a feeling that before yesterday, if you looked at Mauro's accounts there was one called 'fapper'

Instead of doing a regedit (which is a little intense for this) just use group policy. Press Win+R then type in gpedit, or type in group policy into search and click "edit group policy"
Navigate to Local Computer Policy>Computer Configuration>Windows Settings>Security Settings>Local Policies>Security Options
Then change "Interactive logon: Do not display last username" to Enabled.
This will make it so no username is displayed on the login screen.
You can also turn "Interactive Logon: Do not require CTRL+ALT+DEL" to disabled to enable CTRL+ALT+DEL to sign in.

Gpedit isn't available on Home editions of Windows.

Please post an article explaining how to prevent auto sign in to the last used user account which doesn't have a password or PIN. Many times my laptop automatically signs in to my sister's account since it doesn't have a password. So I have to sign out every time this happens and then again sign in to my account.

Tell your sister to get a password and it is solved. :)

I've asked her many times but she doesn't want to have a password.

Poor excuse... Its your laptop. You are the administrator... only right?! Enforce it. She could compromise you as well... Get this fixed... She is typing and chatting, so entering a pass phrase should not be a big deal...

To the top with you! I installed W10 on my parent's computer. It's freaking annoying that they have to change the user after booting...

The one best reason to visit Windows Central, Mauro Huculak

Really nice HOW-TO... SAVED!

Has anyone ever tried deleting or dealing with additional user profiles created by Windows with naming scheme "Mcx#-PC NAME" (replace # with incremental numbering, for example I have three accounts: "Mcx1-ENVY" "Mcx2-ENVY" "Mcx2-ENVY"). Looks like they're Media Center extender accounts, which I don't use for sharing in my home network, so should I be okay with deleting these?

Can anyone verify that if you're using a USB Key to log in will you be ale to log in with out the account being visible?

Just because I just ran into this specific problem: First a word of warning: Don't hide your only Admin account or you're gonna have a hard time getting it back. If you didn't listen to me before, here's how you're gonna get it back: 1. Log in one of your normal user accounts.
2. Open a command prompt
3. Run "runas /user:[hidden user] cmd"
4. In the newly opened command prompt run "netplwiz"
5. Make your current user Administrator
6. Open Regedit
7. Revert Registry entry
8. Revert previous changes (Make current user normal user again) Hope I saved you a bit headache.

Good how-to. It works, but I would like to know how to get onto the user without going into regedit and changing the value data to 1 and back to 0... How can I fix that?

That picture is my son, not me.