How to keep scrollbars always visible on Windows 10 April 2018 Update
If you don't like Windows 10 automatically hiding scrollbars, here are the steps to keep them always visible.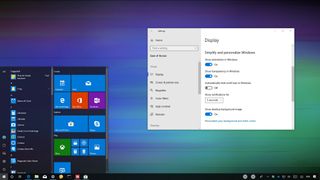 As part of the Microsoft's new Fluent Design System, Windows 10 now includes conscious controls, which are elements that adapt and respond to the environment and the action you're trying to do. One of these new controls are conscious scrollbars that only appear when you move the mouse toward the edge of a window, and then, they'll remain hidden to remove unnecessary distractions from the screen when they're not needed.
Despite conscious scrollbars is a useful feature, it's not something for everyone, and for that reason, starting with the Windows 10 April 2018 Update (version 1803), the Settings app introduces an option that lets you decide if scrollbars should hide automatically or always remain visible.
In this Windows 10 guide, we'll walk you through the steps to keep scrollbars always visible with a new option available with version 1803.
How to prevent Windows 10 from hiding scrollbars automatically
In order to prevent scrollbars from hiding automatically on Windows 10, use the following steps:
Open Settings.
Click on Ease of Access.
Click on Display.
Under "Simplify and personalize Windows," turn off the Automatically hide scrollbar in Windows toggle switch.
Once you've completed the steps, the scrollbars will be visible all the time in the Start menu, Settings app, Microsoft Store apps, and everywhere else that uses this conscious control.
More Windows 10 resources
For more helpful articles, coverage, and answers to common questions about Windows 10, visit the following resources:
Windows 10 help, tips, and tricks
Mauro Huculak is technical writer for WindowsCentral.com. His primary focus is to write comprehensive how-tos to help users get the most out of Windows 10 and its many related technologies. He has an IT background with professional certifications from Microsoft, Cisco, and CompTIA, and he's a recognized member of the Microsoft MVP community.
I have never seen scroll bars vanish, they have always been on display since I started to use Windows 10. If they vanished that would annoy me immensely.

Actually for me, they are a waste of space. I don't like them. If rather have that thin line appear when I scroll and disappear when I'm not scrolling.

Me too, I rather have them ahtomatically hide as I actually don't really use them. I've been using scrollwheels for ages, maybe since I got it with my mouse decades ago. I actually hated this when Edge now always showing it, when jt used to automatically hide it. The light gray scrollbar looks weird on the side especoally when a web page have darker colour theme. Even Chrome have autohide feature already. But yeah, options should be always there since other people prefer to have it always visible. It would be worst not having options.

I use the scroll wheel on my mouse, but i suppose I am so used to scroll bars being there and they are a good indicator of how far down a document you are.

I thought maybe I missed it and maybe the scroll bars do vanish and i did not realise, but I had a look and no they don't vanish. How long have they been doing this trick? Maybe it is the way I got my machine set up, but I can not see how.
Still nice of MS to give people the cnoice, better late than never.

Auto hiding scorllbars do not bother me at all, but some of my older family members, including my father, will be super happy to hear this is a thing. I've had so many tech support phone calls over the years for iOS, android, and windows, where they can't find a button because they don't realize the screen they're on has more information than what's shown - get have no indication they'd have any reason to scroll. Actually, I think this might wind up becoming a default setting for any PC I set up for anyone over the age of 50.

Auto-hiding scrollbars was a minor UI mistake that could have been avoided with some kind of "scroll for more" indicator.

Thanks for pointing out this tip, wanted this feature for a while. Hated reading something then click the touchpad to scroll down and notice the bar is gone, no longer an issue, Thanks

Wow an actual improvement

I thought I would like this until I turned it off. >.<
Windows Central Newsletter
Thank you for signing up to Windows Central. You will receive a verification email shortly.
There was a problem. Please refresh the page and try again.