How to move user folders to different location on Windows 10
By Mauro Huculak last updated
Yes, you can move the default user folders to a new location, and in this guide, we'll show you how on Windows 10.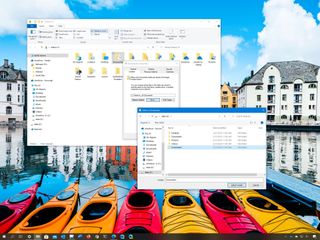 (Image credit: Windows Central)
On Windows 10, each account has a set of default folders that allow users to save and organize their files, including documents, pictures, downloads, and other data on the device.
However, over time, depending on your usage, the folders can grow in size significantly, and if you have a computer with limited storage using a different location (for example external hard drive or partition) can help to avoid running out of space on the system drive, which can be an issue when it comes the time to install new releases of Windows 10 or a new application. Also, you never want to use a device with a drive at capacity as it can affect system performance.
In this Windows 10 guide, we'll walk you through the steps to move the default user account folders to a different drive or partition.
How to change default user folders on Windows 10
To move the default user account folders to a new storage location, use these steps:
Open File Explorer.
Click on This PC from the left pane.
Under the "Devices and drivers" section, open the new drive location.
Navigate to the location you want to move the folders.
Click the New folder button from the "Home" tab.
Name the folder Documents.
Repeat steps No. 5 and 6 to create remaining folders. For example, Desktop, Downloads, Pictures, Videos, and Music.Quick tip: You can also use the Ctrl + Shift + N keyboard shortcut to create new folders more quickly.
Open Start.
Search for Run and click the top result to open the Run command.
Type the following path to open the location with the account default folders and click the OK button:%HOMEPATH%
Right-click the folder you want to move and select the Properties options.
Click the Location tab.
Click the Move button.
Select the equivalent folder in the new location.
Click the Select Folder button.
Click the Apply button.
Click the Yes button.
Click the OK button.
Repeat steps No. 11 through 18 to move the remaining folders.
Once you complete the steps, the default account folders will move to the new location, and future files will save in this location by default.
Although moving folders one at a time introduces additional steps, you'll avoid potential problems, which may be something that could happen while moving the main account folder.
Restoring default folder location
If you change your mind, you can revert the changes for the folder location using these steps:
Open File Explorer.
Navigate to the current user folders location.
Right-click one of the folder you want to restore its location and select the Properties option.
Click the Location tab.
Click the Restore Default button.
Click the Yes button.
Click the Yes button to move the files to the orginal default location.
After you complete the steps, the account folder will relocate to its original location. You may need to repeat the steps to restore the remaining folders to their previous location.
Changing default save location on apps
The only caveat about this process is that it'll not change the default save locations for some apps. For example, if you use the Edge, Chrome, or Firefox, these browsers will continue to use the original path to try and save files.
If you want to avoid problems, it's recommended to change the default save location for these and other apps (if applicable). Here's an example changing the settings on Microsoft Edge:
Open Microsoft Edge.
Click the three-dotted (menu) button from the top-right.
Select the Settings option.
Click on Downloads.
Click the Change button.
Select the new location for downloads.
Click the Select Folder button.
Once you complete the steps, future files will download to the new location by default in the new storage.
Mauro Huculak is technical writer for WindowsCentral.com. His primary focus is to write comprehensive how-tos to help users get the most out of Windows 10 and its many related technologies. He has an IT background with professional certifications from Microsoft, Cisco, and CompTIA, and he's a recognized member of the Microsoft MVP community.
Good advice and article. I've been doing this since Windows 7, pointing everything to /onedrive/ so that all my files where ever i save them be it Desktop, Documents etc they're always backed-up to the cloud and so available everywhere.

Well, you'll be relieved to know that apparently OneDrive now does that automatically with fresh installs. How did I find out? After a format, my OneDrive exploded because it tried to upload some 50GB of my game saves. Also, for everyone who can't put the directory out of OneDrive: log out of OneDrive. Otherwise, it may error out.

That's an option that defaults to This PC only.

Aha, good to know thanks. My OnDrive actually sits on the D:\ so if Windows fails in any way, my data dosnt need t be downloaded again. I assume I'll still ahve to do some manual repointing even with the new settings?

Been doing this for the past twenty five years...not for space reasons, rather for data protection when the OS drive crashes...

Mauro Huculak, you're doing a great job out here, a thanks wouldn't sum it up.

I don't understand why there's not a default, easy way to do this. Users are promised some great cloud storage with OneDrive, but their files don't even save there by default!

You're right, there should be an easier way. But now it already defaults to OneDrive during a fresh install of Windows. And I can tell you, it will annoy the crap out of a lot of people, me included. Many games and programs save their stuff in Documents folder. Saves, mods, all sort of content. My Documents folder has some 50GB. My OneDrive limit is half of it. And the standard free limit is 5GB. I was never asked to migrate this stuff to OneDrive, and it took more time than it should have to make it normal again.

Actually it is there by default but that depends on the users themselves making that choice at first boot of their installation. so i'm jumping straight to point, in Windows 10's first boot you get an option to turn on OneDrive backup, if you don't do this then Windows 10 will with 100% certainty; separate your documents/stuff from the OneDrive folder backup when you decide to turn it on later, this is because of various reasons as this article shows out to be, it just breaks stuff and in order to fix it you may need to reconfigure all those applications that rely on those paths or use the registry editor, simple as that, so first/fresh boot of Windows 10? best not skip on turning on that OneDrive backup, and if you don't like to backup the desktop folder since One drive does that by default when you turn it on, then don't forget to turn that off through the settings menu after opening OneDrive on the taskbar. Reason two maybe because of the application itself being out of date therefore isn't going to save the files in the proper place which is less likely the case but it is possible.

Right-click / drag / move is your friend. Takes me a few seconds to move user folders on a new install.

How do you change OneDrive to another drive? Can you use an SD card as the other drive?

I moved the default folders ( Download , Documents, Desktop , etc) a while ago and everything was fine, until I installed the "Windows 10 April 2018 Update". Now when I download an app and the try to run it from the Download folder, I get an error: "Setup was unable to create the directory C:\Users\xxxx\AppData\Local/Temp - Error 5: Access is denied" And when I want to move something from the "Desktop" I get a Windows Security error: Opening these files might be harmful to your computer. You internet security settings blocked one of more files from being opened...... I tried everything but nothing seems to work, except of moving the folders ( Desktop, Downloads, etc.) back to their original location. If there are any suggestions or ideas how to fix this, it would be greatly appreciated.
Windows Central Newsletter
Get the best of Windows Central in in your inbox, every day!
Thank you for signing up to Windows Central. You will receive a verification email shortly.
There was a problem. Please refresh the page and try again.