How to prevent Windows 10 November update from getting stuck during installation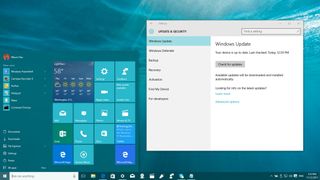 On November 12th, Microsoft finally began rolling out the first major update for Windows 10. The Windows 10 November update includes a bunch of new features and changes that surely will improve the overall experience of the operating system.
The November update brings improvements to the Start menu to allow users to have a fourth column of tiles, updated context menus throughout the operating system, and Cortana gets smarter with handwriting recognition and missed call notifications. The Microsoft Edge browser also gets performance and security improvements and tab preview, and a lot more. (I'll recommend you read our previous roundup of features, improvements, and features new to the November update.)
Now, while the software giant expects the roll out to go smoothly, it's just a matter of time until we start seeing isolated issues. For example, there have been reports in the Microsoft Answer forums (opens in new tab) that there seems to be a bug that can prevent the Windows 10 November update from completing the installation.
The bug seems to be specific too: if you begin the installation process, the Windows 10 November update will stop responding at the 44% marker.
According to Microsoft, the company has been observing that "some devices" that have an "SD bus with an SD card inserted" may experience some issues trying to install the update.
While the software giant keeps investigating the issue and offers a permanent solution, it recommends users to remove the SD card from their computers, before proceeding with the install.
However, the update needs some available storage space to complete the upgrade. If you're using an SD card for the purpose of adding more storage, Microsoft recommends using a USB storage device instead to perform the install.
Additional tips
Before installing or making significant changes to the operating system, always make sure to make a full backup of your entire system whenever possible. You never know when things are not going to work the way it should and using a backup may just be the only way to recover.
Here's how to make a full backup of Windows 10
Although, not everyone is expected to come across issues installing the November update, another tip is to disconnect every unessential peripheral from your computer. Only, leave connected the essentials, such as keyboard and mouse, monitor, and network connection. After the upgrade, you can reconnect everything back again.
If you need to make room on your hard drive to install the update, you can also use the Windows Cleanup tool. Below you will find the steps to help you with this task.
1- Open File Explorer and go to This PC.
2- Right-click the Windows drive (typically the C:/ drive), and click on Properties.
3- Click the Disk Cleanup button and then click the Clean up system files button.
4- Finally from the list check the files you want to delete, click OK and Delete Files.
How to avoid failure installing the November update if you're an Insider
If you're part of the Insider program, it has also been reported that the Windows 10 November update may fail during installation.
On Twitter, @Bdsams, has noted that after various attempts, he had to disable getting new preview builds from Settings > Update & security > Advanced Options to enable Windows 10 to get the November update.
During the short chat on Twitter, Microsoft's Gabriel Aul, mentions that the root of the problem seems to be a "timing issue," because of a preview "queued" that should have "sorted itself after a re-scan." As such, if you missed the chance to install Windows 10 build 10586 last week, you may want to stop getting new builds before trying to get the November update until the issue gets resolved.
If everything fails, remember that you can visit the Windows Central forums to seek help.
Other resources
If you want to see more how-to's for Windows 10, make sure you check these resources:
Windows 10 help, tips, and tricks
Windows Central Newsletter
Get the best of Windows Central in in your inbox, every day!
Mauro Huculak is technical writer for WindowsCentral.com. His primary focus is to write comprehensive how-tos to help users get the most out of Windows 10 and its many related technologies. He has an IT background with professional certifications from Microsoft, Cisco, and CompTIA, and he's a recognized member of the Microsoft MVP community.
I dont get it... Is this update available for insiders only???

no, its for everyone - but it will be rolling out in phases just like when they first rolled out RTM for Windows 10

No. But it's available for everyone on stages so not everyone will download it at the same time, making it a better experience for everyone.

No. What Microsoft has done is introduce desktop Windows users to the Android carrier upgrade experience. Staged upgrades for a company like Microsoft is kind of embarassing. It's not like thier 90% desktop marketshare is all Windows 10 machines. It's only 10% of their marketshare, and 10% of that isn't even going to be getting this upgrade because they're enterprise customers (est. 12M or ~100M or so W10 users). There is nothing great about the user experience when an OS updates on your desktop while your laptop waits days, potentially weeks, longer to get features (esp. those regarding communication and collaboration) that others you know may or may not have gotten. The lengths you people go to delude yourselves, though. It's epic. P.S. These Mobile Nations websites are horrible in Microsoft Edge. I just had to switch to IE11 just to post a comment because Edge freezes every 5 seconds when trying to type into the rich text box there, never mind the constant jumping to the top of the text whenever you press <ENTER>.

How is it making a better experiance for those who don't get it? Even for Windows 10 upgrade, I had to wait until October for my mother's computer to be updated, and even that I had to use the Media Creatin Tool, because the upgrade wouldn't start. Great experience.

You can use ISO to upgrade of you don't want to wait.

Hey, there is always is a solution! Check KrojamSoft FilesSearch Tool, it helped me out on many cases. Hope this helped you out!

Thanks MSFT for bringing this info out late.. I'm already stuck at 40% with an SD card in there for extra storage...is there anything I can do now? Anyone?

Been there, done that... If your device just stays at 40% for a while, you will have to do the nastiest thing. Turn it off (hold power for 5 seconds), and then turn it on again (you might have to wait a few seconds before turning it on) Windows will start and roll back to the previous version installed and reboot.

Thanks, I just tried it..turned it off, pulled out the SD card and put in a USB. now, I think it's stuck at 19% hehe

i have the same problem. i tried to update 4 times, but it stuck at 40%.

Some updates goto insiders first probably in hopes that any possible bugs get sorted out before released

Mine got to 100%, signified that there was an error, and now says "up to date" when that clearly isn't the case. I'm on a Surface Book i7 dGPU

Same for me on my Surface Pro 3.

Same here with my SP3 i7.

Same. Desktop and a laptop

Ditto. Not one but on both of my PCs - Spectre x360 and Dell

Snap....both on my windows all in one running home and my laptop running the pro version. Got to 100% then said there was an issue....then reported up-to-date. Still good to know it's a common problem already...hopefully fix on the way. Xbox update went brilliantly so not all bad.

Same Posted via the Windows Central App for Android

Download to 100% and then quit installing. It said there was problem with install and wanted me to try later. Clicked on TRY button and that brought up 'Your device is up to date' message. I contacted the Support. The tech remoted into my PC and couldn't find anything wrong or even the downloaded the 10586 file. He suggested me to wait till some time later and try to 'check for updates' again. So far, no luck.

Gabriel Aul: Wait or use ISO to update. https://twitter.com/GabeAul/status/664809352516075521

And THIS is why they stage the updates. Thanks to all you Beta Testers who are ironing out the bugs for me :)

Same (Lenovo X140e). NBD, there aren't a lot of features I'm waiting on.


Same here. It downloaded, said there was an issue and now it says up to date. Must be a bug in the update or update servers.

Same. SP4. Checked throughout the day, says up to date but didn't install the update.

Same here all. SP3 downloaded fine. Left it at 70%+ and came back an hour later and all is up to date but nothing was installed.

Same thing happened to me and it was driving me insane. Glad to know I'm not alone.

Same on my laptop and tablet.

Same here. It's been telling me "your device is up to date" since last night (around 18 hours ago). Has anyone found a way to work around this issue? I tried restarting my modem to get a new IP, but it didn't help.

Same thing happened to me, yesterday was "up to date", when it's clearly not, and today it's a same thing. I gues we'l just have to wait some more?

Just had a thought: Anyone else having this problem also a windows insider on their phone (i.e. For windows 10 Mobile) but not an insider on the PC you are trying and failing to get the fall update on? Just thought maybe it's our Microsoft accounts having this split personality (if that is in fact the case) that might be responsible. Of course I could be completely wrong.

I read somewhere that once you revert an update, Windows 10 won't find the update through Windows Update for another 30 days. ​I downloaded the ISO from Dreamspark Premium and was able to update and keep my files, apps and settings.
Strange thing was - the first time I reverted, it found the update again. It was after the second time that it didn't find it anymore.

Hi, thought I'd share my resolution to this little gem of a problem. I had the exact same problem, downloaded the 1511 build, installed, restarted but still on the 10240 build afterwards and wouldnt detect any future updates. In the event viewer you'll see a reference under system stating it had successfully installed build 1511. I believe that is the cause as to why it doesnt then show in windows update when you do a scan as for some reason it thinks its installed already. If you go back further in the event viewer you'll see another entry saying that is didnt install sucessfully and will quote an error code (I havent got it to hand). When you search for that error code it seems to be related to an incomplete/corrupted download of the update. I got round this by doing a system restore back to the date that it first tried to install the update. Once rebooted, it managed to search for the update ok, downloaded and this time successfully installed. Hope that helps.

Well i still didn't get the update.

be patient - probably rolling out in phases...

it's probably a good thing... on the positive side, your pc isn't stuck or choking on this update while the paid SDET at MS figure things out.

It will take some time for the update to propagate, just keep pushing the "Check for update" button periodically. Thanks,

I got it, but the download is taking FOREVERRR. Been downloading since 8:30 or 9 and its at 95% now....

Inside Settings -> Update & Recovery, I see the update (to version #1511) listed & ready to be downloaded..
But the download status shows an error (with no error code or reason) and refuses to start again. Could someone suggest a fix for this? Do I need to download the iso copy of the OS and install it via a DVD or is it better to wait for a few more days to see if the update starts again?

Still waiting for the update to show up. I wonder if there is some sorta hold up on their end...

Why would insiders get the update if were already on 10586?

If you check the Windows version it'll show up as build 10586.3 rather than 10586. You can do this by going to win + R and typing in Winver, then enter Posted via the Windows Central App for Android

Because you didn't read properly.

I just used the good ole trusty Media Creation Tool. It has yet to fail me. ;-)

again with the case of forced updates... only if there was an option to disable updates in this trial n error update times besides turning on metered connection. Sometimes the folks at MS have to get their head right.

Home editions cannot felay

Great article. I'm experience these update issues with my HP Stream 7. Will try these suggestions. Man, I just love Windows Central :)

Same. My Stream 7 is also stuck. I just pulled the card and forced the power off. Now it's at "Restoring your previous version of Windows". Will update to let you know if that was a good idea or not.

Yup, back at Windows. Now to look at the article about how to prevent it from occuring upon upgrade.

Issue on Surface3 completely stuck. I had no sd or usb plugged, download went well but suddenly upon the restart I get stuck at "restoring your previous version". I hadn't asked for a roll back at all ! Now it does not end here, as it restarts and loops in between restart and "restoring[•••]" screen. Any one can help? I have only a surface3 and no other laptop/pc...

I haven't been able to get past the storage issue on my stream 7 x360. It said at first it needed 5 GB free, now it says it needs 8 GB free for the install, not storage. I'm gonna have to reset my computer just to install this. :(

Finally today I was able to install Windows 10 after I removed the WiFi card from my Samsung computer.. Anyone else had this problem?

In general, one should just remove all unnecessary peripherals before installing a Windows 10 update - Insider or otherwise. I personally make sure that there's just a keyboard and monitor attached during every Insider update.

A Network interface card is a necessary peripheral. It's 2015, not 2002.

I didn't notice this many installation issues on the insider builds; why is that? Seems odd.

Rather have your hardware detected during Windows setup, than as plug and play install later.

Do anyone know file size of update

same issue here. Stopped at some point during installation an now it says up to date. But it's not. No SD card. Lenovo thinkpad Yoga. Hmm this is not good.

Perfectly smooth installation in a record time here.

So this is why my DV8P won't install the latest insider build, keeps getting stuck at 40%, had to skip previous builds due to install bug and now this. Thanks for the heads up

I didn't have a SD card inserted and used a USB flash drive to install, my DV8P still failed. Went through all the process, and after restart, says could not install.

Someone at MS blew this update. They had donkey months to test this and fix the issues. Isn't that what the Insiders testers are for all this time? yet this is starting to sound like a cluster mess. That'll help the Windows haters find something else to hate about.

The insiders are worthless, barely test anything - if anything - and do it only so they can say "first" or "nice job MS" whenever they get a new build. The entire beta process is completely hosed because they are using non-testers to test their software. This does not happen with Apple's releases, and certainly not as consistently as it has happened in Windows 10 for Microsoft. They need to scrap the insider program and get people willing to actually test the software to actually test it.

All I can say is WTF is MS doing, every time I update one of my puters or use the store on same or W10M the results vary, fast one time then slow the next, apps showing they are being downloaded but zip for description (blank), apps and the like closing (or crashing?) without any indication as to why, the inconsistencies in both OSs abound and it is starting to get frigging annoying not to mention worse… Like n8ter#AC said, "This does not happen with Apple's releases, and certainly not as consistently as it has happened in Windows 10 for Microsoft".

The Insider Program may be worthless but it's not because users do not report issues. I reported the SD card problem last week when it appeared when installing the IP 10585 version. You will have to look elsewhere for the solution to your rant.

> This does not happen with Apple's releases, Hilarious. If it wasn't for the time machine backup enabling me to go back rather easily, I'd have thrown my Mac mini out of the window long ago.

I'd just be happy for an update to get stuck. :-)

FYI, same as the Windows 10 upgrade, this update automatically removes 3rd party anti virus so it's a good idea to uninstall it manually prior.

Mine is still there and active after update.

Shame it don't fix the missing dvd player that was supposed to replace media centre.

Mines stuck at 39%!? on my pro4.How can I cancel it till MS sort their act out

Windows Hello stopped working for me... I even turned it off/removed my face scan and went through the setup process again. It doesn't even try. (The infrared light doesn't turn on when it should.)

Oh no. That's not good. I've already gotten spoiled to Hello. I'll be sad if i lose it.

My Sony Vaio sucks a lot. Still no windows 10 due to driver update not provided

My Vaio Pro 13 works great with Win 10. Sounds like you got a raw deal.

Laptop update successful after 3 hours and one error, desktop failed and update is no longer available? Your system is up to date, yeah...., not really.

After installing 100 percent it failed and now it is saying system is up to date

Try getting the update using the website, works for me. Just google windows 10 November update iso.

Bing it, that's what you meant right?

I knew this day would come. I said it two days ago in another article. Installing stuff onto a tosh (cheap) SD card will slow it down to a crawl and fail.

Love Windows 10, but is this going to happen every time there's a major update?

I would say so, seems to be the norm :) Between Windows Update, the previews and Windows Store I've never seen so many downloads get stuck as I have the past year.

Mine stuck on 95% since 45 minutes on my HP laptop. Its late night here don't know what will happen now.......

Things go crazy when All at once click the Check for Updates....

Same as others have reported here. Tells me the Update for Windows (KB3106246) installed successfully but it didn't. Now when I click check for updates, it tells me it's up to date. Appears to be some wrinkles in the update process. Anyone got an iron?

Just an FYI. KB3106246 is an update to the DVD Player: https://support.microsoft.com/en-us/kb/3106246

On my SP3, got the download, installed, and everything appears to be good to go. I did NOT have an SD card installed at the time though. Is anyone else on an SP3 with no SD card inserted getting this particular update error?

I had the issue and just ended up downloading the MSDN 1511 build with the update already integrated in the OS. https://msdn.microsoft.com/subscriptions

https://msdn.microsoft.com/en-us/subscriptions/downloads/

I can't wait for it to roll in, I want to find out if I need to design a new start menu layout file for my deployments our if I can leave it as-is.

So update which is to bring improvements has glitch which prevent it from installing,pathetic Microsoft.

I second and third that... Hey MS, I think you are on target to make the Guinness world record for becoming the most disjointed and inconsistent OSs ever!!!

One of the PC at home has received the 10586 update. Smooth and without stops or other problems. A piece of cake. The other PC has not received it, yet. But when it does I hope it goes the same way.

Any reason why I can't see thr update on my computer?

The update is staged, so you may need to wait a day or two before you get it.

It would be interesting to know how Microsoft determines the update sequence with the millions of computers looking for the update. I have four Windows 10 computers that I'm trying to update. One downloaded the update, but the installation failed on the first installation step and then displayed the "Retry". When I tried again it cannot find a update. One of my other computers did find and install the update and everything went fine (takes a while) except when it finally displayed the desktop the start menu would not display or display right click options. Therefore I could to restart the computer. I did not want to restart computer by killing the power (never a good idea) so I did a Control, Alt, Delete to get access to the "sign out" screen. Signed out and back in and it is working fine now.


Worked like a charm....except my videodriver, but fixet it already.....realy old laptop ( aspire 5720 ).

I'm downloading...Linux Mint !

Worked for my little Linx 8 which was stuck (and previously wouldnt update past 40% via the Insider fast ring either). Kind if annoying though that my 3 W10 Home devices has updated, but my main W10 Pro desktop isnt showing me the update yet.

Updated my Surface Book (i7/256GB) this morning just fine. No SD card was in the machine though!

I took the ISO > USB stick route and have had perfectly smooth results for the SP4 and Asus desktop. Only 2 more devices to go.

Not seeing the update yet. Windows 10 Pro here.

I just updated my laptop and the process went pretty smooth. I only got a pop-up message about updating my touchpad drivers. When it was finished, it rebooted and the first problem was that I could not login via Windows Hello camera. It could not find me. I signed in via PIN code and right after that I got a blue screen... It rebooted and now no camera was found for the Windows Hello feature. I logged successfully in via PIN but the camera is still not working and I cannot scroll on my trackpad... Still figuring out how to solve it :) ASUS N551J Notebook, i7

My update keeps blue screening during he install process. I've tried all of this, but didn't work.

At least two people, me and one other friend (in a differen time zone, with different hardware) had the same experience... Windows Update saw the update, we clicked install it, it downloaded, and then "there was a problem" and the update wasn't applied. A subsequent search of Windows Update didn't find the update. That was this morning. I'll try again this evening.

*Sigh*, reminds me of all the users stuck on 8.0 due to 8.1 Store update bugs. This "always" up-to-date concept is going to fail when you can't even roll out an update without the update process having it's own bugs. I'll be curious to see how many machines are still running 10240 RTM when Redstone 2 comes about a year from now.

My guess is Microsoft have now pulled the update. Not seeing any reports of new installs as of 11PM GMT.

just updated my PC, first it gave me the error that there was a problem to try later, i did it immedicately and now i am up to date

I would like for it to start

im still happily waiting for the update

From what I read? You should be really grateful it hasn't gummed up your PC yet. I haven't seen it either and I am not disappointed.

Ooo I had to do a clean install after while but all good now

Installed it tonight - all went smoothly - well after it installed all the other outstanding updates first, :P

This is why I hate windows sometimes, if you say "November 12" my god its November 12 and the update doesn't download

I dont have sd card installed ,still it failed at 44%

Why is this so needlessly complicated?

Well, some of the devices noticed by Microsoft that will not install if an SD card is present includes their very own Surface 3. So, an update to improve Windows 10 has a bug. Nice.

MICROSOFT!!! WHY DOST THOU FORSAKEN MEEEEEEEEE??????!!!!

Mine got to 100% but when it had to install. It gave me an error 'Couldn't install the update, try later'. When I retry it checks for update and it says my pc is up to date. Help!!

This whole process has been going on for 5 hours and the update still hasn't completed yet.

Not an insider, no SD card inserted, still, last night, when my system saw the update it just downloaded it, then said "an error has occured, try again" and when I tried again it says "your system is up to date, etc". I restarted the system, nothing got installed and the update keeps saying my system is up to date. Hopefully an isolated issue, but why it had to be me? :-D

I am not an insider also but I got an error and other outstanding updates installed but build 10586 says error when I get this update any help please

My problem is that it didn't install properly and I am not on an insider build.

All I want to say is "Thank you!!!" I had a tablet stuck on 10475.. I couldn't figure out how to get past this. Thanks!

How did you get past it? I have to update my tablet

It happened to me with a placeholder card inserted in the relevant slot SD slot... I'm trying to see if it works without now (it redownloads it all once again).

Microsoft should make tools to check for faulty updates. My Win 7 laptop has 5 updates which it always fails to download and states that they are ready to be installed even though it has not downloaded a single byte of data. Posted via the Windows Central App for Android

Damn, getting this on my new Intel Compute Stick. Just walked into 44% on my big screen TV in my office.

Mine is stuck at 32%... any suggestions?

Yeah, I do not have a device with an SD card. I have two Dell Inspirons and the update failed on both. Microsoft has a bit of work to do on this problem - if it is a singular problem. Not pleased the first update to WIN 10 is hamfisted and failed. In the interim, I hope this does not prevent my computers from receiving security updates. Now that Win 10 Update is a black box UI, is there anyway to unflag/remove the failed update so it doesn't get in the way of reapplying or future true fix?

Update went fine on my Surface Pro 3. No SD card.

Every time I have a major update to Windows 10, it crashes my machine and causes me to have to go to C:\Windows\Software distribution\Download and delete files in that folder. No too impressive. Today, even that didn't help.

Stuck at 40% on a Surface 3. Thing is that i have an sd-card inserted. What now? Turn off the tablet, eject the card and hope i could start again?

Mine got stuck at 23%. Before giving up and restarting,, I just pulled put micro SD and USB and the update instantly resumed (SP3 i7).

I had similar issues (hanging during install). Since I have recently had issues with a large Excel workbook and Windows Defender interfering with my ability to save, I figured I may as well go all-in. I turned WD off and the install suddenly was making progress. (At least "moving along".) Now, switching off protection is undoubtedly a questionable thing. Until someone who really knows what that is exposing to allow a MS update to progress, I think it's a legit option. (You've already allowed the update to make major yet unknown changes to your system. Plus WD turns on again "automatically".) There might be other conflicts if you have other anti-virus, etc. stuff running so I can't speak to any of that. One thing that was a little annoying was a message after one of the restarts in the process about "scan & repair disk" and giving the option to skip that (with a countdown of 6 seconds to respond!). I had not expected that (my bad?) so I didn't know if it was necessary for a good update or just a suggested maint procedure. Not much one can do at that point -- no ability to pause and of course no ability to query the condition.

This Update is so slow. Been little over a hour already an donly at 54% on coping files part. MS really needs to make these updates faster. In this Hour on my other pc wich is 5 years older, i manged to format and reinstall Windows 7 and uubutu . and this Windows 10 updates is still crawling. Very sad how i can install 2 operating systems from scratch in time this update is only halfway done

They still need to learn from Apple and their Google Android juniors ;)

This update is total crap! I've tried to update four mobile devices (Hp Stream 8, Dell Venue 8 Pro, Surface 3, Surface Pro 3) and one desktop computer. Not one succeeded! Only the Surface Pro 3 updated, but was unusable afterwards due to graphic Problems and explorer crashing all the time, so I had to roll back. The other devices were stopped by the 40%-SD-card-bug (removing the cards is no option, because they are integrated to deeply). So I spent my weekend trying and cursing...

...you are absolutely right, same experience, stuck at 40% on a HP Stream 7 !!!

Is this back to the crash heydeys of Windows 3 for Microsoft? LOL! Though for me, it's only upgrading in HDMI Intel Compute Stick micro computer that's giving me trouble, I had to re-image back to Win 8.1, and one cannot install from scratch because of the unconventional 32bit UEFI boot loader, so the only way is to upgrade. Currently giving this another go, not before backing up a fully setup and functional 8.1 though. Installl stuck at 84% for over an hour and counting, and yes no SDCARD plugged in. I already flamed MS for this on twitter.

It failed for me twice. so, I'm just going to wait until MS gets its sht together.

This is what did the trick for me: I was getting stuck on 32% while installing, so within windows I went to device manager and disabled all the USB and card readers. After that, voilá, it resumed the installation and was able to update.

I'm stuck ay 40% as well with my Lenovo Miix2. If I remove my embedded sdcard which contains all the software, its as good as doing a clean install. Not an option for me. MS needs to fix this bug.

One of the good information for "Windows 10 Stuck". There is better alternative available at 25dollarsupport.com. Cheap and best. My favourate !.
Windows Central Newsletter
Thank you for signing up to Windows Central. You will receive a verification email shortly.
There was a problem. Please refresh the page and try again.