How to print content in black and white colors on Microsoft Edge
Use this simple tip to print in black and white using Microsoft Edge on content you'll only be reading.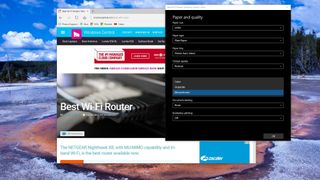 You can always send print jobs to your local printer from any application, including from your web browser, and using Microsoft Edge on Windows 10 isn't any different. Using the web browser, you can print virtually anything from entire PDF e-books to pictures you may have received via email, to web content, such as tickets, recipes, etc.
However, the problem appears when you try to print web content. Because web pages aren't formatted or optimized to be printed, pretty much everything on the screen will appear on paper, including colorful images and in most case ads, which could end up wasting a lot of ink on content that you'll only be reading.
Fortunately, you can save some ink by printing pages in black and white when using Microsoft Edge on Windows 10. Though, it's not an option easy to find for most users.
In this Windows 10 guide, we'll walk you through the steps to easily print web content using the monochrome option on Microsoft Edge.
How to print pages in black & white on Microsoft Edge
Open Microsoft Edge.
Navigate to the page you want to print.
Click the three-dotted menu button in the top-right corner.
Click Print.
Under Printer, make sure to select the printer you want to use from the drop-down menu.
Click the More settings link.
Scroll and find the Output options, and on Color mode select Monochrome from the drop-down menu.Quick Tip: Under Output quality, you can use the Draft option to save even more ink.
Click OK.
Click Print to complete the task.
Once you completed the steps, your print job should come out using black and white colors.
Of course, this is not only a good idea when you need to print web content, but also when printing PDF files that you're not planning to keep around for a long time.
If you only need to print part of a web page, you can always save more ink by selecting Current page or using the Page range option under Pages to specify the pages you want to print.
Keep in mind that you'll have to repeat the same steps for each print job you want using black and white colors.
More Windows 10 resources
For more help articles, coverage, and answers on Windows 10, you can visit the following resources:
Windows 10 help, tips, and tricks
Mauro Huculak is technical writer for WindowsCentral.com. His primary focus is to write comprehensive how-tos to help users get the most out of Windows 10 and its many related technologies. He has an IT background with professional certifications from Microsoft, Cisco, and CompTIA, and he's a recognized member of the Microsoft MVP community.
"... black and white colors..." Ummm...

Awww you noticed that too

Black and white are also colors right.

Actually no Black and White are not colors. Black, White and Color are three totally separate things. This link may help. http://education.seattlepi.com/not-list-black-white-colors-physics-3426....

I'm wondering if this was actually tested, because for quite some time, there was a bug that Edge didn't respect this setting and would continue to print in color. This was as of 14393 earlier CU's... haven't tested for a couple of updates though, so maybe it's fixed... I did report it to a few people on the Edge team, so maybe they took care of it.

It might be your printer driver's setting. Normally the program (like Edge, Word, etc) will have a set of printing instruction and so do the printer itself. This can cause conflict. Most programs try to reflect what's the printer driver's setting but I advise to only change the printer driver's properties not the other way round to avoid 'miscommunication.'

I just use refillable ink cartridges in my HP e-All-in-One printer. Barely ever need to print since I began using digital ink, but other relatives use it pretty often...

Seriously? Must be a slow news day.

I always feel weird when I see those types of article popping up. An article for the simplest of tips seems too much. But there are people who don't know about that stuff.

The reason for these articles is to introduce new users to the site. These how to articles directly answer questions that people regularly ask Bing, Google, Cortana, Siri, etc. The idea is to have your site be the top answer to these questions on a regular basis, which fosters trust in the site.

Which is a good practice to - like you said - introduce new people to the site. However, I would leave stuff like this to tenforums.com instead. Which is why seeing those articles here rubs me off on the wrong side sometimes. But oh well.. If it can help someone, then who am I to complain.

In contrast, does anyone know if latest build(s) edge (post anniversary) can print background colours/fills etc.? Seems to strip all formatting.

And no... this is not a css/media issue (testing cross browser)

Not that I can tell... I'm on 14986, and I still don't see any options to enable full formatting.

This is one of my biggest outstanding issues with Edge. Now that we have extensions and I could add LastPass, Edge is my main browser (still use Firefox and Opera a lot too though, writing this in Firefox), but if you ever need the screen graphics, which is frequent for sites with business graphs that rely on background colors for the graph data to even be visible (otherwise it's white on white), you need to use another browser. I see in other responses that even the new builds haven't addressed this yet. That's sad. I hope this is coming soon. By the way, one other issue I have with Edge is that the text entry boxes are screwed up in Windows Central for me. Whenever I hit return at the end of the paragraph, the cursor jumps to the top of the text box. I don't have this problem on any other site with Edge or with any other browser on Windows Central. This happens for me across all of my computers, but I've not seen anyone else comment on it. Does Edge work with WindowsCentral for posting comments for you guys when entering more than 1 paragraph?

Wow, come back to check feedback on a comment I made, and it's amazing the fussing over "slow news day" and "Really? A tutorial on the simplest thing?" Food for thought here a moment, but I see nothing wrong with a site devoting itself to the needs of ALL of its readers-- from the technophobic newbie to the most advanced IT and Developer pros. Nobody holds a gun to your head while forcing your hand to click a link. And certainly nobody needs the snippy comments about it. Pretty sure most of you would be pretty aggravated if you were at your work or school and had someone criticizing your efforts in the most trivial ways possible.

Please post the most useful instructions to change Printer Default options to black and white and then you select color only when you want it! Savings all the time.

Control Panel > Printers & Devices > Right click on your preferred printer (in case you have many or have MS print to pdf as default) > Make this printer default. Then right click again on that printer > Printer properties > And see whether your printer driver can set BW as default. Some printers have printing preferences, you might want to look at that too. Trust me, I work at a print shop.XD

I find it extremely useful to first click on the "Reading View" icon (icon is the outline of an open book at the right end of the URL address bar), which works for many, but not all, webpages. If it does work for a given webpage, it makes for vastly better reading and gets rid of all of the annoying video ads and animated GIFs on most webpages. If I'm on a touchscreen device I will usually also pinch-to-zoom to make the text size larger. Reading View is such a clean, distraction-free way to view the story content of webpages, Microsoft deserves a medal for that feature. Once in Reading View, it also makes the print job much cleaner and, as the article above was trying to get across, saves a lot of ink. I think the author should have mentioned Reading View in addition to outlining the technique to print in black/white/grayscale.
Windows Central Newsletter
Get the best of Windows Central in in your inbox, every day!
Thank you for signing up to Windows Central. You will receive a verification email shortly.
There was a problem. Please refresh the page and try again.