How to redeem your free Display Dock with the Lumia 950 XL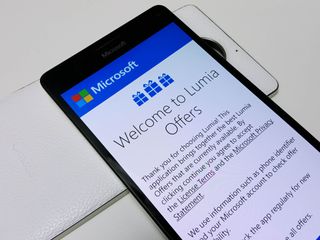 One of the big perks for early adopters of the Lumia 950 XL is that Microsoft is throwing in a free Display Dock for a limited time. However, there is a bit of a process to getting your hands on your free Continuum box. It's fairly straight forward, but here are the steps involved.
First, you'll want to make sure that the Lumia Offers app the comes pre-installed on your Lumia 950 XL is updated to the latest version. From there, head into the app and claim the offer. After you've laid your claim, Microsoft will send a promotional code to your email account, which you can then apply to your Display Dock purchase on the Microsoft Store website.
After you've gone through the steps above, you should be well on your way to receiving your free Display Dock and enjoying the PC in your pocket. Be sure to let us know how the experience goes for you, and chime in on our forums as well!
Thanks to c.nash on the forums for the image!
Windows Central Newsletter
Get the best of Windows Central in your inbox, every day!
Dan Thorp-Lancaster is the former Editor-in-Chief of Windows Central. He began working with Windows Central, Android Central, and iMore as a news writer in 2014 and is obsessed with tech of all sorts. You can follow Dan on Twitter @DthorpL and Instagram @heyitsdtl.
Oh, that sucks. I thought that if you went into the store to buy it, they'd hand you it, and if you bought it online, they'd ship it with the phone. This just seems like Microsoft's trying to make it difficult so people don't take advantage of the offer.

There is always something to complain about... Gowwwwwddddd give it a break :p

That's how they did ALL of their promos for past Lumias.

Of course, a history of bad management doesn't excuse future bad management. Also, if I remember correctly, I got my 920's wireless charger at AT&T, rather than having to do all of that. I might be mistaken, though.

Bitching about free shit. The self entitlement is real.

It's not free though. Free would be if you bought the phone and then Microsoft said "hey guess what, we're giving you a display dock for free!". The included display dock is the primary reason people purchased from the MSFT store and purchased the phone already instead of buying elsewhere or waiting for a price drop. It's not free, it's part of the purchase.

But it is free and the promotion is also valid when you purchase the phone from other retailers. Purchases after Jan 31st don't get this so it's by no means part of the purchase but an early adopter promotion.

Yeah with the 920 ATT did the charger deal and shipped them directly.. But also separate from the actual phone order.

Just be grateful the promo is available to you. Be patient!

Well, eh, I would say that this way the devices go to users, and not become dust collectors

Yeah, don't do it then. (woke up wrong side of the bed?)

Nope, I just hate the way this stuff is run. Why is it so hard to just hand it to the consumer in-store or ship it with the phone? The hoops they make you jump through are insane.

I feel you dawg. Folks just don't get, how frea%$#@g hard work is silently loaded in there. Jeez, First I have to find and download an app... forget that one, it is already there on the phone. then I have to press the damn app, which does its thing while I am sipping my pinai colaida with them straws with little hats, then it sends me an email with a code to use to buy the dock for zero dollars which MSFT ships to me Free... What are they thinking.... the Gore of MSFT. Let me see here, I press a total of 4 buttons max, Horrible MSFT. Hope you are feeling better now, because you got me in your camp.

But see, there in lies the problem, I pressed my four buttons, waited for the email, tried it again an hour later, waited, did it a third, fourth and fifth time. and It's been over 12 hours now and I still have not received and email to get the code to redeem. I don't think it should be this difficult, to add insult to injury, I called the store and they have no clue what the hell to do about it. I think the damn thing should have been packaged with the phone or at least package the redemption code with the phone.

Ohh, nice I have to have a SIM in it to get the offer, of course, it is a nano. My 1020 has the micro. Not ready to give up the 1020 for XL. Considering the wifi connection keeps dropping and have to cycle the power on the phone to reconnect.

I agree, I am kind of disappointed as I was expecting it to come with the phone. Also disappointed that the App does not show me the code. Also disappointed that I went to the MS Store and nobody knew how to help me. It would be much simpler.if they handled that automatically.

Wow, complaining about something free...

My app keeps showing a blank list...i tap on center of the screen, and I get an error code :-\ Edit: I didn't bother to check Windows Store for update...the app update was there, and worked perfectly :)

Make sure that the Lumia Offers app is updated to the latest version. That could be your snag.

how the hell do you update the app? Can't do it from the app itself, can't do it from the store, can't press and hold from the apps list...

Store > downloads > check for updates

Thanks! Just opened mine up and was looking for some form of code. Very helpful!

I had a heck of time redeeming my display dock... It looks like they fixed the website after I had to spend an hour on the phone with them.

Still waiting on an email saying my preordered phone is at my store and available for pickup

Took me a while too, mine finally went through after a hour of trying

Available US only im assuming?

Actually the US deal is much worse than the deal offered in other countries. In France, for example, apparently you not only get the Display Dock but also a Mozo back and a Xi charging pad and a € 25 Microsoft store credit and it applies to the 950 as well as the 950 XL .

But that deal is only for Windows Insiders, the deal in the US is for anyone.

Nope. We can do the same in the Czech Republic and I have heard about many other states in Europe

The deal is available in Sweden. Not as rich as the French offer, but we get the display dock.

Where did you get your 950 from? Directly from Microsoft or at a local retailer. I checked with a few but only saw that the dock was "available seperate"....

Over a week until my 950 xl arrives :(

Any good deals in Australia? I know Harvey Norman are giving away a 200gb SD Card just wondering if there's any other deals anyone know off. Would love to get the wired or wireless continuum connections

It would be nice of them to extend this deal to the 950 as well. Or provide the same deal that French Windows Insiders are getting to all Windows Insiders.

that would be nice.... i'll just have to make due with my miracat adapters for now :(

No free accessories for Aussies, as usual

Just a 200gb SD card from Harvey Norman

If u pay $1200 for the phone.
FAIL @harveynorman

When I open the app my offers are blank. I did have to reset the phone, it got all messed up when I tried to restore from a backup. What do I do now?

You only had to update the app.. Now you are in more trouble.. Hard reset once again and don't restore the back up..

Thanks for this. I was about to call microsoft and rip into someone. Didnt see I had to update the offers app. Thanks again!

I would have even been happy with a 25-50% off deal for 950 owners :(


Same here! I want one, but don't know how often I'd use it. Hence, $100 is a lot to drop on something I'll use to show off how cool continuum is to a few people.

Where is my email? Submitted it an hour ago....

Too bad in my region microsoft only offers a phone case and a wireless keyboard for pre-ordering the lumia 950xl. i don't even know if the display dock are avaliable in my region =[

My Lumia app is updated but says device error; device has to be verified with Microsoft account, but I'm already signed in; not good...

I'm having the same problem! Anyone have any ideas on how to fix this?

Got an email with tracking number after I placed the order :D

How long does it take to get the promo code via email? I signed up through the Lumia Offers app earlier this morning and haven't yet received the promo code. About two hours ago I resubmitted and still nothing...

Thanks for sharing. At least it's not just me. Still waiting on my email.

Requested promo code more than 3 hours ago, but still no email...

Waiting for email for dock code. Over an hour...

No worries. I got my email and it said it won't ship for 4-6 weeks O_O

Holy hell that's long... Where do you live?

In Ga. It surprised me because I got my XL Wednesday like most people.

Hey rchillin. It said 4-6 weeks on mine too but it arrived this afternoon. Think it's just a placeholder delivery/stock message and you're likely to also get it soon!

Yeah, I actually got mine a couple days ago as well.

I submitted my offer as well, and am still waiting for the email with the code. I hope there is not a glitch in the system.

Well I will check in the Moring my time and if no email I will be making some calls

I called support because I didn't received an email, they said wait 24 hours and try again if no email.

Is this offer available if you don't buy direct from Microsoft?

Is there a way to re-install the Lumia offers app if you uninstall it other than resetting?

Lumia App shows no offers for me on my 950 XL. Very annoying.

go to the windows store and make sure your app is up to date.

I was able to click on the offer, but have been waiting for the email for over 10 hours.

Literally, just go my email with redemption code. Tool over 12 hours, glad to have that taken care of. 4-6 weeks out. :)

Code just came into my Inbox 3 minutes ago.

Promo code came few mins ago. Took 20 hours!

I just got it as well, but when I try to redeem, I get "Invalid promo code"

Finally got the email, but it is out of stock now. This crap along with not being able to get LTE without having to perform crazy workarounds with the nano SIM are really souring the 950 XL. Microsoft still has not learned to get their shit together. As much as I hate Apple, they would never put their customers through this mess.

Promo code came in 24+ hours later, and now it's "out of stock"! Joy...

Just talked with rep who didn't know if this is permanently or temporarily out of stock.

Talked to the online support - Out of Stock means OUT OF LUCK. The offer was "while supplies last" - as it turns out about 24 hrs. SO if you don't already have the dock on order, you are not getting one. What a crock! My 950XL might be going back if the store can't fix it.

I think you're right. What sucks royally is that after I got the "out of stock" message, I was able to buy it with a shipping date of 12.16.2015. So it's obviously not out of stock if you're willing to buy the damn thing!

Exactly. It takes them 12 hrs to get us a code then we can't use it. Just got off the phone with MS Store and was told what they have in stock is just for sale and can't use promo code for.
The people that will use the docks are the ones that preordered the phones to get the free dock.
I'm done with it now. This 950XL will be going back tomorrow. I am sick if being screwed over by MS. I have had a WP since a day one Focus but this is ridiculous.

Nothing free available with pre orders for either 950 device here in Sydney Australia!!

my phone is still updating apps but the Lumia Offers app seems to be completely missing from my phone?

I don't have it either... maybe due to backup restore?

I'm pretty sure MS has broken laws here: 1. Making an offer for time of 2.5 months, with and extra month to claim, when they didn't have enough in stock for 2 days. 2. Claiming they are out of stock, when they are selling the same item if you pay. 3. Saying it was while supplies last, but then 10 to 12 weeks delivery means there was no stock. 4. The website still show a free dock with the phone This is at best bait and switch, and false advertising. This should have been a "first 1000 get free dock" (what ever that number is) If nothing else we should all return our phones in protest - even if you go buy it right after (each return will cost MS more than the dock).

MS is still selling the 950XL with the free dock offer, and as you stated, giving buys 2.5 months to redeem the offer. I don't know WTH they mean by "while supplies last" when they're giving so much time to redeem. I can't imagine them backing out on this offer or they'll have some serious consumer protection problems to deal with. They could have avoided this issue if they would have simply taken pre-orders. They would have known not only how many phones were in demand, but also how many promotional items were in demand. I sucked it up and bought the dock. I don't care how long it takes to get my free dock, but whenever it comes, I'll be pitching a fit at my nearest MS Store to demand a refund for the one I purchased!

Went to the store, talked to a manager (Canadian store) He said he had heard of the issue, but was sure, if I got a code that I would get a dock. While I was in line buy the wireless display adaptor, he came back with one of his guys who had just ordered his free one, he had me go back to the store and try again. This time it worked (3 to 4 weeks delivery expected). Looks like there is some confusion at MS about this offer. I'd keep checking the site for availablilty. Also, I bet after the holidays, there will be a more offical word on this. The store managers have a call every Monday.

Offer is back online. Just ordered my dock!

Got an email saying it's shipped. That's a surprise!

Easy enough... -Restore from backup -Update all apps -Launch Lumia Rewards -Claim the reward -Get confirmation -Wait Easy peasy :)

Doesn't work for me in The Netherlands. I get a terms and conditions screen and after press continue I get the message "Stay tuned. Look out for upcomfing offers" and a button close application.

This didn't work for me. The app did not come back :-( I'm on the phone to MS support and it took 10 mins to get the guy to understand I meant Lumia Offers, not Lumia Office!

What should be done was to extend the offer to Lumia 950 buyers. I don't understand why people are not asking for this... not everyone is geting the XL. :P

All i get is "Sorry, this offer is not available anymore".. what can i do?

According to the Microsoft help desk it's an error in the offers app. You should keep trying the coming time.

It worked, though you need to select a payment method (i did paypal) i think it worked :) Need to make sure they dont actually take my 99 dollar lol. But it worked for me finally!

So, we're told to enter the promo code somewhere in the Store, but using the link to bring me to the Store, there's no place to enter the code. The text does speak of my free offer, so I just went ahead and ordered, but the price tag sticks around to the end. I'll have to keep an eye on my bank account when they ship it...

When you clicked on the link in the email, did it take you to the store with the "Out of Stock"? So you just went to the store with the promo code an entered it? I didn't change the dollar amount like the example above?

After some time on the phone to MS I got the following link to reinstall the lumia offers app. Apparently my issue was that the US version of the application had been installed on my phone. This is from the UK store. https://www.microsoft.com/en-gb/store/apps/lumia-offers/9nblggh2kbnv

I baught my phone in germany and i am from slovenia where the special offer is not avalible. How can i get it since the app does not give me any option and this is why i baught it in germany.

So, in Noway here, the shop 'eljøp' has an offer that if you buy a lumia 950 xl or regular within the end of january, you get this same deal. But the lumia offers app sais I have the wrong operating system, and that the app is only available on windows phone 8.1 or layer

I've bought 950XL Russia - no offer in app - STAY TUNED - is all i see

Hey, I am from India, Do i still (as on June 28th 2016) get continum dock along with 950 or 950XL free on purchase?