How to remove the Network button from the Lock screen on Windows 10
Use this tweak to prevent users from viewing and changing network settings from the Lock screen on Windows 10.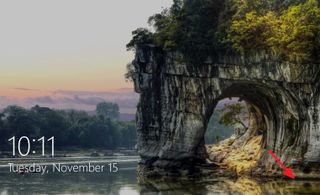 The Lock screen on Windows 10 is the first screen you see before signing in to your account, and it's quite functional. Using the personalization settings, you can configure a number of options, such as app status, a custom background image, and even enable Cortana to perform some basic task when your PC is locked.
Although Windows 10 let you disable many of the Lock screen features, the operating system lacks options to remove certain functionalities, such as the Network icon, which sits in the bottom-right corner, and allows anyone to view and disconnect your device from a Wi-Fi network.
The good news is that if you're trying to make the Lock screen more private, you can tweak the operating system to remove the Network button from the Lock and Sign-in screen, just like removing the Power options.
In this Windows 10 guide, we'll walk you through the steps to modify the Registry to remove the Network button from the Lock screen, and prevent other users from viewing or changing related settings when your PC is locked.
How to remove the Network button from the Lock screen
Important: As always, this is a friendly reminder to let you know that editing the registry is risky, and it can cause irreversible damage to your installation if you don't do it correctly. It's recommended to make a full backup of your PC before proceeding.
Use the Windows key + R keyboard shortcut to open the Run command
Type regedit, and click OK to open the registry.
Browse the following path:HKEY_LOCAL_MACHINE\SOFTWARE\Policies\Microsoft\Windows\System
Select the System (folder) key, and right-click on the right side, select New, and click on DWORD (32-bit) Value.
Name the new DWORD DontDisplayNetworkSelectionUI and press Enter.
Double-click the newly created DWORD and change its value from 0 to 1.
Close the Registry and restart your computer to complete the task.
Once you completed the steps, you'll now notice that the Network icon is no longer available in the Lock or Sign-in screen, which help you to make your sign-in experience a little more private.
If you want to see the Network icon again on the Lock screen, just follow the same steps, but on step 5 change the DWORD value from 1 to 0.
More Windows 10 resources
For more help articles, coverage, and answers on Windows 10, you can visit the following resources:
Windows 10 help, tips, and tricks
Mauro Huculak is technical writer for WindowsCentral.com. His primary focus is to write comprehensive how-tos to help users get the most out of Windows 10 and its many related technologies. He has an IT background with professional certifications from Microsoft, Cisco, and CompTIA, and he's a recognized member of the Microsoft MVP community.
Nice tip, and great wallpapers! Any links available?

InterfaceLIFT is the best for nature, landscapes and cityscapes.It's free everything is from pros or prosumers and goes thru peer review before publishing. There are other subject matters too but most contributors post those. I have almost 4000 of theirs in my wallpaper slideshow

Here you go :) http://hdqwalls.com/wallpapers/elephant-trunk-hill-new.jpg

I wish you guys would also publish the .reg files for these types of things. It would be even better if you created a place and kept them all there.

Baritone...
Would you trust a .reg file from anybody?
Other than Microsoft themselves.

Sounds like we need some kind of Windows Central Power Toy that lets users tweek all these settings in one convenient place!

Pro tip for those who run 10 Pro ( hurr durr durr) : Use gpedit.msc, you can find the settings in there and as added bonus, gpedit snapin allows you to filter and sort to show all configured items. No hunting in registry needed.

Great idea, because if there's network issues you sure don't want to be able to fix them before attempting to logon with a network id.

Do this kind of thing happen so much to people that they need to hack the OS to prevent it??? Dude, if random people screwing your network configuration happens that often to you, your PC is the least of your problems. Just saying.

Next registry modifying guide :
How to remove the password input box from lock screen in windows 10.
Great!

Well, we have already showed how to to remove the password reveal button from the Lock screen LOL http://www.windowscentral.com/how-disable-password-reveal-button-sign-screen-windows-10 Thanks,

Well, i was just mocking to these guides increasing so i just imagined to myself if we could remove the entire password input box from lock screen, which doesnt make sense at all. Lol
Anyways, i love these guides! Thanks.
Windows Central Newsletter
Thank you for signing up to Windows Central. You will receive a verification email shortly.
There was a problem. Please refresh the page and try again.