How to reset the icon cache database on Windows 10
Are icons on your desktop appearing blank or broken? Maybe it's time to rebuild the icon cache database on Windows 10, and here we show you how.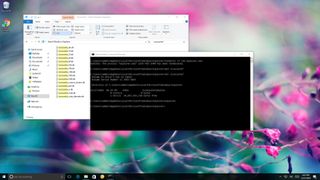 On Windows 10, those icons you see on files and apps are stored in the icon cache database to allow the operating system to display them quickly on the screen. The process of caching icons, instead of retrieving them from the source, helps to prevent your system from getting bogged down by the mere task of "showing icons".
However, as the database grows, the odds of icon cache database getting corrupted also grows. When this happens, icons on your desktop and throughout the operating system may not render correctly or even appear broken.
Although Windows 10 doesn't include an option to reset the database, you can still fix the problem using a few commands in Command Prompt.
In this Windows 10 guide, we'll walk you through the steps to rebuild the icon cache database on your computer when they appear blank or broken.
How to rebuild the icon cache database
To rebuild the icon cache database on Windows 10, close any application that you may be running, and then do the following:
Open Start and do a search for Command Prompt.
Right-click the result and select Run as administrator.
Type the following command to navigate to the icon cache database location and press Enter:cd %homepath%\AppData\Local\Microsoft\Windows\Explorer
Type the following command to verify the icon cache database files are at the location and press Enter:dir iconcache*The output of the dir command should list these database files:

iconcache_1280.db
iconcache_16.db
iconcache_1920.db
iconcache_256.db
iconcache_2560.db
iconcache_32.db
iconcache_48.db
iconcache_768.db
iconcache_96.db
iconcache_custom_stream.db
iconcache_exif.db
iconcache_idx.db
iconcache_sr.db
iconcache_wide.db
iconcache_wide_alternate.db
Type the following command to stop File Explorer and press Enter:taskkill /f /im explorer.exeImportant: Once you terminate File Explorer, your desktop background and taskbar will disappear, leaving a black screen — but it's OK, it's only temporarily. You need to close File Explorer to be able to delete the icon cache files. Otherwise, you won't be able to do it.
Type the following command to delete the iconcache files and press Enter:del iconcache*Quick Tip: If you get access denied trying to remove the files, you're probably not running Command Prompt with as an administrator. Repeat these steps, but making sure Command Prompt starts with administrative privileges.
Type the following command to verify that you successfully deleted the icon cache files and press Enter:dir iconcache*If you still see some iconcache files, then it's likely that some apps are still running, which will prevent you from deleting the database files. Make sure to close them all, and repeat the steps.
Type the following command to start File Explorer and press Enter:explorer.exe
Close Command Prompt to complete the task.
Once you completed the steps, Windows 10 will automatically recreate the database files with fresh new icons.
Keep in mind that these steps won't delete and recreate the thumbnails. However, you can always follow our guide to rebuild the thumbnails cache on Windows 10, if they're not working correctly on your PC.
While we're focusing this guide on Windows 10, you can use the same exact steps on Windows 8.1.
More Windows 10 resources
For more help articles, coverage, and answers on Windows 10, you can visit the following resources:
Windows 10 help, tips, and tricks
Windows Central Newsletter
Get the best of Windows Central in your inbox, every day!
Mauro Huculak is technical writer for WindowsCentral.com. His primary focus is to write comprehensive how-tos to help users get the most out of Windows 10 and its many related technologies. He has an IT background with professional certifications from Microsoft, Cisco, and CompTIA, and he's a recognized member of the Microsoft MVP community.
Hmmm...i go to that location and there is nothing in reference to icons.

Thanks for the tip! This should probably get rid of all those nagging blank tiles I see after each wake-up or restart of my PC and Surface Pro 3

I have found that if I switch from tablet mode to desktop mode or vice versa fixes the blank tiles when it happens. I also find on the Surface that rotating the screen works as well.

Thanks for the article. This is something that bothers me on my work computer with Windows 10. Plus, I used to have some issues with icons on Windows 7, but now I can guess how easily that can be solved on that PC too.

If only this was possible to do in W10M. After initial set up in a 950XL, the facebook icon was blank and I tried uninstalling the app. It removed the one with the icon but the blank one was still there.
.
Did a hard reset.
.
It's the same story but with the Uber app now. :/

That sucks. Sorry to hear that. I hate stuff like that. The appeal of W10Mobile is its beautifully customizable home screen.

Oh well. I LOVE the Start Screen. It's one of the best UI for Mobile ever made....

Yep. If people would stop listening to the bullshitter Android and iOS slappies that run around telling everyone how bad Windows is, we would starts seeing some users and then then the apps would come. As of right now, the bullshitters have kept the casual users away with their lies and myths.

(2), My Start screen isn't corrupt. It's the all app list where UBER doesn't have a logo and it still shows up even though I uninstalled the app.

Uh oh!!!! I miss read and quite after killing fileExplorer.exe I thought restarting would fix that. But nope. It won't boot. I NEED HELP!!!!!!