How to resize text, apps, and other items in Windows 10 Mobile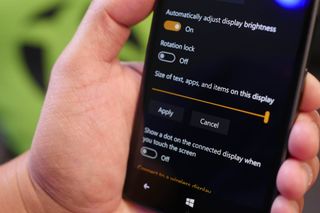 Just like in Windows 10 for PC, you can also resize text, apps, and other items in Windows 10 Mobile. Perhaps you have a phablet and want to fit more items on the screen, or you simply want everything to appear bigger. It's really simple. We'll show you how to do it.
Go to Settings (Swipe down from the top of the screen and tap All Settings)
Go to System > Display
Drag the slider under Size of text, apps, and items on this display to your preferred size
Tap Restart now when your phone asks to restart
That's it!
By default, 200% is selected on the slider. Dragging it to the left makes things smaller, while dragging it to the right makes things bigger.
Depending on the size of the screen of your Windows 10 Mobile device, some elements of the UI change in addition to just resizing. For example, the Lumia 1520 moves the address bar on Microsoft Edge from the bottom to the top if the slider is dragged all the way to the left. Outlook Mail and Calendar also display the left tab by default in the same setting.
I'll be keeping the zoom level to the default value, but I can see how this setting can be useful to many others. Users who feel their vision is getting worse might prefer bigger items on their screen, and advanced users might prefer to fit more items on the screen by making things smaller.
Are you changing the size of the text, apps, and other items on your Windows 10 Mobile device? Bigger or smaller? Let us know in the comments!
Windows Central Newsletter
Get the best of Windows Central in your inbox, every day!
Does L720 support 4 tiles after lowering dpi? N how much does it affects the performance?

I've tried this on current and the last build, performance goes up when you lower the %.

Can't wait more.. I want the new build.. :\

Current build is almost RTM quality. It's awesome, even as a daily driver.

Im stuck with 536 and no way to downgrade.. So have to wait for 575

windows phone recovery tool

I am confused. 4 tile support on lumia 620?

He means four columns of medium tiles, I guess.

Yes thats what i meant.. Is it availbale?

What do u mean for 4tiles? On little tiles it support 6tiles hahaha :p my screen looks bigger now, n i like it.

By 4 tiles he means 8 little tiles.

I mean 4 mid sized tiles which 1520 & 640xl had

i have a lumia 720 on latest build of WM10. To answer your questions, no, bringing down the dpi to the lowest setting will not give you 4 columns of medium sized tiles. as for performance, i think its the same. well, at least in my case.

L735 on 175% looks excellent and allows 4 columns (4 medium/standard tiles). This is an excellent build so far! Set your size first (display settings) - reboot, THEN reselect 'show more tiles' in Personalisation>Start settings.

175% looks great on my L640

This is the most useful feature yet....

Yeah, I love the task switcher with groups of 4 apps, more tiles and more buttons in notification center.

175% recommend on 640xl which bit too big for the screen.

Only thing I don't like is having to restart each time.

i've already played around with this and what this also changes is the number of tiles on smaller screens (4th row) and the taskswitcher which shows four windows. But things are a bit too small on my L920 when it's set to 175% :)

I'll definitely use this. It's time we got an option wherein the UI isn't something that'll announce everything to people around you. Pity it only goes down to 125% on the 640 XL. I don't get why the default text display on the 640 XL went up to 175% from 150% starting from Build 10549 though. Kind of odd as well that only the 6-inch devices get the "desktop" Edge but not on 5.7-inch devices. They should've just gone with 6-inch devices with flat sides so it'll be easier to hold. It'll also be pointless if app won't function properly on the different sizes available.

When will be released windows 10 mobile?

why dont you just shut up already

November, worst case, december

So any size of screen can be made to look like a phablet. L950 is a 5.2" version of L950XL. :-)

Already resized to smallest and I'm not going back!

Once you go small, you never go... Back?

On my Lumia 930 I have set it to 255% and I can have more tiles and 4 way switcher like a phablet it really looks good and not too small ether

Sounds like it would be too big at 255%.

On the L930 it goes up to 300% and the lowest is 225% so I have put it halfway for balance and it looks good

I have Lumia 930 too and scaling starts from 225 till 300%.
Actually I've set it on 250% and it's perfect. 4 columns of tiles, smaller text and UImakes everything less giant and blocky.

My Lumia 920 has new life. Though 175% would be too small for some I don't want to go back.

Couldn't find such option in 640 XL.


Only for 10549 & 10572 users..

It is these ... I am using it dude... Awesome

Already resized to smallest and I'm not going back!

Would really be nice to have the desktop-like Edge for Lumias smaller than 6 inches.

Without something as magical and innovative as an Apple Pencil I think it would end up being unusable. I guess at least we have good old mouse support though xD

I'd love to see some comparison photos on a more standard screen size like a 5" Lumia 640, showing different scaling settings... The 1520 is kind of a special case at 6" so it always throws me when this site frequently only shows screenshots from the 1520. :S

I like 150% on lumia 830. The phone dialer is squished in latest build with 150% though, was fine in previous.

Haven't tried 150%, but for me the 175% looks just fine on my 830, and I don't think I want anything smaller :D

I don't have that option on my M8.

Please god no! I really don't want to see screenshots of Windows 10 Mobile with Comic Sans everywhere lol

It's awesome. I made my M8 into a phablet, without having the large screen size. Never going back.

Using the mid-size selection on a Lumia 930, while i loved the inclusion of the left bar in Messaging at the smallest setting, everything was way too small. With the middle option selected I get 4 tiles wide on Start (which is awesome) and 5 options wide in the Action Centre. It's nice to see that the lonely quick action this casues is now hidden in 10572. In 10572 you either get 4x4 (16) or 3x5 (15) quick actions. This is a nice refinement, finally removing that awkward left over. the only thing I can't quite decide I like, is the phablet app switcher. I think I much prefer one row of items to switch between, especially when closing apps from the switcher. All in all, great to see this option. A great customisation element not really found on the other platform.

This also changes the task manager to work like phablets. I personally like it this way. Also, messaging, comes with contacts on the left that you can tap to change the conversation window, pretty neat.

I love that feature, pretty neat indeed. Don't have to keep coming in and out of messaging screen.

That's so sweet! I gotta get to 10572 immediately then!!! This resizing feature is so awesome!

Yeah, they have scaled down the font sizes so much that when I open the old WP8.1 styled apps, the fonts look huge. But small fonts and elements means more productive use of space. But many in-app elements like sliders, toggles, drop-down menus, etc. look very small and stick too much to the left side of the page. The OS is very inconsistent wrt to such elements.

Something someone can do to personalize it even more to their liking, if you have scaled down the DPI to fit more stuff in your screen BUT you want the text to be bigger throughout the OS just go to Settings>Ease of Access>More Options>Text Scaling There you can adjust just the text size :)

I know that and had did it before. I just want them to improving space usage in their apps. Don't you feel the Settings app is so incomplete? Also, do you see how the app icons in the All Apps list stick to the left of the screen leaving a whole lot of space idle to the right?

The latest build gets rid of the desktop edge at 150 percent. Its just smaller text on the mobile build now.

I've got it at the lowest setting on my 920, it's great! Something like this scaling is one of the first settings I looked for when I first started with windows phone (text was tooo big for me everywhere). I'm loving this. I also have microscopic handwriting. maybe it's all related.

I want to find out if the OS supports usb cable tether for internet connection?

I am curious. My 635 tester is defaulted to 150%. Does this mean that they built W10 to support a lower resolution than 800x480?

Lumia 930, selected show more tiles. Now able to have four tiles across the screen width

On my lumia 930 default size is 300% and its all the way to tye right and lowest size is 225%, which of course is all the way to the left. I really lobe this feature, but the new facebook beta app doesnt really seem to comply. Furthermore when you hold the back key, you now get a 2x2 view of open applications, which I like, but I don't like that when you close an app you have to slide your finger all the way down. Its kind of annoying and just a little swipe should do tue trick as well.

Swiping down to close apps was easier/smoother on WP8.1. Hope they bring that back. As well as the animation when you open folders on the start screen. So much smoother on WP8.1. Hope they bring those elements back in the RTM build.

Did any one updated win10 in 630 and have you faced any problems

would love a video demo on this

Change to 200% and my facebook beta UI broken. (L1520)

anything under 250 breaks the facebook apps.

On 10572 the universal apps don't get the desktop interface any more on my 1520.

Yeah. Same here including edge. After this I switched back to 250. Having the desktop interface on my 1520 was my sole reason to change it.

I bumped my 1520 down to 225% from the default of 250%. I tried going lower, but 225% is a good balance for me. I can fit a little more on the screen, and buttons are still big enough to tap. One nice side effect of going a little smaller is the messages app shows the conversations down the left, even in portrait, as just the photos of your contacts.

This will definitely help squash more content onto the screen :P.

Is this option not available on the 920? It is not shown in the display setting Edit: Bbm just found out u need the newest build...waiting for the build I can update without downgrading first

I think it should be very soon. We're about to hit the stride with mobile builds I can feel it lol, 1 build per week! :O imagine...

One M8 @ 250 allows items to fit in the screen. Edge, email and other items hung out past the edges. Had to keep pinching everything in.

Did this on my 822 when 10549 came out, looks great scaling from 150 to 125%. No extra row of tiles but popups are no longer full screen, store looks good in landscape mode.

Kept at medium. Feels like complete new phone. Enjoying. Best feature in Windows 10 for me.

Guys anyone try this build on Lumia 520 or 720 hows this feature looks on these devices ?? And hows the battery life if this build ??

make slider to most left side, the view will become tablet view on >5 ' screens, use settings-->easy of access-->more options -->visual options-->text scaling for adjustments for your screen. tablet view view depend on each app, after changing slider all apps get update in store even you updated to latest,do if you wish . but if you update mail& calendar ,you will miss tablet view in 1520,like wise we miss edge tablet view in10572 ,those are 10536 edge will work tabs are adjucent like pc browser.

Switched to the smallest text immediately after installing the previous build. It's great to have 4 columns of tiles and 2×2 task switching on L930 :))).

I wonder how it works with lower resolution displays like lumia 630/635
can anyone confirm this?
screenshots if possible
thank you

on 1520 https://goo.gl/photos/WNbgRTMcSYx2FKPPA

What about just going to settings,ease of access,text size. You don't need to restart or anything just change text size

OS ask to restart if want to change size.

I lowered the scaling, cam fit more on my Lumia 640, and it looks awesome, and it's not taxing on my battery, which is great!

This is great! Made all my live tiles wide and medium and get more live info in same space as before.

Thank you. Been requesting this for a while. Now just add more fonts Posted via the Windows Central App for Android

The new build doesn't put the address bar on top with Lumia 1520

Looks great on the Lumia 535, will be keeping it like this now.

The store needs more design tweaks

Resizing works great. I'm enjoying four rows of tiles. But there is a problem with non-microsoft apps built for windows 8. They wouldn't resize. May be it is something to do with coding. Everything other than that is perfect though. Loving it on my 640.

also 6 tiles on Lumia 535

The changes for phablets like the 1520 gives it a very pc look. When mirrored to a large screen it could be a very pc like experience....

Wow.. This feature is awesom.. It turns my 640 in to a 1520.. Mm well almost.. Multi tasking is lot easier.. Even the action centre toggles now has 5 instd of 4...

I recently updated WhatsApp and this heinous problem occurred. The text size suddenly enlarged and it looks very unpleasant to eyes. It was smaller and better for me. I changed the settings reducing the text size to minimum. Still nothing happened. Reinstalled the app again. Still no luck. All my other fonts are smaller and good to my taste. Can this WhatsApp thing be solved? Will appreciate if anyone helps. I use Microsoft 540.

I have a question for you...I just got a Window's tablet - the Cambio. It is Windows 10 - and I thought I'd play with the size of things - the text was small. So I went into the system settings and tried several of their fixes, but they only did heading, etc. and not the text. I tried to resize with the touch screen, but it didn't seem to work, so I upped the anti and made it 300% just to see. Well, it worked - the text is more than large enough, but everything is is waaay to huge. When you swipe from the left in protrain mode - you cannot undo it. So I eventually got bac into reset it to 150%% and it won't let me. I can change the numbers along the ruler, but it doesn't have a reset option, What can I do? brand new yesterday, and now...well...

Thank you for this article. This helps for most of the apps. But NOT on the start screen. On my Lumia1520 I see way too small type faces and icons and have no means to change the size. Except for choosing Bigger tiles on the screen, but this is not what I would need on an 1520. It's big already. The apps read ok, but the start screen is a pain. I barely can read the appointments, the numbers that appear inside the call and email tiles are too smal and look ugly. This was working fine and flawless in the previous version. Any help out there?

Is there anyway to increase the font larger than 350%? I only ask because I have one program on my new computer that keeps the text super small, and there is no way to change it in the app.