How to safely remove the microSD card on the Lumia 950 & 950 XL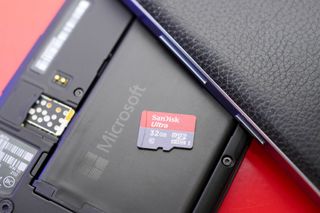 The Lumia 950 and 950 XL both have microSD slots so you can have more room for storage. In fact, you can get a 200GB microSDXC card for the phones right now. These high-speed, high-capacity cards can get expensive depending on what you get, so making sure to take care of them can save you money later on. For example, simply pulling the microSD card out of your Lumia 950 or 950 XL isn't recommended. We'll show you the safer way.
Swipe down from the top of the screen and tap All settings
Go to System > Storage and tap the SD Card
Scroll down and tap Remove
You'll get a warning that the files stored on this card won't be available until you put it back in. Tap Yes, I'm sure.
That's it! Now, you can remove the back cover and remove the microSD card. Most people won't be removing their microSD cards often, but it's one way of transferring files between the Lumia 950/XL and the Surface Pro 4, which has a microSD slot, too.
Did you know about this safety measurement? Have you pulled out your card before removing it in the settings? Let us know in the comments.
News
Want all the latest news on these phones? Hit these topic pages for all that we got.
Microsoft Lumia 950 XL main page
Support and help forums
Need to chat about the Lumia 950 and Lumia 950 XL? Jump into our forums and ask others what they think or get help and advice on your new phone!
Get the Windows Central Newsletter
All the latest news, reviews, and guides for Windows and Xbox diehards.