How to save money on Xbox Live Gold
By Richard Devine last updated
You don't have to pay full price for your Xbox Live Gold subscription. Here are a few tips to saving some cash!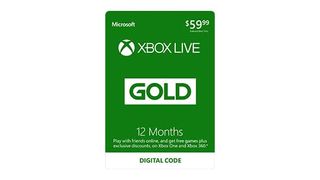 If you pay for Xbox Live Gold to use on your Xbox One, you may well be spending too much. The service is basically a necessity to get the most from your console, but if you just sign up and give Microsoft your money you're probably not getting the best deal.
The good news is that deals on Xbox Live Gold subscriptions are fairly common, you just need to know where to look. Here, we've rounded up some tips on where to look to save some money.
Thrifter.com
Thrifter is a new addition to the Mobile Nations family, dedicated 100% to curating the best deals around to help you save money.
Be sure to keep an eye on the site at Thrifter.com and follow along on the usual social media channels. If there's a deal to be had on Xbox Live Gold, Thrifter will make sure you know about it.
CDKeys
CDKeys is a reputable source of discount codes for both PC and Xbox gamers, and cheaper vouchers for Xbox credit and Live Gold subscriptions can often be found here.
The page to keep an eye on is linked below. You'll probably have to act fast when deals appear, as they're pretty popular!
Xbox Live codes on CDKeys (opens in new tab)
eBay
The site that sells everything is also a great place to find discounted codes for Xbox Live Gold. For example, this current deal (opens in new tab) will see you save $9 on a 12-month subscription over buying direct from Microsoft.
Find Xbox Live Gold deals on eBay (opens in new tab)
G2A
G2A is a service in a similar vein to CDKeys, in that you can usually find great prices on codes for games, DLC and more.
One big difference is that G2A allows its members to sell codes to others, and so long as you make use of the G2A Shield buyer protection, you're covered if you get a code that doesn't work.
Find Xbox Live deals at G2A (opens in new tab)
Those are just some of the great places you can use to save yourself money on an Xbox Live Gold subscription. If you've got your own gem to share that usually helps you save money, be sure to drop it into the comments below.
Richard Devine is an Editor at Windows Central. A former Project Manager and long-term tech addict, he joined Mobile Nations in 2011 and has been found on Android Central and iMore as well as Windows Central. Currently you'll find him covering all manner of PC hardware and gaming, and you can follow him on Twitter and Instagram.
Anyone know where to get a deal on Groove (Xbox) music pass? Those deals were common, even half price. Now I see nothing :/

+1
more than 2 years with no deal. Hopefully tomorrow (3.14) MS store launches a doorbuster or online deal.

Hope so. Mine runs out on Thursday!

Hope so. Mine runs out on Thursday!

Hope so. Mine runs out on Thursday!

That is how I got my current subscription. It is about to run out. If there are no deals, I am debating if I should just switch to spotify. The price is the same and they allow family accounts. I like the ability to upload music to onedrive, but I'm not sure if it is worth it anymore. The Groove app has always had some reliability issues.

a couple years ago Groove had a Pi sale (3.14) yearly memberships were I think $31.40

Like two years ago they did a "Pi day" sale on Groove Music Pass on March 14 (3/14) that cost $31.41 per year (or maybe it was $33.14), less than 1/3 it's normal price.

Most likely not. They only did that in 2015 because of 3.1415.

Wow, I have never seen Groove deals. The only "deal" I have ever seen for Groove is on ebay, but there was one seller who would not sell to USA (some USA customers said the numbers would not work for them). I did buy a 3-month pass from someone on ebay for $20. Other than that, nada....

I switched to Spotify Premium for $14.99 / month where you can share the subscription with 6 users. Covers my Fam of 5 with 1 left over. I don't understand why MS doesn't do something similiar.

I use Bing Rewards points to purchase my yearly XBOX Live Gold subscription.

Me too. I like the Bing rewards.

Lucky you, Bing Rewards is not available in my country.

I usually wait until I'm within a year of my Live subscription of expiring and then I keep my eye out for deals. Not waiting until it's about to lapse means I don't have to hope I get lucky and then get stuck paying full price. I usually find one on eBay for $35-40. Sales like that are quite common during Black Friday. Even at full price, a subscription is well worth it with the quality of the service, the discounts for Gold members, and the free titles from Games with Gold.

Yeah, since you can stack up to three years on your account, it's worth buying and extending whenever you see a good deal. As you've stated, you don't have to wait until it's about to expire.

Unfortunately Microsoft bumped up my yearly Xbox Gold subscriptions from₹ 2434 to Rs 4000. so had to bail out .

Well, for three months in a row, I wait a few days after my subscription expires and they do some offers. I got two months for 1€ each and a third one for 3.49€... If it goes on, the full year will be cheaper than ever :-P

3 month for 15,000 Microsoft reward points

29,000 gets you 12 months

Codes from G2A and CDKeys pass through grey market. I wouldn't recommend people to use these sites and I encourage people to buy directly from MS or from retailers like amazon...

Unlike G2A, CDKeys is a reputable seller. Don't assume both are bad just because one is.

They are still in the grey market.
I would still say it's better to get it at MS store or at retailers like Amazon. If you really want to save money just wait for blackfriday or when XB/reliable retailers have a deal.

I just used my saved up Microsoft Rewards credits to purchase a 12 month subscription to Xbox Live Gold a few months ago.

Exactly what I do for me and my 15 year old son. 29,000 rewards points equals one 12 month membership. I have done it twice already and will be doing it again soon so we will be members until half way thru 2019

I use most of these sites when trying to get the best deal on prepaid cards. Usually I can get one between 35-40 USD.

Past couple years Best Buy has run a $20 off special on the renewal cards right when my subscription has come due.

You forgot the best way to save on Xbox gold... Use Bing, get points, redeem for 12 months of Live, ... , profit!
I am ~1,200pts away from getting it.

Not if you are banned. :'(

I usually find deals on eBay on 12 months cards for around $39.99 USD.

Amazon has sales sometimes. It was $49.99 for 12 months of gold a few days ago.

Costco has deals a few times a year in Canada. I thinks it's $46 compared to the 59.99 normal price. I'm pretty sure there is always a small discount on them as well.

g... never heard of these sites. Thanks for the info tho!

I use Bing Rewards to get my XBox Live 12 month memberships. At this time I believe it's 29,000 points for 12 month cards. I always seem to at least get that many points every year. Saves me a ton of money well at least 35.00 to 59.99 a year. :-)

Mine's going to expire in April, but I kinda want to wait for a combo of Gold + Game Pass deal. There has to be one in the pipeline, I presume ...

You deserve a series of swift kicks in the crotch for suggesting to buy anything from G2A, that well-known (except at windows central) scammer site!

I rarely pay over 40 bucks a year. For a few bucks a month it is worth it. It is still the best online network available IMO
Windows Central Newsletter
Get the best of Windows Central in in your inbox, every day!
Thank you for signing up to Windows Central. You will receive a verification email shortly.
There was a problem. Please refresh the page and try again.