How to set up and use iCloud Drive on Windows 10
It's easy to get your Apple files on your Windows 10 PC. Here's one way to do it.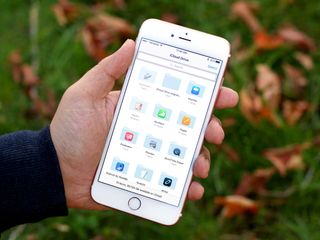 Apple would like people to use its devices and platforms exclusively, but it at least acknowledges the sheer number of Windows users around the world. Using an iPhone or iPad and a Windows machine isn't at all uncommon, and as such, iTunes and the core iCloud services are available on Windows 10.
One of those services is the iCloud Drive storage service. It's pretty easy to get up and running with Apple's cloud storage on your Windows PC. Here's how.
Download, install and set up iCloud for Windows
Before you do anything you need to have iCloud for Windows installed and set up. The good news is that it's an easy enough process. The even better news is we have a complete guide to walk you through it, step by step:
How to set up iCloud on Windows 10
Enable sync on Windows 10
If you didn't take care of this already in the first step, the next thing you need to do is to enable iCloud Drive in iCloud for Windows.
Open the Start menu and navigate to the iCloud folder.
From there, you need to open the iCloud application.
In the box that pops up, check the box next to iCloud Drive.
That's all you need to do to turn it on.
Pin to Quick Access and Start menu
Once enabled, your iCloud Drive folder is a little buried. You'll find it in Users > Your User Folder, which isn't much use for getting to it quickly. For that, you can pin it to Quick Access, the Start menu or both.
To add to Quick Access in File Explorer, right-click on iCloud Drive and select Pin to Quick Access.
To pin to the Start Menu, right click on iCloud Drive and select Pin to Start.
Using the iCloud Drive folder
Once you've followed the steps above, you can use iCloud Drive like any other folder on your Windows 10 machine. Drag and drop files and other folders or save things directly to it. You'll see a whole bunch of folders already in there, potentially with files you may or may not be able to open. Any apps on iOS or Mac which make use of iCloud to store data will show up, for example.
But as long as you have a data connection, anything you add to any of the folders in your iCloud Drive on your Windows 10 computer will automatically sync, allowing you to access them on other enabled devices.
For more iCloud tips and tricks, be sure to pay a visit to our friends over at iMore.
Updated August 9, 2018: We've checked this guide to ensure it's still up to date for 2018.
Windows Central Newsletter
Get the best of Windows Central in in your inbox, every day!
Managing Editor - Tech, Reviews
Richard Devine is a Managing Editor at Windows Central with over a decade of experience. A former Project Manager and long-term tech addict, he joined Mobile Nations in 2011 and has been found on Android Central and iMore as well as Windows Central. Currently, you'll find him steering the site's coverage of all manner of PC hardware and reviews. Find him on Mastodon at mstdn.social/@richdevine
Why would anyone use something that doesn't have "The Real Enterprise" behind it. No thanks!!!

What a poor analogy of not using something. Anyways, it is your choice, salute.

There's a ton of iPhone and iPad users that use whatever services comes with their device. When I bought my 6 Plus, photos that I took with it automatically started going to iCloud without me even realizing it. After about two weeks I started getting messages saying I was out of iCloud storage, the ammount Apple was giving people was pathetic. From my understanding, they just started giving people more by default.

Nope. Still the same 5GB. They lowered pricing on upgraded storage though.

Apple is all about money hoarding, they just give 5gb.

DropBox only gives 2GB anad people hail them as the best cloud storage provider on the planet, so what's the problem? If you want more, you can pay for it. Yes, OneDrive gives more, but given how terribly Microsoft is doing in Mobile they kinda have to. All the dominant platforms have their own cheap 1st party cloud storage services built into them. They're in the same situation as Flickr, which also is using the same strategy to try to woo users to their services.

And now that they (OneDrive) reduced 15gb free storage to 5gb. Can't believe such a big company does bait and switch. SMH.

Using icloud without additional software would be great :D

You can uninstall everything except iCloud. I do the same with iTunes.

Your two last paragraphs make it sound like iCloud for Windows has placeholders. Is this the case? Or is it like every other cloud service and downloads it to your machine?

Cuda drive(Copy.com beta) has something similar to placeholders I believe. Hasn't been stable enough for us for business use so we are considering changing. For personal I use OneDrive

Eh why use something that only gives you 5GB free while Onedrive can give you 30GB. I have an ipad, but I barely use iCloud to store files or photos.

Because you own other Apple devices and cloud storage is dirt cheap

iOS 9 is out in 2 days and is bringing the iCloud Drive App/Browser to iPads and iPhones. The only benefit 3rd party cloud storage services had over iCloud Drive on iOS is the fact that you could browse the storage via an app, but that's going away with iOS 9 (OS X already has Finder integration). With 50GB @ $0.99/mo there's no point to use two cloud storage services anymore. I'm going with iCloud. OneDrive has no advantages over it on Windows, but iCloud is going to work much better on Macs and iDevices for those of us who use different platforms (iMac, iPhone, Windows Notebook, Windows Tablet for me) while matching OneDrive on Windows. I also use iTunes on Windows because Windows Media Player and Groove Music are absolutely horrible at getting the correct Album information. iTunes is virtually flawless by comparison.

Pretty Cool Article! imo, Onedrive is the best :3

How do I get my pics from iCloud since I no longer have an Apple device?

You still have an Apple ID. Just get iCloud for Windows, install and sign in. You should have access to any photos stored in iCloud then, and they can be downloaded.

iCloud for Windows only supports iCloud Photo Sharing and Photo Stream (which are downscaled versions of the latest pictures taken on your device, not the full versions like in Photo Library), not iCloud Photo Library.

I just had a look, you are right. May as well uninstall icloud for windows and just use icloud.com.

Waughy's method works too, but I'd probably go to icloud.com instead and use the web interface to see if there's an option to download all your photos. Couldn't hurt to check before installing more software.

Go to iCloud.com and use their Web Photos app to download everything from there. Use Edge, since it automatically downloads hte files without confirmation. That would speed it up quite a bit for you.

Your screenshot shows a simlar problem I am having on Windows 10. How do you get mail and calendar sync to work with Outlook 2013/2016? I keep getting asked to repair iCloud desktop and that the features can be accessed on the iCloud website.

I would never be so desperate to use Apple.

The changes they did to File Explorer are so unintuitive. Why does Quick Access even exist? These things used to pin themselves and it was just install and go, now you have to dig for folders to right click and pen them manually, etc. UGH.

I just wish that the opposite was also true. Microsoft caring about those with a Lumia handset and a mac computer. The app for synchronization with a windows phone is broken for a year or so and no sign of a fix or even acknowledging that it's broken!

Microsoft are too deep into "salvage mode" to bother with any of their devices or services at the moment. I'll check back in a year and see how they've progressed, but right now they just aren't that reliable of a choice. You don't know what's going to disappear, get changed in fundamental ways (OneDrive on Windows, for example), or just got forgotten and eventually dropped.

I tried setting it up once. I had it turned on for my iPad mini, and synced everything, bringing me to the 5GB limit. So every two or three minutes, on my Windows machine, it would send a notification telling me I was at my limit and needed to pay Apple more. By the end of the day my Win10 notification center would be full of 100s of Apple notifications. Yeah, that was uninstalled **real** quick. Typical Apple giving the user a horrible experience.

All Apple software for Windows is bloated garbage.
Windows Central Newsletter
Thank you for signing up to Windows Central. You will receive a verification email shortly.
There was a problem. Please refresh the page and try again.