How to set up Assigned access on Windows 10 to restrict users to a single app
Are you building a kiosk computer or you only want to restrict users to interact with a single app? Then use this guide to set up Assigned access on Windows 10.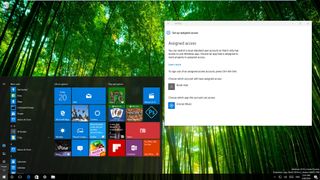 When you need to share your computer with family members or friends, you typically create a new Standard User account to grant them access to use apps and browse the web. However, there will be times, when you may need a more restricted environment to allow users to access only one app.
For example, if you're setting up a kiosk computer for customers at your business to display a demo, or when hosting a party, you may want everyone to play DJ using the Groove Music app, but you don't want anybody snooping into your personal files.
Assigned access is a feature on Windows 10 that allows you to create a lockdown environment that lets users interact with only one app when they sign into a specified account. With Assigned access, users won't be able to get to the desktop, Start menu, or any other app, including the Settings app.
In this Windows 10 guide, we'll walk you through the steps to set up Assigned access on your computer using your administrator account and a standard account, which will be used to let users interact with a particular app.
How to configure Assigned access on Windows 10
Before using this feature, you should consider that you can only assign apps that come bundled with Windows 10 and the ones from the Store. Classic desktop apps support is only available for Windows 10 Enterprise and Education.
Also, Assigned access can only be set up on Windows 10 Pro, Windows 10 Mobile, Education, and Enterprise.
Using your administrator account, create a new Standard User account. You can find the instructions on how to do this in our previous guide.
Use the Windows key + I to open the Settings app.
Click Accounts.
Click Family & other people.
Under Other users, click the Set up assigned access link.
Click the Choose an account button, and select the standard account you want to assign to run a single app.
Click the Choose an app button, and select the supported app to run on Assigned access.
Restart your computer and then sign-in with account you just configured.
Once you're done using the account, because you don't have access to the Start menu, you'll need to use the Ctrl + Alt + Del keyboard shortcut to sign out of the account. Then to completely terminate the account session, simply restart your computer by clicking the Restart button from the Power menu on the Lock screen.
How to disable Assigned access
When you no longer need Assigned access on your PC, follow these steps:
Use the Windows key + I keyboard shortcut to open the Settings app.
Click Accounts.
Click Family & other people.
Under Other users, click the Set up assigned access link.
Click the account currently setup, and click Don't use assigned access.
Assigned access is a feature that Microsoft first introduced with Windows 8.1, but it has been improved on Windows 10. Also, while the feature is primarily designed for kiosk scenarios, anyone can use the feature to restrict users to interact with a single app.
Have you tried Assigned access on Windows 10? Let's us know your experience in the comments below.
Windows Central Newsletter
Get the best of Windows Central in in your inbox, every day!
Mauro Huculak is technical writer for WindowsCentral.com. His primary focus is to write comprehensive how-tos to help users get the most out of Windows 10 and its many related technologies. He has an IT background with professional certifications from Microsoft, Cisco, and CompTIA, and he's a recognized member of the Microsoft MVP community.
THIS is what I was looking for!! Thanks Windows Central!!

can any one find a way to Hide Wi-Fi / Shutdown buttons on Login screen?
because it gives Anyone Access to turnoff the internet connection or shutdown the computer even if there is unsaved work running in background without User Permission.

yes, through Group Policy or Registry.
http://www.top-password.com/blog/remove-shutdown-button-from-windows-login-screen/ For WIFI Run GPEDIT.MSC -> Computer Configuration | Administrative Templates | System | Logon --> Do not display network selection UI

Windows 10 Home edition do not have Group Policy editor....I need to download it separately......what I want to know is there another workaround out there on not?

Already show you how to do it for Shutdown through registry. Here is Wifi part. http://www.ilovefreesoftware.com/27/windows8/2-ways-disable-network-sele...

For those building their own arcade cabinets and using a Windows 10 computer inside, take a note of this!

I'm not aware of any arcade emulator frontends that are available in the MS Store. This feature looks to only work with a Store/UWP app, not any Windows application.

Oh, that's not so good, then.

Not quite. It works with Win32 (.exe) applications if you're using Windows 10 Enterprise or Education.

There's also the chance that a Win32 executable ported with the UWP Bridge (Project Centennial) could qualify.

Sadly you can not assign Edge as it is not a "true" UWP app. Aka - not distributed through the store. This would be super helpful.

What if I want to use 4-5 apps..what is my option?

Yeah, I thought it would be nice to use this to have a limited access to whatever apps you can assign to an account to run. But that would mean they'd be allowed to use the start screen/menu, I guess. Which I assume it's not the case here, the PC just boots into the app? We need a a video of this.

you can do that with mobile, but not PC

Is it Kid's Corner you are talking about?

It is seperate from kids corner, I put the link to their 'HOW TO' below. You have more control over what people do. I use it as a 'kiosk' to see people at the door and control music (ring, sonos)

Apps corner is a surprisingly great little capability and available on WP8 also.
I got some firesale Lumia 530s for my young kids and set them up sim free with App Corner to be music players. Also gave them access to camera, photo gallery and calculator on their start screens.

If you find a good solution for this, please let me know. I run a youth center, and I would like to update the computers they have at some point, but limit the access to only the games and apps I select.

Here is the mobile version. https://technet.microsoft.com/en-us/itpro/windows/manage/set-up-a-kiosk-for-windows-10-for-mobile-edition?f=255&MSPPError=-2147217396

With Windows 8.1 I tested the Assigned Access.
When many machines are logged into AA with the same Microsoft online account,
some of them start to logout randomly(possibly security feature).
Online account for AA was needed to download app from the Store to every machine.
Not with primary account but the one, that is used for AA.

Cool, I've been tasked with setting up a Kiosk (on Win 10 Education) - hoping this will work for me, but I'll have to see if I can do most of this with group policy or not - and I need to lock it down to a single website, not sure if I can do that with Edge - hoping I can use that instead of IE.

Since you're using the Education version, you can set up assigned access to Edge or IE as well as any other browser. You can then set up Family Safety settings on that account so that it can only access whitelisted websites (and then proceed to whitelist this ''single website" you want.

IEAK should still be valid for w10

Is it possible then to also set it to boot directly into this user account like any other account without a password? So if they lose power the computer starts directly into the app? And what happens if the app crashes? Will it restart the app automatically?
Windows Central Newsletter
Thank you for signing up to Windows Central. You will receive a verification email shortly.
There was a problem. Please refresh the page and try again.