How to set Slideshow to every 10 seconds and enable shuffle in Windows 10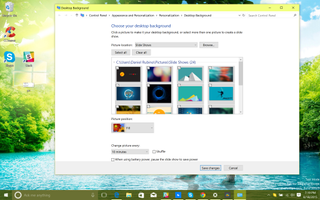 Yesterday, I shared with you how to enable the wallpaper Slideshow feature in Windows 10 and how to get it to work when on your laptop battery.
The Slideshow option is not a new feature as it has been in previous versions of Windows. In fact, some users noticed you cannot set your Slideshow faster than once a minute. For most users, this is probably okay. However, Microsoft did not block this; they merely buried it in the old Control Panel.
Even better? This trick lets you get access to the shuffle feature as well!
How to enable Shuffle and short intervals for Slideshow
1. Open Run
Use the keyboard command Win + R to launch the Run window
2. Shortcut to Control Panel
You could navigate and dig deep to get to this old Control Panel setting, or just copy paste this into the Run window: control /name Microsoft.Personalization /page pageWallpaper and then hit OK. This is a direct route to this setting.
3. More settings!
You should notice new timing options near the bottom, including 10 and 30-second intervals along with more options for various hours. Just pick the one you want and hit Save changes.
4. Set Shuffle
Near the bottom, you should also notice the Shuffle option is now listed here as well. Simply check the box and hit Save changes when finished.
5. Enable on battery?
Yesterday, I demonstrated how you can dig deep into your power settings to make Slideshow run on a battery. Microsoft disables this by default as it could potentially be a small battery drain depending if you set it for every 10 seconds, for example. Turns out, you can enable or disable it here too. Choose what you want and click Save changes to keep them.
Wrapping up
I am not sure why some of these settings are missing from the new Settings in Windows 10. My guess is Microsoft (a) ran out of time to finish porting them or (b) did not want to present too many options to users, especially since it may not be used very often.
Whatever the reason, now you know how to get around them and make you wallpaper new every 10 seconds!
Big thanks to Mark Turner6 for the tip in comments!
Related Reading
How to customize your Windows 10 experience
For more resources, don't forget to check our Windows 10 help, tips, and tricks page. Or if you have any questions, you can always count post on our Windows 10 Forums at Windows Central for more help.
Daniel Rubino is the Editor-in-chief of Windows Central, head reviewer, podcast co-host, and analyst. He has been here covering Microsoft since 2007 when this site was called WMExperts (and later Windows Phone Central). His interests include Windows, Microsoft Surface, laptops, next-gen computing, and for some reason, watches. Before all this tech stuff, he worked on a Ph.D. in linguistics and ran the projectors at movie theaters, which has done absolutely nothing for his career.
Because the good ol' Control Panel was again replaced with a half baked unfinished joke called PC Settings... You can achieve the same in Windows 7 more intuitively in way more less time... Just saying...

Windows 8.1 settings were "half-baked". Honestly, the new Windows 10 Settings takes care of 95% of most used settings from my experience. Things like this are really niche. How many people really need or want their wallpaper to change every 10 seconds? Seems crazy to me. Sure there are some gaps here and there, but I have never found myself diving into the old Control Panel. In fact, this is the first time.

I completely agree with Daniel here. "half-baked" is too kind to describe Windows 8.1 interface. The Windows 10 control panel certainly cleaned things up but if you dive into certain settings within the freshened control panel you can find some bugs and missing features that were present within the old control panel interface. Unfortunately you need to use either the registry or find the old admin interface to make the changes. Daniel most likely has his insiders within Microsoft and if they tell him that the design is a "Feature" it will never change unless it is proven there is a bug. The "Feature" code word from Microsoft is a dead end to a discussion from my experience with bringing issues forward.

How many people really need a computer? If you put it in terms of absolute necessities, we only truly need food, water and shelter. Everything else is a luxury. An OS developer should be concerned with people's wants, likes and dislikes rather than their bare needs. While I personally have no use for a 10 seconds setting, I'd like to see a whole bunch of options between 1 and 10 minutes. I think most users would like to change their wallpaper every 3-5 minutes, and it's utterly ridiculous that there is no option in this range. Why not simply replace the dropdown menu with a text input field or add little plus and minus buttons so everyone can set their preferred timer. But I guess that would be too overwhelming for phone and tablet users, and MS doesn't seem to give a damn about desktop users anymore.

It's not like this is some critical component though. I'm sure it will come soon enough. At least we can easily get to it via command line.

I think it's GOOD that certain niche things are hidden from the average user. My sister used to mess with the control panel trying to fix things and in the process breaking them all the time. Settings that can ruin the PC SHOULD be hidden.

Yes should be hidden for standard accounts but admin no

There's always God Mode ;)

Thats Windows 10, one step forward, three steps back.

More like 20 steps forward and only 2 steps backwards (net of 18 steps forward!). Windows 10 is way ahead of previous windows versions, they don't even come close!

it's only an option.... do you use it?? do you change your background every 10 seconds? I guess Windows 7 and 8 were half baked becuase they didn't offer 1 second? oh but I want a 0.1 seconds slideshow. or a video? vista did it, so Windows 7, 8 and 10 were half baked because they didn't offer using videos as background that only 2 people used. It seems Windows Central comment section is like 1000 sets back everyday with people who can't use their brain a little more.

Lol yes :-P Posted via the Windows Central App for Android

yeah not adding an option that most people don't use like 10 seconds switching images and slowing the pc when you do something else while the photo changes, is half baked... oh right.. 10 second missing is half baked... yeah, half baked..
Most people don't even use slideshow background but yes... it's half baked because an idiot said that. If you want your 10 seconds, do it like this, I don't need it so I don't care. so congratulations for your not so smart comment about "half baked" ONLY becuase it doesn't have a 10 seconds option most people don't need or use. ​

How many people with Windows 7/8/8.1 and 10 operating system has stated that they don't create a Desktop slideshow and provide proof? Then divide that figure with the millions who have purchased Windows 7/8/8.1 and 10 operating systems and multiply the figure by 100 and next time you should count to 10 before talking balderdash (nonsense)! Despite purchased my computer in 2011 and I think that it had an experience index 8/9 (one point less then the maximum using Windows 7 - Microsoft has deleted it from Windows 10) whilst it was optimized for 27" 1920x1080P resolution and NOT for speed and the i7 2600k processor wasn't even overclocked. Therefore, with an excellent computer a slideshow doesn't noticeably affect the performance. You should buy a competent computer to verify before talking complete nonsense. You should keep your mouth shut, instead of showing how jealous you are, with whatever piece of junk you own which appears to be ready for the scrap heap. Since you are proud of the piece of junk you own why don't you list its specifications and what experience index it obtains within Windows 7 or 8? How many millions of computers in the world, do you think, are powerful enough so that a Desktop Slideshow doesn't affect performance? Where did you get your information that Desktop Slideshow would noticeably affect the performances of all computers in the world including powerful ones, which you are implying? Obviously, my computer would probably be much faster and much quieter than yours and also probably have; more memory (16GB RAM, C:\ 120GB SSD, D:\2TB HDD, E:\ 2TB HDD internal drives), and better temperature than yours for all components which every single component would be superior to yours despite purchased in 2011. Do you use a mouse with a computer and if so why? Since it is unnecessary, just use your keyboard to save memory and processing power - idiot?

Indeeed! They should have just added a touch mode to CP, as they did with Office 2013 and left it as it was. Now they've crippled CP and created a mess of a settigns app: Super basic interface, back button that behaves like an up button for no reason, no forward button, no address bar...

I think that the legacy Control Panel will be well gone in the incarnations of W10 coming soon for Small Tablets and Phones; the ones that can't run Win32 apps. I feel that the legacy Control Panel was kept by MS in the Desktop version just for, yes, legacy reasons: just to not break compatibility with the personalization at the Control Panel some Win32 programs would try to do (Antiviruses, and so on). As soon as Win32 aren't allowed, the old CP won't be available for those versions of W10.

it takes time to build an empire and it will take time for windows10 to be nearly perfect but trust me it was never better. All the previous versions of windows did not have as neat interface as w10 has just an example is the mail app which is cleverly made to show title hamburger and the contents of screeen very clearly compared to win8.1, the movies+tv app which has cleaner ui and plays video better than windows media player not to mention the mkv support though i wish subtitles support was there. And you don't even know how baffled i am with the performance improvement of w10 which i installed on my bro's old dell vostro with 0.99 or lesser gpu, intel pentium dual core 1.86ghz laptop which ran even xp like shit. Right now u are complaining but later on u'll praise it. Its just the beginning of a new era ;)

Hummmmm! Took me less than 30 seconds to create a "command shortcut".

Anyone have the link to the Ninja cat wallpaper? I want them now that I can set slideshow.

You can also get to the themes download page and it will do most of this for you. http://windows.microsoft.com/en-US/windows/themes?ocid=w8_client_themes

I downloaded Bing theme packs, extracted them and I have more than 200 images for my slideshow. Didn't know I can set it on 10 sec interval which I will do now. Thanks XD

would be cool if we could automatically change WinMo 10 backgrounds as well, maybe sync from PC

For me, if you enable this feature and 'automatically choose accent color from background', the accent color feature is broken, it doesn't change when the wallpaper automatically changed, but stuck on the first color. Can't find this issue reported on Feedback. If you experienced it, please report or upvote

It changes for me but the lag is perceivable and the accent color is sometimes inconsistent.

Link to your wallpapers please?

Thank you for this!! I was upset that I could not select a library for the picture selcetion. Also, you can paste "control /name Microsoft.Personalization /page pageWallpaper" in the windows explorer bar.

Nice tips Posted via the Windows Central App for Android

Am I the only one noticing how MASSIVE everything is on this site now? Christ, I'm on a 1080p screen and I still have to scroll to read more than 3 lines of text. And the pictures! Is WC trying to cater to people browsing on their televisions? What is going on?!

Will it come to windows 10 mobile? Looks like a really good features for mobile

They didn't include it because it tax some older PCs

Hope they would put that option to the settings.

If you can tell me how to enable recursive folders, THEN I'll be impressed!

Use a library. With a library, you can combine multiple picture folders to appear as one

Ah so that shortcut lets you set a library

Comments check.. Posted via the Windows Central App for Android

Need your wallpaper!! The first one! (In the top of the post) please!!!

Hi Daniel, All of my 5 Windows 10's Microsoft Edge upgrades are experiencing this problems... No Top and Suggestion Sites Showing on Edge and No Cortana Icon on Search bar despite ask Cortana appears on right click. Others::: The Music Section on Store was not showing only titles are there During Photo attachment confirmations, Box Folder Icons are with Black Box. After restart all third party Windows store apps' icon on the desktop are unknown They release a build not even fixing this problems....