How to set up a Sonos system on Windows 10
Sadly, Sonos has shut down support for setting up new systems on Windows.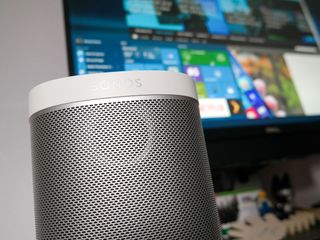 Updated August 5, 2021: While the situation on Windows hasn't changed, there is potentially light at the end of the tunnel. Windows 11 will have support for Android apps and the Amazon App Store will be the first official partner. As the Sonos app is available through Amazon, it could conceivably be used on a Windows 11 PC to setup a Sonos system. We'll know more when Windows 11 is launched later in 2021.
Updated July 17, 2019: Sadly, Sonos no longer supports setting up a system on Windows or on Mac with the Sonos Controller app. The application used below still exists and can be downloaded from Sonos support, but sadly only to listen to music. To set up a system you must now use the Sonos mobile app on either Android (opens in new tab) or iOS (opens in new tab). Our pals at Android Central have a comprehensive guide on how to get going you should check out.
Here, we walk you through every step to getting your new Sonos system up and running using your Windows 10 PC or tablet.
The first thing you need to do is download the installer for Windows. You'll find that at the link below.
Then follow these steps:
1. Install Sonos Controller
A process as straight forward as it sounds. Once you've downloaded the file linked above, open it up and follow the onscreen prompts as shown in these images. You'll be asked to dictate where you want Sonos to install on your machine, but once you've clicked "Install" leave it a minute to do its thing.
2. Set up a new Sonos network
If you're reading this chances are you're setting up for the first time. However, if you're just new to using Windows to control your system, you'll see this box when you open up the app for the first time, too. The difference is you'll just click "Connect to Existing System" and the app will find your setup on its own.
The option above, "Set up New System" is what we want here.
It's also important to note at this point that no matter how many units you're planning to install on your network, you can only add them one at a time. Once the system is set up it'll be a shorter process to add new players to it later on.
3. Choose your network type
This determines whether you're just going to be using your local Wifi network to connect the speakers together, or if you're using additional Sonos hardware to create a proprietary one. If you have a Sonos Boost or Bridge, for example, select "Boost Setup." But since we're looking at Wifi we're going to go ahead and select "Standard Setup."
4. Plug it in, but only the power
No, really. OK, you plugged it in straight away, but there's an additional reminder here. Power is good (of course) but Ethernet is less so. So if you went ahead and connected your first bit of Sonos kit up to your router with a cable, pull it out.
If you need to connect via Ethernet at any time, setup will prompt you to to so.
5. Wait for the green light
When you turn on your Sonos for the first time, in our case, a Play:1, you'll first see a white light. Then it'll go green. When you get the green light, hit "Next" and you'll be greeted with something that resembles the image above prompting a specific button press. Do it right and you'll hear a 'bong' indicating success.
Then you just have to wait a little while for the app to connect to the player.
6. Set up your Wifi network
Sonos requires a 2.4GHz 802.11 b/g network to operate. Providing you're good on this front, simply enter your local Wifi network details and hit "Next."
7. Designate a room
Since Sonos is a multi-room system, to help you distinguish where things are you can assign a room to each speaker. The dropdown box has a whole bunch of selections to cover pretty much every eventuality.
And that's it! You should now see something like the image above telling you that you've successfully added your first Sonos player. The system is now set up and from here you go forward and personalize as well as adding as many extra players as you want.
Richard Devine is an Editor at Windows Central. A former Project Manager and long-term tech addict, he joined Mobile Nations in 2011 and has been found on Android Central and iMore as well as Windows Central. Currently you'll find him covering all manner of PC hardware and gaming, and you can follow him on Twitter and Instagram.
What happened to the app windows central reported they were working on.

1 thing that really great on windows tablet is they run desktop program on case like this

Off topic:apple stode Microsoft edge writing on the web feature and they put it on safari and photo APP and they stode hey Cortana and put that feature on Siri so its hey siri

How do you misspell stole twice?? On topic... Sonos is awesome! Even the Play 1 is great. I definitely recommend giving Sonos a try.

Wish I had a bigger house so I could justify buying a Sonos speaker :/ My livingroom sound system gives me everything I need, but need everything I want!

This site sure does post some utterly pointless articles sometimes "Here's how to left click the mouse in Windows 10!" Posted via the Windows Central App for Android

I mean these are just cut and paste instructions from the SONOS site and instruction manual. It's pretty unprofessional i think just to drive more traffic to this site.

Whats your point, I dont even no what sonus is so the article helped me.

Buyt that's the point, you don't have them. If you bought the product then you would use their instructions from their site. For every peripheral, if we had instructions of how to install them, they'd be 1000 posts a day. (and yes i own these speakers).

Slow news day.. Though Office 2016 is launching tomorrow, I'd think that would be better news...

Sonos mix of Play1's and 5's work great in our win10/wp8.1/iOS household. Have owned Phonos ever since it was released and can vouch it does as much as the official iOS version on the wife's 5s. Have only one problem left to fix - unable to verify my identity while setting up the Groove service. Tried the new update and still no joy. Have a tier 2 call scheduled - would so make my day if can play Groove on Sonos. Cheers ​ ​ ​ ​ ​ ​

Tier 2 call ? With phonos? It's one guy whos day job is with Microsoft. He's really good about working with people to fix issues, but since it's a spare time thing sometimes it may take him a bit to get back with you. When he did the badly needed update to Phonos Lite I went back and forth with him for about 2 weeks until we got several gremlins worked out. Multiple amazon music accounts was one. He will get you fixed up. Just be patient.

Groove is not working with Phonos. Details. You can still use Groove to create a playlist and Phonos to control, but it seems there are instances where the Phonos app can cause playback to stop if you try to FF or RW a track.

So would be nice if Sonos rewrote the desktop app to be universal and plug another win mobile genuine app hole. This is Microsoft's strategy and gamble, I've yet to see a single compelling, genuinely wanted / needed universal app be released or even committed to. And the nite I fink about it the more I wonder if it will happen. Snap chat is the number one thing missing from Windows mobile (phone). Are they going to release a universal app?

I have heard a rumor the CEO (or other big wig) came from X box. If true I suspect they may be working in it. I just say Sonos seem to be very good at responding to their customers and giving proper what they ask for.

The same way you did on windows 7. Just down load the controller and connect it to your system.

SONOS are a great system. An Amplifier will set you back about £600 and a set of speakers for you computer depending on which model. Then you are looking at between £165 - £220. Some of you may be thinking WTF for a set of speakers. The clarity of these speakers are just phenomenal. The baseline is just insane. They are worth it and you gameplay will be awesome when these are blasting out across your room.

This was all the setup instructions EXCEPT the actual relevant part about adding Grove as a music service. :-)

So annoying when an article assumes you know what its talking about. I've never heard of Sonos. A little intro to the product would've been nice.

Sonos is a wireless, WiFi music system. Basically speakers connected to WiFi that can be controlled separately from desktop or app. Pretty awesome system, but a tad pricey. Www.sonos.com

WA a little bummed when I saw this... Thought it was the release of the Wmobile 1st party app version or a universal 1st party app for Sonos. Nope, it was just the instructions that came with both my play5 and play1s. Mote people should find out about Sonos though. Great sound and great solution for our mobile ( and non-mobile) music devices.

Please update this article with the new link for the controller: http://www.sonos.com/en-us/controller-app -- I had to hunt that down before I could go any further.

This way is only to listen music, from stations, or your computer, but thats it, if you want to watch a movie , or play a game and the sound to go trough the sonos(my case sonos one 2nd gen), you can't. if anyone has a way let me know
Windows Central Newsletter
Get the best of Windows Central in in your inbox, every day!
Thank you for signing up to Windows Central. You will receive a verification email shortly.
There was a problem. Please refresh the page and try again.