How to take, share, and delete Xbox One screenshots
The Xbox One has the ability to take screenshots of your favorite games, either for storing, saving, or sharing on Xbox Live and other social networks.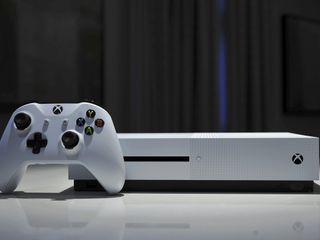 (Image credit: Windows Central)
Here's how to take and manage screenshots on your Xbox console!
How to take a screenshot on Xbox One
First, need to have a game running. And you can't take screenshots of the dashboard or other apps, such as Netflix. You can take screenshots of your entire console, but you'll need a capture card like the Elgato HD 60 (opens in new tab). Here goes:
When you're in a game and have found a scene you want to screenshot, press the Xbox button on your controller to open the guide menu.
From the menu, press the Y button on your controller to take a screenshot of your current screen.

Don't worry if opening the guide initiates the game's pause menu, it should still capture the in-game scene you wanted.

Your screenshot will now be saved to your console!
How to share screenshots on Xbox One
Once you have taken your screenshot, there are a number of ways you can get share it. The Xbox One comes with a few gigabytes of free cloud storage just for keeping Xbox Game DVR captures and screenshots, but you can also export it either to your PC, or to your personal OneDrive cloud storage for safe keeping. Xbox Live clips and screenshots will upload automaticaly to the cloud, until your storage is full.
Here are a few ways to share and manage screenshots and clips on your console.
Saving and sharing your screenshots via your Xbox
Press the Xbox button on your controller to open the guide menu.
Press the View button (to the bottom left of the Xbox button) to open "Capture options."
Navigate down using the left joystick to Manage captures and press the A button. (This will open the Manage captures menu.)
Find a screenshot you want to upload to OneDrive, and select it with the A button. (This will open the screenshot in full.)
Select the Share icon with the A button.
From here, you can share the clip to the following locations:

Your Xbox Live activity feed, which friends can see (depending on your privacy settings).
A private message.
To an Xbox Club you're a member of.
Aa Twitter link.
To OneDrive.
If you are signed in to your Microsoft Account on a PC or via OneDrive.com, you will be able to find the screenshot under OneDrive\Pictures\Xbox Screenshots.
Deleting a screenshot from your Xbox One
Press the Xbox button on your controller to open the guide menu.
Press the Home button using A on your controller.
Open the guide menu again, and hit the View button (to the bottom left of the Xbox button) to open "Recent captures."
Navigate to a recent clip, and select it with the A button.
From here, you can select delete to remove it from your console, from Xbox Live, or both.
If you can't find your clip, navigate to See all at the bottom. (This will open the Manage captures menu.)
Find a screenshot you want to delete, and select it with the A button. (This will open the screenshot in full.)
Select the trash can icon with the A button to remove it.
Save, delete, or share Xbox screen shots via a Windows 10 PC
If you're using a Windows 10 PC signed in with the same account as your Xbox Live, you can access and download your screenshots quickly and easily using the pre-installed Xbox app. Here's how:
Press the Start Menu and type "Xbox."
Click to open the Xbox app.
If you haven't used it before, you'll be prompted to sign in using your Microsoft Account. After you open it up, it should look something like this, with a hamburger menu on the left side.
Open the hamburger menu in the op left corner with a mouse click.
Select Game DVR.
Click on On Xbox Live to see your captures saved to the internet.
Select a preferred screenshot from the download list, and hit Download to save it, delete to remove it, or share to share it.
You can then click on On this PC to see the clips and screenshots you have downloaded, and hit Open folder to find the file. By default, files save to C:\Users\UserName\Videos\Captures.
Other notes
If you have a 4K Xbox One X you can lower the resolution of captures using this method. Sometimes it might be worth lowering the resolution if you plan to share the clips and screenshots on social media, particularly Twitter, since it doesn't support 4K.
You can check the upload status of clips from the Manage clips page by selecting Upload Status from the filter. If you have issues finding your recently uploaded captures, it might still be in the upload queue.
The Xbox One doesn't have an infinite amount of cloud storage and can fill up quickly, particularly if you're recording at 4K. So be sure to store and manage clips frequently.
When not in a game, you can access and manage clips directly from the Xbox guide menu, by hitting the Xbox button on your controller, and then pressing the View key to see recent captures.
More Xbox help
For more tips and guides for Xbox One, take a look at the links below. If you have any questions, drop them in the comments!
Windows Central Newsletter
Get the best of Windows Central in in your inbox, every day!
Jez Corden a Managing Editor at Windows Central, focusing primarily on all things Xbox and gaming. Jez is known for breaking exclusive news and analysis as relates to the Microsoft ecosystem while being powered by caffeine. Follow on Twitter @JezCorden and listen to his Xbox Two podcast, all about, you guessed it, Xbox!
Its so cool you can tweet it.

Do they automatically save to OneDrive once taken or it has to be done manually??

Im not aware, I dont have it hooked up to my OneDrive because mines under a different email than my Xbox account and there's ability to sign into a different account...

It is possible to combine them some how move your user name to a different email account.

"Images will be automatically saved in Upload alongside your Game DVR clips. So, once you've taken them, what can you do with them?"

Ok..so basically that means, after taken it, you then go to upload and choose to upload to OneDrive but not necessarily saving to OneDrive automatically once taken.

Of course not, after the Xbox screenshot is taken, you can press the "Menu" button on the controller and then select whether to share it on OneDrive.

It has to manually be saved to onedrive

that's actually a really nice touch

Where is the share with Facebook?

After you tweet it copy the link then share manually to Facebook ;) or OneDrive then to facebook.

There's no Facebook integration on Xbox One yet.

Doubtful ms seams to be removing facebook ties. No bing search in fb. No fb chat on outlook.

I believe that's due to Facebook changing the API and not making MS aware, not due to MS deciding not to integrate. I think that's what I read at least.

PS4 has this feature from the beginning. I don't know why it's not there yet. Not like it's super unpleasant..

Let them have it. We have it too.

Tweet tweet tweet :D I've already started!!! :D

I think it'd be better if you could take a screenshot on the fly by pressing the Xbox button and the Y button at the same time. Because if there's literally a split second when you can get the photo you want, holding the Xbox button and then pressing Y is too slow.

It's not really meant for action shots. To pull that off they'd need to integrate Blink technology.

The moment you double tap the nexus, the screenshot is taken. It only saves the image once you press the y button. You can very definitely take action shots, though you have to be ready.

Yeah. Like pressing the Xbox button, then Y literally .1 seconds afterwards.
Because action shots can get intense.

Even if I have Kinect, is it possible to use the controller method of the screen shot? Im asking because I don't see the controller option and I have the Kinect connected.

Weird, because I took a screenshot with Kinect voice command, but I don't see the option when I double tap the home button. Im trying it on dragon age inquisition btw. I'll reset my system and check again.

It should show up as an option below the record that x button option.

Figured it out. The controller I was using was not assigned to me/gamertag. Once I assigned it, the option came up.

Good. I hate how that happens from time to time.

"Xbox, Screenshot" is all I want to say. Take a screenshot is a mouthful.

Sure it is. But, the Xbox team explained that screenshot sounds too much like other commands so it wasn't working satisfactorily as they intended.

Previous song is what came up for me lol

It's a little frustrating that you still can't set your dashboard from a onedrive file, don't get how this can upload to it but we can't save to xbox from onedrive.

It might help to say that the screenshot is actually taken when you double tap the home button, Y just saved it.

Can anyone help me? My Xbox says there is no update available..

Can anyone help me please? I don't have the share option. I already took plenty of screenshots just to test it out and I can't upload to anywherebecause there is no such option available. The only option there is when I press the menu button is the background change.

Its cool, but I can't share my screenshots (e.g. upload to one drive). There is no option like "share". Yet i can share my old videos, and that's it. I guess that's because I don't have Gold subscription anymore. What a nonsense, Microsoft..

How copy a screenshot from xbox one to usb?

I bought my xbox this month, is updated, and i can't take screenshots i don't no why! Can anybody help? Thanks

It's not really meant for action shots. http://www.techora.net

Good guide.
But I always use with my gamepads original microsoft chatpad and for make screenshots and videoclips its amazing. Just 1 click during playing and done to make screen or video.
Without going to pause menu. Its remind me pc, best sulution.
Windows Central Newsletter
Thank you for signing up to Windows Central. You will receive a verification email shortly.
There was a problem. Please refresh the page and try again.