How to automatically upload your photos and videos to OneDrive from Windows Phone 8.1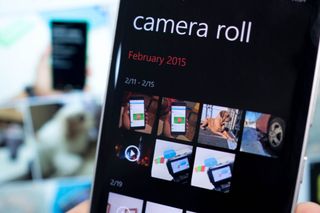 There are several reasons to save your photos and video online. One reason could be you're running out of storage on your device. Another reason is having a backup in case your phone breaks. Whatever the reason may be, Windows Phone 8.1 can automatically save the photos and videos you take to OneDrive. Setting it up is fast and easy. Watch our how-to video.
Go to Settings and swipe left for applications
Tap photos + camera
Scroll down to Auto upload and tap OneDrive
Select Best Quality for photos and videos
That's it! Your photos and videos will only be uploaded when you're connected to a Wi-Fi network. You can view your photos and videos online at onedrive.live.com on your browser or by using the OneDrive app, which is available on multiple platforms.
Do you automatically back up your photos and videos to OneDrive? Let us know in the comments!
Too old news. I am using over wifi Best quality since last year. But my WhatsApp photos never get upload to one drive.

Camera roll AND saved pictures

Even the screenshots folder doesn't get uploaded automatically

If you do not want to have your personal photos copied to OneDrive but to your own home server you can try the Windows Phone app "WebDAV Auto-Upload" (uses webDAV standard; works with ownCloud or several NAS systems like Synology). This app automatically copies your photos to your server in background every day; not instantly after photo shooting, but the job runs when Phone's battery is charging. It does also upload photos from Whatsapp folder or Screenshots (only available in bought version).

Highly recommend you download and install the Microsoft "Files" app. It's great for moving your pictures, videos, documents, etc. around on your phone without having to plug it into your PC. What I did was create a sub-folder under my Pictures folder called WhatsAppBkup. Then I simply use the "Files" app to move pictures from the WhatsApp photo folder to the WhatsAppBkup folder and it will automatically backup those pictures to OneDrive. It would be better if the WhatsApp photo folder would have access to the update to OneDrive, but this is a simple enough job, especially since "Files" allows you to "check list" each picture and move all the pictures at one time.

I'm having issues with photos and videos automatically upload to OneDrive. I have it set to do so automatically but isn't, my WiFi is on 24/7 and I know my internet is working because I'm using my tablet via WiFi. I've tried to manually upload the pics and vids from OneDrive webpage, but I keep getting error messages. Any suggestions?

Have you recently changed your password to your Microsoft account?

Is it old for someone that may have bought a Windows Phone today? I think not, it's just in time for someone that may need this info today or tomorrow. Just because you know it doesn't mean everyone else does.

This is like the 3rd time that article has been posted

Why is that a problem? I mean on the right side of your browser there's a scroll bar, make use of it if you don't want to read the article.

And "like" is for teenage valley girls lol

There is "Help" app on all phones and Google isn't that far away to access. Also just by exploring settings anyone will know.

That doesn't answer how this article hurts you in anyway. And google doesn't really provide info on a lot of topics. It finds websites with articles that provide info. So if you search google, you'll find this article

Re: Rockstar,
BING
I like the article. It was a reminder for this long time user to go an check my settings. Can't just think about yourself all the time.

Agree. Basics need to be put in articles once in a while to get new users rolling. I think he wants us to know that he knows a lot. LOL

*news drought* next build of windows 10 for phones gonna make things better I hope

Use Files to move your pictures from the Whatsapp folder to Camera roll. Then they'll be uploaded. I had same problem with Telegram.

Should upload everything in the pictures folder

Some people are new to Windows and a simple How To tutorial is very useful and informative for them. So what's old for you might be new for someone. :)

Because those people can't search the web? Right.

Too old news? How to use a function is never old news.

I knew someone would say it. The site is not catered to just what YOU know. Contrary to the "burning platform" hysteria, there are still new people coming to the operating system and the site, every day. Even some current users might have turned this off and forgot about it, but then got Office 365 with all that OneDrive space. Maybe this will remind them and they'll use the space. If you already know it, you can read the headline and keep on scrolling.

I think it is for folks who are new to the platform and also "search challenged" ;)

How do you search for something if you don't know it exists?

Anyway to upload best photos without using Wi-Fi? I kind of dislike the fact that I can't forcefully ask the phone to upload certain best photos via mobile internet. ​

Any way to do this for raw files?

I am doing this. However, google offers unlimited backup of images in reduced quality. Microsoft should offer at least the same.

What❓ They do.. Just choose your quality.. One has been updated for this a while back..

OneDrive has been doing this for ages, and if you are subscribed to office 365, your storage is unlimited.

This too.. I have been doing that since OneDrive first came out.

Actually, I can't imagine where any other service beats OneDrive overall.... OneDrive is the best.. So good in fact that it deserves it's own marketing campaign....
......
Why don't they market it❓

OneDrive upload speeds are atrocious when compared to DropBox. The sync agent is also slow in updating changes.
I do use OneDrive simply because it is cheap and because I have Office 365....but there is much room for improvement.
Also, I'm pretty sure Dropbox just does incremental file updates - whereas OneDrive seems to resync the whole file (no matter how big) when only a minor change is made.

IDK... I still think OD is OVERALL the best.. Not perfect, but what is...
.......
It's especially good if you're within the Windows ecosystem.

Yep...it is the best balance of features - especially now that we can upload and use our music collections!
However, I do hope MS turn up the server engines....it can be painfully slow sometimes! & I am reminded of that on the odd occasion I still use Dropbox.
This is shaping up to be the most cohesive ecosystem...it just needs some fine tuning from MS.

I guess it is kinda slow... Hopefully they're planning some improvements before the launch of W10.

Also indexing is incredibly slow on 1D compared with DB.

Because 30 GBs for free is not enough for some.

I've 130GB free... Beats google drive easily

Im a heavy photo/ video shooter, yet still my regular storage size of my onedrive still have space on it. Why worried on space?!

But Google also stores emails on their Drive so if you run out of storage you cant recieve emails anymore.

Goodness gracious! Who store worth gigabytes of emails? :o

Aren't our backups stored on our OneDrive accounts❓❓❓❓

Slow news day huh ? Wow. Its showing. Its hard to believe some people don't know this already :-\

Today someone bought and is using Windows Phone for the first time. I'm glad this article exists to help that person out.

Long time, Sam, how's MSFT?

dont disturb him. he is busy using windows phoen for the first time

Would make much more sense if all such new user tips were collected in a database with a link on the home page that can be given to new users so they find all the info they need as a new user.

It's Easter Monday. Of course it's a slow news day.
Articles like this are great for the community and it's knowledge base. A sucky attitude isn't.

Lol ! Sucky attitude huh ? Nice.
While were at it, lets make some more posts about charging your phone, changing brightness and screen rotation for the knowledge base.
Why not ? ;-)

Charging the phone is the same as any other battery powered device, so the joke works there. I think an article about battery saving that would cover screen brightness, would be appropriate. Screen rotation might be in a roundup of quick tips and tricks for new users and things that maybe vets have forgotten about.

Unfortunately for Windows 10, this means taking up a ton of disk space if you want to see any of the auto uploaded pics or videos on a pc

Yeah, Windows 10 has utterly ruined OneDrive sync. It's absolutely horrible.

? Nope, since you can see both your online and offline albums in the new Photos app.

When i upload 20 or 30 pictures at once my onedrive become unresponsive and closes again and again !

On your phone? You don't need to manually upload them at all. Just let it happen in the background

But i do not want all photos. Just special one that's why i am doing it manually.

Manually sucks.
Background ftw.

Use auto uploading. It's hassle-free and trust me, it's a better option to regain your files in case of accidental deletion.
You may delete the unrequired files from OneDrive manually.

It's always been a problem of that app.. You can vote my suggestion here https://onedrive.uservoice.com/forums/262982-onedrive/suggestions/671423...

What's the need for publishing such an old news now?

For New fans, or to remind you

How to add custom folders to backup on OneDrive ... Automatically??? Like WhatsApp n saved pictures???

One drive already backups saved pictures.

Good for newbies. Btw will it increase the size of "other" folder in phone? That's what makes me afraid to turn the feature on, in spite of having unlimited Wi-Fi access.

How do we reduce "Other" files from phone storage??

The "other" folder has nothing to de with the OneDrive backup.

it has. go read wp FAQs "Auto uploading to OneDrive. Before Update 2, when Auto upload to OneDrive (formerly SkyDrive) was turned on in Photos + camera settings, full-sized images (instead of smaller, temporary images) were stored on some customers' phones with each photo taken. These couldn't be deleted off the phone without resetting it. Update 2 improved this so that each of these stored images was smaller. It didn't delete old stored images, though. Installing Windows Phone 8: Update 3 or later fixes the issue and deletes the previously stored images." it stores the images. but it will be deleted later, but idk how long xD

Next article. How to: Charge your phone Plug into the charger. There you go!

Lol. Man you are funny. :D

As nice as auto cloud saving is, it's equally frustrating and time consuming. It may take me 4-6 bad shots to get that perfect shot...but all 7 are uploaded to the cloud. So after culling my phone and deleting the ones I didnt like...i have to then go and repeat this process in OneDrive. Then empty recycle bin.

+720, it would be great if Cortana can ask us, Do you like what you captured?, say and Walla it's on cloud

LOL...Guess he didn't know it's Voila!

I just commented with a similar gripe about the auto upload. When taking pics in a wifi zone or at home (I upload the highest quality shots), the garbage photos I take will be deleted from my phone, but already uploaded. A delayed upload would be an option I would like to see.

I'm the opposite. I prefer it this way instead of complete sync where deleting from your camera roll deletes from OneDrive. There's been one or two times I've accidentally deleted and OneDrive saved me.

This is good stuff for those who are new to windows phone. Take the time to go through all Settings as there is much to be learned and questions to be asked.

They're gonna ask where Snapchat is.... Lol.

Hahahaha lol. And this one too "when in India"

"Take a picture, it will last longer". For this reason I don't see the desire of the holy Snapchat. If someone has the gall to send someone a picture that will be deleted right quick they should just show the contents of the picture in real life, in person. It's actually social and chances are higher for an immediate interaction.

Lets not go too far into this, but it doesn't matter what we don't want... If the most popular app in the world was "Ripley's Fart Record Extreme" then WP needs it... One app leads to another, and in this case more market share, more market share to bring the apps that we actually do want, and need..... It's not literally about Snapchat, it's the bigger picture....
........
"Ripley's Fart Record Extreme"... Lol❗❗❗

Still a few new users coming in........

Hopefully wc will have a busy day with news about Windows 10 tp for phones releasing today

Just kidding..... But really expecting it

Do not play with 'W10 tp' emotions. I repeat, do not play.

Article published through IE 8 or 9?

Sorry, but your question doesn't make any sense.

Just that the article seems a bit too late & IE stereotype of being slow

Use this feature all the time. Brilliant for backup and posterity.

Already using since this features came, not new to me

These articles are for new comers to the OS. I'm sure they publish them to gain traffic from search queries. Which brings in more readers. Just because it is something you are already aware of doesn't mean it isn't useful to someone. I for one like these type of articles because they highlight some of the lesser talked about features that make certain tasks easier. Which is good for the new users. If you already know about something in an article then good, no need to comment about the only reason for the article is "a slow news day".

And how many days do you think this article will be at the first page? Maybe today, tomorrow or day after. How many new WP users would gain help I dont know. Seriously, I have no idea why this article was written on the very first place.

Even the most dumbest person will have known that..

I really wish they would at least allow us the option to upload original quality photos and videos over a cell network. My cellular data is much faster and much more reliable than any of the WiFi networks I use.

Ya already in that settings only there by default on Lumia 730

Love the ease of this, been using a long time. I wish there was an option to remove my local pics/vids on a successful sync from my phone so I don't have to clean it up and verify OneDrive has EVERYTHING. The sync works 99% of the time but I have had some that have not synced and have not shown an error anywhere. I need all of my pics synced, I keep them very organized and need to always make sure I'm not losing any memories. Nice article and tip for WP users.

Isn't that option on by default?

I wish screenshots got saved automatically.

Meh.. Almost all those who care about their phones would browse what's there is settings option and can find this very easily. I don't think there is an article required for this.

Then don't read it. It will probably be of use to someone else.

I always have been using this feature. It's great. So wish I had this option years ago when my vacation photos were lost when my camera got stolen in Rome!

Would be great if it was working everytime, but it's not. Reported this bug years ago: when I'm in hollidays with no wifi available, many pics will be skipped when syncing after I come back. Was that way since the begining, with different WP versions... I have to check for missing pics myself, which is a huge loss of time.

Thank god you let us know.
Otherwise how would we know ??? :-o

Pozdrav moguli znat zasto nema facebok online bijo je odlican volijobi bi jos da uvedete pet resue zaga igru jos nesto kako da postavim za obavijesti na fb tonoveza sve obavijesti hvala

Windows 10 for phone release Tuesday evening.

Yes, I've been doing that ever since my first Windows Phone.

Isn't it too late to educate about this? Here Windows 10 is on the verge on getting launched in few weeks and you think this is cool.

What do you mean, Windows 10 is on theverge? Heck! Windows 10 is on every tech site. Lol. Jk ;)

Windows Central just posted a How-To article which could be infinitely valuable to a new user of Windows Phone and could potentially draw traffic to the site? Better start complaining about how it's old news and no one cares!

This is something I do, however, there is something that has bothered me as of late. I would like the option to delay the upload 5/10/15 etc, minutes after taking the shots. There are times when im taking photos in a wifi zone or at home and if the photos are garbage or I am just playing around with the settings I will delete them. However, since im connected to wifi, they are uploaded right away and staying on my OneDrive storage. Unless you go in right away, it takes a lot of time to sift through and delete those photos.

This honestly became so annoying to me that I disabled auto upload on my photos... That, and because Windows Phone doesn't use SmartFiles, every time I edit a photo it would just upload duplicates instead of applying the changes to the original photo. Super annoying. I mean, space isn't an issue, since I have 10TB of storage (which is *theoretically* unlimited), but I just hated my camera roll being so cluttered.

Oh yeah! I forgot about the edited photos! I dont have near the space you do, but I do have a significant amount, its just the clutter thats annoying.

100% agreed. Ability to delay upload would be nice. Ability to toggle option to push local changes (IE edits/deletes) from phone to OneDrive would be bonus.

This is not related to photos and videos, but it is to music and One Drive.
I finally got my music uploaded to OneDrive and Music folder and now I can listen my songs from any PC using the Xbox Music web application, I even did this on Ubuntu using Chrome browser. This is just amazing, much better than Google Music. Google Music's UI is horrible, compared to the beauty of Xbox Music and also Google Music cloud songs lag a lot while I haven't had any interruption on my music on One Drive and the web Xbox music application. Congrats Microsoft!

I love this feature and I've been doing it since I started using Windows Phone, but I do wish it was a bit more intelligent about maintaining a connection between the photos on my phone and those on OneDrive. Right now, photos and videos are basically copied up to the OneDrive Camera Roll folder, but they're also kept on the phone until/unless you manually delete them. It seems like there should be (at least) an option to remove photos from the phone once they're uploaded. Just like with my music, I prefer not to clutter my device storage with a bunch of local copies of pictures that essentially live in the cloud.

My problem is that I cannot see the downloaded video's on OneDrive. It is simply too slow to be a solution. I use a Lumia 1520. My download speed is 9,5 and upload speed 0,92 on my Wi-Fi.What am I doing wrong?
Any suggestions?

Autosave to the cloud is a great feature, but it recently seems less robust than before. If you loose connection between phone and internet during a transfer for a batch of photos, the non-uploaded photos do not seem to get saved when a new connection is established. At least, that seems to be whats happening for me. Is anyone else experiencing something similar?

It's an age old issue.. and no one seem to care. Sad

I have that same issue on occasion. Sometimes you don't notice it until later, and I feel like I have to manually reconcile what is on the phone and what is on Onedrive which takes forever. I wish there was a way to restart, or at least have a log of what failed.

I upload mine by default, but no idea how to check how much space I have.

I use this feature but the thing I don't like about it, especially if I'm at home on a Wi-Fi network, is that it instantly uploads every picture I snap to OneDrive. Then, as I go back through the Camera Roll and delete the superflous shots I don't like and keep the few that I do, I then have to go to OneDrive and re-delete the undesirable ones there too. It's twice the work. I'd prefer only having to do it once. If I do it in one spot it should automatically do it in the other.

I thought so to. But backup is essentially a double safety net. Sometimes we delete picts from our phone only to realize we needed it and could get it from OneDrive .. and the added feature of restoring picts/file from the Recycle bin...

Both ways should be an option. That would address both issues by giving the consumer the choice.

The free storage offer for enabling camera roll was still available last month. I'm not sure if it is now, but that might be worth mentioning.

Yup!! I have 130GB... good job msft!!!

In settings photos and camera on my 1520 denim i dont see anything to select best quality. I already had auto upload to One Drive selected. Do I need to unselect and reselect after that?

I love auto-upload, but it leverages my lazy side.. My camera roll folder is a mess ahah

Last time I tried it kept failing. On and off wifi

They really need to allow video uploads over data. If I need to record something on the street (eg. police corruption), I would like to know it's automatically backing up to the cloud should something happen to my phone.

There should be an option to have it automatically delete uploaded pictures and/or videos starting e.g. from the oldest 2mo. This way you would never run out of storage (assuming you don't fill it up with apps and other crap). Alternatively, I should be easier to delete e.g. a months worth of pics/videos. Hopefully this will be possible in W10.

Will it upload both high and low resolution pictures, from phones like the Lumia 1020? It didn't when the phone was new, but I'm hoping this has changed.

I just want the option for only 16mp photos on my Lumia Icon. I hate the redundancy of having to save both 5mp + 16mp images. So, not only do I have low RES image on my phone, but that image gets uploaded to OneDrive. I then have to manually remove the 16mp files from my phone as they don't upload to OneDrive for some reason. This is my biggest gripe with Windows phone, mind numbingly frustrating.

"IF YOU REALLY CARE ABOUT THE PHOTOS YOU TAKE, DON'T BLINDLY RELY ON THIS FEATURE" is how the article should have ended, because it randomly misses a lot of photos. Please keep this in mind no matter what people over here say, it's about your memories. It's another age old WP issue which MS, as usual, don't care to resolve.

We needed a video on how to check a frickin' box??? Seriously I didn't know...

I do not understand the purpose of this blog post at this time. 1. automatical upload has been there for long time, even when win 8 update 1 2. even a 10 year-old can figure out this. not mention readers here are basically kind level of techsavys.

Articles like this need to be preceded with, "New to Windows Phone?" to silence all the self-entitled wanker comments. If you know it, move on, don't arrogantly gloat.

Phew... I thought whatsapp pics would get uploaded too. How could I miss that :(. I've lost tons of photos....

I wonder if there's an IFTTT recipe for WhatsApp?

Issues with this: 1. Not all photos/videos get uploaded (including from Viber and WhatsApp); 2. uploading often fails when screen locks (when manually uploading as well)

My auto-upload hasn't worked in months. :/

Unless it doesn't work : https://onedrive.uservoice.com/forums/262982-onedrive/suggestions/632694...

And WP user voice : https://windowsphone.uservoice.com/forums/101801-feature-suggestions/sug...

Uploading only in Wi-Fi connections... Can't upload in 2g or 3g connections.... Windows phone is only for those who have Wi-Fi connections...

Any way to get it to upload regardless of whether on Wi-Fi? O have unlimited data and rarely connect.

Is it possible that you can maintain syncronised on both sides? meaning if i delete the photos on photo will it also delete from onedrive? if not, is there a possible solution for this? any software to recomend that they can automatically sync on both side?

Good How-To article. Consider series: "How-To for Beginners" and "Tips for Enthusiasts"

Ever since onedrive offered the auto-upload service I don't trust it and turn it off. I had an bad experience where I turned it on and the photos were not uploaded as "orginals" but compressed ones. When I downloaded it to my computer I was sorely diappointed that that compression lost a lot of the original image. Some of my best pictures were ruined becuase of this. But then the originals were already gone by then, because I needed the space on my phone. Since then it is very difficult for me to trust the autoupload service, especially the service where the user can choose at which picture quality it can be uploaded. I think for daily use, my experience is that the accidental chance of chosing the wrong reslotuion for upload is too high and for me the cost of such an option as a daily average user is too high. With pictures I only trust uploading picutres myself to the computer. Either Onedrive offers one option to upload photos without compression or loss of original data info or they just don't offer the service. Even the "best quality" sounds misleading in that best is 95% but not the orignal 100% file. Call me paranoid, but that experience of your most memorable holiday pictures ruined was a wake up call. Offline/manual upload still works well for me. It is the one area where I just don't trust the cloud enough to treat my data right. Offline is still better for me in that department for peace of mind.

There is only the option to upload good quality automatically and the only on WiFi option for best quality: Every article I read about OneDrive does not get it right. There is no option to circumvent this hindrance and so: No, I save my pictures manually outside of a WiFi, and what good are the options for a so called backup if my phone could break before I reach again a WiFi?

Slow news day? This is not really anything new or overly complicated. Why the new article?

YOU HAVE TO BE BRAIN DAMAGED TO WANT UPLOAD YOUR PERSONAL DATA TO EXTERNAL STORAGE. THE SECOND YOUR DATA IS ON EXTERNAL STORAGE - THE STORAGE OWNER OWNS IT.

I love auto upload. Saves so much time. Just wish my whatsaap was auto as well.

I love the # tag feature in the uploads section its really nice :)

Honestly it's a ridiculously stupidly designed function! Why is it not possible to choose to sync high quality photos without wifi?! With my 40 gigs of monthly data I think I could just manage! The phone designers should let us make that choice, not make it for us!

Hi How auto backup what's up photos and videos. in my phone cemara phots are auto uploding but what;s up photos are not uploing in the Onedrive OS windows 10. Please give me the reply

I am using Microsoft windows Lumia 535, i have updated my phone with windows 10. now i am unable to upload my camera pic to onedrive, whenever i turn ON the camera upload in onedrive settings, when i get back to app from settings it is automatically switching to OFF mode
Windows Central Newsletter
Get the best of Windows Central in in your inbox, every day!
Thank you for signing up to Windows Central. You will receive a verification email shortly.
There was a problem. Please refresh the page and try again.