How to create a VIP list to limit mail notifications on the Microsoft Band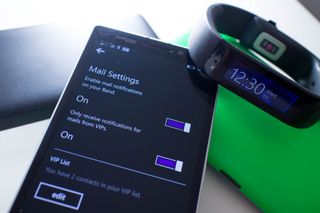 If you get a lot of emails, you can limit the notifications you receive on your Microsoft Band by creating a VIP list. This makes the Band send you mail notifications only from contacts you select. We'll show you how to do it in our hands-on video.
Open the Microsoft Health app on your phone.
Tap the Band icon on the upper right corner, and then tap Manage Tiles.
Tap Mail, and under Only receive notifications for emails from VIPs, tap On.
Under VIP List, tap the edit button.
Tap add more to list, choose the contact you want to add, and tap Accept.
That's it! You can add up to 10 contacts to your VIP list. You can remove contacts by tapping the X located to the right of their name.
Creating a VIP list is a good way to limit your mail notifications. Will you be taking advantage of this feature on your Microsoft Band? Let us know in the comments!
Same, they need to replenish supply before they miss the Christmas season entirely

Yes, that'll be also good if they would supply it to other countries, not only US.

It's a nice idea but much too limiting. I want *@myfirm.com to go through, as well as a much longer list of individuals.

I have been using VIP list since I got my band. Really useful. I only want to be notified of important emails, and I have found that 10 is enough. Love the band!

I need more then 10 but that's because I have a lot of clients. I would love it if I could add a "to email" address for notifications. All my work related emails that I want go to support@

Why do this. I love seeing the 99+ icon. LOL

Ive found that its not emails that annoy, its my silenced sms that break through and annoy...

Any way to do this on my phone without needing to buy a band first? It would be rather odd for MS assume that one's need to limit email notifications only kicks in when exercising, so I'm guessing there is a way and I'm missing it?

Why is there a back button at the top?

To go back to the list of apps you want on your band.

Why doesn't the WP back button do the same? That soft back button at the top is so iOS-like.

I hate that its individual emails and not actual contacts. For example, I want my brother's emails to come through but he has a personal and corporate email account. I don't want to add him twice and use 2 spots for one person.

Not really useful. 10 isn't enough names, since I work with 100's of important people. Maybe they will expand in v2.0. I love my Band. At least a 9 out of 10 and hopeful that software/firmware updates will fix most of the issues.

It has never worked for me. I still get all my email.

This was one of the biggest complaints from mainstream reviewers. I chuckled because they obviously didn't bother exploring the options.

This must be only available on the WP Health App. I don't have the VIP option on my Android phone. Posted via the Windows Central App for Android

This isn't an option on the Android app. Based on the photo, I am guessing it only works on the Windows Phone App.

i think your right - and that sucks - the advertising implies at leat core apps should be common across the platforms - its misleading, and also means these help videos aren't helpfull for all band owners,

Just got my Band, so tips like these are helpfull :)

Hi. I was only getting emails notifications from my outlook email, the others never showed on my band. Recently i updated my 1520 denim to preview for developers and now i cant get any email notifications at all. Tried factory reset my band, unlinked from bluetooth, etc, with no success. Other stuff work fine, is just email notifications. A little help, please. Greetings

I would like this feature - but it appears not to be an option on my android phone app -in the uk anyway ? is it the case that even "core functions" are different on the different operating platforms ? ie only true windows get I thought at least the main health app would be the same over all platforms,

Cool feature but not offered with Android 5.0 [Lollipop] on Galaxy S4 phone.Just email gets enabled with no fields showing for VIP actions. This must have been a Windows Phone in the video.
Windows Central Newsletter
Thank you for signing up to Windows Central. You will receive a verification email shortly.
There was a problem. Please refresh the page and try again.