How to pin games, apps, videos, or music to Xbox One Home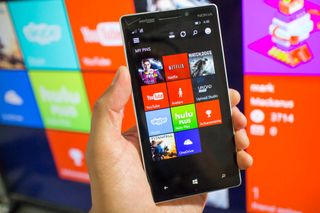 As you obtain more games, apps, videos, and other experiences on your Xbox One, you want to able to access the ones that you use the most quickly. That's where pins come in. You can pin your favorite game or app to your Home screen for quick access.
Head past the break to watch the steps on video.
Creating pins
Press the Xbox button to return Home or say "Xbox, go Home."
Locate the game, music, video, or app of the item you want to pin.
With the tile highlighted, press the Menu button. It's the button with the hamburger icon on your controller.
Select Pin to Home.
That's it! Your favorite item is now pinned to the Xbox One's Home screen. By making a pin you've basically created a shortcut to start the game or app from the front of the Xbox One dashboard instead of navigating through the menu to find it.
Rearranging pins
If you want to rearrange the pins, there are two solutions. You can do it directly from the Xbox One, but it is not very user-friendly. There is an option called Move to Front, which moves the pin to the upper right corner. You can't simply rearrange pins to specific locations directly from the Xbox One.
A better solution requires an app on your Windows Phone device. Make sure to install Xbox One SmartGlass Beta. Tap the menu button at the top left corner and select Pins. From there, you can tap and hold one of your pins and then drag it to the location you want.
What apps and games have you pinned on your Xbox One?
We would prefer it if we can rearrange the pinned apps and games directly from the Xbox One, but it's cool that we can do it on our Windows Phone with the SmartGlass app. What do you have pinned on your Home screen?
Windows Central Newsletter
Get the best of Windows Central in your inbox, every day!
Just settings, friends and favorite bands at the moment.

All my games sword art online 2 from Hulu Netflix Hulu plus itself and WWE network

U just knew that Hulu/Netflix also plays Anime... Wait... Is it the dubbed ones?... No it's should not, the anime just came out... Well.

MS is running a sweepstakes where you can win great stuff for pinning stuff on your XB1, but you have to use the regular Xbox One Smartglass App (not beta). check it out here: https://xbox.promo.eprize.com/smartglass/

Wasnt the xbox 360 supposed to get this ability too?

360 has had the favorites list which you can organize for some time now. Unless there was some other feature I'm unaware of.

Yup, but not as needed as it is more intuitive and better organized than the One.

All my digital titles, which up to this point are only ones with no retail disc. IE, Netflix, amazon instant, YouTube, settings, friends, achievements, game DVR, upload studio. A couple IE bookmarks as well.

I have all my digital titles and apps pinned.

I love the pins but they need to expand the amount you can have. It's especially annoying when my internet is out as it links to XBL.

I agree, I was actually surprised when my pins just started disappearing. Should just scroll or automatically create a next page.

Yeah this. I hate how the new updates limited the amount of pins on the Xbox One.

Yup. That's why I am here.

You know you can pin the actual shows from Hulu Plus straight to home also. Eliminating the need to even open Hulu, goes straight to the show. The ultimate shortcut.

Really?! Like people didn't know this already?!

Kind of an outdated article,no?