How to use Quick Access on Windows 10 Technical Preview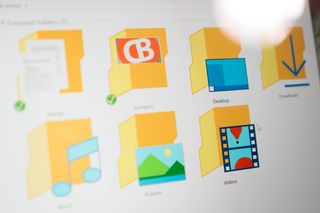 When you open File Explorer on Windows 10 Technical Preview, it opens to Quick Access by default. Think of Quick Access as a section where you can place shortcuts to your favorite folders. It also displays recently viewed files and frequently used folders by default. We'll show you how to use Quick Access and what checkboxes to uncheck if you're concerned about other people seeing your most frequently viewed folder. See it in action in our how-to video.
Pin folders to Quick Access
Pinning folders to Quick Access is very easy. Just right-click or tap-and-hold a folder and select "Pin to quick access." These folders become more easily accessible since they'll be among the first folders you see when you open File Explorer.
Unpinning folders is just as easy. Just right-click or tap-and-hold a pinned folder and then select "Unpin from Quick access."
Disable recently viewed files and/or frequently used folders
By default, your recently viewed files and frequently used folders show up in Quick Access. Anyone who borrows your computer and opens up File Explorer will be able to see these things. Fortunately there are a couple of settings you can turn off to prevent that from happening. While you're File Explorer, tap or click View and then Options. Take a look at the privacy options at the bottom. You can disable showing recently used files and/or frequently used folders. You can also delete your File Explorer history by tapping or clicking the clear button.
Disable Quick Access
Don't like opening File Explorer to Quick Access by default? You can change it back to the old way. While in File Explorer, tap or click View and then Options. Take a look at the option that says "Open File Explorer to." Instead of Quick Access, you can change to This PC. You'll still have access to Quick Access on the sidebar, but File Explorer won't open it by default.
What's your setup?
I like File Explorer opening Quick Access by default. I pin my favorite folders so they're more accessible on my Surface Pro 3. I like it more than opening to "This PC" by default. I'm not a fan of showing my recent files and frequent folders, so I've turned both of those settings off. How do you feel about Quick Access on Windows 10 Preview? Let us know in the comments!
Nice for the absolute beginner. 10/10 would recommend.

Yep, I'm liking those too. I like eye candy, function first then make it elegant, beautiful and unique.

While many of the design choices in Windows 10 I have mixed feelings about, all the system icons getting a "flatter" look is one I can definitely get behind.

As I'm watching the video I'm thinking to myself, most recently viewed documents as thumbnails -- hmmm, this could get ugly ;-)

Lol I absolutely hate quick access

Ugh so ugly I'm hoping they fix it.

So are libraries still available in win10?

So far, yes. I would like to see them cover OneDrive online as well, I do not like to fixed Music folder they have introduced.

I dont want to disable, I want to set a limit.

nice CrackBerry logo on the post pic =D

Ugh just release it on the phone already

Those minimize, maximize and close buttons on every window are disgusting, just like hamburger menus

It would be great if we have more options there near the minimised button like save or something else

I just want those buttons to change.. Gosh I hope they don't mess up here

Microsoft should keep the menu bar icons same from Windows 8 and make them look flat.

I actually think the buttons look clean and simple. Those god-awful folder icons though.....

I like the folder icons in Windows 10.

Me too except the recycle bin.

The BIN is growing on me. People get really stupid when it comes to icon design. There is nothing wrong with these icons. On a side note, quick access is amazing for workflow. I love it when my recent folder/files show up right there.

YES! That recent folder is the perfect solution for those like me that download a lot.

Quick access have your favorites Always two clicks away. The old favorites section in the left pane always had your favorites one click away!
Why change something that already was working better?

Hiding his porn in deep folders in folders, that's what I use to do.

Didnt knew about these .. Thank you...

Mark, since you're using W10 on Surface Pro 3 how about a review? Many of us have found it destroys the touch experience and have reverted to 8.1.

Holy crap. Those icons graphics are fuuuuuggllly. Drawing of a 2 year old

How about pin to Start instead of introducing more Win7 type features...

I wish quickaccess was a function of windows search/windows universal search. That would be far quicker and more productive in my workflow that accessing the file explorer first. Currently windows search can only find the onedrive folder. It would be nice if windows search could add folders to the search index as well. I think quick access could be a good solution, but I don't think its the best solution for me. Folder search used to be part of windows search index in windows 7.

Every time I look at these horrible icons I fell like I'm gonna puke!! Design isn't everything, ok, but phaleaseee!! it's windows 10 not windows 95!

I use Clover as a file explorer. It's pretty much default explorer, but with tabs like IE or chrome.

Man, everyone who uses my computer can see my...cat pictures and videos so easily. So embarassing...
Windows Central Newsletter
Thank you for signing up to Windows Central. You will receive a verification email shortly.
There was a problem. Please refresh the page and try again.