How to use Cortana with the Microsoft Band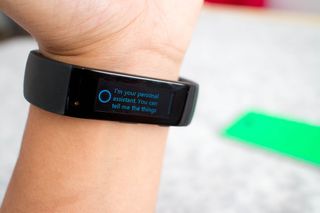 The Microsoft Band works with the iPhone, Android devices, and Windows Phone, but they don't all get Cortana integration. If you're running Windows Phone 8.1 Update, you can use Cortana on the Microsoft Band. How does it work? How does it look? We show you in our hands-on video.
In order for Cortana to work on your Microsoft Band, you need Cortana to be installed on your Windows Phone. If you press the Search button on your Windows Phone and see the Bing image of the day, Cortana isn't on.
To bring up Cortana, press and hold the Action button on your Microsoft Band for 2 seconds. You can use Cortana any time, even when the display is off. You do not need to tap the Cortana tile. Your phone must be nearby, however. Cortana uses the mic on your Microsoft Band to "listen" when you speak.
After you speak, Cortana opens on your Windows Phone and responds to your request. Depending on your request, it displays the response on the Band itself or it lets you know if you need to view your phone.
Things like setting reminders, alarms, creating notes, initiating calls, fact checks, sports scores, and chit chat are displayed on the Band without the need of looking at your phone. Some things like asking for directions or other information that cannot fit in the Band tell you to continue on your phone.
Need some ideas on what to ask Cortana? Try these:
Wake me up at 6 AM.
Remind me to get cash when I leave home.
Convert 1 US dollar to Philippine Pesos.
Add surfing to the beach to my calendar for Saturday.
Tell me a joke.
How many calories in a bagel?
Text Sam: Want to play FIFA?
The Cortana tile on the Microsoft Band sends notifications such as news, sports, reminders, etc. to your Band. You can turn off these notifications, but it does not turn Cortana off.
So while people on iOS and Android can use the Microsoft Band, they miss out on the Cortana integration available for Windows Phone 8.1 users. How do you feel about Cortana on Microsoft Band? Sound off in the comments!
Windows Central Newsletter
Get the best of Windows Central in your inbox, every day!
I hope it soon launches in India.

Hey, do you know how to activate Cortana in India??

That's pretty simple, if you've WP8.1 installed already, change your "language" and "region" to "English(United States)" and "United States" respectively through your phone settings.

Lol seriously! You do know Cortana is released for India in Alpha version right? All u need to do is change ur speech to English UK and rest (language and region) can be kept INDIA, and u get Cortana for India.

Just change ur speech to English UK and u gonna get Cortana alpha for India. Rest language and region to be kept India. No need to change anything to US. Plus you gonna get news from Indian news sites, temp in centigrade and SI units and in rupees.

"Text Sam: Want to play FIFA?"
I just cannot imagine myself initiating a "lets play video games" conversation.

Why not? Been doing it since Xbox Live beta

Not a day goes by lately that my buddy doesn't get home from work and I get a text saying "Destiny?"

Isn't it wonderful how gaming brings us together? The social aspects of gaming nowadays are great. I love it.

I got a text from my friend that simply said "Warframe?" I responded "What about Warframe?" Guess I'm out of the loop on this method of texting that "seems faster" to users.

Using a fitness band to engage in healthy gameplay. Brilliant.

I went this morning and asked to be put on their waitlist. They'll call me when they get some in. So I wait...

better beg them to moveyou up the list. i hadto becuase they had close to a hundrēd onwaitlist and godknows how many the stores will be getting

Is your spacebar not working bro..? H u h..??

I justcan't believethati didn'tbuytaylorswiftalbum whenitwasonly.99cents on xboxmusic. Now it's12.49andnolonger .99cents. argh.

I was using onscreen keyboard, and I was typing too fast.

Any particular reason he should be put ahead of the other people waiting?

Something tells me the wasn't actually put higher on the list. He's just gullibal enough to believe the person at the store because they wanted him to leave ASAP. lol

Nope. I'm a frequent store visitor, so I know the workers there. The girl, who also personally took my number, got on the computer to put my name on top 10 back orders. Then we talked for a good 20 min about the device cuz she bought one and bragging about it.

Yup, I was "friends" with customers too. Retail and service is a song and dance. Make the customer think you did something nice for them so they come in and give return business.

not once did i mentioned myself being friends with any of the workers in my statement. I work retail too and we actually often take their phone # when the customer shows enough enthusiasm and praise for a product, so she took my #. 2nd, i was in front of her when she got on the computer, asked me to spell my first and last name. And 3rd, i dont understand what youre trying to start here, but okay, I'll stroke your ego and let u have your last words. ^^

I signed up for the wait list for all three sizes. No response after two days. I chatted with the MS Store guy and he said he had no knowledge as to when they will have the devices available for sale. I want one for the heart rate tracking and the sleep tracking, if nothing else. There are 8 more sensors, but the heart and sleep seem most important to me right now, sight unseen. All the other features come, at least to me, as a bonus.

I hope this makes it easier for me to change tracks in my car using "hey Cortana"... Not exactly sure how that's going to integrate yet, but..... Hey❗ Where is that damn Denim Update❗
..................
I'm sick of this dang DP with all it's bugs.. I need the real deal.. I would think at least before the end of this week they would start to roll out WP8.1.1 denim... AT&T?

Here with lame-o Verizon, we're still waiting for Cyan -_-

Does your car system not support changing tracks with xbox music?

Lol!!! I have a 2002 Mercedes C230... I got that car when I was your age... Best, most longest lasting car I've ever had, but no BT support in that old thing.... Nevertheless, I'm gonna just change the indash out to a more modern one, and they have kits so that you can keep your steering wheel controls,, which it does have.. Lol!

Must be horrible being over 40. I suggest to change the outdash out to a newer one as well. I think the W203 was the ugliest c-class my mum ever had. and dont get me started on that engine. Was driving a 2014 5 Series recently and the only thing missing from a perfect integration of my NL920 would have been a Wireless charging pad being available somewhere in the armrest

Lol... I'm 37... What, the engine is loud, and clanky?

Yeah man. There are many options that should work, add features like hands free, and still keep you sorta stock looking and keep the steering wheel controls.. I really hate the aftermarket look in cars and try to keep all mine stock looking if and when I add features. Now, with my Band, it would be cool to change the track to a song no matter where I am... That way, I can keep my phone in the safe confines but use my wireles headphone (which allow me to change tracks now, lol), but the band is made fore active environments... Well, sometimes I use the phone with my home theathre and other places... the band is just a really nice device too effort by MS. I am getting lots of attention from people who use various phones.

Yes, exactly! When having people over I should be able to change tracks from another room... Can you test your band, and tell me how far away from the phone it will work?... My BT headset will work 200' away easy...

Well devices with Snapdragon 800 and above will get passive voice for Cortana..So it eliminates the need for the wireless function of the band!! I would rather use it to track mah running and other athletic activities!! And also if the band had a nice camera we could use it in schools for taking the pictures of long notes as phones aren't allowed in schools here....
--------------------------------------
And Rod you are just 37..??
I thought ye had grandchildrens also.. :P:P

Lol.. I always assume I'm older than everyone... But, this will still make passive voice easier to use... The goal here, well at least for me, is to not take my phone out of my pocket if I don't have to.. Passive voice isn't going to work very well with a phone muffled up in a pocket.... With that said,, I wonder if my BT headset will work with PV... If it does then I can't see why I should spend $200 on this band.. What's your take on that?

I have noticed that my stock(wired) Nokia earphones activated Cortana and registered everything I said perfectly..So PV must be possible with headphones having a microphone..But when is PV coming to your 1520..?? That's a question to be answered!! It doesn't comes with Denim(expected Dec 2014) but when they make that PV feature available for Cortana..!!
Secondly mah 520/820/iP 6 connects with my car's Bluetooth automatically..And I take or reject calls through the steering wheel only+Changing track through the car's in-built voice command feature..
Don't know about others but I keep my phones out of my pocket while driving (habits I suppose)..
--------------------------------------
If ye are in a hurry to get PV then get the band but it WILL work with BT Headset in the near future for sure bro..!!
Personally I will buy it when possible for other reasons than Cortana or PV!!
BTW $199 equals ₹12,219.40 here in India..So the Band costs more than a ML 630 here..
*Tough to convince mah parents*
*Wishing I was as old as ye Rod..*

I would rather have a double tap, or button press, then a long 2 second hold.

The hold really is quite long. I often don't hold long enough and have to hold the button again. A double press would be appreciated (or at least an option, options are even better!).

I actually prefer the long press (though it could be a millisecond shorter). If it was just an instant click if you're working out, you would easily accidently launch her. There is currently another faster option - move the Cortana tile up front. So all you have to do is single click and tap her tile.

Looks like using Cortana on the band opens her on the phone. Wouldn't that be problematic if she is used while the phone off in the pocket? I'm curious how this actually works.

That's not true. The Cortana tile only shows news or notifications, not able to trigger listening.

All that does is give you Cortana's News feed...you still have to hold the button down for 2 secs to wake her up so she'll listen to you.

Can you use cortana to answer incoming messages? just saw dismiss or autoreply in options.

You would initiate it as if it was a new text message to the person who you're trying to reply to.

I was barely using Cortona on my phone, but now with the band I use it everyday. ​

Man, I can't wait. Mine comes today. I use Cortana everyday and many times throughout. I use her for most of my texting and all my alerts etc.

I use her all the time on my phone and now even more on my Band. Love her :)

Don't fall for her(her voice) too much bro..She ain't real..

The best part of smartwatch or band is to provide you quick convenience. When I first wake up, just raise my arm while resting elbow on the bed to view all the notifications for email, text, calendar, and Cortana news. It usually takes 15 minutes before I get up. It is more natural to wear Band screen on the inside of your wrist. Your elbow is rested while viewing the Band. If you wear the Band on the outside of the wrist as you do with normal watch, you have to twist your arm wirh elbow hanging in the air. It won't be comfortable after a while. Cortana really makes the Band shine - for WP users of course.

Please consider India for this product! Its a big hit, no doubt in that.

Nope, not gonna work here. You do know the number of Android and iOS clowns here in India, right?

The band is compatible with other phones also!

I would say Cortana completes the band..

Darn thing is sold out at the local store

Darn thing is not even released in mah country

Am I the only one who thinks that the display already looks scratched? Hope this is only some kind of dirt

Check the Microsoft Band forum here on Windows Central. Scratching apparently is a big problem. Make sure you get the screen protector on immediately if you get one.

Mine came with a screen protector and starbucks giftcard. I was going to cut a screen protector for it no matter the case... We stick are hands and arms in many places including pockets and such where scratches are bound to happen... I also purchased the complete warranty... This is a wearable and I dont want to baby it... It is nice but now if do get it too wet or destroy it... it gets replaced! Get a screen protector and warranty for $30 so you can enjoy this thing to the fullest!

Yes, you said it when Daniel first posted a video. Just make sure you don't scratch yours if you get one.

They included a nice screen protector for a reason. Just put it on right away.

Mine does not arrive until Friday, but I still have thoughts on this scatching issue. Yes, the screen protector goes on first, but also, I also think this reverse wearing is inviting a constant scraping. I plan on wearing mine on top until some issue makes me change, and it will not be "that's the correct way to wear it, Dude."

It is too awkward to use on the top of the wrist... As odd as it seems inside is better... I was a skeptic too!!!

you can tell it "play" or "pause" to play or pause your music. you can record voice notes too.

I wonder if they'll make it so it doesn't turn on your phone screen when speaking to cortana. Just a waste of battery to power on the screen when it's in your pocket.

put your phone within reach. talk to your band and tell cortana to play music. your phone will play music. then tell cortana to stop music...boom, your music stop.

It is already in Xbox One to an extent...

i know. edited and removed about Xbox command.

I love using Cortana with my MS Band. I actually use cortana now whereas before I did not on the phone. I know cortana is a MS benefit, but my girlfriend uses her MS Band with her iPhone and wants to speak texts to her phone like me... As much as I would like her to switch to a windows phone... and she has expressed lots on interest, i want her to stay comfortable. With that said... I am so loving my MS band. Never wanted a wearable, but I find myself checking my texts, emails, and interacting with Cortana just as much as I am making sure it hit my goals on my health.

The Band saves my phones battery. I fidget with it less and less yet I see everything. Text, calls, news updates, and don't evn get started with GPS. On a run, I know my phone will still be ok b/c the Band is doin the GPS hard work.

Ainda esperando Cortana em português...

Convert 1 US Dollar to Philippine Peso!!! Pinoy ka, Mark Guim?

Yup! Will be visiting soon

I feel ecstatic about Cortana on the Microsoft Band. I mean, she has got the sexiest voice ever. The next step is to make a holographic representation of her that pops up out of the band as I hold my arm up so that I can see her as I talk to her. Then, and only then would I be able truly love Cortana.

Sexist voice ever? Nope...
Sexiest? You bet!

Fixed. (stupid swype keyboard on my Windows Phone...lol)

I got that too while swiping to reply you...

If she showed up in hologram form like in Halo that would be amazing!

Shouldn't it be written "Let's go" instead of "Lets go" in the second picture?

In the picture: "Lets" go to your phone to complete this. Microsoft, I'm ashamed of your grammar skills.

I don't get it. Does the phone unlock everytime when you use cortana? What if you have it in your pocket and use cortana on the band?

Sounds good, but these 'fact checks' do not get spoken, and just result in a bing page. Even the given example of 'how many calories in a bagel' just results in a search. Few things ever get spoken by Cortana. My usual test of 'what's the time' is just as unhelpful. If Cortana worked this might be handy. Since Cortana doesn't work well, this whole concept is pointless. Sort out Cortana's basic functionality BEFORE you work on expanding it away from the screen, perhaps? Just a suggestion, MS...

There updating the other countries' soon with Cortana updates, I feel your pain cos uk is lagging behind too!

Hoping there will be a way to get directions on the band. In particular for when I'm walking around unfamiliar city environs and not totally comfortable pulling out the phone. Wrist directions would be faster, more discrete, and more secure. Or if there is a way to scroll though text notes that'd be good enough for me as long as I don't miss any turns (also would be great for grocery lists)

So does it actually speak to you through the band or does it just display text on the screen with no voice?

The Band doesn't have speaker.

The Band does not have a speaker, so...

it displays the text...no voice because the band has no speakers remember...

I love Cortana in general...on the band, its magical.

I hope voice commands carry over to each respective platform. I'll bet they are waiting until they can put Cortana on different platforms, instead of using Google/Siri

Would love to know how to sync with HealthVault. Not even listed as a compatible device on their own platform.

I've been sending all my text messages via the band and Cortana. "send text to John doe ""your text message"" then push the action button and say, send it. "

Cortana is really something amazing! Even if Microsoft had to start anew with Windows Phone, they would already have such a great foundation with what's to come that they still would have some kind of presence. Their vision it's really strong right now.

It is very slow, compared to using Cortana in the phone. I use snap switch app to turn on my home lighting but it takes like 10 seconds to understand command and open the app

Returned my Band yesterday. Doesn't work with my 1020 without the Developer Preview and I don't feel I should have to sign up for unofficial updates to my phone in order for the Bluetooth to work.

Damn u I would of bought it off you!

Your loss!
I've been using Dev Preview on my 1020 for months. The phone is stable, fast and pretty much glitch free.
Are you still on WP8?!

I'm on 8.1 with Cyan firmware update. It's not a matter of it being stable, though. It's a one year old Windows Phone that supports the same BT standard as the Band. If I had an iPhone or Android phone it would likely be compatible and work.

So they should! Windows phone needs to have something unique and siri doesn't compare to it!

Using Cortana with my Band daily. Very nice. Need to buy 2 more Bands to give as Xmas presents.

It all seems so unnecessary IMO. Now, I do think this has a brighter future than any smartwatch (simply because people will wear this - whereas a lot of people no longer wear watches) but even so. Why not use your phone in the first place? Especially when your phone is required for it to work anyway. If the band had Cortana built-in I could see the upside, but that would also require some sort of native network connection which would kill the battery even faster.

Microsoft sell this device everywhere in time for Christmas and New Year gift giving!!!

hello, I live in Spain, I'm crazy waiting for the release of Microsoft Band, I've seen that Microsoft is selling the microsoft band with Zagg screen protector, someone could give me references of screen protector. Greeting From Spain.

Can you have cortana control your music, such as play: next track, volume up, or play U2 One? Is it worth the price compared to Android smart watch? Do you feel it should have come with a speaker? What do you feel is missing? Should I wait for Version 2.0?

Yes, just say "Cortana play U2" It won't play the 1st track, but a track from the album (perhaps I have shuffle setting) Then say " next song" (tried next track, but didn't work)

Relief. I was afraid it was going to be limited. I am glad it essentially is the whole Cortana experience (as long as your connected to your phone).

Do you get texts on your band?

No speaker in it ? Dam that stinks... I so wanted a actual watch, not a sports band. A watch with more features including a speaker and wireless charging... Maybe I'll grab one to play with when I can get one for $99....Not crazy about the style of it...and really disapointed that this is all we got...

Cortana on the Band is the selling point for me. Without Cortana, the Band is a very nice Fitness Tracker, but I have a Fitbit for that. With Cortana, that pushes the Band into Smart Watch territory.

I use the Cortana integration to play music without touching the phone. Activate Cortana on the band, say "Play...." and my Icon wakes up and starts playing an artist, song, or playlist I requested even from a locked screen. Nice when walking or riding a bike (or maybe even running).

Does microsoft band support multiple bluetooth devices ?

Can you use the Microsoft Band to ask Cortana to send a text and she does it without having to touch your phone?... If so then this is a must have smart wearable if not I'll pass.

Yes you can. If your phone is muted her response prompts even show on the band

I find Cortana priceless on my band. She does suffer a bit if hearing difficulty at times.

Cortana works when I click on the action button. But when i click on the icon i get "Nothing new...check back in a few" rather than all of the information that i get on my phone as I set up interests, news, etc...on Cortana settings. Any suggestions? Thanks, eRic

Does not work with Windows phone 10? It says I need to enable first.

Many complain Cortana does not show up in the list of tiles in the Microsoft Band. Follow the steps below to identify the problem. 1. Its only available in USA. Make sure your windows phone's region is set to United States 2. If you are using a Nokia Lumia then make sure it is upgraded to Denim. Cyan has issues with the MS band. Go to Settings > Extras+info to see your phone's OS details. 3. Sometimes the upgrade might not work. Its buggy and may fail after 12% installation. Follow this article and you should be able to swim through - http://www.microsoft.com/en-in/mobile/support/faq/?action=singleTopic&to... 4. After all these, if Crotana still fails to show up, go to the windows Microsoft Health app > Scroll down the home screen > Click the (+) sign that says 'add and manage tiles'. Go through the list and move the slider to set Cortana ON. Then press Sync button on the top right corner of the app. Once it completes the sync, you should see Cortana in the tiles list.

It does not work with windows phone 10 preview

We with 830s on Att do not get the Denium update