How to upgrade Windows 10 S to Windows 10 Pro
So your PC came pre-loaded with Windows 10 S and you want to install programs from outside the Store. Here's how to upgrade your Windows 10 S machine to Windows 10 Pro.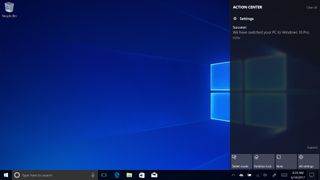 Some devices come pre-installed with Windows 10 S, which is locked to the Windows Store for apps and games. Luckily, Microsoft offers Windows 10 S devices an upgrade path to Windows 10 Pro, unlocking the ability to install programs from the web. Here's how you can upgrade your own Windows 10 S device to Windows 10 Pro.
How to upgrade Windows 10 S to Windows 10 Pro
A PC running Windows 10 S can be easily upgraded to Windows 10 Pro. It takes just a few seconds, and on some devices may even be a free upgrade. In most cases however, the upgrade will cost $49.99.
To initiate the upgrade process:
Press the Start button located at the bottom left of your screen.
Select the Settings icon, located just above the power icon on the Start menu.
Select Update & Security in the Settings app.
Select Activation, and then select Go to Store.
Select the Install option. On some devices, this button may display a price. If so, you will have to pay for the upgrade.
Make sure you've saved all your work, and select Yes, let's go to get the upgrade started.
After a few minutes, your PC will restart and Windows 10 Pro will be installed.
And there you have it, once the restart is complete, you'll see a popup that says the upgrade was successful. You can now install programs from the web, and do a clean install of Windows 10 Pro if you wish.
Windows Central Newsletter
Get the best of Windows Central in your inbox, every day!
Zac Bowden is a Senior Editor at Windows Central. Bringing you exclusive coverage into the world of Windows on PCs, tablets, phones, and more. Also an avid collector of rare Microsoft prototype devices! Keep in touch on Twitter: @zacbowden.
On devices where it's free I don't see many reasons not to do it. Just make sure you change the settings to only allow apps from the store if you want the 10 S experience. By upgrading you can also join a local Active Directory, so worth doing even if you're a business owner that only wants to use Store apps to keep things running smoothly on Day 1,000

has anyone determined if there are any performance benefits to staying with Windows 10 S? just wondering if 10S is more lightweight and therefore may run better on lower-spec'd machines than 10 Pro. i know there's been a bunch of questions asking that, but not sure if anyone has benchmarked it yet.

There should be performance benefit over time as it's the same experience from day 1 to day 1000. No accumulated junk, no serious registry entries from win32 apps, no footprints from win32 apps after uninstalling them, which tends to slow down computers over time. Everything is in a sandboxed environment.

Is that same with mac os? I've never used it. Curious to know.

Yeah, that depends. Generally MacOS is good at keeping things sandboxed, and I really like the way the apps were installed in packages from day one. It's still possible to accumulate crap over time, but it has more to do with forgetting you've installed a service or program that then runs in the background. It's not very intuitive about software you already have installed.

You can get the same benefit over time though as long as you only use store apps (for example, configure to allow apps from the store only out of the box)

From what I've read in a few places its exactly the same performance wise as running W10 Pro but setting it to only run apps from the store - It's sticking to store apps that offers the performance and battery improvements, less junk etc. I thought there would be some win32 components taken out completely but that's not the case

Good question. On launch day, panos Panay said the surface laptop wld hold charge even if left unused for months. I wonder if that's a hardware or software (Win 10S) thing?

MSFT claimed there were upfront, on average differences in boot, login, app loading, and wake times. Some of these could not possibly be related to UWP. Enquiring minds want to get the straight facts. This must be thoroughly tested.

For those that get the limited free upgrade, I'm wondering if it would be a good idea to upgrade to Pro get the licence then revert back (if you can) to S. Would also love the $49 upgrade from home to S option. Zac, the Office 365 Home and Personal Editions are available for S in the Windows Store.

Whats the different in boot time, wake time, app loading time, and logging in time? And how many times will we need to ask you this?

Windows 10s runs smoothly on my PC,not sure how the 10 pro will be

Though 10S is a good idea (mainly for security IMHO), performance differences from Pro with the modern PC equipped with a fast SSD (or pretty much any modern SSD) would be negligible. I'm running a workstation desktop with an SSD, and I really don't think Windows can run any 'faster'. Boot time from cold startup is under 10-15 seconds - even with all my Win32 apps installed. Everything is just snappy and responsive. You can't really go wrong with Pro if you're running on a modern PC with an SSD equipped.

WC should take a poll to see how many Surface Laptop owners have upgraded to W10 Pro.....

Ah, just another way for OEMS to be cheaper... great, good job Microsoft... Just give it time, some great hacker will find a way to enable it... and for free..