How to setup and use Auto Pause for the Microsoft Band 2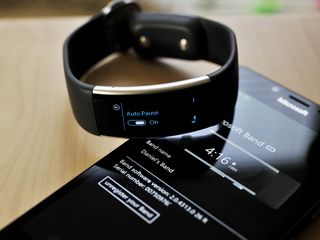 Earlier today, Microsoft released a new update for the Band 2 fitness and activity tracker. The update came via a firmware upgrade, which bumps the firmware to version 2.0.4313.0.
Once the update is completed, users will have the option to enable Auto Pause for bicycle and running modes. General exercise modes like strength, stair climber and elliptical do not get the feature.
Auto Pause is a huge addition for runners and those who bicycle a lot.
For instance, I often ride a bike on a designated 'rail trail' here in Massachusetts, but it also runs through some major streets requiring you to stop and wait for a traffic light. Before, if I wanted to keep time I would have to pause when at the light and obviously un-pause when I start back up. The problem is sometimes you forget to either do the pause or (even worse) un-pause. Now, with the new feature enabled it should be all hands-on making this feature very significant for runners too.
Check firmware
To check you have the proper firmware, do the following:
Open the Microsoft Health app
Open the split view Menu (☰) in the upper left corner
Choose My Microsoft Band
The Band software should read as 2.0.4313.0 R (or later)
If you do not have the update yet waiting 24 hours and reopening the app should force it automatically when the Band 2 syncs to your phone. Otherwise, you can force the update by uninstalling and reinstalling the Microsoft Health app (this is also one reason the app seemed like it was updated today as it can force this firmware update).
Enabling Auto Pause
By default, the Auto-Pause feature is set to off. To enable, do the following
Tap the Run Tile and/or Bicycle Tile on the Band 2 directly
Scroll over to Use GPS
When on the Use GPS screen scroll down until you see Auto Pause (this part is actually counter intuitive)
Toggle from Off to On
Note that you do not need to use GPS to utilize this feature, and you will need to enable it for either the Bicycle and Run Tile (it's up to you if you want either or both). Once the Auto Pause feature is on it should stay on thereafter.
Now, when you are bicycling or running the Band 2 will stop your session when you are standing still, getting water, taking a breath or like me waiting for the traffic light!
Microsoft has been adding many new features to the Band 2 since its release last October, but this one and the music player controls likely rank near the top for 'best of.'
Let us know what you think of the new Auto Pause feature and remember the Band 2 is currently on sale for $174.99 at Best Buy, http://Amazon.com, and the Microsoft Store, which is $75 off from its standard price.
See the Band 2 at the Microsoft Store (opens in new tab)
Need more help? Check out all our Band and Band 2 tips and tricks: Microsoft Band and Band 2 Help.
Download Microsoft Health from Windows Store (Free) (opens in new tab)
Daniel Rubino is the Executive Editor of Windows Central, head reviewer, podcast co-host, and analyst. He has been covering Microsoft here since 2007, back when this site was called WMExperts (and later Windows Phone Central). His interests include Windows, Microsoft Surface, laptops, next-gen computing, and arguing with people on the internet.
Useful feature! Now I don't have to remember to pause/unpause manually.

I had need for this feature a couple of weeks ago, great to see it added! Posted from Windows Central for Windows 10

Great. A new feature, but the latest insider build broke the sync to my Band 2. Hope a fix comes soon as the connections between my phone and band are the best features.

I have the same problem Cheeee!

Installing updates always broke the connection for me too, just reset the band and it should work fine. After unregistering the band I always remove the band from the list of paired Bluetooth devices too. Just a heads up, you need to factory reset the band which means you lose the step count so far that day. I always reset mine first thing in the day to avoid this. Posted from Windows Central for Windows 10

This was was listed as a known issue. The suggested workaround was to switch your default language (the issue was with the API). I switched to Canadian English and syncing started working again. I switched back to American English and it is still working, though I don't have the update yet.

Did you do anything else but change the language? I have tried German, Canadian English,, USA English, Auz English and back to UK English and nothing fixes it for me. Did you unpair in bluetooth menu or do anything else?

I literally just switched to Candian English and hit sync. I did not unpair / repair the device. My phone is a 950xl - I have to say the new insider build does have a number of other frustrating issues.

I went for the second suggestion and did a full reset after installing the preview... then re-installed and re-paired my band 2 to MS Health and all is back to normal as it should be (sync, notification etc all work as expected)... Not great to have to restore a backup and re-install the apps, but I did volontarily sign up for the Insider Preview, so I don't complain! I rather prefer to have to do this from time to time and get fixed preview releases with new features etc...

awesome, now if only I could get the update for my band. I hope I get it today. I agree this along with music controls is a big deal. However, I think they need to put out a music control 2.0. The music controls work great when using wired headphones, but barely works at all when trying to use wireless headphones (it had a hard time pairing when utilyzing wireless headphones- I think it's a bluetooth thing). It would be great if they could iron that out so it works great for both wired and wireless headphones.

Ah, interesting. I only used wired now as I'm getting too lazy to constantly charge my BT ones, lol.

+1 This comment was posted on Windows Central for Windows 10 UWP.

I haven't had any problems using the music control via Bluetooth to my Lumia 1020 (WP8.1) from my Band 2. I also haven't had any issues using it via Bluetooth to a secondary speaker.

Most everything Bluetooth related works well on WP8.1 - not so much on WM 10. Its getting better but it's still buggy as a colony of cockroaches.

I think the issue is a Bluetooth one as the band is conflicting with itself when it communicates with the Health app and music app at the same time. I have this issue too.

I use the AUDIBLE APP with windows mobile 8.1 when I work out, the band 2 just keeps trying to sync. When it finally does it works fairly well, but it loses the connection often. Whereas If I'm using wired it works flawlessly. I wish it worked great with both.

Can't have two AVRCP connections at a time (your headphones already use AVRCP, as well as A2DP).

After the update of the latest insider build, the syn does not work with my lumia 950xl and the band 2 no break option for me on my tape 2 If you have a Microsoft Band 1 or 2 paired to your phone, it will no longer sync after updating to this build due to a system API failure that occurs after the update. If you want to get your Band syncing with your phone again – you can temporarily change the language of your phone as a short term workaround until we release a fix

@daniel_rubino did the update fix the Cortana issue? Where you couldn't use speech This comment was posted on Windows Central for Windows 10 UWP.

I agree, this is definitely one of the best added features to-date. I would like to see a calorie tracker similar to what they had previously in their Health & Fitness app within MS Health then I can stop using other apps that sync with MS Health and just use the built-in one. Hopefully this comes to fruition sometime soon.

Really not best pleased with the loss off band sync, hopefully it will mean new and better is coming... But complete loss of functionality is not good...

Question.... With the sync broken with the phone, is data still sent to the cloud? Does sync desktop accomplish that? I really need this to work. I rely upon my band for notifications from my phone, especially incoming calls.

another thing I notice on this new firmware update is notifications can show Asisn charactors including Chinese and Japenese now.

I welcome the Japanese language support much more over other new functions. I was waiting for this since I bought my MS Band 1 which never got Japanese support. Looks like MS is starting to sell the MS Band 2 in those countries perhaps?

Bought mine on Monday on sale at Best Buy. Don't forget to buy the 2 year replacement plan for $30 if you can afford it. I didn't buy the plan for the original Band and regretted it when my original band began peeling on the batter cover and showing cracks in the rubber areas. Music controls are my favorite feature. Beautiful UI as well with the neat way of turning the volume up or down.

for wearable devices, I always buy replacement plan since they are very easy to break or accidentally drop. But I don't know if BestBuy plan cover accidental damage though, but MS complete does cover accidental damage.

The $30 plan they offered and I bought was the 2-Year Accidental Geek Squad Product Replacement Plan. It is basically competitive with the MS Complete plan. I would have preferred to have bought the Band 2 from Microsoft but I wanted to walk out of the store with it instead of waiting on shipping.

Good, Bestbuy canada didn't offer that to me when I got mine, so I bring my band to MS store and buy the MS complele for Band from there

Oh wow. I wish we had a Microsoft Store nearby, the closet one is about 2-3 hours away.

I have two near where I live (CT). One is 15 minutes away and the other is 45 minutes. There is one more but that is about an hour and a half away. - Posted via W10M device

Really good update. Will be checking if they have fixed a couple of other bugs that I found with the last firmware upgrade. Still on 8.1 so can sync the Band 2 OK.

Excellent feature and thanks for guide on how to set it up.

Excited to use this feature. Updated mine and my wife's. Keep the features coming, this is awesome

been wanting a Band 2, until I found this! seems they split after a few months? https://microsofthealth.uservoice.com/forums/283636-microsoft-health-and-microsoft-band/suggestions/12437835-fix-design-flaw-in-band-2-strap-which-causes-separ#comments http://chrispauly.blogspot.com.au/2016/03/dont-buy-microsoft-band-2.html

FWIW, mine hasn't split after about four months. A huge number of coworkers have them and I haven't seen any Band 2 splits. My wife's Band 1 cracked a bit on the inside after almost a year but she's still wearing it all day every day.
FD: I work for MSFT.

Just in time for running season!!!

I stay inside for running season This comment was posted on Windows Central for Windows 10 UWP.

I tried the feature on a cheeky little 10km run downtown this evening and it worked really well in displaying my correct pace. This is most definitely a feature which is needed and welcome. The only thing I noted, though, is that it uses the vibrate feature to let you know when it's paused and un-paused which is going to be a drain on the battery. Also, as it also uses the pedometer and not just GPS, if you happen to jump on the spot it will un-pause and pause. I'm less concerned about my pace than the battery use. All-in-all, though, it was an awesome first experience. I'll definitely use this on slow and long runs.

@daniel_rubino As far as I know, the auto-pause mode requires the GPS for the Bike mode. It is not the case for the Run mode.
This is probably due to the fact that in Run mode, they rely on accelerometers to monitor the jump and arms movements.
In Bike mode, the accelerometers are much less reliable to detect that you stopped moving and therefore, Microsoft decided to require the GPS.

Why do I now have an Asian Font selection in setting on my Band 2? Brightness, the vibration thing, choose language (English) then next over is the Asian Font?

Because it supports more Languages. I live and work in Japan, but I get mail in Japanese. Previously it only showed squares where characters should be.

I'm glad it supports more languages but I'm in the USA and chose English and US as my language and have no need for Asian Font. It wasn't there before this latest update.

To bad my band 2 seems to have died yesterday. It suddenly stopped charging and won't reset. To make it worse I cant send it to be replaced because I bough it in the US and live in Angola

I'm extremely tempted to buy the band. However, the forums seem to be full of people who have had issues with the band rubber peeling off after a few months even with normal usage. Not sure in that case if it would be a good investment

I had the band 1, and knew it wasn't a good investment, I just wanted to test it out. But, the band 2 is built so much better, deffinately a good investment.. No build problems for me so far and I got it on the first day and have only taken it off for charging.

Good to know. Thank you for sharing your experience

Hey, it worked to switch the language to Canadian English. My Band now syncs. But it smells like maple now.

Didn't work for me :( did you do anything else? Did you update band to new firmware with pc first?

Looks like auto-pause for cycling only works when GPS powersave is off, for running this can be combined, maybe this was just on my band?

Great. Thank you! Want 2 Race¿ Set a Day!!!

I updated this morning which is what broke the sync. All I did was add Canadian English and changed my accent color to Lumberjack Red.

I really really want a hiking tile with GPS. I'd go straight out and upgrade to v2 for that. I suppose they don't have one as a hike can be very long and battery life could be an issue with GPS activated, but then again you could get that issue with Biking and Running. Must check if they have a user voice and upvote it, I'm sure others would like one too. I use the run tile instead but it skews your run data

I give up, I tried 9 different languages and my band still won't sync.
It is connected in BT menu but when I go into MS Health it says "sorry i can't find your band" etc. :(

Oh took a final risk to change to Russian and it worked, band updated to new firmware ok but when I switched back to English the same issue is back.

This is soo bad! Really frustrating that I cannot connect my band 2. I have tryed to change the language but without success. I am now stuck with a band 2 in setup mode and a phone that won't find the band... Great.

I know, I did everything apart from a hard reset but the warning is that even this may not resolve it.
We were warned of the risks so I am not angry about it, at least I can still sync with laptop and cable, just annoying that until it is fixed I will be missing out on notifications etc.
My Band 2 has become invaluable compared to my old Band 1. I don't get the technical side how it can work with some languages but not others and why it couldn't be fixed before rolling out the update, I would of thought that Insiders are probably amongst the most likely to have a B2 and be affected by such an issue.

Allrighty! got it solved after trying numerous different languages it finally worked on Australian English. But like I said earlier , extremely frustrating! But I guess that's what you got to live with when trying out new builds. Its such a strange problem.

Did you change back to normal language and it works ok or you stick with Oz until there is a fix?

Guys is it worth to buy a band 1 now?? B coz i can't afford band 2..what do u suggest plz help...

Yes. I upgraded because of the hardware not the firmware or software. So from practical point of view it does basically everything you need for fitness and notifications.

Thanks @ Enza Knight...i have ordered one waiting for my first fitness band...

Good update adding auto pause, but has anybody else noticed that it knocks out the battery saver mode. This mean that you wont be able to record either a longer ride or run, unless this automatically uses a battery saver mode. Otherwise it defeat ther whole object of having either button.
Windows Central Newsletter
Get the best of Windows Central in in your inbox, every day!
Thank you for signing up to Windows Central. You will receive a verification email shortly.
There was a problem. Please refresh the page and try again.