How to use Kodi on Xbox One
Kodi can now be used directly on the Xbox One. But it's not quite ready for prime time yet.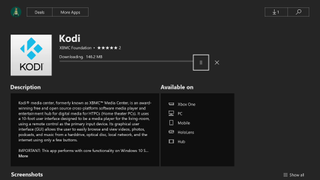 There was a time when using Kodi on the Xbox One required a workaround; Installing it on a device like a Fire TV Stick and using the HDMI passthrough on the console. Thankfully, that's no longer necessary.
Kodi is now officially available on the Xbox One thanks to the developers rebuilding the app in UWP for Windows 10-based devices. It's still an early alpha of version 18, Leia, so while it's here and usable, there are things which are buggy and some that just don't work at all.
Kodi 18 Leia: Everything you need to know
The first thing to do is to download it from the Store. If you have ever installed it on a Windows 10 PC from the Store, you'll find it in your ready to install section on your console. If not, either search for it in the Store on the Xbox One or hit the link below to install it from your PC.
Download Kodi for Xbox from the Microsoft Store (opens in new tab)
Advertisement
What you can do
Much of the core functionality of Kodi is available to play around with. There are currently known issues related to the development of the UWP version, though. For example, right now you can't connect Kodi to a USB drive that's attached to the console.
You'll need to use a controller for navigation right now as well, it seems. I've tried using an Xbox One media remote and it doesn't behave at all. Hopefully, something else that'll be remedied when it comes to a final launch.
Most of the add-ons available through the official Kodi repository work, though, albeit with varying degrees of success. You can also set it up to accept a live TV signal from something like a HDHomeRun (opens in new tab). I've encountered problems using the built-in NextPVR front-end, though, so I wasn't able to hook up my DVR, but using the HDHomeRun PVR add-on successfully delivers live TV (but doesn't allow access to HDHomeRun DVR).
The same can be said for audio add-ons, you'll generally have a good time installing and using them, but always remember this is a work-in-progress build of Kodi and it's likely to go wrong at some point.
Kodi: What it is, how and why you want it
Speaking of Kodi add-ons
When you first setup Kodi it will be completely empty. You have to add sources of media, and there are a bunch of legal add-ons available right out of the box in the official Kodi repository.
These include YouTube, Twitch, and OneDrive, as well as some services provided by cable TV networks, news channels, and the Smithsonian Museum. It's not limited to video, either, so you can also pull in music and photos to your Kodi setup.
Bottom line
Right now you can install and use a proper version of Kodi on your Xbox One. And that's tremendous. But it's also an incredibly early look at the finished article with much that doesn't work properly, or at all.
The best way to get involved is to jump in and play around with it, but equally, you won't want to rely on it as your main Kodi setup right now. The developers are working hard and the best place to check progress and feedback bugs is in the Kodi forums.
As Kodi becomes more refined on the Xbox One we'll be sure to update this guide with everything you can do to get the most from it.
Download Kodi for Xbox from the Microsoft Store (opens in new tab)
Updated January 26, 2018: Guide rewritten now Kodi is available on Xbox One officially.
Richard Devine is an Editor at Windows Central. A former Project Manager and long-term tech addict, he joined Mobile Nations in 2011 and has been found on Android Central and iMore as well as Windows Central. Currently you'll find him covering all manner of PC hardware and gaming, and you can follow him on Twitter and Instagram.
Been waiting for a how - to article for this. Thanks guys

Been doing this for a while. Works great.
Shame that we can't get app directly, because it works a dream on my Surface Pro, especially Stalker 👍

Stalker allows you to connect to TV listings... for example, IPTV.

Woh, that's awesome to know, going to look further into it.

I have Kodi on my firestick is stalker an add-on for Kodi? Does anyone know how to get TV Netflix ppv HBO Starz Showtime and cinemax on the Kodi?

For a small fee, JK enable ares wiz

Yes, just download the app "Aptoides or Aptoide Tv" from the Playstore. Then download any app of your choice for free...
Or you can add a Build onto your Kodi that will have IPTV & hundreds of movies and TV shows Addons...

has anyone noticed there are like almost 10 different free hd movies apps on the xbox one store now? do you need kodi?

Not sure what you mean about 10 different free hd movies bc that isn't what Kodi is all about in my mind. Most of the people i know that use it do so b/c they keep their movies on a hard drive and play them through Kodi to sort and manage their digital media. Xbox one has a media player built in but it seems to ve very barebones: limited in formats it will play, doesn't remember where you left off in an episode or movie etc. Even the blu ray player app on xbox doesn't properly keep track of where I left off in a movie.I put some in the other day that I havent played in a month or two and it started right back where I left off. But when I restarted the movie, stopped the movie in the middle somewhere and shut down my xbox it didn't remember where I left off that time...weird.

Not trying to be negative here, but if Kodi sucks anywhere near as much as it does on everything else as much as it does on my Raspberry Pi, you'll never find it on my Xbox, natively or workaround.

Perhaps it's a user issue. I've been using Kodi for years now with rare issues

Did that quite a few months ago, but since then I've decided to use Plex instead. My Pi is now a webserver on which I experiment with stuff xD haha

I've been doing this with Kodi on a RPi 3 since Christmas. It works great! You also might not even need to buy a remote when using an RPi. If your TV has HDMI-CEC, the TV remote will control the RPi just fine.

I'm also use HDMI CEC for my Pi Kodi control with TV remote and you don't need Xbox One for that,Kodi is enough

Will check this out. Been using Plex for a long time with movie collection

Other than saving an HDMI port, what is the point of this? I love Kodi and I have a dedicated HTPC/Gaming machine running it.

The Kodi app is now in the Windows Store. I am hoping it would eventually be a universal windows app so I can install it on my Xbox One.. and not have to go through these workarounds.

I'm waiting for Kodi to come in my Xbox One S and my Windows Phone (950XL,640XL) and work like my android phone(SG5)

We have a similar setup. We still have a cable box. So, we have a powered, remote controlled HDMI switch that connects the cable box AND Kodi Fire Stick into the Xbox one. Both accessible through the TV app; you just switch the input with the remote for the switch. Works really well, highly recommend it!

Am I missing something or is this a guide to just put the Xbox One in between two devices that you can connect directly already, and use EXACTLY the same way? Kodi Device <- HDMI -> TV
​Kodi Device <- HDMI -> Xbox One <- HDMI -> TV So you add an extra, unnecessary device into the mix. Meaning now you need to switch on the Xbox One to use your Kodi thingy. Sure, it saves an HDMI port, but is that really still an issue with TV's from the last 5 years or so?

Thanks for the guide I guess, but what is the point except for saving a pretty on the TV? Having to have the Xbox on while using my Firestick or Raspberry Pi seems like a waste of energy and nothing more, or am I missing something here?

Can this same workaround be accomplished with a Fire TV Box to take advantage of the greater memory on the Fire Box vs. Fire Stick, or can this workaround only be done with a Fire Stick? Thanks!

It lacks the ability to totally reset if you uninstall it. I attempted to install and use the same build I use on my pc and other media devices and it failed. Now Kodi no longer launches at all and after an uninstall and reinstall it still doesn't won't load. It would be nice if it did a 100% reset when you uninstall/reinstall.

OneDrive does not work on it, right? Anybody else facing this issue? Could not add an account on the first screen with a SSL error of some sort...
Windows Central Newsletter
Get the best of Windows Central in in your inbox, every day!
Thank you for signing up to Windows Central. You will receive a verification email shortly.
There was a problem. Please refresh the page and try again.