How to use the awesome new Groove Music app on Xbox One
Microsoft Groove has been updated on the Xbox One Preview, readying its universal music app for the entire Windows 10 device family.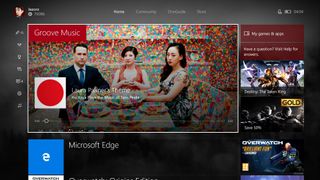 Those of you who are familiar with the Windows 10 version of Groove will find the new app on Xbox very easy to use. If you're used to the previous Windows 8-based app, here's some handy tips and tricks to help you adjust!
Welcome to our quick guide for using the all-new UWP version of Groove, currently available on the Xbox One Preview and coming to public Xbox One consoles very soon.
Installing Groove Music
As of writing, Groove is only available on the Xbox One Preview. If you install the app on your non-Preview Xbox, it will give you a "Coming Soon" screen. Either way, here's how you currently install Groove on the Xbox One.
Uninstall the old Groove Music app
Go to My Games & Apps, located at the top right-hand side of the dashboard.
Navigate to the apps tab on the left side of the screen.
Highlight the Groove app icon
Press the view key on your controller, underneath and to the left of the Xbox logo button.
Select Uninstall.
Install the new Groove Music app
Press the Xbox button to return to the dashboard.
Navigate to the store tab at the top.
Select search
Type Groove Music.
Open the Groove Music search result.
Select Install. This will download the latest version to your console.
Groove Music navigation
Some Universal apps on the Xbox One use a mouse-like cursor for navigation, but all of the Microsoft-produced apps utilize element highlighting. Presumably, Microsoft hopes that all developers make bespoke controls for their Xbox app versions in the future. Groove is an excellent example of how a complex app can ditch the mouse-like cursor and remain intuitive.
Xbox Controls
The menu button on the controller opens the sidebar menu. You can also navigate to it by moving to the left with your joystick.
The left joystick and D-pad highlights selectable elements.
'A' acts as a left-click.
The view button acts as a right-click.
'B' serves as a back button, allowing you to cycle backward through previous actions.
'Y' acts as a global search key for finding albums, artists, and songs.
'X' allows you to switch between the full-screen "Now Playing" list and your most recent menu selection.
The right and left bumpers allow you to track skip.
The right and left triggers don't appear to have any functions at this time.
Menu overview
Search: Allows you to find music. You can access this from anywhere in the app by pressing 'Y'.
Your Groove: Contains dynamically generated playlists based on your listening preferences.
Albums: Shows music in your collection by album.
Artists: Shows music in your collection by artist.
Songs: Shows music in your collection by song.
Playlists: Allows you to create and manage playlists.
Radio: Generates a personalized radio station using tracks similar to an artist you specify.
Explore: Displays all the latest albums and artists added to Groove, in addition to carefully curated playlists and trending music.
Now Playing: Takes you back to the full-screen experience of songs queued up for play.
Settings: Allows you to enable or disable the automatic retrieval of metadata, the removal of duplicate music from your OneDrive, and quick access to your account, payment, and device management settings.
Setting up a Groove Music Pass
Groove is a collection-based music service, allowing you to save albums into a cloud collection for use across a limited number of devices. Groove is currently available on Windows 10 PCs, phones, iOS, and Android.
To utilize Groove's services, you need to either purchase music from the store or set up a Groove Music Pass subscription. Groove Music costs $9.99 per month in the U.S. and £8.99 per month in the UK and gives you access to millions of albums to collect and stream. It also comes with 100GB of OneDrive storage which allows you to save MP3s to the cloud for streaming as well.
Note: Technically, you can use Groove Music for free by storing MP3s in the 5GB complimentary space that comes with OneDrive on your Microsoft account. See further below for a guide on how to do that.
See on the Microsoft Store (opens in new tab)
Adding and removing music to your collection
Naturally, what music service is worth using without a collection of music? Here's how to add albums to your collection:
How to add albums to Groove Music from the Microsoft Store
Press Y to initiate a search.
Type the name of an album, artist, or song using the on-screen keyboard.
Open the music you want to add.
Open the Add to menu.
Select My Music. A message will display saying that you have added music to your collection.
Press the menu key
Select Albums to view your newly added music.
How to add albums to Groove Music from OneDrive
Open then OneDrive folder, either on OneDrive in your browser or on your PC.
Open the Music folder. It should be there by default, though if it is not you can create a new folder and name it Music.
Add a new folder.
Name that folder for the artist.
Open the artist folder.
Create a new folder.
Name that folder for the album.
Add your MP3 files to the album folder.
Once the MP3s have uploaded, you should be able to see them on your Xbox by selecting artists or albums.
Note: If you delete OneDrive music from Groove, it will also remove the files from your OneDrive storage. It might take a little time for OneDrive music to appear in your Groove apps.
Playlists, Explore and Your Groove
Groove has robust playlist features that make sorting your collection an easy feat. Here's an overview of how to do that.
How to create playlists with Groove Music on the Xbox One
Press the menu key on your controller.
Select Playlists.
Select New playlist.
Name the playlist.
Note: You can create new playlists straight from the ellipsis menu on albums too, or by hitting the view key on a song and selecting "Add to."
How to add albums to a playlist with Groove Music on the Xbox One
Open the album you want to add to the playlist.
Select the three-dot menu.
Select Add do.
Select your desired playlist.
How to add individual songs to a playlist with Groove Music on the Xbox One
Open the song you want to add to the playlist.
Press the view key on your controller.
Select Add to.
Select your desired playlist.
How to save playlists from Your Groove and Explore
Groove now features curated playlists generated automatically and by a team of editors. Your Groove creates playlists based on your listening habits and preferences, while the Explore tab has featured playlists for all types of activities, moods, and scenarios.
Press the menu key on your controller.
Select Your Groove or Explore.
Navigate to a playlist you like.
Press 'A' to select the playlist.
Select Save a copy to turn it into a new playlist, or select the three-dot menu to add the songs to an existing playlist.
Note: Remember, you can delete songs, playlists, and albums at any time by highlighting them in your collection and then selecting the view key.
How to play music with Groove Music on your Xbox
Groove allows you to queue up music for extended playback sessions. Here's how it works.
Press the menu key on your controller.
Navigate to albums.
Navigate to an album
Press the view key to start playing the album.Alternatively, you can select the Add to menu and then Now Playing to add the album to your upcoming music list.
Press the X key to exit out of the full-screen view.
Double tap the Xbox button to open the background music settings.
Get your Groove on!
Groove has transformed into an excellent music service, rising out of the ashes of the Windows 8 era's "Xbox Music." The app was rebuilt from the ground up for the Universal Windows Platform, meaning some features were missing in earlier incarnations of Windows 10 and Windows 10 Mobile.
As we move into the future, Groove Music is picking up functionality we haven't seen since the Zune days, such as metadata editing. It looks as though we have finally escaped Microsoft's reboot-a-rama of the past few years when it comes to its music offering. It finally feels safe to look forward to additional features and polish for this version of Groove, rather than expect complete overhauls.
Do you have any questions? Are you a music fan? What's your favorite band? Do you use Groove? Let us know in the comments!
Windows Central Newsletter
Get the best of Windows Central in your inbox, every day!
Jez Corden a Managing Editor at Windows Central, focusing primarily on all things Xbox and gaming. Jez is known for breaking exclusive news and analysis as relates to the Microsoft ecosystem while being powered by caffeine. Follow on Twitter @JezCorden and listen to his Xbox Two podcast, all about, you guessed it, Xbox!
Can it play music from a hard drive? Without that function (which the PC app has) its completely useless.

Your definition of completely useless and a ton of other peoples definition are wildly different.

It's not completely useless, even if it is useless for me. I don't stream music, it's too expensive (in terms of subs and data consumption). I use a local library exclusively, and don't want to have to store 60 GB or more on my OneDrive, then have it hogging bandwidth. By the way, did they ever give OneDrive streaming FLAC support? I rip all of my CDs in FLAC format, so not supporting that makes even the streaming problematic.

So glad its finally coming together! My only pet peeve is that it doesn't download under a lock screen, I'm sure it's coming :)

Where's the music videos?

No, It's 2016, and again Microsoft is removing a feature from It's products, like it did with FM radio, Kids Corner, etc. Just wait for the notice: The usage was too low to justify continued development and support of the feature.

Music videos are coming back. Microsoft already said that last week. But of course, it's more fun to rail on things without first checking facts ;-)

Great to give credit for something before it happens, too. Not like MS doesn't delay/cancel things.

How is watching music videos 2001? Tons of artists are still making them, you couldn't be anymore out of touch.

I've had a Zune / Groove Music Pass subscription for the last 10 years and I'm so happy to see the changes we have gone through since the first Zune! I truly believe that Xbox Music / Groove Music is one of the best music option available on the market. It's so good to see all these improvements coming up soon to my Xbox One! She (because she's a She) can't wait to get the public version to Groove my entire living room! (as long as music videos are here, obviously ;-) ). Posted via the Windows Central App for Android

How? Same price as everything else, library that isn't larger than the competition, what makes it better? Zune used to let you keep 10 songs as well for an extra $5/month. Just seems like "best" is just brand preference, not an actual difference of quality.

It's £1 cheaper in the UK for Groove compared to Spotify, but....That's only until you factor in the Spotify Family Plan which then makes Spotify a lot more cost effective for multiple subs. I use Groove over anything else and I prefer it because it's so well integrated with all my devices, which are mostly MS - If you're not heavily involved in the MS Ecosystem it's not got that advantage. I am a big fan of the app on Windows 10 (across devices) but I couldn't claim it's the best choice for everybody

OneDrive integration makes it killer for me.

Saving $20 a year with the annual $100/yr option is pretty nice in my opinion. Correct me if I'm wrong but there aren't any other competitors with this option. Throw in OneDrive integration, curated playlists, availability on virtually every device (Apple Music is only iOS/macOS/Android, Google Play is only iOS/Android, you can't get Spotify on Xbox without casting)... Sounds like a nice deal to me

Music videos are coming and for hard drive music use simple background music player

Background Music Player isn't that great. Groove for PC plays music from internal and external storage, this version needs to do that too.

Im sure they are working on adding it.

Based on what, the total lack of addressing that feature for almost three years?

As I said in the video, UWP apps don't have access to the Xbox One's internal storage beyond their own app folders as of yet, but it is MSFT's goal to bring parity for the APIs on Xbox One. This stuff doesn't happen overnight.

Background audio & the W10 Groove experience is great BUT there are 2 very annoying issues I've just hit today. 1. Is that 'xbox next song' and similar commands don't work (I'm in a region without Cortana) when they did in the old Groove app and 2. I hit the single device streaming limitation today where I had the Xbox streaming music for my child while I was trying to steam music on my Surface in my office. I think the limitation has always been there but the new app has made the whole thing more accessible and more likely that I'll hit this again .

1. You can disable Cortana and go back to the "Xbox, ..." Commands
2. Streaming issues can be solved if you have a device offline. You get a max of 4 offline devices, choose wisely and try to put it into devices that are mobile and you use alot. I don't allow my PC to download them since my PC is connected via Ethernet 24/7.
Really wish they would add a family plan to groove, especially now that Your Groove won't function properly if multiple personalities are using the same service.

I said that i don't have Cortana, It's not available in my region. So I do have the Xbox commands available but they don't work in the new Groove app. I didn't know about offline, thanks for that.

Can't these UWP apps come quick enough. Tired of waiting already.

"Awsome" app... ohh man... the irony :/

Support for DLNA upnp server?

I see EDGE there, why X box is being converted into a Desktop?

Edge has been there since Windows 10 was released, it was internet explorer before then.

Thanks for this video Jez, very well done. I can't wait for this to go public!

I have been spoilt by years of "free" music. £8.99pm is literally £8.99 more than I currently spend on Deezer. Wish they bundled it in with Xbox Live, even if it we're just a £30pa bolt on, I'd probably do it. Currently Deezer is cheaper.

not everyone wants to hear commercials after every 3-4 songs.

Hopefully we'll see Deezer on the console soon.

The music of Twin Peaks FTW!

The owls are not what they seem. ;)

Makes me wonder how good the new app is if the author of this article had the urge to write "how to"...

More an indictment of the intelligence of the masses.

Jez, Do voice commands work in the app? In the old app I could navigate hands free with my voice. Since this is targeting the UWP I think that feature is now gone. Like in Netflix. Can you confirm?

I've used the app but didn't try voice commands - I think you're right though the commands will be gone, at least for now. Hopefully they bring across that functionality to Windows 10 on PC so we can say "Hey Cortana, Select" on PC as well

It looks as though voice navigation is in development. You can navigate to menus and options, but navigating to artists and albums doesn't work. Seems like a work in progress. :) As for external interactions with Cortana, apps don't have access to Cortana yet with UWP, but I suspect that's on the way.

Actually you can already download both versions of the app even if you're not in the Preview program. However when you open the UWP version you get a screen saying that the app is, you guessed it, "coming soon™". Posted via the Windows Central App for Android

Aye, I mentioned that in the article.

It's not available yet. So...

I tried background music via Groove last night while gaming. It is a nice option to have, but performance was pretty spotty, as it stuttered every now and then.

Hmm, not happened to me, was the game highly intensive?

I just don't understand why can't I stream my 950 music to the Xbox, why should I either pay the subscription for Groove (which I won't cause I don't like music streaming) or for OneDrive to have my music streamed from my WP to the Xbox One...

Well, with UWP features like that will come, it'll just take time.

Thanks for the reply, let's hope it does, I've been waiting years, literally, to be able to shuffle my long playlists...

I subscribe to Groove for the convenience really, having all my MP3s in the cloud is so useful.

'New awesome app...blablablabla' instead of pushing those crappy UWP they should focus more on enabling their services to more markets, like Apple does. Say what you want, their strategy is much better here. They use a decent app but they focus on reaching everywhere, once they have their users they switch focus to upgrading their app and services across all markets, hardly ever do we see AVAILABLE ONLY IN US/UK. Microsoft seems to only be focusing on US/UK markets and the rest is like.....whatever.

Music videos are back, but does anyone see an option to play ONLY videos like it used too? Now it seems to play songs and show the video if it's available and show album art if not.