How to use one-handed mode in Windows 10 Mobile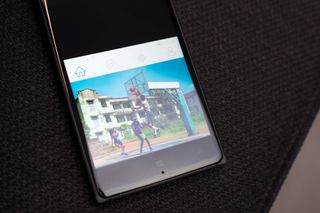 One of the features I like on Windows 10 Mobile preview is one-handed mode. Just tap and hold the home button and the whole display moves down to half the size, letting you navigate and interact with links or buttons with just your thumb. This feature isn't unique to Windows 10, though. It was introduced with the iPhone 6 and iPhone 6 Plus by Apple as Reachability. How does it compare with the one-handed mode on Windows 10 Mobile? We'll show you.
Windows 10 Mobile one-handed mode
Tap and hold the Windows button to enable one-handed mode. You can use your thumb to scroll, tap, and interact with the items that are usually on top, but is now more reachable in one-handed mode. Previously, this feature was limited to devices with screens that are 5 inches or larger, but it is now available on all devices running Windows 10 Mobile. The top half of the screen turns black. Things go back to normal if you tap the black part of the screen, don't touch anything for a few seconds, or tap and hold the Windows button again.
Compared to iOS reachability
One-handed mode in the iPhone 6 and 6 plus is called Reachability. The screen will lower in order to allow you to reach buttons and objects towards the top. You enable Reachability mode when you double-tap (not double-click) the Home button. Instead of plain black, iOS uses a darker version of the background photo. In the Home screen, however, the background stays put, while the icons move down. Things go back to normal after a few seconds of inactivity or touching the space on top.
Going further
While we like one-handed mode on Windows 10 Mobile, we think it can be better. Instead of just a plain black space, we'd like the ability to see our background image instead. Also, on bigger devices, it'd be nice to have the screen shift towards the left or right in addition to moving down. You can see a similar behavior in the Samsung Galaxy Note 5.
Some readers at the Windows Central forums are really happy with the new one-handed-mode feature. How do you feel about it? What are some improvements you'd like to see?
Get the Windows Central Newsletter
All the latest news, reviews, and guides for Windows and Xbox diehards.