How to use Windows Ink on the Maps app on Windows 10
Use these tips to make your next trip easier to plan using the Windows 10 Maps app and Windows Ink.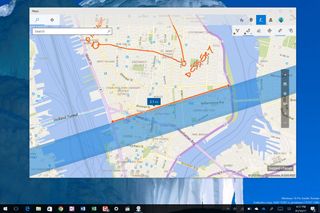 The Maps app is an essential tool built in Windows 10 to search, explore, and find locations nearby and around the world. And with the addition of Windows Ink, planning trips or explaining directions to other people becomes even easier tasks.
Thanks to Windows Ink on Maps, you can now easily draw in the app, get directions, measure distances, and writes notes using the pen on Windows 10.
In this Windows 10 guide, we'll walk you through the steps to use Windows Ink to get the most out of the Maps app using your touch-enabled device.
How to use Windows Ink on the Maps app
When you open Maps, alongside your traditional map tools, you'll now see a new pen icon in the top-right corner to access the Ballpoint pen, Measure Distance, Directions, and Touch writing.
How to draw and annotate using the pen on a map
The Ballpoint pen is the option you can use to sketch or annotate anything on a map. Using this feature, the ink will attach to the map, but you won't be able to measure distance or get directions.
To draw and leaving notes on a map, do the following:
Open Maps.
Click the Windows Ink toolbar icon.
Click the Ballpoint pen button, and select your color and pen size.
Using the pen start drawing or annotating anyway you want on the map.
You'll find this feature useful when adding a note for something you don't want to forget, such as the name of a person or a particular place, or you want to highlight an important area on the map.
How to measure distance using the pen on a map
If you're looking to use your pen and Windows Ink to figure out the distance between two points on a map, then you'll need to use the Measure Distance tool.
To get the exact distance between two locations, do the following:
Open Maps.
Click the Windows Ink toolbar icon.
Click the Measure Distance button, and select your color and pen size.
Start drawing a line between point A and point B, and let Maps tell you the exact distance between the two points.
This feature can particularly come in handy when planning a trip, and you can visually identify your destination on the map, but you don't have an address. For example, let's say you're about to go hiking on a mountain, but of course, in such a terrain you won't find any addresses. However, now you can use this new feature to measure the distance you'll be hiking until you get to your destination.
How to get directions using the pen on a map
Using the Directions tool, you can quickly draw the path you want to take to get to your destination, and the Maps app will give you accurate step-by-step directions to your destination using the selected path.
To get directions using the pen on Maps, do the following:
Open Maps.
Click the Windows Ink toolbar icon.
Click the Directions button.
Using your pen draw the path from your location to the destination, and then look the ink on the map transform into actual directions.
This is a tool that can give you directions more quickly, as you don't have to spend time typing your starting and destination addresses. In addition, Directions is particularly useful to get alternative directions if you need to avoid a particular route on the default directions.
Windows Ink's ruler, Touch Writing, & Eraser
You'll notice that Maps also includes the Windows Ink's ruler in the toolbar, which you can drag around with one finger or rotate using with two fingers to draw straight lines onto a map when leaving notes, measuring distances, or getting directions.
If you have a touch-enabled device, but you don't have a stylus like the Surface Pen, you can use your finger as a pen. The only thing you need to do is to click the Touch Writing button in the Windows Ink toolbar, and then use your finger to draw like a pen on the screen.
Then there is also the Eraser tool that you can use to delete the strokes you draw with the pen. However, if you want to delete directions on a map while in the Windows Ink experience, you must close the current tab with the directions, as you can't use the Eraser with this tool.
Wrapping things up
While most users are still used to use Maps with the keyboard and mouse on Windows 10, the addition of Windows Ink can make the experience a little simpler and help you to plan a trip more quickly using a pen.
It's worth pointing out that at the time of this writing, Windows Ink on Maps isn't supported using the Aerial view. The new inking capabilities are only supported for the Road view in Maps.
Have you tried Windows Ink on Maps? What do you think about this experience on Windows 10? Tell us in the comments below.
More Windows 10 resources
For more help articles, coverage, and answers on Windows 10, you can visit the following resources:
Windows 10 help, tips, and tricks
Mauro Huculak is technical writer for WindowsCentral.com. His primary focus is to write comprehensive how-tos to help users get the most out of Windows 10 and its many related technologies. He has an IT background with professional certifications from Microsoft, Cisco, and CompTIA, and he's a recognized member of the Microsoft MVP community.
Thanks Mauro!
Makes me want to take a trip just to have an excuse to use this : ]

Indeed, Microsoft made a great decision bringing inking to Maps. Thanks,

Thats pretty cool. Is there a way to send saved directions from pc to your windows phone?

Hmmm....not sure if this already exist but it seems not. That would be great if they also sync, like you planned a route from PC or tablet then continue that onto the phone and vice-versa.

I've had spotty success with it using the share button. It certainly needs improvement.

Hadn't realized about drawing the route - that's cool! But I also sometimes want to use the pen on my surface for precise pointing, and that's tricky with the maps app.

Would be great if these inks are actually synced and can be viewed on other devices such as on W10M and even on web through Bing Maps. Yes W10M doesn't currently supporting pen input (hopefully they will soon for RS3), but to at least able to see what I just annotate from my tablet or PC which is helpful on certain use-case. Also I think they should support annotations on Aerial view, which is odd it doesn't support. Another thing, I wished they put UI animations on Maps especially that dynamic sliding card panels. It's really feels rigid and rough to have the UI just popping -up and resizing abruptly without motion where it should exist. They really need give attention to UI polish, without waiting for Neon regardless. The lack of motion in UI just feels un-lively to use the app.

I think windows ink in maps is a wonderful start, but with some necessary improvements it could be more meaningful.
1. Support for drawing multiple destinations. Right now routes are limited from A to B. I would like to see it support from A to B via C and D.
2. A button to erase all lines on the map. By default lines are saved on the map.
3. Support for drawing routes on 3D maps as demoed at build 2016.
4. be able to add pois with the pen
5. Be able to draw polygon lines to mark and label an area in the map.

To be honest, I want the HERE suite back. While these ink features are definitely nice, speaking as an SP3 owner, I almost never use the Maps app on anything other than my phone. And THAT is where the Maps app sucks badly. I miss all the features the HERE suite brought that are either missing in Microsoft's app or are painful to use in comparison. Once again, Microsoft has proven to me they don't really listen to the customer.

So I can get the ruler and all, but how do I use my mouse, or can I?

I just wish you could ink on the "aerial" view. I like to circle fields to see how many miles it would be to run around them, but sometimes the fields don't show up on the "roads" view.

Good to know! Personally, I would go to dinner first, then to the bar, then home for dessert...
Windows Central Newsletter
Get the best of Windows Central in in your inbox, every day!
Thank you for signing up to Windows Central. You will receive a verification email shortly.
There was a problem. Please refresh the page and try again.