How to watch DVDs on Windows 10
It's not as easy to watch a DVD on Windows 10 as it probably should be, but these apps will get the job done.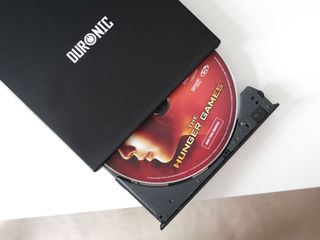 Back in the day, there was Windows Media Center, which, while not available on all versions of Windows, did allow you to freely watch DVDs on your PC. Microsoft killed off Windows Media Center in Windows 10 and left some folks who use a home theater PC (HTPC) with a dilemma.
If you upgraded from Windows 7 or Windows 8 with Media Center, there was at least a free option to play DVDs. That's not the case if you bought a new Windows 10 machine.
So, if you're wondering about the best way to play DVDs on Windows 10, read on. (Note: You obviously need a DVD drive on your PC to watch DVDs on Windows.)
Windows DVD Player
This is Microsoft's official app for watching DVDs in Windows 10, but it's not very good. In fact, you should only consider this as one of your options if you're able to get it free having upgraded from a previous Windows Media Center-enabled version of Windows.
It's a barebones $15 app even when it works properly, and the Store reviews alone are enough to send a giant red flag. Do not buy this app. Only try it if you get it for free. Otherwise, check out the two options below, which are leaps and bounds more reliable.
Download from the Windows Store (opens in new tab)
VLC
The first thing you need to know here is that the VLC app in the Windows Store does not play DVDs. You need to get the traditional desktop client from VideoLAN directly. It doesn't look as fancy, but it's more powerful.
VLC is the free Swiss Army Knife of media players because it can play basically anything. Simply pop in the DVD, open up the media menu and select the option to play the disc. VLC is much more than just a way to play DVDs, but even if that's all you want you can't go wrong.
Download VLC desktop from VideoLAN
Kodi
An alternative that's perfect for watching DVDs on an HTPC is Kodi. Windows Media Center was designed for use on a TV and Windows 10 desktop really isn't. But Kodi is an easy way to fix that.
It's free to download from the Windows Store, and playing DVDs is really easy. The added bonus to using Kodi is that you can set it to autoplay, skip the boring trailers before the DVD menu, and use a remote control.
There's so much you can do with Kodi besides watching DVDs, but even if that's all you want it offers a very good, very user-friendly experience.
Download from the Windows Store (opens in new tab)
Bottom line on Windows 10 and DVDs
There is an official app for watching DVDs in Windows 10, but for most people it costs $15 and is pretty rough. You should only try that if you get it free.
If you're not in that category, go with VLC or Kodi. If you're using a HTPC, Kodi is the best bet. If you just want to watch on your main PC or a laptop on the go, VLC is probably the one to go for.
If you have a recommendation we didn't mention, be sure to drop it into the comments.
Windows Central Newsletter
Get the best of Windows Central in your inbox, every day!
Managing Editor - Tech, Reviews
Richard Devine is a Managing Editor at Windows Central with over a decade of experience. A former Project Manager and long-term tech addict, he joined Mobile Nations in 2011 and has been found on Android Central and iMore as well as Windows Central. Currently, you'll find him steering the site's coverage of all manner of PC hardware and reviews. Find him on Mastodon at mstdn.social/@richdevine
And for everyone else, Use MakeMKV (currently free while in beta... since forever and a day already) and rip a DVD directly to MKV in a few minutes, and watch it with what ever media playback you want, including the VLC from the Windows Store or the basic Film and TV/Movies and Telly box (Or what ever the heck Microsoft decided to call it in your part of the world).

How to watch DVDs? Step 1. insert DVD Step 2. double click on it

Watching Blu-ray is even bigger pain in backside. I have Blu-ray drive but need some dvd passkey nagware . Anyone know of app that works without all the extra faff?

I have CyberLink's PowerDVD. It's not free, but when I got it, it was much cheaper than normal. It works, and works pretty decently on my Surface (With external BD drive). BD are a different animal than DVDs.

VLC and Kodi will play Blu-ray, 10bit HDR h.265 and near enough everything.
Stick to them and you'll be sorted.
They may require some more "set up" if you are making sure it's DTS-HD and what not.
But if you know about DTS-HD Nd those codecs, set up for it will be a blast. Note: CyberLink PowerDVD is also awesome and older versions allow for Blu-ray playback without Cinavia detection for totally legal Blu-ray back up rips.

I use Corel's WinDVD Pro player. Cost me $40 but plays dvds and Blu-rays and haven't had any issues.

Want to make even more pain? Watch 4k Blu-ray. I don't think it's even possible on PC . You may find the lack of hardware, hardware firmware, or software, etc. on your PC even if you would like to pay. There are just too many barriers.

Another recommendation for CyberLink's PowerDVD. The latest version is very, very efficient in terms of CPU/RAM and with the right speakers awesome sound.

Who watches DVDs in 2017? Why not bring that VHS tape out while at it; Its about 4k Bluray discs now, even HD Blurays are on the way out.

http://www.the-numbers.com/home-market/dvd-sales/2017 Plety of people watch DVD's. Not everyone can afford latest tech.

And there are those of us who bought DVDs last century and still want to watch them. Could RIP them, but still need the player.

I do, because some tittles are not for sale/stream/VOD in the US (where I live), so I get them imported. Granted, they don't play xbox/ps4, but the pc works fine.

Microsoft is too honest in that they charge $ so that they can license the CODEC for DVD playback. The other vendors simply ignore the CODEC license fee.

If you have software that can copy a DVD to an iso, you can open that with file manager, which mounts it in a virtual drive and then play as if you have a DVD drive. So, you don't need a physical drive on the device you want to play back on, just a decent amount of storage.

PowerDVD Ultra eventually goes on sale for around $30 -- starts out at MSRP for a new version, drops to around $40 after a month or so, & a few months later starts showing up for $30. Bad news is that since it's a DVD & Blu-ray licensed player, it does detect Cinavia, plus Cyberlink won't update older versions to handle new DRM, so have to keep it reasonably current. Better than average display & audio plus you get all the menus & special features on a disc, including Java on Blu-ray. Leawo Blu-ray Player is free [videohelp[.]com]. Blu-ray players out of China play the main video -- most do not handle menus & special features. Most don't handle DRM the way PowerDVD does, but work like Passkey, phoning home for instructions on how to handle whatever DRM. A downside is that installing many [most?] Leawo software is that temp files are left in C:\ from installation of Microsoft C/C++ runtimes. IF you've got the content, minus the DRM, it can sometimes help to strip out the desired video, audio, & sub tracks to a single video file, e.g. use tsMuxeR for Blu-ray. There are quite a few decent players out there free, but it will probably pay to look at include MPC-HC, madVR, & LAVFilters.

1. Download Popcorn Time.
2. Choose Movie
3. Put DVD and DVD drive in Microwave for 15 seconds.

Is anyone aware of a player that supports Blu-ray 3D? I'm aware of some of the really painful workarounds to first rip the disk and then be able to play it in a VR environment. But I was thinking more for when Windows mixed reality finally, hits, then will there be something that'll be able to play Blu-ray 3D directly from disks in a more legal fashion? I have no problem paying for such a piece of software (on the off chance that one of the blu-ray player developers happens across this comment... Pretty please? Also, this could be just the boost that Blu-ray 3D needs. In fact, if Microsoft could just port the existing Blu-ray player from the Xbox over to Windows and Windows Mixed Reality, that would not only work... It'd be ideal, particularly since that plays DVD, Blu-ray, Blu-ray 3D, and Ultra HD 4K!

Jessicator, CyberLink Power DVD does support Bluray 3D and 4K.

Well, look at that! That's fantastic... and not to mention, the Ultra version (required for 3D, 4K, and VR) is on crazy special through Labor Day. Thank you, Cyberlink! :-)

I chose PowerDVD for my mom to use with her Surface 3 and an external DVD drive. She doesn't want to rip discs or deal with any complicated setup options. She just wants to be able to insert a disc and watch it on her tablet, and PowerDVD does that well.

Kodi has a win32 app too which is far better! download that one, not that pathetic Store app. LOL, nice try trying to promote that mediocre App Store.

If playing MP4 files, I still enjoy using GOM player, because it's lightweight and has an intuitive interface.