How to watch the Microsoft #Windows10Devices launch event live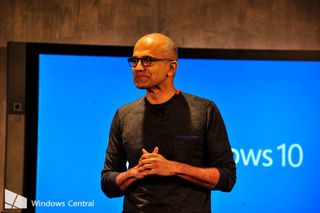 We're almost at go time and as the Microsoft and Windows Central teams hunker down in New York and elsewhere putting the final preparations on event coverage, you guys are no doubt wondering how you can watch the whole thing live.
Microsoft will be offering a livestream and Windows Central a liveblog. So, wherever you are, there's a solution to keep you in the loop. Here's what you need to know!
Livestream
Microsoft's livestream will be watchable on the web and on the Xbox. On the Xbox you'll need the Live Events (XLEi) app as you would usually use to watch Microsoft Xbox presentations. Go on ahead and fire up the store if you don't already have it on your console.
If you're at your desk then hit the link below where you'll find the livestream window once it goes live. We'll hopefully be able to add it to our liveblog page too if you want to keep everything in one place.
Microsoft #Windows10Devices livestream (opens in new tab)
Our liveblog
Bookmark the page linked below for our liveblog of the event. We've got Daniel Rubino and Mark Guim on the ground in NYC to bring you the very best coverage of everything going down. We've also got a community chat room set up ready to roll from an hour before kick off time for you guys to talk among yourselves as everything rolls in.
Join us for our Microsoft #Windows10Devices liveblog - October 6 at 10 a.m. Eastern!
So, what time?
Everything kicks off at 10 a.m. local time in New York City. That becomes 7.a.m Pacific, 3 p.m. in London and 7.30 p.m. out in India. For everywhere else, follow this handy link to see what time it becomes for you.
While you're waiting for everything to begin, we've got a bunch of pages you'll want to check out, including previews and hubs where you'll find literally all the posts you'll care about out of the event. All of those are listed below.
Windows Central's Microsoft #Windows10devices NYC Event page
Richard Devine is an Editor at Windows Central. A former Project Manager and long-term tech addict, he joined Mobile Nations in 2011 and has been found on Android Central and iMore as well as Windows Central. Currently you'll find him covering all manner of PC hardware and gaming, and you can follow him on Twitter and Instagram.
i hope work is slow tomorrow so i can watch it

'Twas the night before the MS event, when all through the house
not a keyboard was clicking, not even a mouse.
The browsers were set to the url with care,
in hopes that the live stream would soon be there. I was comfy and warm nestled all snug in bed,
while visions of Lumias danced in my head.
And laying there with my Surface, just staring at Bing,
had just settled my brain to wait for morning. When out on the desktop there arose such a chatter,
It sounded like Cortana... was something a matter?
Away to open Windows I signed-in with Hello,
I said Hey Cortana, and she said it's a go! The Band on my wrist... it seems that I slept
Live stream was on now and really in-depth,
when, what to my wondering eyes should appear,
but an MS exec and a bright engineer. "Now Talkman! 950!
Now, Cityman! XL!
On, Munchkin! Continuum!
On, Surface as well!
To the top with HoloLens!
The new Band is this fall!
Now tell me Oh when!
When I can buy all!"

All hail the Windows Shakespear!

I enjoyed this. Much obliged

That is the best poetry I have heard in a while!

Oh my God, you make me cry :') Will you marry me? (I'm a straight guy but can still do it cause you're so awesome) Seriously, though, this poem is beautiful. :)

Windows central should add like button to appreciate this kind of person...

Windows Central comment of the year!

I can do better... New York to Cali, Oregan to Dallas... Uh... Take it from here Mark Morales!

There's a Bing on a string, wants to bling, instead of cling to a wing like a sting from the a$$ of Ming.. Edge is a King..of all browsers, coming from trousers with a Bing, awesome like Mausers ring, which often blings... ring ding ding ding..

I said hip... Hop
It don't stop.

I love writing up stuff like that and you did an excellent job. *clap*

GIVE THIS GUY AN UPVOTE! You sir, win the Internet.

Amazing! Best comment ever!

Ha ha yes. You nailed it.

This is so beautiful!! Loved it

Haha nicely recited... :D

Highest likes i have ever seen for a WC comment.

This dude should become the official tech poet for Windows Central or even Microsoft! Or at least, make this the official poem for the event! And I almost skipped this article!

Wow! Wasn't expecting this. Thanks for all the great replies.

@horbeme:
You Can work slow to see the Microsoft event if you want to.
But I hope Microsoft provides a speedy Internet connection this time. The stream constantly stuttering and crashing ruined watching Microsoft's live events in the past for me.

To celebrate this exciting event I am giving away 10 promo codes for my Windows 8 / Windows 10 game: Reiner Knizia's Penguin: http://bit.ly/rkpengwin
on Twitter: https://twitter.com/OSOSystems/status/651095779524878336


App doesn't work on L830 running W10M.

4pm in Slovakia assuming you're an hour in front of London time :)

Lol haha yes, at 3pm in London, thx

7:30 pm is a nice time to watch event with a jug of tea :P

Absolutely... There will be no work for me at that time... I can stream

The last two hours of work tomorrow are gonna be awful. Can't wait to get back, get the kids to bed and then sift through the news.

How many time zones does India have?

Wen in India... Just one. UTC +5:30

Streaming online ? Most of the people will not do it in India.. Including me because of costly internet packages. It will be good when some tv channels can show the live event.

I wasn't trying to but I read that with an Indian accent. It was weird how easy that was

Do Microsoft make replicators rather like the enterprise in star trek. I could maybe replicate a SP4.......!

3pm just one hour to soon. Stupid work! Can't wait!

Dear WC, please stop using third party links!! MS Edge can't open them while using edited 'hosts' file to block ads. :-/

You take risks messing with your hosts file.

It's not really a risk, it's that the ad-host Windows Central uses automatically converts all their external links for targeted advertising purposes (Not by WC's choice, but Mobile Nations has to keep the lights on somehow). And because editing hosts files makes it so edge won't accept links from a specified list of ad providers, it breaks the link. So if Mobile Nations unveiled a subscription model that allows you to go ad-free and let us use links that don't redirect through ad-providers: Problem solved. EDIT: Even extensions like AdBlock on Chrome and Firefox will break the links too... :/

Well we can't link to a third-party timezone converter without linking to it can we?

I think he's talking about third-party links that route through an affiliate network or an ad-network, because those are automatically blocked by the hosts.

The app also converts links us users post into some sort of affiliate link too (Which I think is what sarim_xyz means. I'm not bothered by it, but some people won't like it so much.

Well, I was talking about third party ad-links as pointed out by Centrally Windows. I am unable to open the links in the article. And blocking ads is really important to me.

Stopping WC making money to keep giving you things to read is really important to you?

That XLE app is still loading Halofest at the moment...is it the right app? =s

i think it plays the last event 1st, unless the is a live event happening, then it goes through the rest (it's been a LONG while since I used it)

Where's the link for live webcast? All I see is a timeanddate.com link.

Right below the section labelled "Livestream"

Thanks! I don't see it in mobile app, had to view from browser XD

Can anyone provide me Xbox live events player link for windows phone!!

Xbox live events player is am xbox app, as mentioned in the article. use the pc livestream link and hope it works
https://www.windowscentral.com/e?link=https%3A%2F%2Fclick.linksynergy.co...

App for the phone is called 'Live Video Player' https://www.microsoft.com/en-us/store/apps/live-video-player/9wzdncrfj3rd#app-details Had to load the link on my phone, couldn't find the app by searching the store. Hopefully the app works tomorrow.

3am. It's going to be a late night!

Just needs to be tomorrow already!!

Is the XLEi app only available on Xbox One and not the 360?

Microsoft used to stream live events on the Xbox 360 aswell.. Not sure if this one will be available. They used to advertise on the dashboard and you could download from there.

5 PM (17:00) in Romania. Go MS! Posted via the Windows Central App for Android

This will be on Wednesday, 7 October 2015 at 1am for people in Sydney, Australia!

About 0000 hours Brisbane time, is it?

Sharjeel Bhai, I will be there in NY at the venue tomorrow. :D

Can I watch this on my phone????

Yeah I was wondering too if I could watch this on my windows phone?

They need a W10 app. I want to listen on my W10M-carrying 920 while driving to work, but IDK if I can trust the video player in the browser. Then again, maybe I can, and I'll be fine.

I've used the browser in WP 8 / 8.1 for the last few events to do similar and just have the audio playing in the car, always seemed to work fine. Last one I remember having the January event and the Build 2015 keynote on in the car. Not sure how it will work with Edge though.

M Excited about Microsoft event.Fingers crossed for windows phone 10 release date

now do i go into work early for this at my desk, or go in late to watch at home.....

I'd go in early and get some coffee ready - Don't forget to fill up a thermos so you can top up that coffee without missing a second

A countdown timer will say a thousand words. That is what used to happen back in the day.

So how can I watch the event in my Windows phone?

Last few MS events I was able to just watch the live stream URLs in the browser, definitely remember being able to do this for the January event and Build 2015 keynote, don't see why it wouldn't just work in the browser for any reason.

But the streaming was not good

when in...oh wait now I really need to get used to this new thing... specific mention of "when in India"...!!!
Really need to say something now...umm 7:30 pm in India...Seems faster...!!!

That is 5 .pm in (Khartoum, Sudan) timing.
Very excited.

So, what's the Midnight Event all about?

Ain't missing this event for nothing

http://clkde.tradedoubler.com/click Whats with the new link "tradedoubler" URLs...they are all blocked at work. :(

http://www.microsoft.com/october2015event/en-us Here it the URL incase anyone else has "adware" web sites blocked:

Ill be in NYC, probably going to try to go to the event.........or at least, try to get in by chilling out front and asking media people if they have any extra seats available.......Im doubtful ill get in, but why the hell not, im not workiing tomorrow anyways, and i live literally a 20 min walk away.

What about watching it with the live player app on Windows Phone?

MS needs a windows 10 universal app for their live streams

9AM CENTRAL. My body is ready.

What about if Windows 10 Mobile or Windows Phone. How do you watch it on there?

@David Rupnik
http://www.windowsphone.com/s?appid=0ae9f9fa-29b2-4318-845f-4e24ce52ca94

I am soooo stoked.. Can't wait. Taking off of work. Woot woot

OMG! Exciting. Starting of my GOD is good morning, with a broadcast of my Call of Duty®: Ghosts gameplay on Twitch.tv/WILDWEST310 Then watch the Microsoft Event " Windows 10 Devices" Live on my XBOX ONE with the Windows 10 experience. Awesomeness! This will definitely be a day to remember and rejoice. As I type using my Lumia 640 LTE packed with the latest build, I could picture perfectly see the new Premium Windows 10 mobile device in my hands.

Sadly for YOU no one care about show off like :) or maybe a pretender trying to pass for a show off :) losers are always losers :*

Cortana: Convert 10am Est to my local time. - Fail
Cortana: Remind me at 10am eastern daylight savings time tomorrow about ... Fail
Cortana: Add appointment for tomorrow 10am Est. - Fail
Opens Outlook on web, selects time zone from dropdown. Seems like something Cortana should do.. While at it, I'd like "Remind me in 6 months of dentist appointment."

A bit out of topic but... MY WIFE IS IN LABOR. It seems my soon will be born only a few hours before the microsoft event. What are the chances of that???

Will you name him Cityman or Talkman? :P Just kidding.,

"my soon" LOL. A baby boy about to be born should be called "soon".

Considering MS "SOON" will be the opt name.

Priorities dude, get some...

I can't wait for this event to go down! Really looking forward to the new Windows Phone 10 devices.

Well, the wife is going to have jokes about why I'm rolled in a blanket on the couch at 4:00AM. Priorities babe, priorities. Lol.

Pls is anyone knows when the window 10 update for Lumia window phones coming up?

Your question will be answered in today's press event!

http://m.youtube.com/watch?v=v_Yx0X-eHn8 I cant wait by nu shooz

They should make an app exclusive to WP to watch events.

There is a saying in Spanish el que rie de ultimo rie mejor. In other works the one who laugh last is the one that best laught. Better microsoft gave us something peculiar tomorrow cause I didn't just wait for 950 xl more than 2 years.....dammmmm

How long will the event be?

Do you know you are mean?

Nice post indeed. Can't wait for tomorrow! It's goin down.

Norway 16:00. Bring it MS. Bring it :D

Oct 6th I my b'day as well!! Sweet start to the day it will be! :)

I don't care about the new devices, I'm just hoping MS announce the date for Threshold 2 general availability

Right. W10M availability is the most important announcement.

For many people maybe, but as I have no interest in Windows phones but use Win10 on my desktop PC, that's what matters to me. I won't be buying a Windows phone or tablet any time soon

7:30 pm i will be setting aside my books(Preparing for exams) and ready with popcorn excited to see windows 10 devices,also excited to know about phone and messaging apps on windows 10 desktop,i really like to see making calls and SMS from PC....

I love that you explicitly wrote the indian standard time equivalent. Nice!

Ugh it'll be 4am in Hawaii.

I feel your pain. Same boat with the Hawaii time.

I also got message from Microsoft Lumia in outlook mail

2pm in Ghana...hope to close school early(elope) to catch this very exciting moment!!!

8 more hhouuuuuuuuuuuuuuuuuuuuuuuuuuuuurs @.@ @.@ @.@


Are you ready for "later this" "later in 2016" party ???????

Hope its worth the wait. I have my mobile upgrade due next month and need something worthwhile to upgrade to from my 1020. Have my eye on the xperia z5 atm, so I hope they make the 950 competitive.

Hey Guys!! Any idea when will W10 will be live in India..?

Hello there! Does anyone attend to the party after the conference?
Leave me an email :)

How to watch the #Windows10Devices launch event? Hmmmn, sitting on a couch with pop corn.

I have been out of contract (UK) for over a year waiting for these handsets. The HW will be fine, at this stage it's the state of the OS that concerns me. Current builds are light years away from the buttery smooth performance of WP8.1. If they release Windows 10 Mobile with significant performance issues compared to iOS and Android it will be a non-starter. Harsh but true as we know it will improve over time. The initial momentum they have with Windows 10 will be lost in the mobile space.

10PM here in the Philippines...

Chrome is such a sucker, when I am trying to visit the live streaming link, it sinply says webpage has many redirects while link is working fine on Edge... FO google.

Yeah same here! Posted via the Windows Central App for Android

cant waaaaiiiiiiitttt!!!!!!!!!!!!!!!!!!!!!!!!!

Really appreciate you guys giving the time in IST :) Cheers and hope you have a great time during the event. Eagerly waiting on the announcements :)

I CAN'T WAIT TELL IF STARTS! AHAHSBENJSJSJSHSJJSJS!!!! Posted via the Windows Central App for Android
Windows Central Newsletter
Get the best of Windows Central in in your inbox, every day!
Thank you for signing up to Windows Central. You will receive a verification email shortly.
There was a problem. Please refresh the page and try again.