The new HP 11-inch Tablet PC goes vertical and has a massive 13MP flip cam
HP is getting creative with its $599 11-inch Tablet PC with a unique portrait orientation and a jaw-dropping 13MP camera that flips from back to front.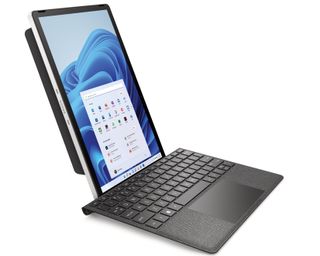 (Image credit: HP)
What you need to know
HP's new 11-inch Tablet PC looks like a Surface Go at first but brings quite a few unique features that make it stand out.
The HP 11-inch Tablet PC features a unique vertical orientation with a matching keyboard.
A 13MP rotatable camera can flip from back to front and scan your desktop for online collaboration.
Pricing starts at $599 (with keyboard) and will be available this December with Windows 11 in S mode.
So far, only Microsoft has sought to compete in the 11-inch range of tablet PCs with its famous Surface Go. But HP is now entering the fray with its new HP 11-inch Table PC that brings some innovative and unique features starting this December.
At first glance, it's easy to dismiss the 11-inch Tablet PC (we'll forgive HP for the rather generic name) as just a Surface Go clone, but it's far from it as two features make it very different:
Besides normal landscape usage, the tablet is meant to be used vertically with the keyboard mounting in either position magnetically.
A massive 13MP camera flips from the back to the front with the ability to live-share your desktop during collaboration conference calls.
The keyboard optionally attaches vertically is also very different and something we're excited to try out. Choice is good, right?
HP is using a tablet vertically because Windows 11 now allows the snapping of two apps in that orientation. Additionally, the posture lets that 13MP camera rotates down to see your desktop letting you live-share with colleagues during a video call (the image is auto rotated).
The camera scanning is all reminiscent of the HP Sprout that could 3D scan objects but for updated 2021's shift to work-from-home environments. HP also makes use of the concept in its just-announced HP ENVY 34 all-in-one PC.
Indeed, the 11-inch Tablet PC can be thought of as a companion device to that ENVY 34. With HP Duet, you can use the tablet as a wireless extension of the ENVY 34 (like Apple's Sidecar). Other collaborative tools like HP Palette (opens in new tab) (smart photo searching between devices), HP QuickDrop (opens in new tab) for instant file sharing, and the app Concepts (opens in new tab) make it even more seamless for sketching and doodling on 11-inch Table PC and going deeper with the ENVY 34.
Swipe to scroll horizontally
Category
HP 11-inch tablet
OS
Windows 11 Home in S mode
Processor
Intel Pentium Silver N6000
Four cores
RAM
4GB LPDDR4x-2133MHz
Graphics
Intel UHD
Storage
128GB M.2 PCIe NVMe SSD
Display
11 inches
2160x1440 (2K)
Touch, IPS
400 nits, 100% sRGB
Corning Gorilla Glass 5
84.6% screen to body ratio
Ports
USB-C
microSD card reader
Audio
Three speakers
Connectivity
Intel Wi-Fi 6 AX201
Bluetooth 5
Camera
13MP rotatable
Keyboard
Detachable
Touchpad
Precision
Security
Fingerprint reader
Battery
32.2Wh
30W AC adapter
Dimensions
Tablet:
9.94 x 6.95 x 0.32 inches
(253mm x 177mm x 8mm)
Keyboard:
9.94 x 7.09 x 0.18 inches
(253mm x 180mm x 5mm)
Weight
Tablet:
1.45 pounds (0.66kg)
Keyboard:
0.54 pounds (0.24kg)
Color
Natural silver
Specs-wise, the HP 11-inch Tablet is respectable, especially for $499 (without keyboard; $599 with).
The CPU is a 2021 quad-core Intel Pentium Silver N6000. Compared to the entry-level Intel Pentium 6500Y expected in Surface Go 3 the N6000 is 10nm (vs. 14nm) with the same 1.1GHz base frequency (3.3GHz burst), but a slightly higher 6W TDP (instead of 5), faster LDDR4 RAM, and more powerful UHD Graphics. But the Pentium Gold features 3.4GHz Intel Turbo Boost, Intel Hyper-Threading, and is a smaller overall package size.
Image 1 of 4
Interestingly, the HP 11-inch Tablet 11 has a larger 32.2WHr battery than Surface Go's 27WHr one, which bodes well for battery life. The chassis and matching keyboard cover features a unique cloth-like material as well. That may explain why the HP 11-inch Tablet PC weighs 1.99lbs (903g) with a keyboard compared to Surface Go at just 1.71lbs (771g) with a keyboard.
Storage is 128GB, but it is faster PCIe format than slower eMMC found in the 64GB entry-level Surface Go.
The 11-inch display is also very good with a 2160x1440 resolution resulting in 231 pixels-per-inch (PPI) compared to Surface Go's 10.5-inch 1800 x 1200resolution at just 217 PPI. It also hits 400 nits of brightness (a solid number) with 100% sRGB making it ideal for photos and colorwork.
Ports are highly minimal, with just one Type-C that does it all, including 5Gbps data, Power Delivery, DisplayPort 1.4, and charging. There is also a microSD card reader for media.
Overall, the HP 11-inch Tablet PC is an intriguing value, especially if you're interested in the HP ENVY 34 or any other HP PC or you want a small Windows tablet PC with a really good webcam and distinctive vertical orientation.
HP.com and Best Buy will both be selling it later in December, with the overall price being $599 with the keyboard. Best Buy will also have it without the keyboard for $499.
In addition to this tablet, HP announced the ARM-based HP 14-inch Laptop PC, ENVY 34 AIO with 5K display, and Spectre x360 16 laptop.
Windows Central Newsletter
Get the best of Windows Central in in your inbox, every day!
Daniel Rubino is the Editor-in-chief of Windows Central, head reviewer, podcast co-host, and analyst. He has been covering Microsoft since 2007 when this site was called WMExperts (and later Windows Phone Central). His interests include Windows, laptops, next-gen computing, and for some reason, watches. Before all this tech stuff, he worked on a Ph.D. in linguistics, watched people sleep (for medical purposes!), and ran the projectors at movie theaters because it was fun.
This is a classic example of how Surface paves the way for OEMs to develop innovative form factors that increases the utility of the WinTel ecosystem.

For something to be classic it has to be well established and quite common. OEM designs inspired from Surface products have all been incredibly haphazard. They've only made a few and each phase they go through, they never seem to keep a line going. So, no, it's no classic. Kudos to Microsoft for keeping the Surface line going though, even with the OEMs messing about.

The detachable 2-in-1 has been copied left and right, even by Apple.

Dan, check the title of article!

There's another Table in the article too!

Maybe he was thinking of the original Surface Table ;)
https://www.windowscentral.com/microsoft-surface-pixelsense-table

If we lump 10 inches with 11 inches (as the difference is so little), Lenovo already has IdeaPad Duet 3i. So Microsoft is not the only one. At least for now. Although it is still using N5030 (Don't know whether Lenovo will refresh this line of product to N6000 in the near future).

That's cool feature. Always wanted to see something like this in surface book or surface pro. Is it possible to do achieve this position with current surface kickstand ?

"Is it possible to do achieve this position with current surface kickstand ?" Not at a comfortable angle. The screen will be 90 degrees from the surface of your table. That's one advantage of those (otherwise loathsome) "origami" folding cases. Also, Windows 10 doesn't natively support snapping to the top or bottom of a screen in portrait mode.

Deosn't natively support snapping what? The keyboard? That's a hardware issue, not software.

I meant window snapping, not keyboard snapping. Should have been clearer.

Windows 11 supports portrait snapping in 50/50 or 1/3|2/3 splits.

Yeah that's what I meant - in portrait mode. Windows 10 doesn't! I'm really looking forward to that feature.

The powerful camera is great to see, which does have me scratching my head even more over the terrible one on my higher end Spectre x360 14. It's otherwise great (and we know Dan loves it as well) but the webcam video quality is so awful.

I have a Spectre x360 13.3 and its built in camera is also awful. The Surface Go 1's camera is much better.

Takes a good cycle to catch up. See HP Dragonfly Max with a 5MP FF cam, which is really good. They're getting there.

Thanks Dan. Understandable, just disappointing. The other strange thing is the speakers. On max volume they're just very quiet, whether on Zoom calls, Netflix, etc. I've tried playing with the B&O equalizers and it's still too quiet. Wonder if it's defective or this is just how they are (various Surfaces I've had were WAY louder).

The upcoming Spectre x360 16 is announced to have a 5MP 1080p webcam that "follows your focus" like the iPads do. It will eventually trickle down to other HP laptops as well.

Great idea, would be great for document work...

Interesting
Depending on how well W11 does Android, this could be my next portable toy, replacing both my laptop and tablet.
BTW, the portait mode reminds me of the original Compaq Tablet PC, TC1000, which could be docked in both portrait and landscape. I had one. Loved it despite the CPU. Everything old is new again.

This is a really innovative device. 13 MP is overkill for a webcam but very useful for the "desktop sharing" concept they're touting. And the screen resolution + pen means what is probably going to be a very good note taking experience and maybe a good art experience too. Portrait mode very often comes in handy, especially for reading and certain types of browsing. Good times for PC buyers.

It'll be good for art, but just because it has a pen does not guarantee that. I assume this will use MPP, which depending on how you draw can be a bit of a turn off. For how some people write too it can be a bit annoying. Plus the need for batteries in the pen.

I actually assume it won't use MPP. Current HPs don't.

HP pens don't need batteries anymore either. They charge using USB.

HP laptops are 90% MPP, with the 10% being Wacom AES in premium business models and USI in Chromebooks.

What's wrong with MPP? High resolution, pressure sensitive, tilt support, even haptic feedback coming with Windows 11... I know Wacom has some advantages at the extreme high end, but even the artists I know who have used MPP on Surface devices (don't know any who use HP) have been pleased with it.

MPP has come a long way. It's not quite as good as Samsung or Apple for art but it's not far. And for note taking the should be no problem at all!

I like this. Have an OG Surface Go, and use it all the time. Been looking at the Go 2, but noted a 3 was imminent. This might make me reconsider that as well. Not sure I like the camera idea, but don't use that on my GO that much.

Very interesting. HP used to have tablets years ago. This is the resurgence!

They still have Surface-like tablets, they're just not marketed very well. I'm considering one for my daughter right now.

Will be useless without a Core processor, just like the Surface Go is... . Looks pretty though.

Use my Surface Go every day. That's sort of the opposite of useless.

Me too, and the Surface Go 2 has a core processor option and the Go 3 will have an even better core processor option tomorrow. So, no, these are very useful.

I was excited until I saw what they're charging for those specs. The m3 version of the Go 2 is $630. And from what I gathered from the WC podcasts, the Go 3 (i3) is going to be the same price. I'd rather pay that extra $30 for a big jump in performance vs the N6000.

$630 without the $130 keyboard, which the HP includes at the listed price.

Go 3 is still using the same m3 node from 2 years ago not the new i3-up4 that is 11th gen.

Yeah, as others noted $599 is with the keyboard whereas the Go 3 i3 is $630 + $130. On top of that, HP has a higher resolution/PPI and a much better camera, plus mounting options. That said, yeah, if you want that extra performance the i3 Go 3 is a better choice.

That camera sticking out on the side is pretty much a deal breaker for me. I can see it getting broken or lost. Much rather have an embedded front and rear facing cameras that are always available. If needed, an after market camera can be connected if you need ideal positioning of the camera aiming.

Fair enough about robustness worries, but I think they're selling the ability to adjust the camera angle as a feature, not a bug. In any case it makes more sense here than on a phone!

By default, the camera is flipped to the back and it's completely flush with the chassis. It only sticks out when using it as a FF cam.

Oh. Thank you Daniel for the added info. That changes things then. Not a deal breaker.

Ah, I had not realized that either. Thanks for the clarification, Dan!

hmm, I love my go and while this is a nice alternative. I find myself desiring more RAM on my next tablet.

Interesting they didn't go with ARM, considering HP's new 10 inch chromebook tablet does use Snapdragon

the amount of ads on here is getting kinda bad.

I use the Windows Central app on Windows and Android. No ads, mostly decent UI (the Windows version where I'm writing this comment has some minor bugs). Of course, with no ads, that may not be as good for the kind folks at Windows Central and Mobile Nations...
Windows Central Newsletter
Thank you for signing up to Windows Central. You will receive a verification email shortly.
There was a problem. Please refresh the page and try again.