Camera samples from the HP Elite x3 reveal a capable shooter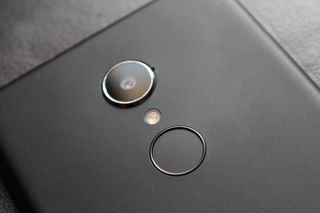 The HP Elite x3 is the most powerful Windows phone on the market, sporting a Snapdragon 820 Processor with 4GB of RAM and 64GB or internal storage. However, it is a business phone, meaning the camera on it doesn't need to be all that good. Luckily, it is.
The HP Elite x3 is packing a 16MP rear-facing camera and an 8MP front-facing one, and after using the handset for a few days over the weekend, I can say both shooters are pretty good. In ideal lighting conditions, the camera shoots crisp and clear photos, and in low-light conditions, the camera holds up fine.
We've compiled a short sample gallery of photos taken with the front and rear-facing camera's for you to check out and make your judgment calls. We'll be diving into more depth around the camera in our full review in a few weeks, so stay tuned for that.
Image 1 of 12
The only complaints I have right now about the camera is that the app crashes fairly often, although a recent firmware update has improved this, the issue isn't entirely gone. HP is working on fixing this before launch, however, which is good news. The Camera app is also pretty slow at taking photos and sometimes struggles when focusing on a subject. This should also be improved in an upcoming firmware update.
With video, there appear to be some issues with white balancing, as seen in our sample video below. It's continually adjusting the white balance on a noticeable level. The rear camera can shoot at a maximum of 4K at 30fps, no 60fps support here, even at 1080p.
Camera Specifications:
Front:
2x2 Binning for high quality FHD video
Record at FHD/30fps
Low light capabilities
5P Japanese Lens f/2.2
1.12um pixels - 16:9 Native Format - 3872x2192
Rear:
Record 4K/30fps or Full HD/30fps
Low light capabilities
6P Japanese Lens f/2.2
High output, ultra-high CRI LED flash
PDAF (phase detection autofocus)
Large 1.31um pixels - 4:3 Native Format - 4608x3456
Let us know below what you think of these camera samples. We'll be following up with more coverage on the HP Elite x3 in the coming days and weeks. Stay tuned.
Need more? Don't miss our other coverage of the Elite x3 including:
Windows Central Newsletter
Get the best of Windows Central in in your inbox, every day!
Zac Bowden is a Senior Editor at Windows Central. Bringing you exclusive coverage into the world of Windows on PCs, tablets, phones, and more. Also an avid collector of rare Microsoft prototype devices! Keep in touch on Twitter: @zacbowden.
I am still waiting for you guys to take this phone (or any other for that matter), to a low light environment, say, a strip club and shoot some pics :)

We'll be taking a look at the camera in all it's glory in our full review. Today's samples are just scratching the surface :)

Why would your scratch your Surface? ;)

Will this include some comparisons to the Lumia 950? Because let's be honest: The question on everyone's mind is how the two cameras compare.

go to the gallery, switch to pic. number 10 its full with lil grain and unsharp colors, switch to 11 missing crispy colors. The whole picture is "dead", the last one is the worst of all. my 950xl takes much better picuters but its ok, HP can resolve some problems with new FW but it wont replace 950xl camera quality thats for sure

Yes. Low light performance is very noisy. Daylight ok. Didn't look like digital stabilization was on on the main camera. Will be interesting for a retest in a week or two but I doubt they can improve the low light shots. That is normally a sensor/lens limitation.

Stop bragging! We all know 950 dons best camera in a smartphone but this is not bad either.

Strip clubs test is a must lol

I know first hand they frown upon pictures taken in the club. Good luck getting out with them! Posted via the Windows Central App for Android

I did some very low light shots in my own head to head comparison here: http://allaboutwindowsphone.com/features/item/21669_Phablet_camera_head_... -if that helps. Summary: the X3 camera isn't very good at all. Just saying.

Link on the app is not clickable. Anyway great review, the X3 images are not that bad in well lit conditions , considering i didn't expect the camera to be good anyway

Good review, no good camera overall in this Elite x3. just decent in light.

I read it this morning. Great job!

Lumia looks way better wow.

Too bad they are dead. Lumia was wp. Now, just bland business phones with the excitement of paint drying.

OMG steve, the photo of no flash in the room with the light and glass of water.....the x3 should be thrown out and ran over. That is just terrible. I feel bad for anyone who purchased this phone thinking it would have an iota of nokia imaging inside. hell, my HTC 620 with windows mobile 6 took better photos and that had a 1 mp camera in it.

I too would love to see how the camera holds up in a strip club. Just make sure that you do it while the 'show' is going on

Those pics are really good! I would have believed it if someone said it came from a high end Lumia :)

Photos look cooler, I didn't imagine it'd be this good but it would have been better with dual LED flash though. What happened to low light pictures? EDIT: Just got your comment for the first comment regarding low light environment.

Not too bad for a device yet to be launched officially

Can anyone explain why businesses don't need great cameras? I mean there are tons of professionals who could benefit with having both a great camera and video.

Well idk by making corporate espionage harder? Posted via the Windows Central App for Android (LG V10 or Nexus 5x)

So right, if only Eddie Snow had a poor camera on his phone all that data he stole would be safe...... /s

Haha hey I forgot to add the /S at the end for mine. Posted via the Windows Central App for Android (LG V10 or Nexus 5x)

If hp had great camera wc would not say that business users don't need great cameras. It's just damage control.

If HP had a great camera you'd just use it to mock the Lumia 950 and Microsoft. This works both ways.

L950 can be mocked for many things but camera is the least of it's worries, could have been great if not for lacking MS camera app.

@Daniel Touché But only a ban can stop vhyr from making negative or troll posts. A shame, realy.

You really need to start accepting this thing called "free speech". Unless, of course, you live in great democracies like Cuba, China or North Korea.

Not this one Daniel. The 950 / xl is the best hardware to run Windows. It's a shame Microsoft has no vision or drive.

Who told you this phone is for business men??

I will correct that person who said Business MEN. Business people....men and women. There. This phone IS AN ENTERPRISE PHONE! how freakin hard is that for people here to understand. It is directed at consumers approximately 0%. When HP set out to develop this phone, Consumer was about as relevant as the easter bunny to them.

Sure. But there are also companies who don't even allow their employees to have working cameras on their phones. The HP Elite x3 is not aimed at professional photographers or vloggers or cinematographers, it's aimed at people who use Office and email and web browse. The camera doesn't have to be great, so be glad the camera is pretty good.

Sorry Zac . That is no excuse.
I mean just because it's a business phone it doesn't need a good camera.
No one is going go buy this just because of hp apps and continuum
I think what you guys need to remember is the phone costs £700.00
That price screams high spec to me and other people so actually the camera is very important along with every other little detail.
Speakers are very important here to and from what I hear they are just ok.
Everything has to be excellent.
Looking forward to the full review

Actually it is an excuse. If HP built this phone by asking businesses what they wanted, it means businesses told HP that camera quality wasn't a priority. And, again, you people should just be glad HP is even allowing you to buy the phone. They could have gone the better way of only selling to businesses and produce it only upon demand. HP owes you NOTHING. You are NOT the target of this phone. HP couldn't care less what WP fanboys think about the phone. You're not the ones who are going to make HP any money if they sell these Elite X3 phones.

You don't seem to understand. It doesn't matter how expensive the phone is, this isn't a device built for consumers. HP asked businesses what they wanted, and a super amazing quality camera wasn't one of them.

Sorry I know what your saying.
But
I hope all these businesses they asked are beating down the doors to get one now..
Cause if they are not this will be a huge flop.

And? Don't want to pay for it? Don't. For businesses, who but them in bulk, it's not that expensive and contains what THEY requested from HP.
However, you can't expect HP to risk losing money on the device just because it's too expensive for YOU, someone they didn't build the phone for in the first place.
Once again, this phone wasn't built for consumers, it's not aimed at consumers, and it's not priced for consumers. You should already be glad HP is even allowing consumers to buy it IF they want to. As for the phone being a flop if businesses don't buy it, well, at least they stand a small chance. If this was a consumer device if WOULD be a flop. And you know why? Because consumers have already said loud and clear they don't want Windows Phone and even when they did, they didn't want to pay for flagships. Posted via the Windows Central App for Android

Not a story. It's the truth. Something people here seem to dismiss all the time.

Will You seem to be missing the point of this phone. HP did not take any consumer wants into consideration. NONE. They went to businesses...asked what they need in a phone....and here you have the x3. HP cares less if they sell one to a consumer. NONE. THe price is the price because HP is focusing on enterprise purchases. They dont care if you can't afford it, or its overpriced compared to other consumer offerings. WOW>>>>>>>>JUST>>>>>>>>>WOW.

Lol.
Don't make it so personal.
I can afford it.
But one must be sensible about what your getting in return for money.
All business people like to play a little to you know.
At the minute if you get the new note its value for money.
Only thing you cant do is continuum.

Will, i was not making it personal....I have no idea if you can afford 10 of them.....I was using YOU as a term for consumers. As for the note, its a much more compelling option than this crate. It can do most everyting continuum can do as well! FYI!

So you agree then in round about way.. Thanks.
I do hope it does well.

"It is a business phone, meaning the camera on it doesn't need to be all that good." I highly disagree with that. With a $800 price tag, it should par with Samsung S7/Note 7 and iPhone 6s, if not better. If the price were in $600-ish range, then it would have been acceptable. It's 2016, everyone expects a very decent camera, not just "capable", from a phone with that caliber.

The thing with imaging is you don't just master the codecs and hardware on day one. Took Samsung years to catch up to the competition and likely millions. If it were that easy my Nexus 5X wouldn't be as terrible either.

That may be so, but the price tag needs to reflect this...

I don't think the price tag is about the camera at all, it's about the rest of it. Not sure why the price tag needs to reflect this when it's not a consumer phone?

That's a good point. Against which one could say "HP could have simply licensed Nokia's camera tech like Microsoft does". But I think the point would be more "businesses didn't require a great camera from HP so they didn't made that a priority". And agaisnt that there's not much whinning from WP-fans can do.

Your whole point falls down. If you read past the sentence you quoted, literally the next few words, it says "Luckily, it is." I'll explain further: This means the camera is good. Not bad. Good.

To be fair, I think saying it shows potential is more accurate. Your video shows it is quite rough today in several areas. But also shows some nice daylight shots. The most worrying aspect are the lower light shots where there is high noise. Will be interesting to see more internal shots with more regular lighting in a few weeks after they update the firmware. I think HP were quite brave putting out pre-release units with this firmware on it. Still, it does look a really nice overall package and I hope they can get things in shape quickly.

I agree with you on comparison with rivals but as Daniel said, HP isn't a master of imaging, there's a lot of footwork to do. Business people could get compromised with the camera for the top notch highlights of the device (msft's productivity, Continuum bundled with HP's seemless hardware and business features). The camera isn't bad after all but I still don't understand why there isn't a dual LED flash.

auahmed, You MISS THE POINT TOTALLY. All those phones you listed are CONSUMER phones. meaning they are developed with consumer needs, even the note is pushed to consumers. THE HP IS NOT A CONSUMER PHONE.

I want to know if the Elite 3X has tap to wake up the phone?

Not yet it doesn't, coming with the update in September. I've not seen dttw in the settings on my Elite X3 running AU RP.

I heard that this phone doesn't capture living images. Is this true it false?

I was wondering the same thing. By far one of the best features on my lumia 950.

Does the rear cam have OIS?

Can someone explain to my why they have just now begun fixing the firmware? This phone has been underway for six months.

Windows 10 Anniversary Update introduces new APIs, drivers, and features. You can't build firmware months ago for an OS that was only completed recently.

I know there's little point to this, but just speculating on forthcoming "surface" phone...i would hope the camera on this assumed device will be a world beater, but it makes me nervous that if it is aimed at business, they will skimp in imaging. Imagine the 950 camera housed in much better hardware. I really hope they pay attention to the camera going forward.

I don't know why everyone loves their 950 camera because my 950 camera is pretty garbage. I went from a 920>1020>950 and I feel like the 920 and 1020 took pictures on a fly way better as far as lighting and focus goes.

Peel the plastic protector off..

The 950 takes much better photos than the 920 and 925, nothing holds a candle to the 1020, no iPhone or android phone. Simply the 1020 is the best camera ever released on a phone.

Correct! It's why I still use my 1020 instead of a 950. I'm hopeful for the Surface Phone as it looks like the X3 camera also can't compete with the 1020. Such a shame as the X3 kicks butt everywhere else (almost -- no Glance).

1020 has some advantages no doubt but I find image IQ better on 950/XL than 1020.

Less the focus time and sometimes gets serious trouble in discriminate what to focus even the lumia 820/920 were faster in the focus time

The lighting is literally never right on my 950 and it bugs me

At first when the 950xl came out I was not sure on the camera, but yeah, it kicks butt. its much faster than the 1020 and pumps out just as nice images!

It was horrid when i first got the 950. But on the Insider Preview program the camera changed for better or worse depending on the build. I will say that build 14905.1000 is not the best camera build I've experienced with the 950. I currently find the 920 better at focusing than the 950 on build 14905.1000. But there was a build where the 950 really impressed me. I remember thinking then that the 950 was ready for primetime...but alas, it didn't last. Maybe next build.

The "Surface Phone" IF it ever happens, will not be focused on imaging at all. It won't have a horrible camera but I think you can kiss the days of big camera-focus on WP goodbye. Those days happened with Nokia and because of Nokia. Nokia is gone from WP. And Microsoft has other priorities. and just like this Elite X3, the "Surface Phone" IF it ever happens, will be also focused on business...and yes, business doesn't care about amazing camera quality.

So basically it seems the only business users who can take (and care about) photos are ios and android device owners, since the argument here seems to be that the HP as a business phone doesnt need to have a good camera, right?

That is not at all the argument made here nor the conclusions reached, which is it's similar to most mid-range shooters in 2016. It's not great, but it's not bad either.

However, it is a business phone, meaning the camera on it doesn't need to be all that good. Luckily, it is.

Not sure why this is so hard to fathom. We also know there is new firmware on the way that optimizes the camera even further making any conclusions reached here only tentative at this time. But yeah, traditionally speaking business phones are not known for stellar cameras. High-end consumers phones are.

I wonder which is the most prominent business phone currently. IPhone?

Long long time ago. There are more wired business phones than Blackberries nowadays. Ok, that statistics is purely guess but considering that wired business phones are quite common and BlackBerry is obsolete it's quite probable.

I don't. I know which is. And it's not that phone. That's a consumer phone. Anyway, there are no real business phones yet. Just consumer phones used in businesses. Looking at the numbers, that would be a Samsung Android phone. In the HP iPaq days there were business models with and without a camera. In a Nuclear plant nearby no PDA with a camera was allowed. So therefore HP had those camera less models.

Phones that businesses use are called business phones. Lets take USA and the business of politics: "Avast learned the following about the Republican National Convention attendees:
•55.9% had an Apple device, 28.4% had an Android device, 1.5% had a Windows Phone device, 3.4% had a MacBook laptop and 10.9% had a different device" https://blog.avast.com/republican-national-convention-delegates-unknowin...

Apple devices include ipad, iphone,and macbook. iphone must be paired ipad and macbook, very diffiult to sync with windows devices, PC, outlook and other applications. Android is second difficult to sync with windows devices, and works better with andoid tablets, diffucult with windows devices and outlook and other windows devices.

@Byu1 What have you been drinking?

@Hoekie potassium cyanide. want some?

"Android is second difficult to sync with windows devices" Sorry? This is utter bullsh*t my friend. Android syncs beautifully with Windows devices. I have mine synced with Windows 10 AU and from notifications through Cortana to OneDrive etc, everything syncs flawlessly.

Files, media? I'm using nexus 6 now with android N preview, when i plug into windows, windows explorer show empty files. even with windows phone companion.

Maybe you shouldn't be using beta software? The normal commercial version of Android works fine. And even in the Preview, I find it weird that such a thing is happening to you. Which is more likely to be a problem with your installation since Android works with Windows perfectly through file explorer. Have you tried connecting the phone AND unlocking it with the fingerprint per chance? Because if you have the device protected, it won't allow Windows to access it without you unlocking or first. Posted via the Windows Central App for Android

I waited for android N become offcial, and update suppose to come at august 22 but didn't come.

Driver issue. It is a bit tricky getting the driver right, I have a Nexus 6 too. Why would you sync your phone with a computer anyways? It is 2016, there is no reason to do that unless you are stuck using services from 2006. Posted via the Windows Central App for Android

@vhyr No, that's politics. You don't know the difference?
Also double wrong example. That's just the US. Next to Japan the only country the iPhone is doing well. Not the world. In the world Android dominates phone sales. > 80% and climbing. I'd almost think your a son of Trump. NOFI.

In the consumer market where people don't care who in stealing their dara and how many times you have to reboot a lagdroid every hour it may be true. But if reliability and security are important to you, stay away from that

@Daniel I think some are just playing dumb.

So basically you think the HP is the only Windows phone, right?

I think even my Lumia 735 can take better pics than this overpriced junk !

I have a strong feeling that I am about to cancel my pre-order for this phone. Everything I've seen so far is making me believe that the software will absolutely overshadow the hardware and destroy the overall experience. Half baked this. Half baked that. * a software update should fix this * a firmware upgrade should fix that How about one good goddamn experience out of the box? Shame really.

It's HP they don't have any experience in cameras i have an tablet an HP slate 7 and the camera quality is an disaster

In the original unboxing of the Elite X3 which Windows Central carefully and quickly reshot and replaced, you could see the out of the box experience was absolutely horrible, full of lag and missing features. However, if you're still buying a Windows Phone in 2016, you are expected to install insider previews etc and put up with unfinished software. That was the case with the 950's and it seems to repeat itself with the Elite X3. If you want finished and stable software, buy an Android or iOS device.

you don't have to install insider. you can opt out any time. Finished and stable software? but you never get update or wait forever, or buy new phones with updates.

I don't agree with the iOS/Android argument, but.... This X3 is getting lots of attention and praise, and from what I have seen, hands on beside a 950xl, some of the hype is not justified. It reminds me of the day the 950's were released. But, because its an HP, its OK and will get sorted. MSFT do the same, and bang, a shed load of hatred and ridicule, yet HP is acceptable with a camera that is downright poor. Never thought I would ever, partially, agree with you. ;-)

Android, stable and finished software. LOL

I have to agree. Despite what those, who crave bigger specs than their mates believe, the device performance can't always be blamed on the software. Firmware fixes aren't the OS etc. I don't believe that these will come to life until RS2, by which time, the device will be old, superceeded..... Now, if this had been MS ( which it has in the past ), people would be creating, trolling, hating etc. As its an HP, with big specs, its fine to release, as you say, a half baked excuse, and everyone still loves it! I struggle to understand people sometimes. £700 on a device that just isn't ready for show time, AND, it isn't all down to the OS, yet.....thats fine because its new and shiny and has huge specs. I've said it before, I'll stick to my 950xl whilst these glaring errors are resolved.

But if the lumia 950XL also It's extremely slow in focus also and Microsoft haven't took any note about that

Anyway. How is the battery life lol

Absolutely incredible. I left my sample unit off the charger for a few days just sitting there and it probably only lost 10%. It's not running Anniversary Update. My 950 XL with Anniversary Update has much better battery life since updating to AU so the X3 would simply run like a champ. I've waited for AU to hit the X3 but it hasn't appeared as yet.

"Capable". Oh, for heaven's sake, the Lumia 430 has a "capable" camera. It is just stupid that nobody is pushing as hard as Nokia was for a truly amazing camera. I can STILL take better pictures with my 1020 than I can with my piece of junk 950. NOBODY is doing diddly with phone cameras. It's all tired, all lame, all the time.

scubadog, camera sucks on it but it edits spreadsheets like nobodys business...ha ha ha!

Indoor pics look bad but outside ones look great.

Business phones should have the best camera!

I would like to see how it does with Office Lens when scanning a label or paper with small or blurry print into a converted doc or pdf. I don't think there are any great technical demands, but some cameras have a hard time focusing and staying focused.

Does anyone know that hp's lapdock can be used for Lumia devices

The camera looks good but you need to shoot something more exciting - otherwise most ppl will blame the camera

I wish they added a dedicated camera button. The sample X3 I have is a pain to start the camera when it's locked. This is the first Windows phone I've used without it. The X3 phone I have isn't the full release and looks to be an engineering sample. Having a camera button is handy if you quickly need to take a picture of a printer's LCD panel to record an error message, for example. I haven't used the camera extensively but I think the images are a pretty good quality, but not quite on par with my 950 XL. I think the XL's processing algorithm is better. I have not experienced any crashes of the app as yet.

I waiting for Michael fisher to review this phone

Once again, as long as it isn't MSFT, its OK? A top spec device with a camera that has multiple issues is acceptable because its HP? Come on guys, you cant have your cake and eat it. Yes, its a lovely bit of kit, but were these issues present in TH on a Lumia, they would have been slated relentlessly. £700 for a phone where the camera app takes an age to open, if it opens at all, but its OK because HP are looking into it?? How about some balance? Just because its a top end device doesn't mean you can 'jolly' up the problems saying HP are working on it. Another classic line that the Lumia devices suffered, and MS got slated.

Please do a comparison between the Hp Elite x3 and the Lumia 950XL, especially for the Camera (in light and lowlight)... im still undecided which phone to buy..

The cam is not that good. In bright sunlight it takes goog pictures, but in low light the results are ugly. http://allaboutwindowsphone.com/features/item/21669_Phablet_camera_head_to_head_HP.php

"The Camera app is also pretty slow at taking photos and sometimes struggles when focusing on a subject" This is actually a major problem with the phone. I love my HP Elite x3, but the speed at which it takes pictures is bad and often results in blurry pictures. Is there no solution to this?
Windows Central Newsletter
Thank you for signing up to Windows Central. You will receive a verification email shortly.
There was a problem. Please refresh the page and try again.