HP Elite x3 expected to arrive at Clove UK early August for £680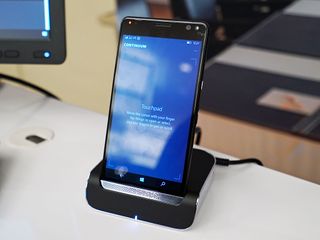 The HP Elite x3 is expected to debut at U.K. retailer Clove early next month, with retail pricing at £680 (opens in new tab). That's for the phone in either silver or black, as well as the Desk Dock accessory. The timing of the launch will likely coincide with availability of the Anniversary Update, which will be rolled out from August 2.
The Elite x3 is loaded to the brim with high-end hardware, including a 5.96-inch QHD AMOLED display, Snapdragon 820 SoC clocked at 2.15GHz, 4GB of RAM, 64GB storage, microSD slot, 16MP camera, 8MP front shooter, Wi-Fi ac 2x2 MIMO, NFC, Bluetooth 4.1, Miracast, LTE, fingerprint sensor, wireless charging (both Qi and PMA standards), IP67 and MIL-STD810G certification, and a 4150mAh battery.
Clove's pricing is reliable, and it is likely other retailers will also offer the Elite x3 for around the £680 figure. Interested? You can pre-order the phone right now from Clove U.K.
See at Clove (opens in new tab)
Thanks Rajesh!
Windows Central Newsletter
Get the best of Windows Central in your inbox, every day!
Harish Jonnalagadda is a Senior Editor overseeing Asia for Android Central, Windows Central's sister site. When not reviewing phones, he's testing PC hardware, including video cards, motherboards, gaming accessories, and keyboards.
My biggest issue with my 950XL right now is Bluetooth streaming of Groove, if this fixes that "skipping", then I might buy it. However, I'm not sure it can beat MS's camera tech. The pictures I take and compare to our family's iPhone 6 Plus is just no comparison....

You got the firmware fix and on latest insider?

I just installed the latest Production update. I use my phone for some business...so I can't get on insider...let's hope for the best.

Do you think people would give up Pokemon Go for a great phone and a great OS? Now instead of just needing a killer phone; we need a killer game.

WP is being realigned for the corporate world now, all the more reason why there will never be Pokemon on WP.
Is WP dead? Perhaps not for the geek (me) and corporate worlds, but as a consumer device, yes it's dead.

They can get a great phone and a great OS for half the price of this, which might be a nice phone but certainly isn't perceived a great OS. People don't seem to like Window phones at all. This phone will flop as fast as the Acer. Posted via the Windows Central App for Android

Well, the 950 series is good and I agree with you on this but we'll have to see how this performs compared to them before saying we can say that it is worth double.

They don't need to. The Galaxy S7 has access to Pokémon Go ;P

If having your corporate employees walking around to play Pokeman Go will increase the productivity, the game will show up quick. :-)

Walking meetings, fit employees. Not a bad idea :)

Bluetooth 4.0? Why? 4.0 historically doesn't play ball with 4G which is why they updated to 4.1. Heck even the iPhone 6s has 4.2! A premium phone shouldn't slack in some areas, all areas should be premium. That's a killer for me as I use a Bluetooth 4.1 headset!

typo, the phone comes with 4.1

Ah good good. Always typo's on WC articles these days!

Nope, the messenger that says the Savior is on the way! Waiting to surface... ;)

This is good but I would wait for the Surface phone before I decide.

Good idea ! And when the surface phone comes , the price for this phone will go down...

Quite a price for phone with old SoC and no apps.

An old SoC? You must be drunk.

Yes old. Snapdragon 821 is the new one.

It isn't in production, so the 820 is the current one.

It is in production and phones with it shipping pretty soon.

Nope. It has just been announced which means production starts soon and therefore no phone has been announced with it. It is seeding to research labs now.

http://www.theverge.com/circuitbreaker/2016/7/12/12161460/asus-zenfone-3...

Yeah, we'll see how good that does without drivers developed for it. Anyways, the point still remains. The 821 has JUST been seeded to companies which means the 820 can't be considered old.

Factor in the price to my statement.

You can bring all the hundreds of identical android phones released each day and it wouldn't make a difference. They still just run android.

Ok. Could you still explain this 100% premium vs. phones with as good and even better specs? Android and W10M are both free for OEMs. And don't give any enterprise bull, being 'enterprise' in hp case means just no marketing/retail costs so prices should be cheaper, IT departments are no stupid and pay no premium without kickbacks or being inherently incompetent.

Sure, if specs on paper is all you go by. Why do you buy Android flagships when there are low cost Chinese android phones with the same specs on paper?

I have never bought Android flagship. I currently have L1520. Waiting to see what HDM/Nokia brings out before leaving this sunk ship.

Lol, sinking ship. Sure you have. :D

Not sinking but sunk. And yes writing this comment with L1520.

vhyr have you become such a troll that you start claiming that something you don't have access to is already worse than something else that is yet to appear? Seriously what did MS do to you that scarred you so deep and emotionally?

Yeah. :D But you didn't expect more from these trolls right? Vhur, method and bleached grasping at straws as usual because their community is so boring and generic.

Even sd821 is just 10% faster,what are you smoking dude?

Sd820 Android phones are available for half the price of this plasticy hp thingy.

And? They run the wrong OS and has half the other performance.

Lol, I love trolls grasping at straws trying to put us down. :D

Yeah this will not be a soccer mom's phone... Or a hipsters, or metrosexuals, or lumbersexuals, or millenials or gamers phone. It will be business, and that's perfect... So gonna buy one... Posted via the Windows Central App for Android.. But waiting for the HP Elite so I can get rid of this junkie Galaxy S5...

The other platforms do business better. There is nothing this can do the others can't. Posted via the Windows Central App for Android

No, they don't. Made up statement. Our office 365 integration is much better and using continuum with office is so superior to anything on other platforms its almost ridiculous. But you know this already.

Spoken like the truly clueless blind fanboy you've always been. Posted via the Windows Central App for Android

Hehe, I know you like to get personal when faced with facts.

Except there are zero facts in your statement. As you'd know if you had ever used the Microsoft suite of apps on Android ;)

Love how you blast others for being fanboys. The irony.

Yeah see we really do not care what your small brain thinks...

Kinda looks like your the fanboy Posted via the Windows Central App for Android.. But waiting for the HP Elite so I can get rid of this junkie Galaxy S5...

Continuum requires peripheral hardware to be used. In that case a laptop and an iPhone gives you access to full Office, no the gimped Mobile version. You also don't have to worry about other apps that may be needed for work like local banks or other services you may use on the job. There are multiple products being developed for Android as well that allow your phone to power your laptop. http://liliputing.com/2016/04/superbook-is-a-99-laptop-shell-for-android... Windows mobile is currently the worst platform for business. The lack of apps is a big issue if you are trying to get work done and the one you need isn't available. You won't have this issue with Android or iPhone.

The peripheral being a screen... Yeah, that is hardly ever available anywhere. Haha. Fanboys grasping at straws trying to put down better technology than they have. :D

I am not sure where you go, but I usually don't see computer screens sitting around randomly with a keyboard and mouse ready to attach to your phone. This a crazy comment to make. Maybe the TV in your hotel room, but then you are having to carry around the keyboard and mouse to make it worthwhile. It really doesn't make sense for any platform. It certainly isn't superior to just carrying around a laptop. Microsoft is still stuck in 2005 before the cloud solved the issue of having your data available anywhere. It certainly isn't superior to my Nexus 6. I can easily attach a keyboard, mouse and external display. It can even run mutliple apps at once. It is superior to Continuum right now.

I see plenty of screens wherever I go and live. And if you don't even know how it works, may I ask why you are still talking about it? You obviously have NEVER tried it. Have you? Honestly.

You attach your phone to the screen with a keyboard and mouse. This has been available on Android for the last 5 years. Phones even used to have HDMI ports built in. It isn't unique or really even useful. All the screens I see day to day are already attached to PCs and never have I wanted to use Windows RT or Android instead of the full Windows experience already available. Android had started down this path years ago and realized it was pointless. A laptop is just as easy to carry around and is a far better experience.

I'm a hipster and a businessman and I'm getting one. I'm sure the others classify as business people as well depending on their professions. Besides a business person what are you?

I could buy an Xbox One and a 40 inch Full HD TV for that price... Or for even less :D But I want this phone sooooo much :D

Bit hard to text or phone using your TV tho

Remember when WP 7 & 8 were launched, there were like 6-8 devices announced in start. With Windows 10 it's really hard to choose which phone to get, and with average consumer in mind our top choice is Lumia 650. I expect to see more mid rangers coming soon. HP elite, 950 & XL are just too expensive for majority of people.

Yep, very true. Lumia 650 is a lovely device- I was holding out for the HP Elite, but with this pricing I might get the 650 after all.

The current prices of the 950 and 950XL in the UK are: 950 £319.99, the 950XL £399.99 and if correct the the HP is £680, not saying the HP isn't worth it but that price puts the 950 at under half the price in the midrange catagory. Given what people pay for other phones, the 950 is not a bad price at all for the spec and when I got my XL at the above price it included the dock as well.

And a year of Office too.

If available for Sri Lanka how much in rupees

And dont know why but the old windows central app has started working like a crap since last few days....takes ages to start and open an article..anyone else facing it

The dudes at WC learned from the unnameable fruit. They are slowly trowing gravel in the cogwheels making last gen unusable.

We don't have control over that app, it belongs to Jay Bennett who no longer develops for us.

Yeah, but I suspect it is due to latest builds. I'm on fast ring and my internet was mega poor on last fast ring release.

Since I cleared the cache, it works well again

I'm a Windows Mobile supporter and want this phone... but.... at £680?!? Hmm, sorry - I'm not going to spend more than I spent on my Surface Pro on a phone. Hope this gets enterprise support, or reduced pricing, in order to start gaining the user base in mobile we all need.

Yeah, at that price, I'm not buying. It's probably a justifiable price considering the specs, but this phone will do very little in terms of the number of general consumers coming back to or staying with the W10M platform. Even when/if the price drops, I'm afraid it'll be old news for most buyers. I like HP, though, so I hope their target audience buys this thing in droves.

No justice in that price when you can get premium handset on half the price. http://www.theverge.com/circuitbreaker/2016/7/13/12158956/zte-axon-7-day...

Your style of trolling is pretty pathetic, this is windows oriented website so gtfo.

Go buy one then. All you seem to do is post links to Android devices whilst smoking some strange tobacco. You shouldn't keep having to justify your sheep like mentality by following the hoardes (lemmings) and then troll these fine boards.. So this device is too expensive? An iPhone 6 isn't?? A Galaxy isn't expensive ( for a poorly performing OS, that requires so much power in a device to hide its shortcomings ). Anyway, I hope you soon realise that everything tech sites write, is usually because they are provided with devices and thus offer biased reviews.

android central dot com is your friend. Kindly allow Windows fans to discuss without being trolled by you.

Lol, I would get that instead of a Galaxy S7... But there is no reason whatsoever to go through the enormous pain that is Android ever again.

MUST. RESIST. TEMPTATION.

LOL
I won't, can't pay that much for a phone, but temptation is around me too

I really want that phone but that's quite a price for a college student like me..

A big price for a phone with such a large app gap.

Ease bro, forget about it. You can always buy another flagship in others platforms

And have google know EVERYTHING you get up to from web browsing, location, inside leg measurement and offer up your details to anyone who pays.

Maybe he don't care sharing "a little bit" of information with whoever pays for the services he use.

If you were better informed you'd know you can control everything Google gets about you and pretty much turn everything off. The same can't be said about Microsoft services but shhhh... Don't let reality get in the way of your blind hate ;) Posted via the Windows Central App for Android

Hate?
That's a strong word for taste and likes, isn't it?

You are a fool if you truly believe that... well actually you are a fool anyway...

They have broken their own privacy terms before so I wouldn't trust that.

There is no real app gap in Enterprise phones... So no, anyone buying this will give a rats ass about Pokemon go or snillychat or snoopychat or any of the other hundreds of useless soccer mom or social media types. So every app that someone needs in Enterprise is already on W10. Posted via the Windows Central App for Android.. But waiting for the HP Elite so I can get rid of this junkie Galaxy S5...

So are you going to get it?

You betcha... Already talking to HP Enterprise people... Posted via the Windows Central App for Android.. But waiting for the HP Elite so I can get rid of this junkie Galaxy S5...

It is very expensive. That is my issue. Yes, it does loads of wonderful things but what was the last enterprise/consumer phone to be priced at that level!?

As I expected to be honest, the price will drop a good chunk after a few weeks, and I'm sure IT departments will get some good bundled discounts, the initial high price needs to be out first to help show the great 'saving' being offered...

All those complaining about price..this phone is for Enterprise and business NOT for consumers. Price will drop and I guess with all the interest and demand HP will target consumers with a later price drop and perhaps a version 2. A Lamborghini is not going to be cheap which is what i see this phone as. Let's wait for the reviews I guess.

Spot on, enterprises will buy in bulk and at significant discount. Main enterprise apps are there and HP has a streaming solution for full desktop apps. I work for HPE now and not HP but am trying to find out if I can get this as a corporate phone over the iphone and s7 choices we currently have. It isn't aimed or marketed to consumers at all, that being said if I didn't have my 950XL then this would have tempted me though the camera might kill it for me as a personal device.

One other consideration...HP and Dell are increasing prices by 10% in the UK due to Brexit... http://arstechnica.co.uk/business/2016/07/brexit-tech-vendors-hp-dell-in...

Yay for Brexit :/ Posted via the Windows Central App for Android

There have been many of these type of 'stories' and, as yet, nothing has changed. We are still part of the EU, paying our dues and adhering to the rules. I was a stayer and I'm sick of these scaremongering stories. If Hell and HP want to up prices, I'm sure another tech giant will step in....

Yep, this is actually fact not prediction, this is due to the value of thr pound dropping. Most tech companies make thier products in China, they will have the same issues, its just one of those things, the prices will drop as the pound gains strength.

Haha...that is a crazy price. Posted via the Windows Central App for Android

Will get this for myself as a Christmas gift. Posted via the Windows Central App for Android

Why do you have yourself so much?

You mean because he is using Android currently? Maybe he wanted to try it out? No wrong in that.

Interestingly, people who use Android stick with it, hence the ~85% market share. People who use Windows phones, don't stick with it, hence the

Looking forward to the reviews.

Which is exactly what the 2 year research that HP undertook with its projected client base for this phone told them, and they built it.

I was going to buy the 950xl until I read the first user reviews. At this price I'm going to adopt the same approach, and price needs to go down to about 600 euro max, I don't see that many big improvements in comparison to my 1520 that I have too rush to buy this. I may end up waiting for the next microsoft phone, at least then I'll be sure it will get SW updates.

The 950xl is a great device, let down by the OS. When RS insider came along, the device was liberated! Mine is not the device I bought. Now its a rocket ship. It does everything better than the device I got on TH. It was seriously hamstrung. Now? RS (anniversary) and a mozo cover, it looks, feels and goes like a device a world away from my first foray. I've now got 2 xl's and 2 950's in my company.

This isn't aimed at consumers. Don't expect big price drops. Posted via the Windows Central App for Android

The 950XL has had a lot of software-related work gone into it over the months, it is now just as reliable as any other W10M device, if not more so. Now that MS have put back double-tap-to-wake, the only common complaint about it is it's plastic back - which obviously cannot be fixed by updates and never personally bothered me, I appreciate what it allows for. It started out rough and it's a shame that has kept with it, it's a solid device.

With Dell and IBM now partnering with MS in Enterprise this devise will likely dominant the business sector phone market. Business's have been waiting for a robust blackberry replacement. Ios and Android are not business focused, and have a host of IT issues. Android with privacy and Apple with a locked in ecosystem. Posted via the Windows Central App for Android.. But waiting for the HP Elite so I can get rid of this junkie Galaxy S5...

IBM actually partners with Apple.

And now partnering with MS as well... Posted via the Windows Central App for Android.. But waiting for the HP Elite so I can get rid of this junkie Galaxy S5...

As mentioned above, this is NOT intended for the consumer space. It was designed as an enterprise tool, hence the less than desirable camera (but still not bad). Enterprise will probably get a sizeable discount commensurate with the amount of devices purchased. MSFT did say that Enterprise is where they are heading, and Win10M does appear to confirm that. I use W10M in an enterprise environment and it is way ahead of other OS's. The integration is flawless. I have the chance to put an order in for these, but I doubt I could order enough to justify the savings I could potentially make.

Unbelievable.
Time and again people were warned this WASN'T a consumer oriented device and that it would NOT be cheap.
Yet they're still here, whining that the phone is "too expensive". Posted via the Windows Central App for Android

You are correct, it was never a consumer device, they were "warned" I guess, and it is expensive... that said you are still a trolling ass hat.. so nothing has really changed...

For once I agree with you. I expected it to be even more.

Exactly when I heard Enterprise pricing I thought a couple of hundred thousand pounds each.

Isn't there something else happening on August 2nd?... Hmmm. One picture at a time -- LG V10

The specs are off the roof, wow at that price

Hp should market this baby like crazy, tell the World that windows still rocks on mobile

Considering that well marketed phones with same internals + premium housing and better camera sell for half the price these days perhaps there is a massive huge marketing budget included in the price of this phone.

Not much better than 950xl but it is better spec except for cam. If i didnt own 950xl this would be nice alternative. Surface phone still far away. And when those are released, I'll be interested in what can and can't work with universal apps since win mobile is on app retreat. That said, I'm sticking with win phones. I love one account for my everything. Xbox,pc, and phone. ☺

Well, this will be my next device. Had a chance to play with it, the dock and the extender a bit and I have to say, I haven't seen anything else coming close to productivity on the go. Even ran photo shop via workspace and while I certainly wouldn't recommend 3d rendering with it, the performance wasn't all that bad.

A laptop and phone will be much more productive on the go than a phone and an extender. Especially if you need x86. Posted via the Windows Central App for Android

I ran x86 apps just fine. No need to boot up a laptop. Works for me

We will see how that works, but still, what is the point when you can just carry an actual laptop? Posted via the Windows Central App for Android

Maybe you just don't travel enough to get that

I travel all the time for work. I don't see why I would want to carry an empty laptop shell when my Surface Pro is smaller, faster, runs full Windows and is sef sufficient. Basically, why have a 1 in 2 when you can have a 3 in 2? It is solving a question no one is asking.

It is only one device although you are carrying 2. One of the devices cannot stand alone. Without the phone, the dock is useless. It is a 1 in 2. Either way, I have still not heard a good reason for it.

Goes so much deeper then that. For instance it can wireless connection to large displays, so you can run a presentation direct with nothing else. Now let's say you need to make a minor edit to that presentation, whip out the clamshell interface... Expand your thinking. There are like many more potentials. My company is likely going to dump Android and ios for this for our road warriors and field techs. Bundled with hp for surfaces as well. Our it department could not be happier. In the real world, business, beyond shoe salesman and McDonalds workers there are real advantages. Posted via the Windows Central App for Android.. But waiting for the HP Elite so I can get rid of this junkie Galaxy S5...

No disrespect, but you seem to argue from a consumer point of view. Here is how I see a typical setup. One dock hooked up at the home office. One dock at the corporate office and the extender in my mobile office in my car. All I really ever carry around is my phone. All my data is with me at any given time, at my finger tips. That is the new way of working.

Unfortunately there's no HP Mobile Extender available for pre order there yet. That's all I'm interested in. I'd rather keep my Lumia 950 but the Mobile Extender is exactly what I'm looking for.

That is a lot of money :/

The price is quite high. What type of corporates would invest in that for a phone? I understand the high specs stuff, but the cost might confine the phone to board room meetings

Corporations buy in bulk and pay a lot less. On top of that, for many employees, this can replace a laptop or desktop, so the investment isn't that high. Besides that a corporation safes money by only having to manage a single device, not two or even 3.

Still cannot do x86 apps...

Funny, I ran full photo shop via workspace...

I have been in talks with my hp Rep for about a month now on the elite and I am geared to get it as soon as it's released in Canada, along with the dock, clamshell laptop mouse and keyboard... Don't know or care what the price is. Posted via the Windows Central App for Android.. But waiting for the HP Elite so I can get rid of this junkie Galaxy S5...

If you go to the HP Livestream here https://www.facebook.com/CDWCorporation/videos The Name of the video is Let's #DitchTheDesk with HP and CDW now! which was done recently Sal of Hp states at 6:39 they start talking about the HP Elite X3 Sal of HP at 11:55 and on states that the HP Elite X3 by itself without the desk dock is $699 USD. Then he states if you want the dock as well it will cost you $799 USD.