HP Elite x3 gets a price cut in the UK
The best Windows phone you can currently buy is certainly the HP Elite x3 and if you're in the UK it just got a little more appealing.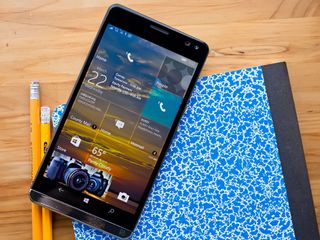 Spotted by the eagle eyes at Neowin, HP has cut the price by a not insignificant 18% to £549. You'll also get the Desk Dock thrown in for your money, which continues to be a great sweetener for some Continuum action on HP's enterprise focused smartphone.
There's no indication that this is a limited time offer, but equally, HP is known to jump the Elite x3 price around like a cat on a hot tin roof. It's still a lot of money to spend on a phone that's over a year old, but if you're eying up a new Windows phone there's not exactly a lot to choose from.
And compared to the £420 asking price for the Alcatel Idol 4 Pro, this latest price cut makes the Elite x3 even more appealing. Grab it while it's hot.
See at HP (opens in new tab)
Richard Devine is an Editor at Windows Central. A former Project Manager and long-term tech addict, he joined Mobile Nations in 2011 and has been found on Android Central and iMore as well as Windows Central. Currently you'll find him covering all manner of PC hardware and gaming, and you can follow him on Twitter and Instagram.
It's a great phone, but at that price I'd but a cheap Lumia and a laptop instead.

Laptop doesn't fit in your pocket though does it ;-)

There's also £150 cashback!

No, but neither does that monster of a phone. Unless you're wearing cargo pants.

Thats just not true. I used to carry one as my daily driver for months, untill I busted its screen, and never had any problems putting it in my pockets. and I wear slimfit and skinnyjeans too!

You need to stop wearing skinny jeans my friend! I've never had any problem carrying any phone in a pocket. And I've had some pretty massive ones in my time.

The X3 IS a laptop and phone! 🤓☺😎

I've had mine since the Christmas sale last year, still loving it, it's a great phone!

It does look great. If i didn't have my 950 I'd probably be tempted. To be honest even though I know the potential risks I'm half tempted as a business purchase if the sale lasts into next week when some big invoices come in 😁

Scott, what did you have before the X3? Was it a 930,950 etc? If so how did you find the switching of camera to a non-Lumia? I think the camera button is something I'd miss. Wish there was a shortcut to launch at least, like double tap power when locked

I'd left Windows Phones quite a while ago and had a several year affair with Android... Specifically Samsung's which were getting worse and worse with each iteration for the bloatware. I came back to Windows initially with a used 950XL that had processor issues and bought this. Haven't looked back. My last phone before coming back to Windows was a Galaxy S7.

As for the camera, I honestly haven't had any issue but since I'm a photographer and own professional cameras, I'm not one to bother with phone cameras much.

Silly question, but what do you do on it that you couldn't do on a phone that was half the price?

More tiles on the home screen, fingerprint + Iris, see more on screen when composing messages etc. Not much functional difference but numerous convenience improvements. Continuum for those who use it. It's pretty useful at times on my 950 and it works noticeably smoother on the X3 due to the better cpu

HP coded a bridge to use some desktop software on the eliteX3 via their cloud.

It's not a bridge bit i know what you mean 👍

Not too bad of a purchase if you're happy with W10M and won't care if any apps go between now and a year or two. I don't think MS will stop pushing Outlook Mail, OneNote,Groove etc updates to W10M anytime soon. Maybe after the second update in 2018 at the earliest as they may just stop maintaining compatibility by then. I doubt they'd just drop support for 15xxx PCs so soon though so as long as that gets apps Mobile should in theory

The day W10M stops getting updates to MS apps is probably the day 15xxx and older PCs stop getting the updates. In other words not anytime soon

You know, phones are simple to code for. You can just write your own and side load them if there isn't one in the store to do it. With so many APIs out there a lot of the hard stiff has already been done. The so called app gap is 80% games, bus timetables and chat apps anyway.

Sorry Arrgh Zombies, the app gap is not 80% games like you suggest. Its 90% of what i use every day on my iphone....that is either not available on windows mobile...or it's broken or a shatty webwrapper. stop spewing nonsense.

Yep. I find way more than enough apps that are super productive for me.

Getting closer my price point! $200.

It'll never be $200 in the UK. Ever.

There's also £150 cashback so close to £399 in the UK

Or shows for me and says through July hmm

https://hpcashback.com/gb/en/pages/cashback-elitex3/terms

big fan of windows phone but wouldn't buy a new one if was was £0.99. If/when my Lumia 950 dies that'll be it for me.....either I'll have a windows on arm mobile device to consider or it'll be time to try android. Microsoft have moved on from W10M. Maybe windows on arm will give them more mobile success.

True . And they won't .they lost us , forever . And seems they don't care .

If this was 0.99 you could buy it and sell at a healthy profit.

Old but gold question, does anyone know if this device supports glance screen? My only reason for liking windows phones over others

It does not. I wish I had a 950XL over my x3.

That's a shame, i missed that on Lumia 930, and use it regularly on my 950, Samsung also have it on their phones these days. X3 battery life is supposed to be a lot better than the 950 from what I've read from Daniel Rubino etc. here - The 950 definitely can't last all day, but swappable batteries and working at a desk make it a lot less of an issue

Wireless car charger is what does it for me. I always make it through the day.

It's been a terrific phone for me. I've had no problems with it at all. I do wish there were more accessories though. I'd purchase one again.

What about the SD card issue and the annoying camera sounds. Drives me crazy...

Can't you turn off the camera sounds? The 950XL has a sound as well for the camera, but I turned it off. Also, I'm not familiar with a SD card issue on the X3, what is the issue that you saw?

What did you have before the X3? I'd miss Glance but the battery life is supposed to be a lot better than the 950

The battery life is phenomenal on my X3. Unplugged it this morning at 5am, it's now nearly 3pm, had a few calls on it, a bunch of texts, read quite a few news articles, used Flipboard for a while, did some reading on Kindle, threw a few lol's and likes on Facebook and I'm at.... 89%.

I sleep around 6 hours ish most nights if I get to sleep on time and I lose 10% on my 950 with it just sitting there overnight lol

That's what my 950XL was doing too, not to mention the constant freezes, had it checked out and I was told the processor was on the fritz. The X3, I'll plug it in tonight around 10 or 11pm, and it will probably still be in the 70's for battery percentage. I've had a lot of phones, a LOT of Androids. None of them could hold a candle to this thing for battery life. I used to always sweat the battery life thing... keeping power packs with me at all times, bought a really nice 10k mAh power pack, I've never had to use it with this beast.

Indeed. Otherwise, nobody would buy it. And, even with this, only %0.1 of customers are likely to buy it. Way to go, Microsoft.

Thanks, think this will be my new phone!
Windows Central Newsletter
Thank you for signing up to Windows Central. You will receive a verification email shortly.
There was a problem. Please refresh the page and try again.