HP Elite x3 Holiday Bundle drops even lower to $999 at the Microsoft Store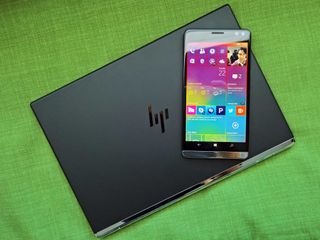 (Image credit: Windows Central)
The HP Elite x3 is the best you can get these days for a device running Windows 10 Mobile. The Holiday Bundle at the Microsoft Store gives you the complete 'x3 experience' with the Elite x3, Desk Dock, Lap Dock, Elite Case, and even a screen protector.
For some reason Microsoft had the price for the Holiday Bundle set for $1149, but it has now dropped even lower to $999 for a total savings of $462. Considering the Elite x3 sets you back $799 for the phone and Desk Dock that means you can get the Lap Dock for just $200 extra (plus a case and screen protector).
Tossing $1000 at a Windows 10 Mobile setup is still a lot of cash, but there is little doubt about the saving here if the Elite x3 system was something you were eyeing.
See at the Microsoft Store (opens in new tab)
You can read my full review of the Elite x3 for more information or jump into our Elite x3 forums to see what others are saying.
Stay tuned for early this week for my video unboxing and review of the Lap Dock as well and get more deals from the Windows Central Gift Guide
Thanks, Cody H., for the tip!
Daniel Rubino is the Executive Editor of Windows Central, head reviewer, podcast co-host, and analyst. He has been covering Microsoft here since 2007, back when this site was called WMExperts (and later Windows Phone Central). His interests include Windows, Microsoft Surface, laptops, next-gen computing, and arguing with people on the internet.
That's a great deal! Warning though, my x3 often crashes when using the dock. I'm sure one of these updates will eventually help, but just wanted to let everyone know. That said, when it works, it's fantastic. Also, remember customizations and real windows are coming to Continuum soon, so this will only get better.

Running RS2/Insider Fast? I noticed crashing with Insider builds/RS2, but not Production.

14865.1001 (Insider Fast) - Firmware at 0014.0100 (Not seeing the update, and don't feel like resetting the phone again)

unless someone tells me it fixes the crashing. BTW, I also see similar crashes with the Folio Case.

Instead you should be warning people not to run beta software.

Exactly, you are running beta software, what do you expect ;)

I'm aware I'm running beta software, and that's exactly why I said "one of these updates will eventually help" instead of "this phone is a piece of ****". See the difference? ;)

Haha I love this response! It seems to be an awesome device and I would throw money at this deal if I had any to throw :P

HP site jst dropped their price to $699

Damn, this might be too good to pass up on.

Hopefully the x3 alone is offered in this deal soon. I'm not too keen on the lap dock right now. Since I already have the 950XL dock, I'm only interested in the x3 alone in this deal. Maybe by year end??

Does the lapdock work with any continuum enabled phone?

Brilliant, might pick one of those up for my 950 then. Cheers!

Daniel - Were you able to make the Lap Dock work with the USB-C connection? It only works with Miracast for me on my 950.

you can also use a surface pro 3 or 4 to use the continuum feature.

I own the x3 and its an ok phone since this weeks firmware update. But price quality wise the 950xl is a better deal. It looks like hp is supporting the phone really well, so i hope they bring some unique improvements to the table. If not the phone is overpriced for what you get. It would be a great phone if it was priced 200 € lower.

dont worry, if they want to sell some units, they need to drop the price.. and they will do it.. at least to get ride of the stocked units its still "just" a WM10 phone with ZERO interests from new users or companies :))

its still "just" a WM10 phone with ZERO interests from new users or companies :))

You really need to stop acting like you know what you are talking about "pappale". You're a random guy in comments, not an authority on this topic or HP.

I think he is (channeling) wpkevin

LOL and you are just because they give you a free unit and a few quips, to market the product. I appreciate your site but dont see how your opinion is be all and end all. Given HP track record iwth mobile and combine it with MS, other than a very optimistic view most others wont see it flying of the shelfs even if its targeted at business, were the case for it to run proerly is higher than with consumer, right now x3 has more potential with enthusiasts than bussiness.

And how would you know if an enterprise/business device is flying off the shelves?? Do you expect enthusiasts run out and buy a full rack of servers even though its targeted to business?

His comment isn't well written, but to the point, is there any enterprise interest in this device? It was announced, what, back in Feb 2016? Two of the largest tech companies team up to create a flagship device, but beyond a few mentions of a few companies 'piloting' the device what evidence is there that anyone is interested in it? More to the point, at what point can we judge this device as a success or failure (or something in between)? Obviously it's not going to ship in iPhone numbers or anything approaching that whatsoever, but what's the reasonable expectation of success for the Elite x3? A few hundred thousand units? A few small-cap companies adopting it? Something less? Something more?

Last warning, Pappale. Stop this blasphemy.

I'm holding out for an unlocked Alcatel idol 4s. Keep an eye out to see if Microsoft adds Device Recovery Tool support.

I'm sure that they will in a bit.

I want the desk dock and lap dock, but not the phone haha. I still like my 950. I'm hoping both will work with the 950. Has anyone tried to mate a 950 or 950XL to the X3 dock?

It is too specifically made for the X3 😐 I wish it would work but no dice, I tried. Achieving good contact requires some modifying/damaging

Hmmm, I am not afraid to damage stuff to make it universal haha.

Which start background it is in picture? Can anyone send me please.

Is the x3 worth investing in over the 950xl I already have? There's 15% off in the UK HP site at the moment meaning phone and dock for just under £600, but that's a lot to drop if the improvement isn't drastic - buy best UK deal I've seen so far!

Really tough call. I think it's a better phone (better battery, improved hardware, etc.). The camera is not nearly as good, but good enough for myself. It is expensive, so hard to call it a 'deal' too. Then again, for $1000 you're getting a lot of "stuff" here.

Thanks for the reply Dan, if the lapdock were included in the UK I'd be more tempted but there's no mention of it on the HP store. It's crazy, but in some way a good thing that after a year of the 950xl in pocket not much out strips it spec wise. (someone eagerly pointed out how good the Google pixel looked the other day and I was smugly satisfied that the 950xl out did it in almost every way) I love the 950 but quite fancy an upgrade after 12 months, bit the step up doesn't quite seem worth. £600! Just yet!

I'm sorry but the 950XL does NOT out does the Pixel in most things. The 950 has last gen processor, less RAM, not as stable software experience, app gap, slower camera experience, slower software experience.

Keep your 950xl. I returned my x3 couple of weeks ago at Sydney store. I wasn't happy with the phone considering its price. To me 950xl is still better amongst the least.

Thanks,I think I'm feeling the urge to upgrade having the 950xl since release. The x3 looks phenomenal but not quite worthy of upgrade just yet!

Thanks,I think I'm feeling the urge to upgrade having the 950xl since release. The x3 looks phenomenal but not quite worthy of upgrade just yet!

No way...your 950 xl is just fine.don't waste a fortune really for nothing.The X3 has nothing to justify that price! Look at Idol 4s, same specs as x3 but smaller screen and almost half the price...HP must be smoking something really good

I wish they sold the Desk Dock cheaper. The NexDock was only $140.

Agreed I never understood why it was priced so high even if the device is business focus $299.00 would have been perfect giving them a wider audience like schools where they could of use these to replace Chromebooks

Just bought it - can't beat that price....!!

Want one. Can't afford one.

I just gave up and bought a BlackBerry Passport SE. It seems faster.

Honestly I would wait for next years processor and Continuum 2. The 950 performance was terrible.

At this point i'd rather have an Intel Stick, NexDock and a Lumia. The mobile version of Office sucks. Continuum is really buggy and lacking apps.

Continuum works well with my 950XL. Although, I do agree that most apps are not Continuum ready.

Hw can i get that background wallpaper? Plz tell me guys..

Just bought this, but I might just keep the Lap Dock for my Lumia 950 XL, which works fine with it. Cool to try out the phone, but I don't really need the HP Elite x3. Could use the money for other things...

I just returned the x3 out of necessity not dissatisfaction. The black Friday deal on the 950xl was to good to pass up as my daughter and I both need new phones. She is going into the 950 and I will take the xl.
I went from a 1520 to the x3 and didn't see much of a difference..... Until I just went back into the 1520 yesterday, man do I want the x3 back. It is really fast, smooth performing, and felt great to use.
Im hopeful the 950xl will be the same way.

You'll love the XL , has tap to pay also

I'm thinking one of these days I'll get to experience tap to pay. Hello... Chase??

Chase isn't available on android pay either

999$?? :)) why on earth would I buy this instead of an idol 4s or 950xl + a decent work laptop. HP has really gone full retard

Will the X3 be able to run the X86 emulator that Microsoft is rumored to come out with next year?

I don't know, but I hope that all continuum capable phones will be able to do it. At least my 950 XL, not that I would use it too much, but just good to have it there if needed. also, I wouldn't spend that much on this X3, the Surface Phone specs have been leaked by trusted sources and the fact that it is in works by MS.

IMO, the 950xl, dock and nexdock would be my pick as well. I just like the 950xl phone.

I might consider the Lapdock if HP decides to come back to earth with the pricing for that thing.

You can plug your continuum enabled phone into any PC and use it as a full laptop or desktop via the windows connect feature. If you have a surface pro or another windows 10 laptop, the HP lapdock is a waste of money.

Why on earth would you connect a phone to a computer to make a phone act like a (wait for it....) computer???

Typical! I missed this deal. I will need to wait for it to come again. :-(
Windows Central Newsletter
Get the best of Windows Central in in your inbox, every day!
Thank you for signing up to Windows Central. You will receive a verification email shortly.
There was a problem. Please refresh the page and try again.