HP Elite x3 Tip: Grab some Quick Charge 3.0 gear!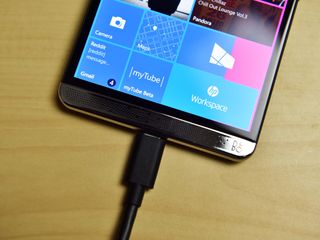 In my recent review of the HP Elite x3, I mentioned about support for Qualcomm's Quick Charge 3.0 technology. That's the good news. The bad news is that the included wall charger supports only Quick Charge 2.0 (the Desk Dock, however, is 3.0).
HP likely did that to save some money, and let's be honest… Quick Charge is still Quick Charge. Nonetheless, if you need some chargers for the car, wall, or even a multi-charger here is what I am now using.
What's different about Quick Charge 3.0?
Quick Charge 3.0 is part of the Snapdragon 820 chipset (it's also supported on the Snapdragon 430, 617, 618, and 620). The Lumia 950 and Lumia 950 XL are Snapdragon 808 and 810, respectively, but use USB-C fast charging instead of Qualcomm's Quick Charge 2.0.
I should point out that the biggest gain is going from a regular (non-Quick Charge) charger to Quick Charge 2.0. That is where a significant jump in speed happens. The jump from Quick Charge 2.0 to 3.0 is...less dramatic.
What is different is the charging efficiency specifically INOV (Intelligent Negotiation for Optimum Voltage) in Quick Charge 3.0. Quick Charge 2.0 supported four modes including 5 volts/2amps, 9V/2A, 12V/1.67A, and a 20-volt option. INOV in Quick Charge 3.0 can request any voltage between 3.2V and 20V at 200mV, giving a wider range of current.
This efficiency also helps keep the battery cooler due to less dissipated (and wasted) energy as the charger adjusts the current dynamically. A cooler battery means a longer lasting battery. This is also why the last 20% takes longer to charge and why you'll usually only see references to the first 80% charge in Quick Charge 3.0 stats.
You can see HP's estimates for battery charge rates below compared to the Galaxy S7 Edge, iPhone 6s Plus, and iPhone 7 Plus. Note that the Desk Dock is the fastest due to Quick Charge 3.0 support, where the one in blue is using the Quick Charge 2.0 wall charger.
Using Quick Charge 3.0 the Elite x3 hits the 80% about 10 to 15 minutes faster than Quick Charge 2.0. In real life terms, HP explained it with these numbers using ten minutes of charge time:
| 10 Mins of Charging | Quick Charge 2.0 | Quick Charge 3.0 |
| --- | --- | --- |
| Percent gain | 14% | 16% |
| Talk Time | 2.5 hours | 3.5 hours |
| Web Browsing | 72 mins | 90 mins |
As you can see, Quick Charge 3.0 is nice, but not dramatically faster. Still, if you need to buy some charging accessories, you might as well grab ones that support Quick Charge 3.0 for some extra speed.
For a real world test I drained my Elite x3 until it shutdown. I then charged the device 0% to 80% and it took exactly 70 minutes using Quick Charge 3.0. The Elite x3 eventually hit 100% in 97 minutes, which is even faster than HP's estimates.
That's impressive when you consider the Elite x3's battery is 4150 mAh.
It is also important to note that Quick Charge 3.0 is backward compatible with 2.0 and 1.0. You can even use it with non-Quick Charge devices, but you won't see any charging speed gains.
Aukey QuickCharge 3.0 Accessories
When you're looking for Qualcomm Quick Charge 3.0 chargers you'll want to find ones that are properly certified for it. And preferably those that have good reviews.
Your brand of choice may vary, but I mostly lean towards Aukey. They get overall positive reviews and come with a 2-year warranty, they offer a wide selection of Quick Charge options at affordable prices, and as an added bonus their packaging is simple and fully recyclable.
Here is what I am using now with the HP Elite x3.
Aukey CC-T8 Car Charger with Dual Quick Charge 3.0 Ports
The Aukey CC-T8 is a no frills car charger, but it does sport two Quick Charge 3.0 ports, because why not? There's no LED light, which I would have preferred, but at $20 I'm okay with this oversight.
The ports will push out 2.4A individually, but using the 3.0 standard it will vary the current more efficiently. It's short, it's black, it's a car charger. Not much else to say. Although I should mention it does not come with a Type-C cable (do they ever?).
See at Amazon (opens in new tab)
Aukey PA-T9 USB Wall Charger with Quick Charge 3.0
Again, this is pretty basic. A simple one-port Quick Charge 3.0 wall charger.
It's a little wide, so be wary if you are putting into an outlet extender and it's not particularly pretty, but it comes with a two-year warranty and is certified for Quick Charge 3.0. Plus it's pretty affordable at around $12 (though, again, no USB-C cable included).
See at Amazon (opens in new tab)
Aukey PA-T11 Charging Station (Dual Quick Charge 3.0 Ports & 4 Ports USB)
The 60W PA-T11 Charging Station is no joke with two Quick Charge 3.0 ports and four regular USB charge ports that run at up to 2.4 amps. That's a lot of power choice.
I use this charging hub when I'm traveling so I can keep the inevitable multiple phones and wearables I'm carrying charged. Though this would do perfectly fine as a home or office charger as well. If you have a lot of USB devices you need to keep charged (who doesn't?) this is a good choice thanks to its relatively small size, and the 2.6-foot AC power cable makes it easy to use regardless of where you plug it.
At around $32 the PA-T11 Charging Station is not cheap, but it will likely last you a at least few years — and remember, you're getting six charging ports here. Since it is backward compatible with Quick Charge 2.0, you can use it for older devices and grow into it. That is until Qualcomm Quick Charge 4.0 comes out some day…
See at Amazon (opens in new tab)
I should note that CHOETECH has a similar Charging Station (opens in new tab) for the same price, but it has an included Holder Cradle, which looks kind of cool.
Finally, remember that none of these chargers come with a USB Type-C cable (though they do come with a Micro-USB one), so make sure to grab a few extra ones when you check out.
Do you have a favorite Quick Charge 3.0 certified charger that you want to recommend? Let me know in comments, and I'll give it a try!
Daniel Rubino is the Executive Editor of Windows Central, head reviewer, podcast co-host, and analyst. He has been covering Microsoft here since 2007, back when this site was called WMExperts (and later Windows Phone Central). His interests include Windows, Microsoft Surface, laptops, next-gen computing, and arguing with people on the internet.
"The Lumia 950 and Lumia 950 XL are Snapdragon 808 and 810, respectively, and max out at Quick Charge 2.0.", but the 950 & 950XL do not actually have quick charge enabled at all (even though the chipset supports it), instead going for USB-C fast charging, which is a different standard.

Ah, right! Forgot about that.

Does the Elite X3 support the "normal" USB-C fast charge then? Sounds like from the Google Pixel advert "70% charge in 15 minutes" that it's using the same as the Elite X3

No. A phone can either support one or the other, not both.

I actually bought Quick Charging wall and car chargers from TRONSMART and they're great. :)

Really? I was looking into this when buying a mobile car charger (I got a QC2.0 one), and some stat pages for the 950XL said fast charge, other said quick charge2. I think MS own site said the latter..damnit I bought the wrong **** then!

I really doubt MS advertises QC2.0. I have never seen this myself. If you find anywhere, post a link.

Hum I have an 950 and didn't know about that... It charges very fast with the original charger thought. But if I want to buy an second charger what specs should I look? Also I'm just about to buy an wireless charger to keep in my office desk but I'm confused now; some of them are "fast" chargers, this "fast" capability works with my Lumia 950?

I got a Seneo fast wireless charger and paired with the Aukey QC2.0 chager I got 9V and 0.8 A while charging my Lumia 950 XL. Also 5V and 1.5A if I use the Aukey QC2.0 charger with a USB-C cable. I would like to get my hands on a second Microsoft charger.

It's hard to find an OEM charger for the 950. I don't know wtf MS never listed them in their store.

Only use OEM chargers if you're too cheap to buy high quality products like Belkin, Aukey, Tronsmart, Logitech, etc.

Lol no. The OEM charger is awesome, built like a tank and charges very fast.

The 950/950XL only supports Fast Charging, so ignore anything with QC. OEM chargers are still best, but for generics, you're looking at 5V/3A USB-C chargers. As far as wireless chargers go, I don't think Qi has a standard for fast charging (Samsung added its own extension), so any Qi charger would do (but like your typical USB charger, there's still a rating for how much current it pulls out from the wireless interface).

USB-C fast charge works with the in-box charger really well and I've also noticed that my Anker 5-port charge seems to work just as quickly.

Yea I also bought 5 port (usb-c, 4xusb-a) and it charges my 950XL as fast as the OEM one

Buy one with USB-C fast charging. Tron smart has chargers with both QC and USB-C fast charging ports

I prefer the Anker chargers in general.

Anker makes some good stuff too.

Dan, your recent interview with that guy at HP was superb. Hr seemed to handily avoid those hideous corporate buzzwords, and instead talked in plain English. Sounded genuinely stoked to be doing a Windows phone. Glad he sees potential in it. As for quick chargers, which ones also allow the 950xl to charge fast? Are there any that support both standards? Seen some real good Anker ones, but not sure about the compatibility. And man, I would buy a HP phone, as they seem to have made a great product.

So Dan, what is USB-C fast charging and does it differ considerably in terms of charging speed vs QC 2 & 3?

that should be in a separate article explaining all the different wired/wireless charging standards and how people can charge devices.
@Daniel_Rubino

Bing USB-C fast charging vs Qualcomm Quick charge. Not much significant difference.

Daniel. What about the HP wireless charging pad? Is that QC 3?

I believe that is still, like many other wireless charging pads, only QC 2.0 (mostly for safety reasons)

Dan, review a few tronsmart chargers (wall and car). I like them because some of their models come with both Quick charge 3.0 and USB-C fast charging ports.

Eye opening and informative +1020

Didn't I tell you back then that it was the end for QC and PD was the future? Qudos to the Nokia engineers (that Satya fired) for having introduced the world's first PD fast charging based phones back in 2015. They did a lot of other world firsts with Lumia, that no one cares to remember. Only if it were not for the new leadership at that time, Myerson would be remembered positively in History today.
Windows Central Newsletter
Get the best of Windows Central in in your inbox, every day!
Thank you for signing up to Windows Central. You will receive a verification email shortly.
There was a problem. Please refresh the page and try again.