HP Envy x2 with ARM shipping date pushed back to March 23
Preorders for HP's Envy x2 Always Connected PC are now set to ship March 23.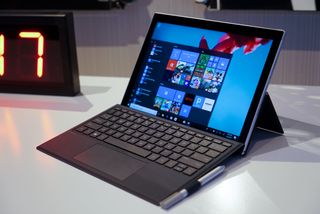 If you were hoping to get your hands on HP's Qualcomm Snapdragon-powered Envy x2 early in March, it looks like you'll be waiting a little longer. Despite going up for preorder late last month with an estimated March 9 shipping date, HP has now pushed the shipping date back to March 23 at its online store (opens in new tab).
Though it will be shipping a little bit later than originally estimated, the Envy x2 is still up for preorder at $999.99. For the money, the Envy x2 packs 4GB of RAM, 128GB of storage, and a 12.3-inch 1920x1280 display. The overall package resembles Microsoft's Surface Pro, with a similar detachable keyboard and kickstand on board. HP also includes a stylus, so you can begin marking up documents right out of the box.
What makes the Envy x2 stand out from the pack, however, is that it's one of the first Windows 10 devices powered by Qualcomm's Snapdragon 835 platform. That should bring a big boost to battery life compared to similar Intel machines – HP is estimating up to 22 hours – along with instant-on and a persistent LTE connection.
Qualcomm recently announced that a number of major mobile carriers around the world will support Always Connected PCs on their LTE networks. Amazon, the Microsoft Store, and several regional retailers are also signed up to stock Always Connected PCs this quarter.
If you're on the fence, Windows Central will be reviewing the HP Envy x2 as soon as we get our hands on one. It's also worth noting that the ASUS NovaGo, another Always Connected PC, is expected to arrive soon as well. Otherwise, you can preorder the Envy x2 from HP's online store now for $999.99.
See at HP (opens in new tab)
Windows Central Newsletter
Get the best of Windows Central in in your inbox, every day!
Dan Thorp-Lancaster is the former Editor-in-Chief of Windows Central. He began working with Windows Central, Android Central, and iMore as a news writer in 2014 and is obsessed with tech of all sorts. You can follow Dan on Twitter @DthorpL and Instagram @heyitsdtl.
I'm sure nobody here will overreact to this news.

The 3 people who ordered one might.

I guess we need to wait for second generation products rollout for more exciting value for money mid range products running on Windows on arm.

Double what it should be.

If people buy $1000 iPhones. Why wouldn't they but $1000 window tablets? All the tablets I have used in the past and the Surface 3 were underpowered and useless. But I do prefer my Surface Pro

This will likely be similar in performance to a Surface 3, in 2018, at twice the price, running Windows Lite. Good luck with that. They haven't realised any sort of reviews yet for a reason. They were supposed to ship this week, and we haven't even seen an in-depth hands on!

Can't take my calls yet. Not interested yet. I want this...just not in the nerfed state it is in. As soon as one of these darn things enables telephony and handles all my SMS, I'm in. All in.

If Skype was in better shape for phone calls and messaging, that would work. However, Skype still keeps its own contacts, integration between Skype and your other contacts is nearly impossible, messaging is hit-or-miss at best, so another Microsoft service, the Service Expert Nadella, hasn't bothered to fix in 4 years. To be fair, Ballmer just bought it and shoved it in a corner for 3 years. Anyway, I thought Skype might get some love with the new eSim and "Always Connected" PC's, but I guess not. :(

Reminds me of the Lumia 950.. Pretty late to wow the people with a SD835.
"Even my phone is more powerful than this do called PC." I can already hear it.

There's this another factor you forgot. A device is only as powerful as its OS.

Why does it bother you, that a lousy android phone is potentially more powerful on paper?

March 23. Just two more weeks from now. I do believe in this product category. Would have been better if it had a Snapdragon 845 though.

I still do not understand how someone will spend $1000 dollars on a PC that have 4GB of RAM.

Suppose that's the price that comes with early models of a new type of device... Honestly I wouldn't pay for it either but I can imagine there's definitely a market for these kind of devices at this price. In due time, prices of ARM powered devices will drop just as laptops with an SSD dropped in price (remember how much those cost at the beginning). That's just how new tech works.

Although I agree with you, for me in terms of technology I do not see much of a difference. We have the same form factor here. The only deference if that this laptop is using Qualcomm's RMA tech (and all the benefits that comes with it) I mean, this is not the surface phone or a new form factor, this is my own opinion of course but I do not see way this have to cost that much.

I am actually waiting for the 8GByte model, but $1000 for 4GByte would have been fine too - its less than iPad Pro LTE.

But it doesn't have anywhere near the ecosystem of and iPad unless you want to run legacy programs. Performance and capabilities are also unknown. $1000 is way too much. Needs to be at most $399 for this device.

How do you know that the devices ordered 2 weeks back are not shipping today?

No review yet? Who wants to take bets that this won't ship in March at all?

Very excited to see how the performance is and how the market grows. I'd love to see more of them pop up and compete to drive the price down further

Waiting to see how it performs and if the battery life claims are even remotely accurate. Until then I'll avoid ARM on Windows.

haha, nobody will buy this ... ARM and 4GB ram for 1000$?? are u serious? arm powered windows tablets should be for 400 - 700 not 1000, ipad is tjen much better choice lol

iPad and enterprise (world wide) business solution?
Don't mix.

That is a very 2006 mindset. Remember when Microsoft said that about the iPhone?

Not even remotely comparable. The iPad is not an Enterprise level device and does not have the functionality needed for something like that. Yes, $1k is too much for this device here but, still is an interesting device, nonetheless.

I forgot, Windows tablets are the biggest in Enterprise. Anyways, I wasn't talking about the device, but Microsoft's attitude. The same attitude that ran them out of mobile. Is Enterprise interested in Windows Lite?

Does the Enterprise want to put this in the hands of the front-line mobile workforce? Consumers? Self-employed? Ever walk into those stores where the sales force is walking around with a "custom" tablet? I paid about $1000 for my SP. But more with keypad and pen. Works great for me. I did buy two docks, two screens, two wireless mouse/keypad. I put one set up in my house and one in my office. Much more productive and easy to go on the go. Now that my back office operations are performed on a cloud-based system, I can travel anywhere and use the SP mostly through wifi, but I can tether to my 950. Mobility is a good thing. I realized my mobility was worth the cost of the extra equipment.

This device reminds me of the netbook craze that there was about 7 or 8 years ago. When netbooks first appeared they were much smaller than laptops (They were the 8" tablet of the time), they had good battery life, an invitingly low price tag, and they ran full fat windows. People I know couldn't get enough of them, and they were hailed as the next big thing because they were affordable, accessible, and were just right for righting emails or browsing the internet. But it wasn't long before people started trying to push the boundaries of what a netbook could do. They wanted to run professional sized spreadsheets, or databases, they even wanted to game on them. They quickly hit the power ceiling, even when browsing the web they found that they couldn't open as many website at the same time as they wanted. Quite quickly people migrated to more powerful devices. Either expensive ultra portables or regular laptops. The netbook faded and it's market (emails, web browsing) was eventually swallowed up by tablets and phones. I see the same thing happening with Arm based tablets. People will rush in to buy them because of their portability and their low battery usage, but I predict that a lot of early adopters will quickly hit that performance ceiling. Particularly when they realize that they need a specific browser plugin that only runs on a web browser that has to be emulated, or they have to use a specific piece of legacy software, or they want to use an industry standard package that isn't available in the Windows store. Their ARM based tablets will be dumped in favor of Surface Tablets, or even traditional laptops. I like the idea of an arm based tablet, but it's a mistake making it in 10"+. People with a 10" tablet will try to use it in the same way as a 15" laptop. Make it Kindle sized for pure media consumption, make it cheaper than a smart phone. Make it something that you will buy in addition to your laptop, not in the hope that it will replace your laptop. Sell it as a second or even third device. There's absolutely no way that I'd buy a $1000 tablet that's can do less than a $300 laptop. People will overstretch them and then become frustrated. Then dump them for something more powerful. Just like they did with netbooks. If you think that this is overly pessimistic, it's also what happened with the original Raspberry Pi, people tried to use them as fully fledge computers. They wanted to know why they weren't able to run 4K video, or why they couldn't game on them. The Pi had a big maker community behind it, so it didn't flounder like the netbooks, but an Arm tablet won't have another community to back it up once users realize that that it's slower than a laptop that cost half of the price.
Windows Central Newsletter
Thank you for signing up to Windows Central. You will receive a verification email shortly.
There was a problem. Please refresh the page and try again.