HP Envy x2 with Intel Core-Y processor and LTE now available
By Dan Thorp-Lancaster published
Just like its ARM-powered sibling, the Envy x2 with Intel's chip is part of the Always-Connected crew.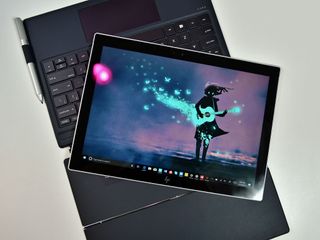 HP recently garnered attention for releasing one of the first Qualcomm Snapdragon Windows 10 PCs to hit the market, the Envy x2. However, if you're still a little skeptical of running Windows 10 on a chip that typically powers your smartphone (and it does it well), then there's now another option on the block: the Envy x2 with an Intel processor.
The Intel variant is now available for $1,149.99. That's a bit more than the starting price of the $999 Snapdragon model, which likely comes down to the chip cost. Still, both models pack LTE connectivity, with the Intel model opting for Intel's XMM 7360 LTE modem.
HP originally announced the Intel version way back in January during CES even before the ARM version was on sale yet.
In terms of other specs, you're looking at, essentially, the same device here. The 12.3-inch IPS touch display is the same here, packing a 1920 x 1280 resolution. You'll also get 4GB of RAM and 128GB of SSD storage. Stylus support is also still here, as is quick login support via Windows Hello.
The main difference comes down to the processor and graphics. Inside, the whole package is powered by a 1.2GHz (3.2GHz boost) Intel Core i5-7Y54 processor and Intel's HD Graphics 615. Just keep in mind that this isn't a full-powered Core i5. Rather, it's a part of the Y-series (formerly M-series), designed to draw half the power of a full-fledged Core i5 U-series chip, which you'd see in more powerful PCs. That lower power draw means half the normal speed, but it also runs much cooler than U-series chips.
HP doesn't provide battery life information, but the Intel variant of the Envy x2 packs the same 49.33 WHr battery. It's likely you'll see a little shorter battery life than the ARM version, but it's unclear by how much for now.
You can pick up the Intel-powered Envy x2 from HP now for $1,149.99. Alternatively, if you're ready to go all-in on Qualcomm's Snapdragon chip, it's available in a separate model for $999. We'll be comparing the two version soon, but for now, you can check out our review of the Snapdragon-powered Envy x2 for more insight on where it stands.
Dan Thorp-Lancaster is the Editor in Chief for Windows Central. He began working with Windows Central as a news writer in 2014 and is obsessed with tech of all sorts. You can follow Dan on Twitter @DthorpL and Instagram @heyitsdtl. Got a hot tip? Send it to daniel.thorp-lancaster@futurenet.com.
4GB RAM for $1150 in 2018...

I agree. 4GB is enough for some people but I doubt many would drop that much money and not want a little more RAM.

TBF, Surface Pro with Core m3 + KB + Pen is $1,050. But yeah, not cheap. As my review of the original Envy x2 stated it's a very premium device. As expected, by throwing Intel into the system it drove up the cost by $150. You may not feel the ARM version was a bargain, but adding Intel to it didn't necessarily help ;)

Hoping the NovaGo is better priced. These both are out my budget I want to spend for an always connected device.

Always connected? Even when sleep?

No. Always Connected just means optimized for LTE as in "your PC always has a connection to the internet". Intel and AMD kinda hijacked the term by jumping on the bandwagon, but it's not really a "new" thing to add an LTE modem to a PC. Only Qualcomm has the "connected while asleep" thing as this device, like all Intel systems, will hibernate (S4) after a few hours. So you don't get "instant on" 24/7, or the 1.5x battery life (estimate) of an ARM system.

Dan, please do a comparison of the two Envy if you can.

Oh, that's definitely happening. Will do a review of the Intel version and then a comparison video. I ordered it late last night. Will have to wait until Computex is over first though.

This would be the first podcast I will see in forever. I am very interested in this type of device in the future. I have an iPad but I do prefer Windows by a lot and if this type of device can replace it, better for me. I have a spare sim card that I would use with this laptop

Umm, but my Intel Atom based tablet has Connected Standby too? So it's not only Qualcom that can do this. Intel/HP may have chosen not to have Connected Standby enabled in this edition, I don't know, but Intel devices can and do have this if they decide to include it in a model.

How is the average user supposed to understand the difference? Two machines, same model, classified as always on PCs?

The Intel version is thicker and heavier than the Qualcomm version for some reason it adds close to 100g weight and 1mm thickness. Also the Modem is a two years old XMM7360 which tops out at 300mBit/s compared to the Gigabit class Qualcomm Modem. As comparison, iPhone 8 contains last years XMM7860. So why such an ancient LTE modem?

Happy they have an Intel version for folks that need intel. But for my use cases would purchase the Qualcomm version instead. On my current atom based HP x2 10.1 I have only one non-store app. And there is a web alternative for it. The truly all day battery life of ARM is just too big a draw. Think I will wait for 845 processor though since my atom is okay for the few use cases I need it for. Will get me by a year. Do wish they'd name the device with the Intel processor something different though. I can foresee the confusion in friends faces as I try to tell them to make sure to stay away from either the ARM or Intel processors depending on their needs, which will most likely be satisfied with the ARM version too.

From the photos on their website it seems that the Intel version has a non-removable keyboard with a couple of fixed angles. If that is true then it's completely useless for me.
I already disliked the solution of the ARM one as it can't stand on it's own without the type cover, but this one seems like a complete fail. Microsoft's original kickstand design is pure genius, if you can't improve it, just copy it - but don't gimp it!

HP is going to need to revise the pricing on these if Microsoft releases the $400 rumored Surface device with. They should do it anyways, the pricing for these devices is ludicrous.

I would also like to see the HP ARM variant become cheaper (don't care about the Intel variant, plenty of other options there), but let's see first if Microsoft releases the non-Pro Surface, and at what price. Besides, depending on how it's specced it might not really impact the HP devices price-wise.
Generally speaking Microsoft only makes high-end hardware lately so I doubt we will see anything with a lower price tag from them - would be really nice though.

The rumors sound reasonable. Due to disappointing sales of Surface devices, Microsoft has been dropping the price of them lately. See the recent release of lower end models for proof. I think there is a very good chance a low priced Surface device is coming soon. It would make sense to release it for back to school. Being a Surface device, build quality isn't going to be a differentiator and the specs of the HP are already quite low. The surface certainly won't have lower specs. They will need to come down in price. They can't survive at 2x the price of a similar Surface tablet.

If Microsoft releases a cheaper comparable device, then offerings like HP's will indeed need to drop their price, but i doubt this will happen (Microsoft releasing a cheap device). They have stated and proved that they don't want to compete with their hardware partners - that's why i believe we will not see a really affordable device from them. If they do release a non-Pro product i suspect it will be only marginally cheaper than the higher specced ones.

The ARM version of this device is a beauty. I just love it.

Well, it's good HP realized no one in their right mind would pay $999 for a crippled crap ARM OS device. Though, 4GBs of RAM at $1150 is kind of a joke...
Windows Central Newsletter
Get the best of Windows Central in in your inbox, every day!
Thank you for signing up to Windows Central. You will receive a verification email shortly.
There was a problem. Please refresh the page and try again.