HP having a clearance on a bunch of its Windows 8.1 products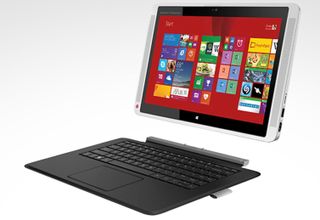 With Windows 10 just around the corner we'll soon be seeing new PCs flying off the shelves pre-loaded with Microsoft's latest and greatest. HP is currently having a clear out of some of its Windows 8.1 product line on its U.S. store with some hefty savings to be had.
And with Windows 10 available as a free upgrade, you could snag yourself a bargain.
Here's some of the highlights:
HP Envy X2 13-inch - $699.99 down from $1049.99
HP Envy X2 15-inch - $649.99 down from $899.99
HP Envy Phoenix 810-470 Desktop - $799.99 down from $999.99
HP Pavilion 23-inch All-in-One - $599.99 from $829.99
With savings all the way up to $350 off HPs regular retail price, there's some decent cuts on offer. HP is marketing its products as "buy one, get '10' free." Check out the full offering at the source link below.
Source: HP (opens in new tab)
Thanks Juan for the tip!
Richard Devine is an Editor at Windows Central. A former Project Manager and long-term tech addict, he joined Mobile Nations in 2011 and has been found on Android Central and iMore as well as Windows Central. Currently you'll find him covering all manner of PC hardware and gaming, and you can follow him on Twitter and Instagram.
It's too bad about the Envy. HP *almost* got it right. It's too heavy though and the keyboard is terrible...and brown to boot?

Brown is "in" get out.
#Zune

Wow that 13 inch envy got a huge drop

Honestly, the Envy X2's were overpriced to begin with. They are now priced reasonably.

HP don't make good devices, those are just ok...now if it was dell, Asus, Sony, Toshiba, Lenovo I would say yes.

Hmm probably 2 dozen hp devices in my life, none malfunctioned, all retired fully working (except for 5l paperfeed but that was bugged from day one) but we all appreciate your unqualified opinion

While I've never personally owned an HP, I don't think I've ever heard any complaints about them. Well... Their PCs anyways, don't get me started on their printers lol

Yep, their printers are a joke. I like my current HP laptop though, the specs are nice.

Amen! I've vowed never to own another HP printer after my Officejet All-In-One.

I have the HP OfficeJet Pro 8600. Bar none the best printer I've ever owned. I find it does everything well. I can't speak to other models even the one that succeeded this one but the 8600 gets it done.


The HP Officejet All-in-One I bought was a piece of crap. And I'm not the only one... my cousin switched to Canon after two crappy HP printers. Their printers are a far cry from their computers!

HP has some bad printers and some good printers. Check reviews before you buy.

Long time ago I bought HP scanner for like $400. Year after, windows 7 cames out and they decided not to make driver for it. They even put official info on product page :). I made a vow to never buy a HP product again.

Sony laptops were garbage. I had four in a row (dad worked at Sony at the time) and the motherboard failed on each one).

Toshiba sucks!!! All my HP hardware lasted longer than every Toshiba I've ever had.

Wait...wat? Does their initial Windows 10 lineup have substantial improvements over these? It's an OS - one that's upgradable for free.

HP has too much bloatware on their machines... + Many of them don't have good build quality... Terrible! Glad I got a Surface Pro 3... Finally got that premium feeling!

Get signature device, all 3hps of mine were, err scratch that 6, forgot about the 70buck tablets. No bloat direct from MS, great products so far.

Or, when you first buy the PC, go into settings and reset it. That'll give you a clean install.

The recovery image is typically the factory image, so it often includes the same bloatware.

Not In Windows 10 if you do the "erase the entire hard drive" or whatever the option is. When you do that, it builds you a clean image using the system files. Unless these OEMs are installing cracked ISOs, there's no way they could even get bloatware on it lol

so that's actually a 15" tablet huh I actually wanted that, but 720p screen at that size? cmon hp...

If you are referring to the Envy X2, both the 13" and 15" have 1920x1080 screens.

I have the HP Omni 10 and while Windows 10 runs very well on it the device is plagued by touch screen issues. I won't be buying another tablet from HP.

I'll have to check it out. I've always liked HP stuff. They are usually my go-to PC OEM.

I have the envy 13.. Brown is more of a dark chocolate so not that noticeable. Very fast PC the only issue I had was touch pad keeps getting bumped when you're typing so I have a BT mouse I use instead so I just disabled the trackpad.

Already got the Dell XPS 18 and 28 AIO and 8" Venue (oh, and an SP2)! I'm good for awhile ;-)

Damnit I bought an X2 15 just last week

How is the all in one? I'm thinking of downgrading my parents from a tower to an all in one with a big touch screen because they are getting old and can't see as well.

Cool. They all get Win10 for free. Did anyone tell HP? Anyhow, good deal hunting!

Had a couple of HP devices... Laptop and printers. All worked fine.

First and probably last time I'll ever say these words: Was hoping for sprouts :P

That's some heavy discounts right there. Never really liked HP pc but not really tried The high end stuff.

Love my X2 13" so much I barely touch my Surface anymore.
Windows Central Newsletter
Thank you for signing up to Windows Central. You will receive a verification email shortly.
There was a problem. Please refresh the page and try again.