HP introduces the OMEN X Desktop and OMEN 17 Laptop for gamers who crave the best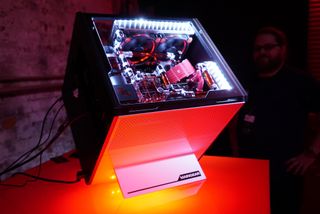 HP has launched a new family of gaming products designed specifically for those who demand the ultimate, immersive gaming experience. The new high-end gaming products include the OMEN X Desktop, OMEN 17 Laptop, and other accessories. HP says the OMEN X brand focuses on overbuilt and over-engineered products meant to deliver bold innovation for gaming customers.
OMEN X Desktop
The OMEN X Desktop features the latest graphics technology up to dual NVIDIA GeForce GTX 1080 and up to dual AMD Radeon R9 Fury X along with 6th-generation Intel Core i5/i7 processor. It is VR-ready and supports immersive 4K experiences for even the most demanding AAA games. It has a tri-chamber design to separate components and optimize thermals with dedicated cooling in each chamber.
Image 1 of 4
The OMEN X Desktop is planned to be available at select US retailers on October 16th with a configuration starting at $2,099.99. It also planned to be available at HP.com starting August 17th from $1,799, while the standalone OMEN X starts at $599.99.
For those demanding the ultimate machine but do not have time build it themselves, HP is collaborating with Maingear to build powerful customized PCs. The Maingear OMEN X Desktop will be available to customers in early 2017 and pricing will depend on the customer's imagination and wallet. Watch the video above for a sample configuration of the HP OMEN X Desktop from Maingear.
See at HP (opens in new tab)
OMEN 17 Laptop with updated NVIDIA Graphics
The latest 17.3-inch OMEN Laptop is one of the highest performing gaming laptops on the market with the inclusion of the latest NVIDIA GeForce GTX graphics. It is also one of the most portable measuring 32.9mm thin and weighing seven pounds. Features include:
NVIDIA GeForce GTX 1060 or 1070 graphics
Quad speakers with audio by Bang & Olufsen
Up to 4K display resolution with 300 nits
VR-Ready support
95W polymer battery for up to 7.55 hours of run time
Image 1 of 5
The OMEN 17 Laptop is planned to be available on HP.com starting at $1,599.99.
See at HP (opens in new tab)
Are you interested in either the OMEN X Desktop or the OMEN 17 Laptop? Let us know in the comments!