HP introduces the OMEN X Desktop and OMEN 17 Laptop for gamers who crave the best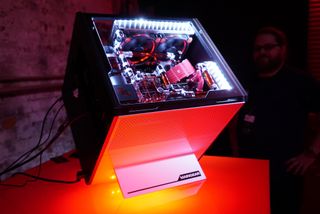 HP has launched a new family of gaming products designed specifically for those who demand the ultimate, immersive gaming experience. The new high-end gaming products include the OMEN X Desktop, OMEN 17 Laptop, and other accessories. HP says the OMEN X brand focuses on overbuilt and over-engineered products meant to deliver bold innovation for gaming customers.
OMEN X Desktop
The OMEN X Desktop features the latest graphics technology up to dual NVIDIA GeForce GTX 1080 and up to dual AMD Radeon R9 Fury X along with 6th-generation Intel Core i5/i7 processor. It is VR-ready and supports immersive 4K experiences for even the most demanding AAA games. It has a tri-chamber design to separate components and optimize thermals with dedicated cooling in each chamber.
The OMEN X Desktop is planned to be available at select US retailers on October 16th with a configuration starting at $2,099.99. It also planned to be available at HP.com starting August 17th from $1,799, while the standalone OMEN X starts at $599.99.
For those demanding the ultimate machine but do not have time build it themselves, HP is collaborating with Maingear to build powerful customized PCs. The Maingear OMEN X Desktop will be available to customers in early 2017 and pricing will depend on the customer's imagination and wallet. Watch the video above for a sample configuration of the HP OMEN X Desktop from Maingear.
See at HP (opens in new tab)
OMEN 17 Laptop with updated NVIDIA Graphics
The latest 17.3-inch OMEN Laptop is one of the highest performing gaming laptops on the market with the inclusion of the latest NVIDIA GeForce GTX graphics. It is also one of the most portable measuring 32.9mm thin and weighing seven pounds. Features include:
NVIDIA GeForce GTX 1060 or 1070 graphics
Quad speakers with audio by Bang & Olufsen
Up to 4K display resolution with 300 nits
VR-Ready support
95W polymer battery for up to 7.55 hours of run time
The OMEN 17 Laptop is planned to be available on HP.com starting at $1,599.99.
See at HP (opens in new tab)
Are you interested in either the OMEN X Desktop or the OMEN 17 Laptop? Let us know in the comments!
Mark Guim is Video Editor at Windows Central. He switched to Windows because the MacBook Pro isn't Pro enough. You can follow him on Twitter at @markguim.
Sweet Posted via the Windows Central App for Android

It's name is scary enough not to buy it.

Ho yeah, another red/black kikou-gaming color.
Well, why did they put a 4k display on a laptop with not good enought spec to run it properly? This laptop would have been really good with FHD or 2K display >

No thanks HP, after you screwed me over when I bought the Pavilion dv7 (LM726AV) by not releasing a single AMD/Intel GPU driver update since I bought the notebook thus making it impossible to upgrade to Windows 8 or 10 I will never be investing in any of you PC tech in the future. I would have expected a lot better driver support for a notebook that cost $1500+ And whats more you have designed the system in a way that its impossible to use the updated generic drivers from AMD and Intel, because if you do then the switchable graphics funcionality gets completely broken. Thanks a lot HP.

I had a similar issue where HP never released an update for the nVidia card on my laptop. However, I installed the driver from nVidia a year later and it keeps getting udpates regularly. I had read the issue that you are having with the AMD video. Your laptop does have something special that the nVidia ones don't seem to have. Not sure if that's an AMD or Intel issue.

Same situation here
My laptop was 1 year before windows 8 was released and they never bothered to make any drivers
At least when 8 was released i was able to use unofficial drivers made by leshcat but on 10 there is absolutely no way to enable it anymore
So that's why when people ask for advice i tell them to stay away from HP Ayyyyy lmao

I'm interested in the case only. Although it looks like it will occupy more desk real estate than a normal upright (I have a massive Raven 01) my interest is piqued on it's design. No sign for it to buy as a standalone yet on HP's site.

Laptop price isn't bad for the specs... Desktop seems kinda meh (from a specs per dollar standpoint... Obviously the specs and design are pretty nice taken alone)

Saw the desktop at Gamescom today. Pretty bad ass looking.

I've always preferred HP's design over other brands (minus Surface line of course lol), even with these gaming-style rigs.
Windows Central Newsletter
Get the best of Windows Central in in your inbox, every day!
Thank you for signing up to Windows Central. You will receive a verification email shortly.
There was a problem. Please refresh the page and try again.