HP launches new Windows tablets for businesses in India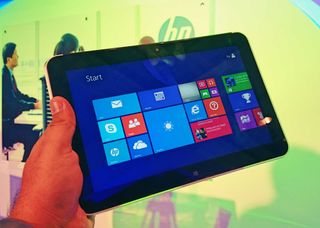 In a press conference in New Delhi, HP announced a couple of new Windows tablets for businesses that should meet employees' needs for a work and life blend.
According to the company, the workplace is no longer necessarily a physical place and these new Windows 8.1 devices that fit individual personal styles allow the employees to be more productive and secure.
HP ElitePad 1000 G2
The redesigned and upgraded HP ElitePad 1000 G2 now comes with a brighter 10.1-inch diagonal WUXGA touch screen with a 16:10 screen-aspect ratio.
The design and build quality is top notch, and at 9.2 mm weighing just 1.5 lbs, the sleek tablets is one of the thinnest tablets around. Although, the tablet is rugged and durable and has passed 9 military-grade tests.
Powered by a 64-bit Intel Atom processor and 4GB RAM, the tablet packs in a punch and includes 4G connectivity. There are two variants with a choice of internal storage of 64 GB or 128 GB.
The app supports touch, pen, and voice-based input making it a great mobile device. Also, you can customize and expand with a suite of accessories - smart jackets, battery, adapters, docking station, covers, cases, and more—designed specifically for the HP ElitePad turning the business tablet into a total business solution. HP Smart Jacket accessory ecosystem, currently available for retail and healthcare businesses, extend the capabilities for vertical needs.
The ElitePad offers enterprise level capabilities for knowledge workers and seamlessly integrates into an organization's IT environment. The enterprise-class setup and security solutions are designed to help prevent data loss and reduce downtime.
HP Omni 10
The HP Omni 10 offers essential productivity on-the-go with a long battery life and the power of 32-bit Windows 8.1. The multi-purpose tablet suits the needs of an enterprise professional as well as for his leisure time at home.
The tablet features a 10.1-inch diagonal multi-touch display with wide viewing angle (1920 x 1200) and protected by Corning Gorilla Glass 3. Powered by an Intel Atom Z3000 processor and 2GB RAM, the device packs in 32GB internal memory, but includes a microSD slot with up to 32GB of expandable storage.
With the new range of business tablets, HP intends to address the complexities changing work forces and transforming workplaces. The ElitePad 1000 is priced at INR 59,990 (about $1000 US) while the HP Omni 10 is priced at INR 27,990 (about $470 US).
Windows Central Newsletter
Get the best of Windows Central in your inbox, every day!
HP eating chromebook crow?

Does HP offer any 'Elite'Pads that have Intel Core processors?

finally something I'll buy :D

Too pricey man...surface pro is better option

Surface isn't available in India, HP, Dell, Acer, Asus, Toshiba, every OEM here

Then get the Venue Pro or something. At that price, I'd rather get a smaller tablet at 300 then spend the 700 for something else. I have an HP (Compaq) laptop right now but seriously, that price is totally not worth it.

KM2612 ;I totally agree with you. Why do I want to pay $1000 for 1.5 pounds intel ATOM 64bit OS, 64GB drive in 10.1: size, 1920 x 1200 resolution when I can get: core i5 SP3 12" of sexy awesomeness. 128GB drive, 64bit OS, 9.1mm thin, 1.67 pounds, Kick stand, 3:2 A/R, Ridiculous ultra retina like resolution at 2500+ x 1440, Awesome PEN incuded that equally plugs in to corporate IT security for exactly same price ($1000). What is HP smoking? This is one of the very important reasons why Microsft needed to develop hardware because of these type of nonsence from these OEMs that gives Windows devices the bad rap. They design ugliness, questionable specs and price them horribly, then turn around to point at microsoft that its windows fault. An ATOM device for $1000? aghhhh

Like previously stated by the OP on this thread, and countless others, Microsoft's Surface isn't avaiable in India, which sucks. So yeah, not everyone, like you and me, are lucky enough to have a Surface. :\

I love my ElitePad 900. It is a very well made device which runs Windows 8.1 beautifully. Seems that 900/1000 series of HP tablets is somewhat overlooked. Posted via Windows Phone Central App

1000 dollars for this? The Lenovo Thinkpad 2 is a better option at more than half the price. These specs are at Lenovo Miix 2 and Dell Venue Pro level that should be price 800 bucks less. You get a better deal with a Surface Pro 3. Even the first Surface Pro's a bettter deal than this and it's at 650 right now with 128GB of Storage and an i5 processor!

60k for the ElitePad? Too costly.. Should have been 50k max.. Might as well get a Surface Pro 2. The Omni 10 is reasonably priced.

Should launch some cheap tablets in India to gain market share. $100 tablet launched by Chinese manufacturer at Computex is great for markets like India. Personally, I would love to see and buy a sub ₹10k tablet running Windows 8.1

Bah 60 k for this i would buy a gaming pc or a gaming laptop instead of this.Tablets are useless in India.Just look at the price difference in US and India.When this price range closes up then these will grow in the indian market.

My question though slightly is not entirely out of place... Announcements are fine but things are sort of not ending up in the market.... Could anybody tell me when can i expect the Dell Venue 11 Pro in India. Announced long time ago and now no sign of it.


Want the 100 dollar tabs here in india

Don't get too hung up on the price. Its an enterprise device, where MSRP is far what what you'll have to pay retail. Keep your eyes open and you'll see very affordable smart buys available. It really is nice hardware. Will get better battery life, but I agree needs to be less expensive than SP3.