HP Omen 32 review: A huge, affordable monster of a monitor
HP's huge Omen monitor looks amazing and its price tag is equally impressive.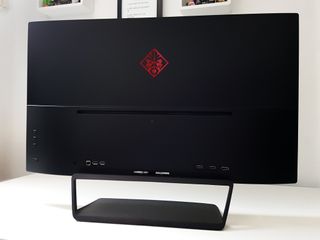 (Image credit: Windows Central)
HP is on something of a roll when it comes to hardware. From stunning laptops such as the Spectre x360 to the impressive Envy 34 all-in-one and the insane Omen X, there's something for everyone.
The Omen X is part of HP's gaming sub-brand, complete with bold red logo and aggressive styling. Away from mad desktop rigs, however, there's the Omen 32. Designed to complement your HP or any other gaming rig, it's a massive 1440p display that costs only $400.
See at HP (opens in new tab)
HP Omen 32 specs
Swipe to scroll horizontally
| Category | Specification |
| --- | --- |
| Native resolution | 2560 x 1440 at 75Hz |
| Contrast ratio | 3000:1 static; 10000000:1 dynamic |
| Brightness | 300 cd/m² |
| Pixel pitch | 0.276 mm |
| Response time | 5 ms on/off |
| Signal input connectors | 2 HDMI (with HDCP support); DisplayPort 1.2 (with HDCP support) |
| Display tilt and swivel range | -5° to +21° |
| Energy efficiency | ENERGY STAR 7.0 certified; EPEAT Silver registered |
| Dimensions | 29.1 x 7 x 20.6 in (with stand); 29.1 x 2.1 x 17.1 in (without stand) |
| Weight | 21.56 lbs (with stand); 18.04 lbs (without stand) |
On price alone, the Omen 32 is extremely appealing. As you increase both the size and the pixel count, traditionally the dollar count goes up, as well. That's not the case here.
Well equipped
You also get plenty of goodies for your $400. There's a bunch of USB ports on the back, a pair of HDMI inputs and DisplayPort, all of which have compatible cables included inside the gargantuan box. The metal stand is hefty, though it only allows for angle adjustment not for height, but there's a standard VESA mount also included should you wish to hang it on the wall.
This isn't the highest-end monitor you'll find for gaming or otherwise. For instance, the refresh rate is "only" 75Hz. For a 1440p display that's still good, but if you're in the market for 144Hz or the stupidly fast 240Hz refresh rates, you'll have to look elsewhere. Likewise, if you're in the market for an IPS panel.
Viewing angles are great, but it's so big you're unlikely to be sitting too far off center. It would have been nice to see some speakers inside the Omen 32, but that's a small gripe.
With a panel based on VA display technology, the Omen 32 looks terrific. Color accuracy isn't bad at all for a gaming monitor, though creatives will likely find it wanting. The 100 percent sRGB coverage will be plenty good enough for most, however, and personally I can already make out the difference over my older, TN panel monitor.
Talking pixels
At this size, the pixel density of a 1440p display is akin to that of a 24-inch, 1080p panel. So, it is not the absolute sharpest, but you have the benefit of sheer size. It isn't as wide as some of the larger ultrawide monitors out there, but it has the height to go with it. As a result, you've got an incredible amount of screen real estate to play with.
Using the Omen 32 for about a week now, I've not once thought about needing a second monitor, as I've used in the past. It's so big that it'll comfortably accommodate everything I need open through the course of the day, with windows big enough to actually use.
Sometimes, size matters. Perhaps more important than the size, for gamers anyway, is support for Freesync. If your PC is packing a suitable AMD graphics card then you'll be able to turn on Freesync for buttery-smooth action, tear free. But if you have an NVIDIA card, like the GTX 1070 in my desktop PC, then you're left out in the cold on that one.
Freesync not adding to the cost of a monitor really comes into its own when you see it on something such as this Omen 32. Were it a G-Sync-enabled panel, that $400 price tag would be much higher.
What about performance? The 75Hz refresh rate will immediately put some gamers off, but generally speaking it's a really pleasing experience. Especially if you're gaming at 1440p with "lower" frame rates. I've played a variety of games at the native 1440p resolution at the full 75Hz refresh rate, and I'm not disappointed. Doom is every bit as slick and terrifying as ever, and the sheer size of the display in a game like Halo Wars 2 (opens in new tab) makes it really come into its own.
If you're a serious gamer looking for a display, the Omen 32 might not be it. That 75Hz isn't bad, especially at 1440p, and neither is the five millisecond response time. But if you're looking for the absolute fastest of the fast, you'll be better served elsewhere.
For folks who want a large screen, a great-looking piece of hardware, and a solid, but more casual experience for gaming, the Omen 32 is a terrific buy. It's hard to believe you can get this much monitor for $400, and it will look very impressive at the heart of any setup. I looked at many monitors before pulling the trigger on this one, and I don't regret the purchase at all. In fact, the HP Omen 32 is my new favorite display.
Pros:
Fantastic price.
Huge 1440p display.
AMD Freesync support.
Impressive design.
Cons:
No height adjustment on the stock stand.
Only 75Hz refresh rate, which will put off some gamers.
No built-in speakers.
See at HP (opens in new tab)
Windows Central Newsletter
Get the best of Windows Central in in your inbox, every day!
Managing Editor - Tech, Reviews
Richard Devine is a Managing Editor at Windows Central with over a decade of experience. A former Project Manager and long-term tech addict, he joined Mobile Nations in 2011 and has been found on Android Central and iMore as well as Windows Central. Currently, you'll find him steering the site's coverage of all manner of PC hardware and reviews. Find him on Mastodon at mstdn.social/@richdevine
Photos of the monitor with games on screen would have been nice :)

Those pictures sucked (too much blurry), going to 'try' and do a companion video for next week. Hopefully.

No built in speakers is a good thing.

Generally I agree as they all mostly suck. However, since having moved to NYC almost 5 years ago, space is a commodity here and you have to make some compromises. I recently bought an all-in-one PC because I missed having a desktop computer and that form factor saves so much space.

When I'm doing most things I have headphones on, but I kinda don't like having to get a pair of speakers just to watch Netflix, or Twitch, when I don't really want to be confined to headphones. I'm sure I'm not alone.

I can see where you're comming from, but this is sold as a gaming monitor, and a cheap (low budget) one, Adding speakers adds to the cost, and is not really a feature most gamers go for.

No height adjustment is a sin.

It's o my 1440! -- no thanks. For that size they must have a higher resolution.

And a higher price. But hey, you don't have to buy one ;-)

Higher resolution (4k) would ask too much graphic power. What the point to buy this $400 monitor when a lot are better without even talking about the resolution, if you can afford the high end graphic card needed to play at least a 60ips at 4k?
And 86ppi is not that bad for a monitor.

Been looking at this for a couple of weeks now. Very tempting monitor. Thanks for the review, got more tempting now. Bad news for my wallet. ☹
A bitt worried about the lack of height adjustment, is that any problem when the screen is so large?

Not in my experience. There's so much screen it's been fine.

That tramp stamp tho. Why is it so important to have red glowing details on every gaming related product?

At least it's on the back side of the monitor, so you don't have to look at it everyday. :-)

Black Tape is your friend.

I've been using a 17" laptop for the past 10 years. After saving up lots of $ and a hefty year-end bonus, I went on PCpicker.com and planned out my "dream machine". I got all the parts ordered, put together, and amazingly enough, I didn't screw anything up (that I've noticed yet!) and it actually works! :-) The one EXTRA treat I did for myself was to purchase a 34" slightly curved monitor. I had my doubts (buyer's remorse?) and my friends all said I was CRAZY to get such a big monitor! It actually is WONDERFUL! I never imagined I'd ever be able to make use of that much space on a monitor, but it's GREAT for having multiple things going on. Since it is also my TV, having that large a monitor is also a good thing as I can watch movies and not be right in front of the monitor. The monitor I purchased was really WAY out of most people's budgets (including mine, except for that year-end bonus I received), and seeing this review of this monitor, I'm suggesting that if you are even considering going for a monitor this size, go for it! You will NOT regret it, especially at $400. I still remember back in the day paying over $500 for a 19" CRT monitor. :-P

A few caveats for me on this model as I am Nvidia cardholder...... I am looking for more reviews on the next HP Omen gaming monitor: the X 35 http://bit.ly/2mpRXfy

You should check out the Acer Predator X34. It's the monitor I just purchased and it's a couple hundred dollars less than the HP one you noted. The Acer Predator X34 is also G-Sync and it is a gorgeous monitor. I really LOVE it! :-) https://www.acer.com/ac/en/US/content/predator-x34-series

Thanks......Ive been wading through a bunch of options for my next monitor......I think this might be a consideration. It doesnt have that overly curved from what I am reading which I like....I am looking for something that is both a great windows monitor and a gaming monitor at the same time. I have been using an HP 2310e for the last 6 years and might need a new desk for the new monitor..... I just built my first PC a year ago (powerhouse) and now am looking for a monitor to accompany it.
Windows Central Newsletter
Thank you for signing up to Windows Central. You will receive a verification email shortly.
There was a problem. Please refresh the page and try again.