The HP Pavilion Gaming notebook offers an affordable Windows 10 PC for gamers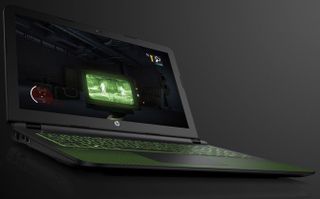 PC gaming notebooks tend to be on the expensive side, but HP wants to bring that price down a bit with its new HP Pavilion Gaming notebook. It will run games on Windows 10 for a starting price of $899.99.
The 15.6-inch notebook has a resolution of 1920x1080, and inside there's a 6th generation Intel Core i7-6700HQ processor with a clock speed of 2.66Ghz, along with 8GB of RAM and a 1TB hard drive. There's also a NVIDIA GeForce GTX 950M graphics chip inside with 4GB of RAM. The backlit keyboard can also glow with sci-fi themed green colored lights. The 5.12-pound notebook has a battery life of up eight hours.
The HP Pavilion Gaming notebook is currently scheduled to go on sale November 8.
Source: HP (opens in new tab)
Good specs and awesome price.

The starting price will include all of the spec mentioned in the article? Wow

Wow. I'm getting a new laptop this fall, and this looks like the best-suited to my needs so far. The only thing I would like different is a hybrid hard drive.

I need this. :O Here in India they're still selling with i5's and 940m's at $900 :/ If it comes here it'll probably cost like 1100-1200 :'(

Definitely getting a new laptop this might be it

should just stop with the damn i7 and it would get lots cheaper

i5 would make more sense.

Hell even the gpu is expensive

Anything below a GTX 965m can't be called gaming laptop.

Gtx 960m is still descent for 30+fps full hd medium settings games compare to intel HD

am using a gt 720m ... its more than enough to play games at medium to high settings released <2015 ... i play cs go at 70-80fps connected to a benq 24inch fhd monitor (medium~high settings running at 720p)
ANYTHING GTX is for Gaming GT is entry to mid level and still can perform good enough

As much as I hate HP ( bad experience previously ) I have to admit this is really luring me in Posted via the Windows Central App for Android

HP always looks good on paper, but when you get the laptop in hand, ugh... Something or the other is wrong. They screwed me over twice already.... Never trusting them again.

What went wrong I used one for seven years,I only had battery issues

If it's priced in line with Asus rog552 then I will be at the lower side coz I just bought it 3months ago. Posted via the Windows Central App for Android
Windows Central Newsletter
Thank you for signing up to Windows Central. You will receive a verification email shortly.
There was a problem. Please refresh the page and try again.