HP unveils the compact Pavilion Mini and the Stream Mini Windows desktops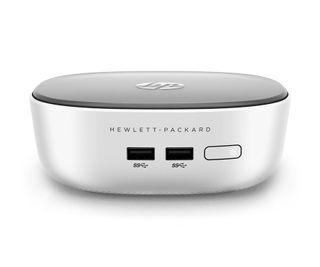 HP has announced two new small desktop computers at CES 2015, the HP Pavilion Mini and the HP Stream Mini. Both are designed to take up less space on your desk while still providing the power that you need.
The Pavilion Mini comes in a couple of configurations, with either an Intel Pentium 3558U or Core i3-4025U processor. It also comes with 4GB of RAM, but you can swap that out later for up to 8GB. The Pavilion features four USB ports, ethernet, and HDMI and DisplayPort connections. It also has an SD card reader, as well as audio in and out ports. The HDMI and DisplayPort connections give the Pavilion Mini dual display capabilities. The Pavilion starts at $319.99.
The HP Stream Mini comes in the same small package as the Pavilion, with different internal hardware. It features a 32GB solid state drive, and comes with 200GB of OneDrive storage for two years, as well as a $25 gift card to the Windows Store. It starts at $179.99 with the 32GB SSD, an Intel Celeron 2957U process, and 2GB of RAM.
Both compact PCs are expect to be available from HP beginning January 14, 2015, with a wider release on February 8.
Press release:
HP Reinvents the Desktop PC for the Home
The HP Pavilion and Stream Mini Desktops Are Small, Stylish Desktop PCs Packed With Power
PALO ALTO, CA--(Marketwired - Jan 5, 2015) - HP (NYSE: HPQ) today announced the HP Pavilion Mini Desktop and the HP Stream Mini Desktop, powerful and smart desktop PCs boosting performance in a small, contemporary, and energy-efficient design that looks beautiful in any room in the home.
"The desktop tower PC continues to be a focal point in the home for sharing, creating, and entertaining," said Mike Nash, vice president, product management, Consumer Personal Systems, HP. "The HP Pavilion and HP Stream Mini Desktops deliver the benefits of a traditional desktop PC in a package that looks good sitting on a desk and is small enough to fit into an entertainment center."
Mighty Powerhouse, Compact Design Consumers want a powerful and refined desktop PC to complement their personal style and homes without creating more clutter while maintaining a designated place for friends and families to come together to share, create, and be entertained. At only 2.06 inches in height and weighing just 1.6 lbs.,(1) the HP Pavilion Mini Desktop can fit in the palm of a hand. It maximizes productivity enabled by Windows 8.1(2) and supports processors up to Intel® Core™ i3.(3) Customers can store and connect to more videos and photos with up to 1 TB storage (4) and up to 8 GB of expandable memory.(5) Consumers can also immerse themselves in casual gaming and entertainment using the dual display support with DisplayPort and HDMI compatible ports, giving them the ability to stream and access content on multiple screens, including TV with Quad HD support.
The HP Pavilion Mini Desktop is ENERGY STAR® certified, drawing up to 45 watts of power compared to 250 watts for a typical tower PC. Built-in Wi-Fi(6) and Bluetooth® allow customers to stream content from any room they choose and connect with Bluetooth accessories. With the decline use of optical DVD media in a more connected digital world, the HP Pavilion Mini Desktop does not include an optical drive. External USB optical drive can be used through any of the four USB ports. The HP Pavilion Mini Desktop comes in Snow White to effortlessly complement home décor.
Joining the innovative line of HP Stream products is the HP Stream Mini Desktop, providing unsurpassed value in the same small and powerful package as the HP Pavilion Mini Desktop. The HP Stream Mini Desktop comes with value-added services including 32 GB solid-state drive (SSD) for speed and reliability, 200 GB of Microsoft OneDrive Storage for two years,(7) and a $25 gift card for the Windows Store to purchase apps, Xbox games, music and more.(8) The HP Stream Mini Desktop comes in a vibrant Cobalt Blue to match the stunning colors offered in the HP Stream family.
Pricing and Availability(9) The HP Pavilion Mini Desktop and HP Stream Mini Desktop are expected to be available in the United States on Jan. 14, 2015 at www.hpshopping.com, and select retailers on Feb. 8, 2015. Both come bundled with keyboard and mouse.
The HP Pavilion Mini Desktop starting price of $319.99 includes Intel Pentium 3558U processor, 4 GB RAM and a 500 GB Hard Disk Drive (HDD). The HP Stream Mini Desktop starting price of $179.99 includes Intel Celeron 2957U processor, 2 GB RAM and a 32 GB SSD.
Windows Central Newsletter
Get the best of Windows Central in in your inbox, every day!
What is in the picture though.....

That's probably the Pavilion. The Stream is cobalt blue in color as far as I know.

Hp taking things really serious this year... They ain't playing around anymore!!!!

By serious you mean following what the competition is already doing?

Don't worry, they will probably abruptly cancel everything for no good reason soon.

You have been burned by them before my son...

Ahh, your username depicts my journey to wp and for that betrayal ill never trust another HP product for a long time.

Exactly! I miss my Palm Pre...

I might have to check out the mini. My sister needs a small PC for her TV and that would be perfect for her to keep movies for my nephews instead of always transferring to flash drive.

if you have an old XBOX 360 or PS3 gathering dust, perhaps something like that would work, too? Just a creative suggestion.

He said small, hidding an Xbox 360 or PS3 isn't as easy I guess. Also sound and noice levels might be a factor in this HP solution.

You're right. I myself have a Mac Mini 2012 model, supercharged with SSD (Apple built on order), 16 GB RAM and so on. I know how wonderful it is to use a noise-free computer (and still retain performance for 9 out of 10 scenarios). Sure, the Intel HD 4000 card is ridiculous for that 10th scenario so to speak, which is gaming, but that's the thing: I don't do gaming on it. For everything else it's snappy as 1, 2, 3 go. I could definitely imagine having a Windows 8.1 (and Windows 10) mini computer for a fraction of the cost the Mac Mini offers. I am a purpose-driven computer user. I let a media center device take care of video such as Netflix in the living room and then a compiyer do its "computery thingies". I use a phone to do calls, text-content surfing on the go, and so on.

Haha yes noise free is great when using it with a tv. Xbox and ps are great though if his sister games alot:p. But these things arent for gaming anyways.

True ;) I forgot for a second how noisy they can be, ps3 and xbox. They ARE quiet when you buy them though. Just wish they would stay that way throughout the years you use the consoles so that you could use them as media PCs. So yeah you're right and still not right, it depends on how you see it I think 8-) You can probably take back the low noise level if you manage to get rid of all the dust though. I never dared to clean those things deep in the internals. Lol.

Lenovo Q190. It's a better deal than this. In fact, I would say it's the perfect desktop replacement for those who don't need serious power. I'm using one as a HTPC.

Gigabyte Brix is better than this cheap low memory desktop

Except build quality and support.

I have the Gigabyte Brix A8-5545 and I think the build quality on that is wonderful. Aluminum sides and a glassy top and bottom to it. Very nice looking. Also, I wanted the BIOS to be able to boot on a schedule- which sadly wasn't natively an option. I emailed their tech support and they provided me with a BIOS update to enable it. I call that great quality and support.

That... is great tech support. I didn't even know any company would care that much for user feedback. Perhaps the Brix developer team is extra responsive to try compete with Raspberry Pi, considering it is a community based product.

Perfect home server hardware.

Yeah. I think 99% of people will do that, in situations where they want to use it as something else than a desktop computer PC. I would probably do it the other way around though: use it as a thin client for either a Linux desktop or Windows desktop login (or provide both, since it's just a client connecting remotely). You could buy several of them, since the price tag is so low and let them log on either to a personal LAN cloud system or an internet cloud. I know: I am in the wrong forum, probably, even suggesting such a thing, lol :)

Why don't they use clock speed/numbers instead of those weird names for CPUs anymore?

Becuase clock numbers don't mean a thing anymore on modern PC processors. There are many processors with lower clock speeds that perform better than processors with higher ones.

Exactly! I'm old enough to have experienced the MHz race. I remember a friend of mine bragging about his 1 GHz AMD Athlon-equipped computer with a whopping 1 GB RAM. Today, people laugh at it naturally, but then it was something to drool for (so much power, high-speed like nothing else, a full 1000 MHz). Things started to change as soon as OEMs realized that you couldn't just up the clock rate, you had to invent the multi core feature. Then, each core would have a lower clock speed but you would add more and more cores. Even then, you could optimize things if you added in more CPU cache, differentiating even more, etc.

Nice little desktop I'll stick to my dell venue 8 pro and pluggable dock setup :P

It nicer when it's smaller.

That's not what she said. :(


@kgraham182:
How do you know?
Maybe she was talking about length and not circumference?!

@iamakii:
Is that REALLY what SHE said?!

What if i say i will get a pc for this price. Plz dont call me a jerk its truth... I got my pc for 300$ four years back....

Nice NUC competitor, but only one memory dimm?!

I've been burned by HP too many times to not question these products. If I was in the market I would most likely go with and Intel NUC

So much better then an App$e imac mini.....

Indeed, depends on your needs and desires. Dont know whats better or worse. Mac mini looks great inho.

Yep, it's exactly what I'm gonna need when I'll start writing apps. Guess where I'll release it first?

From a technical standpoint, the specs are worse. So no, it is not better, but you are comparing products from different price ranges.

Yeah, looked it up. And I would never buy myself; different needs and such, but if people want a small pc with OSX this will do nicely.

I have a Mac Mini (see one of my previous posts for more info if you want to). It is great. Runs Windows 8.1 Professional inside a Virtualbox window with full performance (exclusing gaming of course!). Works with Lumia phones as well. Just use Nokia Photo Transfer for Mac to import (and send back to phone) images and video.

It is called Mac Mini, not iMac Mini. I suggest checking out apple.com for more info.

I thought everything App$e had an "I" in the name... My bad....

You mean like Apple Watch or Apple Pay?

Yeah no problem :) They are actually moving away from it: Apple Watch, Apple TV, Apple Pay, etc. But the iMac and the iPod can't really change names at this point I think. They are iconic, in my view. The iPhone on the other hand is "just" a smartphone that has been on the market for less than 10 years. Would not call it iconic, it is rather new, historically. I am an avid and enthusiastic Lumia fanatic, but I think it would never had existed were it not for healthy competition and innovation from Apple that managed to take down the Nokia empire that used to be the unbreakable king. I do believe also that Apple is responsible indirectly for the existence of Windows 8.x. Firefox also knocked down Internet Explorer. Sometimes you just need someone else to come knocking on the door to realise you have been sitting still for too long. Anyway, quite off-topic. Lol.

No, no one sues HP. HP has a patent portfolio that would destroy Apple if they wanted.

Hope it would land in India

I hope it doesn't just so I can hear you guys whine about "why not in India"? Like you do in every article.

For once, why can't we ge a true mac mini alternative? Mac mini's are powerful. I can get an I7 16gigs of ram hd4000 graphics bt there has yet to be a quality PC of the same size with good specs.​

Looks nice. Still don't trust HP. WPC App via Nexus 5.
Windows Central Newsletter
Thank you for signing up to Windows Central. You will receive a verification email shortly.
There was a problem. Please refresh the page and try again.