HP unveils the compact Pavilion Mini and the Stream Mini Windows desktops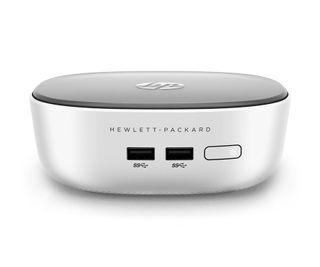 HP has announced two new small desktop computers at CES 2015, the HP Pavilion Mini and the HP Stream Mini. Both are designed to take up less space on your desk while still providing the power that you need.
The Pavilion Mini comes in a couple of configurations, with either an Intel Pentium 3558U or Core i3-4025U processor. It also comes with 4GB of RAM, but you can swap that out later for up to 8GB. The Pavilion features four USB ports, ethernet, and HDMI and DisplayPort connections. It also has an SD card reader, as well as audio in and out ports. The HDMI and DisplayPort connections give the Pavilion Mini dual display capabilities. The Pavilion starts at $319.99.
The HP Stream Mini comes in the same small package as the Pavilion, with different internal hardware. It features a 32GB solid state drive, and comes with 200GB of OneDrive storage for two years, as well as a $25 gift card to the Windows Store. It starts at $179.99 with the 32GB SSD, an Intel Celeron 2957U process, and 2GB of RAM.
Both compact PCs are expect to be available from HP beginning January 14, 2015, with a wider release on February 8.
Press release:
HP Reinvents the Desktop PC for the Home
The HP Pavilion and Stream Mini Desktops Are Small, Stylish Desktop PCs Packed With Power
PALO ALTO, CA--(Marketwired - Jan 5, 2015) - HP (NYSE: HPQ) today announced the HP Pavilion Mini Desktop and the HP Stream Mini Desktop, powerful and smart desktop PCs boosting performance in a small, contemporary, and energy-efficient design that looks beautiful in any room in the home.
"The desktop tower PC continues to be a focal point in the home for sharing, creating, and entertaining," said Mike Nash, vice president, product management, Consumer Personal Systems, HP. "The HP Pavilion and HP Stream Mini Desktops deliver the benefits of a traditional desktop PC in a package that looks good sitting on a desk and is small enough to fit into an entertainment center."
Mighty Powerhouse, Compact Design Consumers want a powerful and refined desktop PC to complement their personal style and homes without creating more clutter while maintaining a designated place for friends and families to come together to share, create, and be entertained. At only 2.06 inches in height and weighing just 1.6 lbs.,(1) the HP Pavilion Mini Desktop can fit in the palm of a hand. It maximizes productivity enabled by Windows 8.1(2) and supports processors up to Intel® Core™ i3.(3) Customers can store and connect to more videos and photos with up to 1 TB storage (4) and up to 8 GB of expandable memory.(5) Consumers can also immerse themselves in casual gaming and entertainment using the dual display support with DisplayPort and HDMI compatible ports, giving them the ability to stream and access content on multiple screens, including TV with Quad HD support.
The HP Pavilion Mini Desktop is ENERGY STAR® certified, drawing up to 45 watts of power compared to 250 watts for a typical tower PC. Built-in Wi-Fi(6) and Bluetooth® allow customers to stream content from any room they choose and connect with Bluetooth accessories. With the decline use of optical DVD media in a more connected digital world, the HP Pavilion Mini Desktop does not include an optical drive. External USB optical drive can be used through any of the four USB ports. The HP Pavilion Mini Desktop comes in Snow White to effortlessly complement home décor.
Joining the innovative line of HP Stream products is the HP Stream Mini Desktop, providing unsurpassed value in the same small and powerful package as the HP Pavilion Mini Desktop. The HP Stream Mini Desktop comes with value-added services including 32 GB solid-state drive (SSD) for speed and reliability, 200 GB of Microsoft OneDrive Storage for two years,(7) and a $25 gift card for the Windows Store to purchase apps, Xbox games, music and more.(8) The HP Stream Mini Desktop comes in a vibrant Cobalt Blue to match the stunning colors offered in the HP Stream family.
Pricing and Availability(9) The HP Pavilion Mini Desktop and HP Stream Mini Desktop are expected to be available in the United States on Jan. 14, 2015 at www.hpshopping.com, and select retailers on Feb. 8, 2015. Both come bundled with keyboard and mouse.
The HP Pavilion Mini Desktop starting price of $319.99 includes Intel Pentium 3558U processor, 4 GB RAM and a 500 GB Hard Disk Drive (HDD). The HP Stream Mini Desktop starting price of $179.99 includes Intel Celeron 2957U processor, 2 GB RAM and a 32 GB SSD.
Get the Windows Central Newsletter
All the latest news, reviews, and guides for Windows and Xbox diehards.