HP's revamped Stream notebooks start at $199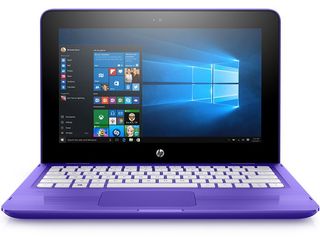 HP is launching new versions of its affordable Stream notebooks with Windows 10. They include an 11.6-inch model for the price of $199, along with a 14-inch version for $219 and the Stream x360 2-in-1 for $249.
HP stated (opens in new tab) that all three of the new Stream notebooks have display resolutions of 1366x768. They also all have Intel Celeron N3060 processors inside, along with 4GB of RAM and 32GB of storage. It added:
Some of the notebooks will also come with a free 1 year subscription to Microsoft's Office 365 Personal, which is normally priced at $69.99. The Stream 11 model goes on sale August 24, while the Stream 14 follows on September 7. The Stream x360 will be available sometime in late September.
In addition, HP plans to launch the HP Stream 11 Pro for education customers in September as well:
Pricing for the Stream 11 Pro was not revealed.
Windows Central Newsletter
Get the best of Windows Central in in your inbox, every day!
That Pro sounds good. Although, I suspect the UK price will be quite high. Be nice to get for my son for Christmas.

So much thickness so much bezels

For a couple hundered dollars, bezels are fine. Besides, I thought bezels on a tablet was a good thing. At least that is what the Apple people kept telling us.

it's a cheap computer bruh. I had an 8" HP Mini netbook back in the day and I liked it! Check out that computer's bezels!

Yup, I just got the 8" Toshiba Satellite Click Mini 2-in-1 and while also having quite large bezels, it's a brilliant device.

Great offerings from HP's stable. Looking forward to its release in Africa.

Announces new computer
Talks more about colors than actual computer You're doing it wrong, HP.

According to "another" company all you need to do is release different colors, new bands for your watch, and that justifies a media event. If it is good enough for the most valuable company in the world (even though their fans call the competition M$ because they believe that Microsoft is all about the dollar) then it should be good enough for HP. Although, HP sells 3 times the number of computers as that other company.

Oh, and this gets about twice the battery life as the HP Chromebook.

No for 199 they are doing it right

No for 199 they are doing it right

These should surely eliminate those excuses for laptops called chromebooks

HP released a new Chromebook priced at $850. Yes, it has a better resolution screen, but that is about it. With millions and millions of applications - not apps but applications, and a real computer priced at less than 1/4 the price, I am not sure why anyone would consider a Chromebook.

Lighter OS, better update model, better trackpad for the price, not dealing with the complexity of Windows.

No it doesn't. Chromebooks and Windows laptops are different machines for different uses. If all you're going to be doing is web browsing and light document creation, a Chromebook would do great, and you wouldn't have to deal with everything that comes with Windows.

What's that "everything that comes with Windows" that you're talking about?
Updates? Those that happens whenever I want, while I sleep?
BSOD those that I see every eleven (or more) months???
Lightning fast boot up time? Faster network speed than any other OS???
Or the BIG problem is the absolutely ridiculous amount of apps available for it? You tell me. If it wasn't because windows makes my life so easy, I'll be using fedora.

Good news. We have one of the previous generation of Stream laptops; the 13 touch screen. It's running Win 10 & is by far the most used PC in our house (we have a LOT of computers here too). I assume these new Streams have touchscreens? The 360 for sure, but the other models?

Anyone had their hands on the new HP Pavilion X360 13"? I'm picking one up at the weekend but I can't find ant reviews yet. I'm getting the i3 8gb 128SSD model in Gold.

I can live with the resolution if the display is otherwise good, but sadly these type of machines often have washed out displays with low brightness and poor viewing angles.

Its a great entry level laptop for the children, good to see them still coming in so many guises

The Stream 7 tablet was great. Not sure about these tho

I still use my Stream 7 daily running insider builds. It runs pretty darn well...sure other things are faster, but I only paid $79 for a full Windows tablet that can run full applications. Hell, I may put Quicken on it!

Speaking from experience, 32GB of storage makes major upgrades (i.e. the AU) impossible as the device is always short on space for such operations. I managed to get a few 32GB devices upgraded by wiping them and starting over, but that's not a good user experience.

Yeah, I just upgraded three 32GB tablets to the Anniversary Update. It wasn't completely horrible - I didn't have to wipe them, but did need to use the Media Creation tool with the USB stick option to perform the updates. Not a very obvious or straightforward way to get the update, however, especially for the category of consumer that will likely get these. (When I first tried to do the update by a direct download, I laughed when the compatibilty checker indicated that it needed 16GB of space on my DV8P. I don't think it had 16GB free new out of the box.) Microsoft increased the minimum RAM requirement to 2GB RAM for new devices running the latest version of Windows 10; they really should have made 64GB of storage the bare minimum as well.

Can't you upgrade with a USB tho

With the stream 7 I don't have many options, it doesn't even have a microsd slot.

Yes it does. Pull the back off

Holy crap! I had no idea! Thank you a million times!

Funny you should say that as I tried to do that on my stream 11, but it corrupted and I had to get HP to send a USB to reinstall Windows. They sent 8.1 since that is what it originally came with, now I currently have 16.8GB of space available whereas with 10 I had maybe 6GB. Can't believe there is such a size difference between the two OS's, not sure I want to re-upgrade now on this computer.

Duh, You need to delete the upgrade files after you upgrade. They are atleast 3-4GB. Just run disk cleaner, and make sure you select the options to clean the update files, and 'previous installations'. That will give you back all the space, or close to it.

My cousin might get his son the X360 model

32GB is not enough since the OS takes up 25 of them, not all apps will work on a memory card and forget about big updates like anniversary or redstone, they're too big and there is not enough space available. 4GB of RAM is much better though, 2GB is not enough to run a full OS very well, mobile sure, but not desktop.

On my old Asus T100, I have 16.5 GB used on 29.1 GB. All apps, music, pictures and videos are on the SD card. So OS is taking less than 20 GB. UA upgrade was easy using the ISO expanded on a USB key.

Much better off gettig a chromebook with all of the apps.

ahahahhaahahh.......oh you gotta warn me next time you make a good joke like that......I just wet myself!!!

I can download and run the BlueStacks android emulator app and run all the android apps that I want. Problem solved.

I have the stream 11, I'm typing on it now. It has been a good little laptop for surfing. Also it has had windows 10 on it for over a year now with no problems. The only problem I have had is that I have to hook up my external drive to get large updates. 32 gig doesnt go very far these days

Nice that display resolution and bezels and performance are just like original netbooks 10 years ago. Prices gone up abit though.

This is the beginning of the end for devices with 2GB RAM and Windows 32-bit.

best Device for Students. with windows 10 they are amazing

32Gb is really really not enough even with a microSD

Mouth watering bang for the buck. HP stream series and Asus X200 series go neck by neck. Asus left HP far far behind as far as inexpensive Windows detachables go though !

Looks good but its time to get away from 32GB space. 64GB and above for now on.

its August 24th and I cant find the new stream avaiable anywhere, Im wanting to by one for daughters school.. Does anyone know where they are on sale ?
Windows Central Newsletter
Thank you for signing up to Windows Central. You will receive a verification email shortly.
There was a problem. Please refresh the page and try again.