HTC Eternity and Omega cases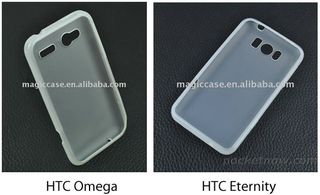 The above image shows cases that are apparently for the proposed HTC Eternity and HTC Omega upcoming Mango handsets. The case for HTC Eternity looks to fit nicely with the leaked device image we covered (opens in new tab) late last month.
The rumored specifications of the HTC Eternity were as follows:
1.5GHz single-core processor
8MP camera with dual-LED flash and 720p video
1.3MP front-facing camera
16GB of storage
DLNA, Bluetooth, Wi-Fi
GPS
1650mAh battery
Let's hope that HTC decide to take technology further with beefing up their devices above and beyond the minimum requirements set by Microsoft. Still, at least we can attach a case from the above image to cover the common HTC color/design.
Via: PocketNow (opens in new tab)
Rich Edmonds is Senior Editor of PC hardware at Windows Central, covering everything related to PC components and NAS. He's been involved in technology for more than a decade and knows a thing or two about the magic inside a PC chassis. You can follow him over on Twitter at @RichEdmonds.
Funny how many comments regarding the Eternity were negative. I guess brash sentiments shine brighter. Reality is, Americans love and go for the big/powerful things. 1.5ghz on this thing with that size screen, is downright attractive! PLus miniHDMI out? THIS thing does work... and you all know this; HTC hater or not

Vigor, at least try to understand this much - all HTC phones look alike. For those who aren't particular about aesthetic, or for those OK with swimming in the 'sea of sameness' look of HTC devices (Android clones, as I call them), enjoy your HTC!

All Ferraris look the same. All Lamborghinis look the same. Yet people love them. All asians look the same. All europeans look the same. So what? Higher end hTC phones look good.

I agree. So much anit-HTC words around here. But if this device is real, and has those specs, I'm not sure if there's another phone coming that can beat it. All depending on the screen resolution.

Please PLEASE!!! Come to Sprint!! I cannot wait to get rid of my Arrive! I love it but I came from the Evo and miss the big screen, how powerful it was and don't like keyboards anymore (I had a Touch Pro). I am HTC loyal so I hope they bring out big guns for Sprint!!!

right, I thought I wanted a keyboard when they kept showing the phone, but now that I have it I don't use it. I want to get rid of my Arrive too. I want thin, and big screen.

Yea!!! Exactly I am like wow I will use the keyboard and it looks great etc. I find the keyboard such a nuisance and only use because I might as well! The phone also is very heavy and bulky! I need an Evo-esque phone!!! haha

Not sure what the fuss is about. CPU will be matched by other OEM's, screen size wont overcome the normal poor screen QUALITY, which is more important and 8MP doesnt guarantee a good camera. Only thing that looks to have changed for the better is the battery, otherwise its nothing special, unless you are fooled by a huge but poor screen.

LOL, I don't mind. I am not streaming Captain America on my phone. I just need it for games, texting, Facebook and that is about it! You seem to hate HTC. Like you said... Other OEM's will have the same... so what is to like? Samsung has the best displays but their plastic phones feel so cheap. Pros and cons to everything. Like yours and I'll like mine!

Agree. Personally, I find Nokia's craftsmanship to be superb, and that Nokia thinks outside of the box with regards to aesthetics, Nokia will get my money for the WP device. (And I am even willing to purchase it unlocked)!

What normal poor screen quality? I think the HD7S screen looks great. How do you know the screen is poor, did you get the leaked screen specs or something?

I had the HD7, have a Dell VP and three colleagues have an Arrive, Focus and Trophy between them. The HTC screens are all washed out, dull, lacking in colour and contrast. The Dell and Focus screens are bright, colourful and look great. The HD7S is a marginal improvement on current htc screens. HTC screens are poor compared to the competition, its a known fact. And so are their cameras. They get so much attention because they are a well known brand and are the hackers choice. Not because their devices are best in class.

My brother has a HD7, the screen is just fine by me, but less spectacular than the Focus. But the HD7 build quality is far superior, and his battery life is much greater.

The HD7S screen is pretty terrible. See here: http://www.wpcentral.com/screen-review-hd7s-vs-hd7-vs-focusThe best screens are : Focus, followed by the Quantum, then Dell Venue Pro. Mozart is pretty good, but not Gorilla Glass, so easily scratched. In fact, HTC has no deal set up with Corning, which is unfortunate. The HD7/HD7s has the worst screen of any Windows Phone I own. The Arrive is ok as is the Trophy.

That's not that terrible. Redo that test with the light them and watch how that AMOLED screen kills the battery in about two hours. I find the size/quality to be good. I have a Focus and I love the screen, but hacked the light theme away because the battery life is the worst I've ever seen on any phone. So there's a little give and take. Also, HTC build quality is much better than Samsung. HTC has a better track record with upgrades, on Android and WP7.

QWERTY slider please.I see some Arrive-hating above, and couldn't disagree more.Lack of a physical keyboard is a deal breaker for me - I'm writing over 100 business emails a day on my Arrive, couldn't imagine doing that with a virtual keyboard.So let's see some variety, and knock the Epic-4g off it's lonely pedestal as the only phone IN THE WORLD with both a physical keyboard and Front Facing Camera.

Leaked Eternity picture and the case for the Eternity matches!
Windows Central Newsletter
Thank you for signing up to Windows Central. You will receive a verification email shortly.
There was a problem. Please refresh the page and try again.