HTC Fuze now live on AT&T's Web site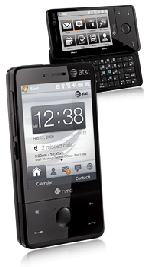 We brought you the first video of AT&T's version of the HTC Touch Pro, now dubbed the Fuze. We brought you a full-on review, as only Dieter Bohn can do. Then we brought word that the Fuze was available in stores a day earlier than expected.
Now, for those who just can't make it to an AT&T store, we're telling you that it's available online (opens in new tab) for $299 after the usual rebates/contracts.
At this point, you don't really have any excuses. While there's no substitute for feeling a phone in your own hands, the next best thing is, well, putting it in ours.
So check out Dieter's reviews. Check out HobbesIsReal's excellent 24-hour review of the Sprint version. And take a walk through our forums and see what your fellow readers are saying.
Because knowing is half the battle. (Hey, at least it wasn't a "Fuze" pun ...)
I want to see a Sprint Touch Pro vs. Fuze post.

yay its back http://www.wireless.att.com/cell-phone-service/cell-phone-details/?device=HTC+FUZE(TM)&q_sku=sku3090226

Yes, Sprint Touch Pro vs Fuze post! I want it to be a dual review, comparing out-of-the-box load times and sensitivity etc. Would be a great little write-up.

I know I am probably getting annoying saying this but add me to those who want to see a Sprint Touch Pro vs. AT&T Fuze dual review and comparison.
Thanks!

If you visit the AT&T store and you get a bunch of odd looks when you ask for the Fuze, don't worry. You may want to ask for the new "Tilt" to get them started.
I had to work my way up to the Asst. Manager before someone knew what I was talking about. She described the Fuze to the employees as "that new phone we were supposed to get out on display this morning. You know, the one that's replacing the Tilt."
AT&T Retail Stores: A well oiled machine.

I am curious to see how many WMExperts users and staff are having issues with 3G and in particular HSDPA speeds using the ATT ROM on the Fuze. On XDA Developers there are several threads discussing this. I have yet to obtain a 3G speed or HSDPA speed with my Fuze running the stock ROM that survives a reset. I have applied all of the tips, tricks, cab files, registry hacks, etc. None of them "stick". I really think that WMExperts needs to post something on this to get ATT's attention. I have receive a second Fuze, a new 3G Sim Card and still the problem persists. Some even are reporting issues w/ custom ROMS, but most have had success with this route. Although I may end up doing that, I think it is completely ludicris. Not every ATT customer knows/wants to do this. Tech support, store employees all seem stumped or simply dubious and always mention the "trouble with the towers in your area" line. However, colleagues standing next to me with their ATT Tilt's (my old device) are running circles around me on HSDPA/3G using those same "troubled towers". If this is not fixed ASAP, I plan to just pick up the Sprint version instead of flashing a ROM just to spite ATT. (Sprint could use a few new customers anyways from what I hear...:) ). Sorry this has turned into a rant, but I don't have time as a physician to spend several days loading medical apps to just keep trying new devices, hard resets, etc. The phone should just plain work as advertised.
thanks in advance for any further advice, tips, moral support! :)
d

Support of the Lou Zhu, Lou Zhu worked hard
Signature--------------------------------------------------------------------------------------------------------------------
Nothing is impossible for a willing heart.
ugg bailey button
ugg classic cardy
Windows Central Newsletter
Get the best of Windows Central in in your inbox, every day!
Thank you for signing up to Windows Central. You will receive a verification email shortly.
There was a problem. Please refresh the page and try again.