HTC rolls out system app updates for its Windows Phone 8 hardware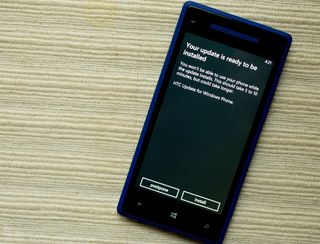 HTC has rolled out a number of updates for its Windows Phone 8 hardware. Those who own either the HTC 8S or 8X will be able to install new versions of Attentive phone, Beats Audio and Regulatory. What's new in these new releases? We're not entirely sure, unfortunately.
Here are the version numbers for each update:
Attentive phone - v2.5
Beats Audio - v3.5
Regulatory - v1.3
It's good to see the struggling manufacturer taking the time to support Windows Phone owners with updates to system apps. If you notice anything new in any of the system apps we've mentioned, be sure to let us know in the comments.
via: Windows Phone Italy
Rich Edmonds is Senior Editor of PC hardware at Windows Central, covering everything related to PC components and NAS. He's been involved in technology for more than a decade and knows a thing or two about the magic inside a PC chassis. You can follow him over on Twitter at @RichEdmonds.
Says no update yet when I check. Verizon 8x

It's not a system update (I thought that too). They should show up as app updates in the store.

Sigh after updating it, I lost over 2gb storage and other storage issue starts all over...

what's regulatory? I received beats audio and attentive phone yesterday. I don't have the other. Is that carrier specific?

I'm wondering about that too. I got the other two, but not regulatory.

Its an option in the settings, it shows you the Fcc information .

ok thx. I don't have that under my settings.

No problem.
Don't worry about it, it just show you the FCC information (&ID) & the European & Russian equivalent to the FCC. I think its the same stuff printed on the back of the phone .

Printed on the back of the phone?? That must be a US thing as I've never seen any such thing on a phone. Looking at images on the internet, my phone doesn't have similar information. It's normally shown in the manual or separate information sheet in the box - printing it on the device seems redundant...

I should've clarified, its printed on the back of UniBody phones , phones with removable batteries have in a sticker under the body .
I've it printed on the back of my international 8X , under the speaker, my father have it on his Motorola RAZR & also had it on his iPhone 3G .
Also the Xperia Z , Nexus 4 , One X have it on the back , the Lumia 900 have it printed on the bottom . Check out the 8X review, it DOES have it on the the back

You're correct! My CE information was underneath the battery. I've seen photos of the Australian 8X and they didn't seem to have them. I didn't notice them when I viewed the 8X in person, but I probably wasn't paying attention. They probably were there though. I'll have to take a look at an Aussie 920 when I have a chance!

it depends which phone you have. those with a unibody have printed the FCC, CE things on the back or the bottom of the device.
the 8S has not, though... there is a slot to open the phone so these printings are on the inside...

Yes ! I totally forgot about that my bad !
UniBody phones with Slots like the 8S , Xperia S/SL & DROID 4 have em printed under the slot ! Thanks Matheee

I never notice any changes with these haha. I did get the update though... Yesterday actually (Verizon 8x)

Only Lumia which looks better than the 8X is Lumia 800.

The 8X looks great, the only thing that kept me from buying was the poor experience I had with HTC in the past

Nothing that would make me stop regretting buying an HTC

I only received beats update. But after the update the quality of the music really improved!

Did the issue involving multiple replugs to get it to activate get fixed?

I don't know, I haven't had that problem. I do had the problem that it sometimes changed into mono at specific numbers but that was rafe so I don't know for sure if that is fixed too...

I had that problem with my 8X. Problem solved with new headphones.

I've also only received the beats audio update. Just installed but don't have headphones with me at the moment. I didn't see the other 2 updates mentioned.

Oh really?! Really?!? I guess now is as good a time as any, even if it IS just for two phones and all the rest be damned...excellent work cell phone maker company, you're SO dedicated to your craft. We should give them a prize! RASPBERRIES!!!!! =[~)

@MediaCastleX What? What other Windows Phone 8 devices do they currently make? Do you know something I don't?

Think he's talking about 7.x

It's a shame i cant use this on my htc 8x

Beats Audio finally works again after update.

HTC needs to release dock , notes, list and locations apps. It sucks I had more apps on my HD7 than my 8X.

What about that EQ setting on the Surround...

Its funny because there is HTC and some proof of commitment in the same article.

I own a HTC, and still find this hilarious XD

Its a cellphone made in Dr Dre's basement.

Ha ha, made me laugh! You earn imaginary brownie points ;)

Don't see an update yet. HTC8x

Not used to this, HTC rolling out some updates.
Bet some Nokia fanboys totally forgot that HTC made some WP devices.

Nokia fanboys forget that there's more companies than just Nokia creating Windows Phones!!!!!

Think HTC wp owners are tired of hearing about NOKIA lol

HTC should sign that exclusivity deal w/ Microsoft. If Microsoft can pull it off that would be an awesome way to give the finger to Google

didn;t forget, just didn't see htc doing much for Wp8.

I received heaps of updates for my HD7. No issues with HTC...

Any that actually matter orrrrrr.....?

For my HD7? Since release I received: Attentive phone, equaliser, internet sharing, tethering... Numerous system updates... Quick rollouts for mango & tango and all things in between. Then there's all the HTC apps like HTC Hub, flashlight, dock, notes, converter, location, photo enhancer, Tango (video calling) etc. My only grievance is that at some point the Compass app broke and is out by 180 degrees. It works fine in the northern hemisphere, but I guess they forgot about the rest of us!

I previously had an issue when I'd plug in my headphones, it would activate beats audio and tellme would launch almost every time. This doesn't seem to happen anymore since the update. Also, I would occasionally have an issue where I couldn't raise or lower the volume unless I did a reset. This seems to have been fixed with the update as well.

I had that issue before too! Hope its fixed!

Got my update yesterday. Not sure what the hell it did though.

If HTC made a WP8 with the same design and hardware as the One, I'd bite... Or even just swap the screen and the Ultrapixel from the One and put it in an 8X body... I love HTC's design flair lately, but the hardware specs on their WP8 phones is kinda lacking.

Blame MS for the most part, they don't have 1080p support yet or else HTC and Nokia would've sent out better phones already. Zenith was never fully created :(.

Looks like they said to hell with those of us using 7.x HTC devices.

Yeah, we're the divorced dad's first family. We know he's not treating the new ones any better but at least they're some attention.

Any word on 7.8 coming to the HTC Titan on At&t?

It may be best to give up on that dream. I still love my HD7, but probably won't be getting another HTC when I finally move up from WP7.5.

Whenever I use my upgrade I will buy anything but an HTC.

If Nokia made a phone with the taller 720p screen size and a form factor as beautiful as the 8X or similar to the 925 then i wouldn't have gotten a HTC

Beauty only goes some way..

I got beats audio update yesterday only on three uk

Yeah i did aswel. Also on three in the UK

"It's good to see the struggling manufacturer taking the time to support Windows Phone" Rich, I love your writing, and I love your style, but I wouldn't chalk this up as "support" unless you're using the technicality of the term. I love HTC for a lot of the same reasons I love Nokia, (Attention to detail, design, etc.) but for a "signature" device (You know, how HTC and Microsoft reportedly "teamed" up to develop the HTC 8X from the ground up revolving around Windows Phone 8.) this phone is simply falling very short in the *cough* *cough* "support" department.

I agree. What was all that "signature" stuff about? Ill tell you what my signature means. It's my mark. It says I stand behind what this document or whatever says. Its my endorsement and commitment to what I signed. It represents ME. This is always going to be a beautiful device but I want to be sure that it's future proof for at least my 2 year contract. Hell, I'll be happy with 1 full year of support if they'd pledge it.
In short, I still love my HTC 8X, but I'm not sure HTC does...

Be careful, some might question your device, might tell you to "shut the hell up" otherwise.....heehee above post ;)

I got beats, hearing aide and my Verizon updates but nothing else.

I got the updates yesterday. Phone is definitely louder.

Omg so it wasn't just me! When the phone rings it definitely is louder now O_O nice touch

Hopefully some Titan II love soon? I don't even need 7.8, but I need my 3G/4G to work... (Having waited for a whole year, I feel like Gatsby waiting for what will never come to be. And having such great hardware [amazing camera!] but none of what really matters [internet on the go on a smartphone]... )

Why did I purchase the 8gig 8x for my family! 2 for 1 deal at ATT, both 8gig 8x and Lumia 920. Both same price. Fudge!!!!!!!!

All HTC 8X phones come with 16GB...

The moral of the story is, be a better and smarter shopper. 16gig 8x and $199 vs 32 gig and $99. Take your pick. Larger screen Lumia 920 vs smaller and with no sensitive touch. Better camera Lumia 920 vs shitty. Wireless charging Lumia 920 vs none. 99% Nokia support vs questionable support from HTC. Again, you decide. I made a mistake, hope no one else does.

Na I think the 8X camera is good if you know how to take good pictures (I've made beautiful pictures with this camera but it can take long before you have the right photo, like with every mobile phone). The screens size is good too, but the quality of build is low. I am very happy with this phone but my next WP device I think would be a Lumia. Support is indeed great. And also because maybe HTC don't have WP devices anymore at the point my mobile subscription ends.

From my experience my wife's 8x camera is horrible! Some days there's good pics and most days bad. Most night shots have an orange taint to it. Not impressed.

But the camera of the Lumia's aren't amazing or something. Sure they are good but can't compete with real DLR camera's too.

Initially, the Lumia 920 did produce some horrible pictures but after two updates, I can tell you every pic I've take since is just awesomely amazing, especially the 1080p video. You know, I wouldn't compare camera phones to DLR cameras. They are in a different league of products and it wouldn't make sense too. For what the Lumia 920 can do, there is no need for a DLR unless you're a professional photographer and photography is your bread and butter. Bottom line, all you need for vacation is one device to do it all without the bulk of carrying many.

I totally agree with you. And now you say that about Nokia updating their Lumia's camera's, I thought HTC could also improve their 8X's camera with updates like Nokia does. But then I thought: Oh yeah, it's HTC. So no almost support at all. I think it won't ever happen... Such a shame. And I still never received the regularoty and attentive phone update -.-

Strangely, DSLR cameras can take much better photos than point-and-shoots....

Also, I would like to see more photos of the 8X/8S on wpcentral please.
When there is an article about WP, I see mostly Nokia and also the ATIV, which is odd.
Show some love for HTC WPCentral!

lol HTC don't even show love to 8x, so how to write about 8X, whats the latest news on 8x? ummm nothing?

Ummm the latest news is the one where they got updates and you just so happen to comment on that article...

HTC making fake updates so it would appear they would care about WP ecosystem. Thruth is that they are 100% focused on Android.

Beats was no fake update if you mind. But it is true, I think there aren't coming any firmware updates anymore

http://nokiarevolution.com/2013/05/26/nokia-lumia-720-vs-htc-one-camera-comparison/

What does this have in common with 8S and 8X updates ?
Go away with your fanboyish trolling.

Beats update clearly did something. Most obvious is I have to up the volume a few more notches than before. I've mostly listened on the bus since the update, but I'd say it sounds more natural. Could be that there was some sort of dynamic range compression that has been toned down in the update, which also explains why the output volume seems a little lower.

That's a good thing to hear. Every time I plugged in my earplugs, I had to set my volume down from 15/30 (my standard volume for ringer and notifications) to 10/30. Now maybe I don't have to change volume at all. I always thought it was way to loud so they improved that really great. I also noticed that the bass is much intenser then before and music sounds way better to me now. I am so happy with this update!

is this an app in the store or system?

I'm surprised they just released these 3 updates, maybe they are banking on MS to fix that other storage bug or just putting all their RnD into android and "cough" borrowing to minimise cost.

Okay so I called Verizon Wireless about an hour ago, and inquired on the availabolity of the GDR2 update and they looked into it and told me that we are not waiting for Verizon, but that we are waiting for HTC. She varified the the "Firmware revision number" and the "Radio software version" on my phone, both being accurate to what she said I should have and referred me to HTC's Office. I then called HTC, and inquired about the same update. more closely, the "other storage" issue. The reply I received back was, "We are aware of this issue, however their is no available fix for it as of yet. If this issue is keeping you from completing a phone call, a factory reset will allow you to do so." So I dont know when and if we will be seeing this update on Verizon's service (not that I know how this update differs from the other carriers that have it.)
Windows Central Newsletter
Get the best of Windows Central in in your inbox, every day!
Thank you for signing up to Windows Central. You will receive a verification email shortly.
There was a problem. Please refresh the page and try again.