Hulu Plus for Windows Phone 8 updated, adds Kids Corner support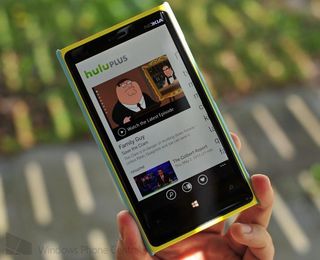 Hulu Plus for Windows Phone 8 was updated today to version 1.1 and adds a little Kids Corner support into the mix. You can now add Hulu Plus to your Windows Phone Kid's Corner for instant access to ad free kids content.
When Hulu Plus is launched from the Kid's Corner all you're kids will have access to is the kid's section of Hulu Plus. It's a nice touch to prevent the younger kids from stumbling on more adult oriented viewing.
Other features in the version 1.1 update includes adding the ability to pin your favorite shows to your Start Screen for easy access, the ability to share videos and shows with friends, and a handful of bug fixes and performance tweeks.
Hulu Plus is a free app for your Windows Phone 8 devices but the service will cost you a monthly fee of $7.99. There is a free, seven day trial for the subscription to let you try things out before the $7.99 fee kicks in.
You can find Hulu Plus here in the (opens in new tab) Windows Phone Store.
Thanks, everyone, for the tip!
Windows Central Newsletter
Get the best of Windows Central in your inbox, every day!
George is the Reviews Editor at Windows Central, concentrating on Windows 10 PC and Mobile apps. He's been a supporter of the platform since the days of Windows CE and uses his current Windows 10 Mobile phone daily to keep up with life and enjoy a game during down time.
Pin your favorite shows? Heck yes.

Cool story bro, but where is my Xbox live game for this week?????

Do you still have to enter the same PIN as the "adult" section of the phone in order to get to Kid's Corner?

Brilliant! The kids will never be smart enough to think mom has the same pin for the Kardashians as she does for Dora.

The idea, although misguided, is that you unlock your device for your kid when you want them to access kids corner. You don't give them your password.

I suspect that, in fact, MS has to do it this way. Activesync policy enforcement doesn't recognize "Kid's Corner" as a seperate part of the phone -- letting you in means letting you in -- and so by rule they simply have to block all access. Although, now that I am thining about it, the fact that you can get to the camera would argue against that...

There is no PIN unlock for the Kids Corner. it's just a swipe to the Left and the a swipe up to get into all the apps that have been set for use in Kids Corner
Hulu Plus etc would need to be ran at least once under the 'Adult' account to enter user details etc and then long press on the Tile and "Add to Kids Corner"

Yes there is. If you have an Exchange enforced password on your phone.

Nice. Now only if Netflix will do this.

Yes, Netflix is waaaaay behind on this concept.

I assume this is useless for anyone not in the USA?

Yes since Hulu is only in the USA and japan

I like how the article is largely about kid's corner support. And then they have a picture of Family Guy. That's so not appropriate. :)

"Peter starts laughing uncontrollably"

LOL I didn't notice till you pointed it out! Hilarious!! ☺

My daughter says she can't use Hulu on her Lumia 521 (screens too small), she uses her Kindle Fire 7in HD. She's a Xena watcher.

What a spoild entitled little brat; my children will be exactly the same :P

When I was young I was beaten for such misbehaving's

How times have changed. As a kid my gadgets were my bike, skateboard and baseball glove. No wonder we're getting fatter as a country.

As a planet. The US is actually starting to get thinner again, I think!

The planet is getting fatter? Uh oh!

ahh Kids these days lol, they won't even know what a classic phones like Nokia 3310 were.
Or the agony of carrying a phone with a humongus battery.. I can go on forever..
But yeah when ever I have time, i bring out my old gameboy colour and give that to my little sisters to play with as their 3ds' "magically" disappears for a few days :).
Come to think of it probably have the Sega Master System lying around somewhere.


"Sega" Dude! now you're bringing back memories of Sonic the hedgehog and Joe Montana Sports talk football.

Too bad it doesn't add "free" onto that list.

Nobody sends baby to the corner

WP8 has been out for almost a year. Time to say goodbye to 7.8.

I get sad that everything cool is for wp8 only. But as a dev all my apps will be the same way. My 2yrs is up in August anyway.

That is the only way as unfortunate as it may be, the only way to stream line the 3 screen vision is to phase out WP7 completely.

Remove ads on your paid app then I might go back to it.