Humorous unboxing video pokes fun at Microsoft and the Surface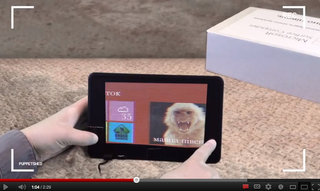 It's never fun to take things too seriously, which is why we like this video of a purported Surface unboxing. Performed with a mock Russian accent, the video takes a jab at the "old" Microsoft (or rather what some people still perceive as being Redmond's problem: clunky, non-working software and hardware).
We won't say too much more on this because it speaks for itself. But we definitely got a chuckle out of it.
Source: Puppet Shed; Thanks, 47project in comments for the tip!
Windows Central Newsletter
Get the best of Windows Central in in your inbox, every day!
Daniel Rubino is the Editor-in-chief of Windows Central, head reviewer, podcast co-host, and analyst. He has been covering Microsoft since 2007 when this site was called WMExperts (and later Windows Phone Central). His interests include Windows, laptops, next-gen computing, and for some reason, watches. Before all this tech stuff, he worked on a Ph.D. in linguistics, watched people sleep (for medical purposes!), and ran the projectors at movie theaters because it was fun.
Made me laugh. Very funny lol.

In Soviet Russia, In Click you!

"features new metrosexual interface" that there solves the Metro debate. It's 'metrosexual'!

That's pretty dang funny!

Wow.. Got so many strange looks watching this on the train laughing my head off!

holy crap. Revolutionary, wow. It's thinner then the ad's show. And that box, I'm def gonna keep it. Friday/Thursday can't come quick enough. <3

Careful, Boris, Balmer might send Moose and Squirrel after you!


:D. That is a fun visual...

man, they didn't even offer me the extra battery pack OR the sd card with the free pictures!

i feel ripped off!

LOL #metrosexual almost made me spit. LOL

That was pretty hilarious. Especially that part with the metrosexual interface. Can we all agree to adopt that as the new name?

That joke really never crossed your minds prior to this? It's why I was happy MS stopped using it.

+1 it was first thing I thought of when "metro" was announced. Calling something "metro" was already in common usage i.e. "That's so metro" to say that it's metrosexual.

I'll definitely take it on the 6 year contract!

Will that be with or without the modem?

Actually, I'm kind of offended.. Lol! I know it's just a joke, but the nerve of somebody making fun of such a great product.. No, no.. Screw that! Lol.

The russian text on the front in the smaller letters say "stupid americans will buy anything". I couldn't figure out what the words in the larger letter or on the back say. My russian is pretty rusty.

Now I know it's a fake he said metro UI is modern ha that I wouldn't catch dat one

Can anyone translate this to English?

Lol my bad my spell check always messing up my words

Looks like a "well made" Soviet automobile. When the cold war ended the Soviet cars created nightmares for Volkswagens capable of 160 mph. I remember suddenly running up a Russian Traubi going 55 mph and almost crapping my pants trying to avoid them. This must be the Russian version of the Surface. LMAO @ Moscow!

In Mother Russia, Surface tablets YOU!

Love it... Microsoft should buy that video and use it in their commercials...
Metrosexual interface lol...

Lol.. Worrying thing is, this is probably near the truth lol

I loved the sparks and smoke coming out, LOL!

the internet is a great place. Hahah my monday just got like 10 times better.

I didn't think it was funny. I herd the metrosexual before

You herd the metrosexual cows? Sheep? Geese?


Can anyone translate the labels on the box and at the end? I have a feeling its funny as F

I'm all for a good laugh but I just dont understand this. Maybe I'm a bit dense or something.

Agreed, I don't see why everyone thinks it's so funny. Too much cheese for me, I guess.

I didn't find it all that funny, either.

are you German or American?

Brilliant.. I'm sold on the Surface..

This is actually a real unboxing of the Russian version. Just don't tell them it is any different over here.

You guys actually thought this was funny? wow...

You didn't find this funny? wow...

It's so strange it's funny!

Wonder what tablet was used?

I'm not seeing anything funny here. If you're going to make a parody you at least should make it funny.

Exactly. I'm all for parodies, but this was lame. I'm sure it would've been hilarious 15 years ago.

I think the Russians are the one's who should be embarrassed. What electronic device have they ever sold world wide? KGB listening bugs and cold war nukes is about it =)

Y'all need to lighten up! That video was worth several good chuckles. Too over the top to take as real criticism of Microsoft. Plus, I don't think they will get away with bundling a machine gun magazine in the US version ;-).

Lol #Metrosexual interface ... I want one with the modem ... :D :D :D

The only thing I found pretty funny was the ak clip lol

arrrgghh.. that old windows logo and the blue screen just brought back some very bad memories... hilarious.. hahahha... "verrrry nice"!

In the very first frame, there is a photo of two camels and something is written in an Indian language. Its written in Gujarati and the words written mean 'Camel Rape' :D

Haha!! "You like, you will buy" That shit killed me.. Dead!

This has to be one of the funniest videos I have seen in a long time. Great find!

Yep, sums up rather nicely the Microsoft we've loved to hate in the past. :-D Looks like the perfect reminder of how great the future looks now!

LOL metro-Sexual interface... and i was expecting the BSOD... :)
Windows Central Newsletter
Thank you for signing up to Windows Central. You will receive a verification email shortly.
There was a problem. Please refresh the page and try again.