7 upcoming ID@Xbox games we hope to see at E3 2017
With E3 2017 just around the corner, we look back at the ID@Xbox games we're (really) hoping to see at the show.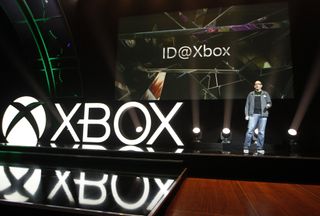 While big publishers may be the center of attention at E3, sometimes smaller developers manage to steal the spotlight. The ID@Xbox program – a system for independent studios to get their games on Microsoft's platforms – has been a source of several of these titles over the years. With E3 2017 only days away, we're already looking forward to the Xbox One titles we hope to see at this year's conference.
Here goes.
Cuphead – Studio MDHR
Cuphead has been in the works for some time, after its debut as a part of the Xbox lineup in 2014. The side-scrolling run and gun gained a fair amount of traction in the months that followed and soon became a major part of Microsoft's ID@Xbox lineup. Three years and multiple delays later, we've heard little about the project, let alone a firm release date. Currently sitting on a mid-2017 launch, we're hoping StudioMDHR's long-awaited project makes an appearance at E3 2017.
Sporting an attractive hand-drawn art style inspired by 1920s cartoons, both Cuphead's mechanics and scope have evolved over time. Ultimately, the game has been a project held back by its ambitions, with what started off as a relatively small-scale title soon growing to be one of the most prominent Xbox One titles. However, if the game manages to live up to its attractive promises, Cuphead is sure to be another Xbox One classic.
Below – Capybara Games
Below is another game that's suffered from heavy delays, following its initial reveal before the Xbox One even hit store shelves. After being indefinitely postponed in 2016, we can expect some significant changes if the game makes a return at E3 2017.
The top-down adventure from Capybara Games throws players into an attractive mysterious tilt-shift world, with some roguelike aspects to its mechanics. Among its harsh traits to exploration and combat are procedurally-generated worlds, permadeath, and combat that punishes a reckless approach. However, with four years of development since the game's debut, some major reworks of even the core mechanics could've taken place. If Below is set to make a return at E3 this year, Microsoft's press conference on June 11 will be where it happens.
Ashen – Aurora44
Ashen debuted publically in 2015, but since the reveal, we've heard little about the project. With a mysterious reveal trailer which highlighted the game's mystical world and creatures, we'll hopefully get a glimpse at Ashen's development over the years and some actual gameplay.
Bringing together recent trends in the industry, Ashen promises to blend the traditional traits of a role-playing game with a deep and engaging world. There's also a sense of unpredictability to gameplay, with both passive encounters with other players and an unpredictable dynamic to progression.
A look at Ashen's dark RPG world, on its way to Xbox One and PC
Observer – Bloober Team
Taking forward its successes for Layers of Fear, Observer is an upcoming cyberpunk horror experience coming to the ID@Xbox program. After a digital plague sweeps a technologically-advanced Poland, players take on the role of a detective in this dystopian world. With society thrown into turmoil, technology has been solidified as the only barrier from the horrors of the real world.
What makes Observer unique is its approach to the horror genre which, like Layers of Fear, will adopt some unusual techniques. Instead of relying heavily on gore and jump scares, keeping players disorientated and unaware of their surroundings builds tension. Provided the game is on track for its summer release, we hope for a definite launch date at E3.
Observer is an intense horror game set in a cyberpunk dystopia
We Happy Few – Compulsion Games
We Happy Few debuted in Xbox Game Preview last year, but one of its most anticipated components is still yet to be seen. While the game focuses heavily on roguelike survival in its current state, the narrative behind We Happy Few will also be a core part of the experience.
The game's storyline was put front and center at Microsoft's E3 2016 press conference, and this time around we should hopefully see an expansion on this. Side quests and narrative delivery are set to see some significant overhauls, to better convey the game's surrounding world. Hopefully we'll begin to see the game coming together as a full package and getting closer to its final release.
We Happy Few: As high as a kite on the streets of paradise
Ooblets – Glumberland
Just looking at Ooblets, it's hard not to appreciate its world. Seemingly coming out of nowhere earlier this year, the game got picked up by Double Fine and Microsoft for release on Xbox One and PC. Clearly inheriting mechanics from Animal Crossing, Pokemon and Harvest Moon, Ooblets delivers a style of gameplay traditionally limited to handhelds. Best of all for Xbox One owners – the game also supports Microsoft's Play Anywhere initiative, with cross-platform purchases and saves on offer.
After moving into a new town with little to your name, you'll soon find yourself building a life in the land of Oob. From collecting creatures, personalizing your own house or even creating a farm, Ooblets rocks a cute aesthetic and interesting gameplay opportunities. While we still have some time ahead of its scheduled 2018 release, the game is one to watch over the coming months.
Pokémon meets Animal Crossing in Ooblets for Xbox One
Tacoma – Fullbright
Tacoma is a narrative driven adventure game from Fullbright, the minds behind Gone Home. After losing contact with the Tacoma space station, players uncover the disappearance of its inhabitants through the unique angle of holograms.
Although first showed off back in 2014, the game has undergone a significant overhaul following tester feedback. Moving away from its art-deco design, Tacoma has now adopted a much more streamlined and modern aesthetic. Hopefully, we'll see further progression with Tacoma at E3, ahead of the planned launch later this year.
Why Tacoma could prove to be an unforgettable adventure
Your thoughts
Which ID@Xbox games are you looking forward to seeing at E3 2017? Let us know in the comments section.
Windows Central Newsletter
Get the best of Windows Central in your inbox, every day!
Matt Brown was formerly a Windows Central's Senior Editor, Xbox & PC, at Future. Following over seven years of professional consumer technology and gaming coverage, he's focused on the world of Microsoft's gaming efforts. You can follow him on Twitter @mattjbrown.
I'm already tired of cuphead

Not one game on your list remotley interests me. Sadly the one game this year that had interested me was the canceled Scalebound. I am get Destiny 2, other then that, its a dry year for me.

Move on with Scalebound, there are tons of other interesting games to play, focus on it!

Please name one some good ones? Maybe Crackdown, I did forget about that.

Middle Earth - Shadow of War, Enter the Gungeon, Cuphead, etc plus all the extra benefits.
(well, the first 2 are not exclusive, but they are games that one shouldn't miss, and both runs on/ sync between XB1, Scorpio, Scorpio2, win10. There are actually more indies exclusives than you think tho, try google) The extra benefits: BC/FC, free-unlimited-cloud-sync (not just for convenience but also to prevent data lost), region-hot-swap, XPA, etc I have gaming desktop, gaming notebooks, surface pros, and I carry Bluetooth xb1 gamepad in my bag. I use XPA, and cannot wait to dock a win10.ARM onto my gamepad. What other perks can you get from BC/FC and cloud sync?
What can you do with your old XB1 (PS4) if you've upgraded to Scorpio (PS5)?
I can leave my XB1 in my office and do my cloud sync gaming.
I can plug my old XB1 to another monitor in case if someone wants to watch TV / Netflix / movie.
I can do cross-platform co-op! Article from Business Insider ↓
http://read.bi/2ra0Gob
> "The Last of Us" was a late
> PlayStation 3 release that got
> re-released for PlayStation 4.
And it will get a re-re-released for PS5... I haven't play Blood & Wine. I got busy, and then I decided to try new games.
Can I play B&W on PS5? Not without a re-release if there's no BC. Also you'd have to buy the main game again... Can you sync save file between PS4 and PS5? I used to buy games from different stores (including Steam) but now only from MS.
PS4 exslusives? I have one, Horizon - Zero Dawn.
Ever since the xb360 BC and FC announcement... I find no reason investing into PS (and Steam).
I prob won't get a PS5 either, it'd be like... a few exclusives vs all-other-games +all the benefits.

Wat? Scalebound look awful last e3... looks like a ps1 ps2 gen programming. 2017 with no foot IK? It's prob far from finish. Another 3, 4 million for another year or 2? They prob put most of their manpower into making Nier... We don't need another Ninja Turtle or No Man Sky.

Been waiting forever for Cuphead, Below, Ashen, and Aztez.

I hope Cuphead is officially shown at E3. Ooblets is a game I know my wife and daughter will love since they both like Pokemon and Animal crossing

Wow i already forget about we happy few.

I'm really excited about Cuphead and Ashen. While Below, Observer and Tacoma have me anxious to see more.

I hope Below hasn't been canceld. I have been looking forward to this game, since it's announcement. Microsoft needs strong new IP.

Cuphead is honestly the reason I got an xbox in the first place. Found plenty of good games along the way since getting it, but a Cuphead release would make me VERY happy =D

Hoping for Path of Exile, who's with me? :D

Nobody mentions Tomb Raider! Man did anyone actually play them? They were so good!!!

Are we already due for another tomb Raider??

Well there was a rumor of "Shadow Of The Tomb Raider". Search it. And Unix or w.e confirmed they're working on one.

If we don't get a cuphead release date I'll be annoyed. Can't wait for more We Happy Few story mode details.